10

min read
No matter your business or industry, you most likely value Search Engine Optimization (SEO). Indeed, better search result rankings drive traffic and sales and help your business thrive. However, SEO is a complicated, multi-faceted endeavor, so there are multiple factors to keep in mind. A crucial one among them is domain authority; search engines value authoritative domains and penalize untrustworthy ones. As such, we've gathered a list of ways to boost your website's domain authority – and your SEO efforts in the process.
Starting from the basics, let us define Domain Authority (DA). DA is a vital SEO criterion that assesses how credible and trustworthy a domain is. Search engines determine this through different factors, but mostly through backlink quality and quantity. Other SEO metrics also play a role, of course, so you should treat most such practices as good ways to boost your website's domain authority. Consider the following examples:
It was developed by Moz and assigns a score between 1 and 100. As a result, if your website has a high score, it has a better chance of ranking well in search engine results pages (SERPs).
Another way to look at domain authority is as a measure of your site's significance in relation to your industry or a certain issue. In terms of rankings, you can observe how strong or authoritative your domain is.
However, don't mix domain authority with page authority, as there is a distinction between the two.
Domain authority is calculated using a variety of parameters. However, to give you an idea, Google, Apple, and Microsoft all have high DA (between 95 and 100). If your website is fresh, on the other hand, your DA will be low (possibly between 10 to 20). It's also worth noting that increasing your site's DA from 20 to 30 is easier than increasing it from 70 to 80. Consider the following ranges to determine what constitutes a good domain authority:
Below 30 is poor
30 to 40 is below average
40 to 50 is average
50 to 60 is good
60 to 70 is very good
Above 80 is excellent
It's crucial to note that DA can assist you forecast how well your website will perform in search results. So, instead of using it to compare your website to others in the SERPs, you should aim to boost your DA to improve your ranking.
The ranking strength of your entire domain (and subdomains) is determined by domain authority. Page authority, on the other hand, considers the capacity of individual pages to rank.
While some such metrics, like website age and social signals, will come naturally over time, others will not. Thus, you'll need to make a conscious effort to achieve them – which is what this list is all about.
Next, let us briefly make a distinction; domain authority and page authority are different metrics. A domain is, essentially, your website and every page it includes; a page is a standalone page within a domain. That's why most DA scoring tools specifically grade your website on the whole, from 0 to 100. Thus, you'll need to find ways to boost your website's domain authority instead of focusing on individual pages or subdomains. Finally, keep in mind that your DA efforts will need time, and they'll come with diminishing returns. It's a long-term effort, so results won't appear overnight. It's also much harder to increase your score from, say, 70 than it is from 10 or 20. Thus, you'll need to commit to it to see consistent, long-lasting results.
DA, SEO, and WordPress
Lastly, let us briefly repeat that most SEO best practices affect your DA as well – as we'll explain below. Caption: WordPress offers a plethora of SEO tools that can help boost your DA. Alt. Tag: An illustration of a white rocket with a blue W taking off. There are many tools to gauge your DA on the web, like Moz and others, but you should be aiming for a holistic SEO approach regardless. Fortunately, WordPress offers many SEO tools that you can find useful in this regard, and it likely powers your website too. If it does, consider such WordPress services as wpfullcare.com to ensure you follow this list as efficiently as possible. After all, DA and SEO are closely interlinked, as we'll outline just below.
With all the definitions in order, let us highlight five ways to boost your website's domain authority. In essence, all five hinge on SEO best practices and quality incoming backlinks.
#1 Create quality content that drives engagement
First and foremost, consider what drives traffic and engagement after all strategic optimizations have taken place. Frankly, it's quality content; valuable, relevant content gets more traffic and engagement. If your content is useful and insightful, it will invite more engagement and eventually foster brand loyalty. In turn, content your users share on social media and other digital spaces drives traffic and boosts your domain authority. Caption: Remember that social signals like shares and engagement can boost your website's domain authority. Alt. Tag: A smartphone showing social media app icons. Low bounce rates, incoming traffic, and social media shares are all "social signals" that search engines need to identify. Of course, they're not the only ones, but organic traffic is invaluable towards boosting your website's domain authority.
#2 Optimize your site loading speed for SEO
Next, consider your website loading speed. Similar to content quality and engagement, website loading speed is a generally valuable factor to keep in mind. The vast majority of internet users expect fast loading speeds and will thus quickly leave your website if they don't get them. Bounce rates, as highlighted above, directly affect your DA score – if users bounce often, search engines assume you aren't offering substantial value. This may not be the case, but your DA will take a hit from bounce rates. Furthermore, reducing them affects your SEO efforts and sales, so it's not a factor to neglect.
#3 Optimize your site's structure
On a similar note, your website structure affects your SEO and your DA alike. A better internal structure lets search engines crawl your website more efficiently, and a pristine sitemap should have immediate benefits. Furthermore, consider how more and more users navigate the web through mobile devices. Mobile-friendliness is a significant criterion for search engines, so ensuring it will boost your website's domain authority along with the user experience.
#4 Ensure high-quality backlinks
A cornerstone of DA, as we mentioned at the beginning, is quality backlinks. Search engines value quality backlinks to your site, especially from authoritative sources. Incoming traffic from user comments and social media profiles also assist on this front, which is why engaging content is invaluable. The simplest solution is to craft a strong backlink strategy. Analyze your competitors, expand your presence, and try to get as many quality backlinks as possible. However, keep in mind that quality beats quantity; no amount of low-quality backlinks will help increase your DA by much. If anything, they might even do more harm than good. A few strategic backlinks from domains with high DA will serve you better and will often be easier to do.
#5 Conduct a link audit to identify bad backlinks
Finally, on the subject of backlinks, consider the above point on bad backlinks; ones from low DA domains will harm your own DA. Caption: A link audit will ensure low-quality backlinks don't hamper your DA efforts. Alt. Tag: A man in a suit pointing at a button that reads "audit". As such, it's in your best interest to conduct occasional link audits to identify bad backlinks. If you find ones from low (usually 40 and lower) DA websites, you can use such tools as Google's Disavow tool to safeguard your reputation.
Improve Your Internal Links
Focusing on your internal link structure is another technique to improve your site's user experience. You can keep your visitors interested and lower the bounce rate by providing links to additional informative pages on your site. Internal links also make crawling your website easier for search engine bots, which aids in indexing your content.
Another advantage of having a good internal link structure is that link juice is sent from one page to the next. The value of a page sent to other webpages is referred to as link juice in SEO. It provides the search engine a vote of confidence, as more links going to a page indicate that it is trustworthy. All of these contributes to a higher domain authority. You can use a plugin like All in One SEO to boost your internal linking strategy.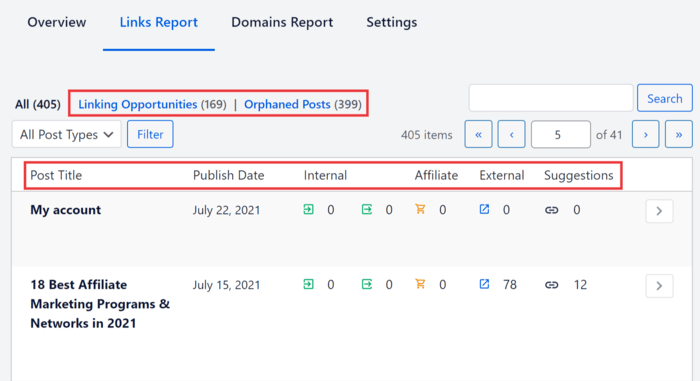 Here are some tools to verify your website's domain authority now that you know how to raise it.

You can use Moz Link Explorer to examine the domain authority of any website. Enter the URL of your website or a competitor's website to see the domain authority. The tool also shows the amount of unique backlinks to root domains and the number of keywords that rank for a certain domain. More information, such as the most followed links to this site, the most popular pages, the most popular anchor text, and more, are available if you scroll down.
2. Ahrefs

Another domain authority checker that you may use to determine a website's DA is Ahrefs, which is one of the top SEO tools on the market. It's worth noting that Ahrefs refers to it as Domain Rating, although it's the same thing. Another thing to keep in mind is that it calculates the DA using its own algorithm and factors. If you compare it to Moz or any other tool, you can notice a difference in scores.
3. SEMrush

SEMrush is a tool that is widely used by a variety of SEO specialists, and it also offers information regarding the domain authority of a particular website. Backlinks Analytics is the section of SEMrush that you need to go to in order to examine the DA of your website or the websites of your competitors. You are able to see your Authority Score by clicking on the Overview tab (which is domain authority). You have now successfully completed all of the steps in this guide. So, how long does it take until you start to see a rise in your DA?
To summarise, then, your domain authority (DA) is a very important factor in the success of your SEO activities, and vice versa. Building a great online reputation takes time and effort, but it's always a good idea to make sure you're putting in the work even though part of it will come to you naturally.
It is important to keep in mind that you do not have any control over the domain authority of your website. Your only option is to arrange the pieces in the correct configuration such that your DA score continues to rise. It is also important to keep in mind that increasing the domain authority is not an overnight process; rather, it needs some time and effort. Therefore, develop a plan with a long-term focus and make use of the suggestions we've provided in order to boost your DA. We really hope you enjoyed reading our essay about domain authority, in which we explained what it is and how it may be increased.