8

min read
6 reasons you need to use Facebook Ads
Social Media Marketing (SMM) has become an indispensable part of the digital marketing scheme. In fact, it has become arguably the most popular services among many other online marketing strategies. Today, the social media platform has become the most popular platform where people entertain themselves and connect. Therefore, social media has stood out as a fantastic platform for marketers to push their products and services.
Similarly, there are a lot of social platforms from which one can choose to implement their promotions. Instagram, LinkedIn, YouTube, Twitter, etc. all these social networking sites allow advertisements. However, with over 1.5 Billion daily active users, Facebook is without a doubt the most popular social media platform out there. Also, just like in all other social channels, Facebook also facilitates the promotion of brands and businesses through advertisements.
How to run ads on Facebook?
Actually, there are two different ways in which Facebook facilitates us to promote our brand and its products. One can simply boost the posts that they upload in the Facebook feeds. This is a simpler option and anyone can do it by setting up the payment methods.
Similarly, the next one is through the Facebook business manager. From this channel, advertisers can run highly customized ads and these platforms also allow advertisers to play with various things. Similarly, the analytics that can be got from the business manager is also better, which results in more efficient ads. However, the thing is that not everyone has an idea about how to use this plaatform. So it is better to run social marketing campaigns with the help of some digital marketing partner.
Where is Facebook Ads Manager?
You may bookmark the direct URL to Meta ads manager for quick access. You will be sent straight to your individual ad account's Facebook Ads Manager. Use the account dropdown option to select the appropriate account if you are in charge of many ad accounts.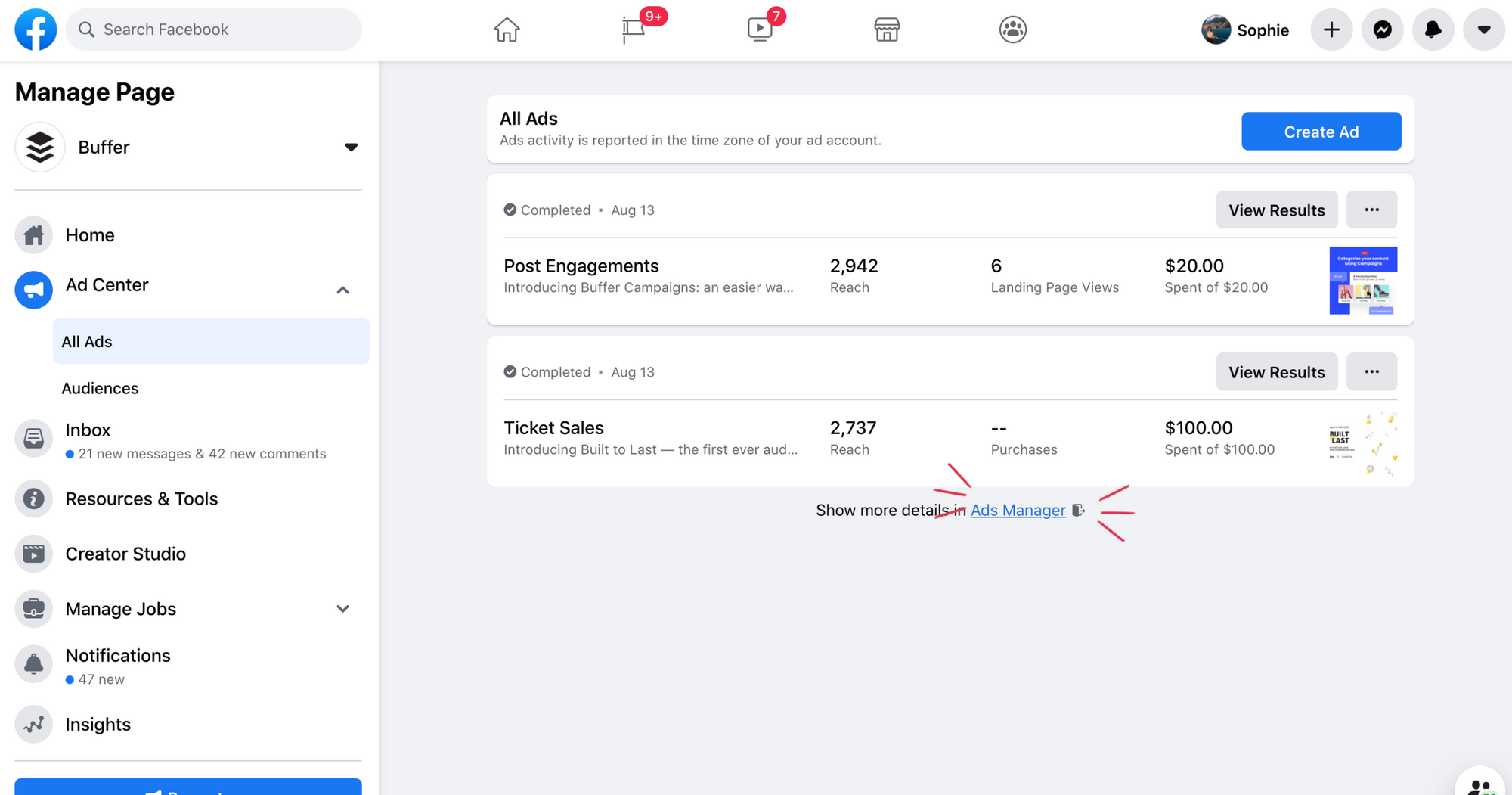 Go to the left sidebar of any Facebook Page, click on the "Ad Center" dropdown arrow, then select "All Ads" from the menu to access Ads Manager directly from your company Page. There is a link to "Ads Manager" at the bottom of that page.
Reasons to use Facebook ads
The audience is on Facebook
The user statistics of Facebook is simply mind-blowing. As mentioned earlier, there are about 1.5 billion daily users and 2.5 Billion monthly users on Facebook. With so many people using this social site, no matter what sector your business is in, your audience is surely there. From teenagers to old people, everyone enjoys Facebook. So, there is simply no better means to get seen and make an impression among the people than the place where they spend most of their time on, which is Facebook. So, if you want your brand to be visible and known among the general public, Facebook is a place you just cannot ignore.
Highly-Targeted Ads
By now, we know that Facebook has the audience base for all business out there. However, the most challenging thing is to get the ads to reach the intended audience. And Facebook has made this process fairly simple and easy for every marketer and advertiser out there. From user demographics like age, sex, location, interests, etc. all these miniature details can be customized while setting up Facebook ads. In addition, we can make custom and lookalike audiences too and can reach out to relevant people. Due to features like these, Facebook ads can be super targeted and very effective.
Affordable Advertisement
If you want an affordable and cost-friendly advertising platform, there is no better place than Facebook. One can start to run Facebook ads from a minimum amount. Similarly, the return that one gets on their investment can be far better than from expensive and inadequate traditional ads. Therefore, the use of Facebook ads is skyrocketing with each day and one should implement Facebook ads inn a planned manner if they want to make huge profits.
Facilitates different types of Ads
Within Facebook, one can now create and promote different types of ads. By using and running ads from the ad manager, advertisers can choose and promote exactly the type of ad they want. One can choose to run awareness, consideration, and conversion ads as they wish. Similarly, marketers can specifically choose ad-types such as reach, video views, app installs, traffic, lead generation, catalog-sales, etc. All these features make Facebook a dream platform for marketers.
Advertise according to Buyer's Journey
In today's context, the way advertising has changed completely. Instead of just putting forward the product in front of everyone out there, promotions are now done in a targeted manner. Even more, now the digitized social ads can be run seeing which stage the buyers are in their purchasing journey. We can install pixels in websites and retarget the visitors with different ads than to those ads that are just promotional and reach based. This makes Facebook advertisement a very attractive option in the marketer's eyes. Similarly, Facebook ads also give better results and boost a brand from every imaginable way.
Helps in building a Brand Image
With all social media including Facebook, advertisers can now engage and entertain with their audience and interested people. This helps a lot as people can be in constant communication with businesses if they are interested in their products. Similarly, promoting personal stories, important messages, etc. is also a tactic many brands implement. This helps in building a good impression among the public which will benefit their growth both in the long and short term.
Advantages of Using Facebook Advertising
1. Comprehensive Analytics
Facebook provides in-depth insights about your ad performance. You won't have to guess or estimate results. You can easily access data on your ad's reach, engagement, page likes, clicks, conversions, and more. This data helps you make informed decisions and optimize your advertising strategy.
2. Precise Audience Targeting
Facebook offers exceptional targeting options, allowing you to reach a specific audience based on their interests, behaviors, demographics, and more. You can even target your competitors' followers. Quality matters more than quantity in audience targeting for better conversion rates.
3. Customizable Ad Objectives
Creating Facebook ads is straightforward. You can choose your ad type, define your target audience, set your budget, and tailor your ad to match your specific goals. This customization helps you achieve the best results and align your ad with your brand and audience.
4. Wider Reach Than Organic Posts
With Facebook's algorithm favoring personal content, organic posts from business pages have limited visibility. To reach potential customers effectively, you need to use ads. They offer a cost-effective way to expand your reach and get your message in front of a larger audience.
5. Remarketing Opportunities
Facebook ads enable you to reach users who have previously interacted with your brand. Showing your ad to them again increases the likelihood of conversion, as multiple touchpoints are often necessary to build trust and encourage action.
6. Cost-Effective Clicks and Conversions
Facebook's increasing click-through rates and improved targeting tools make it cost-effective to generate clicks and conversions. While ad testing may require some budget allocation, targeting the right audience can lead to a high return on investment.
7. Discover New Leads
Identifying an audience that converts quickly allows you to leverage Facebook's "lookalike audiences" feature. This helps you find similar potential customers based on the behavior of your existing audience, expanding your reach.
8. Custom Call-to-Action Buttons
Including a call-to-action button in your ads directs users to take specific actions, such as visiting your website. These buttons guide your audience, increasing engagement and improving ad performance.
9. Active Social Media Users
With people spending an average of nearly 2.5 hours daily on social media, Facebook is a dominant platform. Your business must have a presence where your current and future customers are. If your target audience is on Facebook, it's essential to be there as well.
Incorporating these benefits into your Facebook advertising strategy can help you reach a broader audience, improve your ad performance, and increase your chances of success.
Frequently Asked Questions about Advertising
1. What are the advantages of using ads?
Ads offer several benefits for businesses. They can increase customer awareness of your brand, driving long-term sales. Ads can also generate leads, boost website traffic, and enhance brand recognition through targeted campaigns.
2. How do ads benefit customers?
Advertising benefits customers by expanding their choices. It introduces them to new products, brands, and innovative solutions. Competition driven by advertising leads to lower prices and higher-quality products. Ultimately, advertising makes customers' lives easier and more enjoyable by offering a wide array of options.
3. How much do Facebook ads really cost?
Currently, Facebook Ads cost approximately $0.94 per click or $12.07 per 1,000 impressions. The exact cost depends on various factors, including the location, age, and interests of your target audience.
4. Are Facebook ads worth the investment?
Yes, Facebook ads are indeed worth the investment. They are an effective means of reaching new customers and expanding your business. With the ability to target specific demographics and engage with people who have interacted with your content, Facebook Ads can deliver impressive results when used strategically.
In summary, Facebook ads offer a valuable tool for reaching your target audience, increasing brand visibility, and growing your business. Have you explored the benefits of Facebook ads for your business?