17

min read
10+ Best Ad Blocker Extensions for Chrome in 2023
The proliferation of advertisements as a monetization strategy for numerous applications and websites has led to a surge in the use of ad blockers. It's worth noting that not all ads serve the interests of businesses; some can be malicious and exploited by hackers. According to recent data, approximately 42.7% of people employ ad-blocking software to eliminate intrusive ads that disrupt their online experience.
To address this issue, here is a curated list of 10+ best ad blocker extensions for Chrome, complete with their features, pricing details, and pros and cons. Additionally, explore an ad blocker recovery solution to navigate through these challenges.
What Should You Look for in An Adblocker Extension for Chrome?
Selecting an effective and robust ad blocker can be a challenging task, given its impact on your digital convenience and security. To help you make an informed choice, consider the following key criteria for evaluating an ad blocker:
Versatility: Ensure that the ad blocker goes beyond merely blocking ads. Look for additional features such as a built-in VPN, a secure search engine, or an antimalware tool to enhance your digital well-being and security.
Compatibility: Opt for an ad blocker that provides comprehensive digital safety across various platforms, including desktop and mobile. Look for a solution that offers a higher number of simultaneous connections for ad-free and secure browsing on all your devices.
Money-Back Guarantee: Choose an ad blocker, such as an extension for Chrome, that offers a free trial or a 30-day money-back guarantee. This allows you to test the services before making a full commitment.
Cost: While cost is a factor, it's important to note that the most expensive ad blocker may not necessarily be the best. Seek a balance between price and quality, ensuring that you get good value for your investment.
With these criteria in mind, here is a curated list of 10+ best ad blocker extensions for Chrome to assist you in making an informed decision.
List of 10+ Adblocks – Review
1. Total Adblock
If you find yourself bothered by trackers and are primarily looking for an ad blocker, Total Adblock could be an excellent choice, serving as a viable alternative to Chrome's built-in ad blocker.
Developed by TotalAV, a reputable antivirus software developer, Total Adblock offers robust protection against malware, adware, trackers, and more. Here are some key details:
Pricing:
Features:
Efficient ad and tracker blocking capabilities
Can block YouTube and Facebook ads on the Chrome browser
Script blocking feature removes ads by filtering website code before entering
Provides insights into the number of blocked ads, trackers, and saved data
Contains a panel for monitoring blocking statistics
While Total Adblock excels in ad-blocking functionality, it may not be as versatile as some other options. It is particularly effective in blocking Facebook trackers and scripts. However, it's essential to note that the privacy policy allows the collection of personal information, so reviewing the terms and conditions before investing is advisable.
Pros:
Free Chrome Extension
Excellent ad-blocking abilities
Can block Facebook trackers
Can block scripts
Whitelisting feature for specific websites
Cons:
Lacks additional features
Limited compatibility (works only on iOS and Android)
Consider Total Adblock if you prioritize strong ad-blocking capabilities and are comfortable with its privacy policy.
 2. Adblock Plus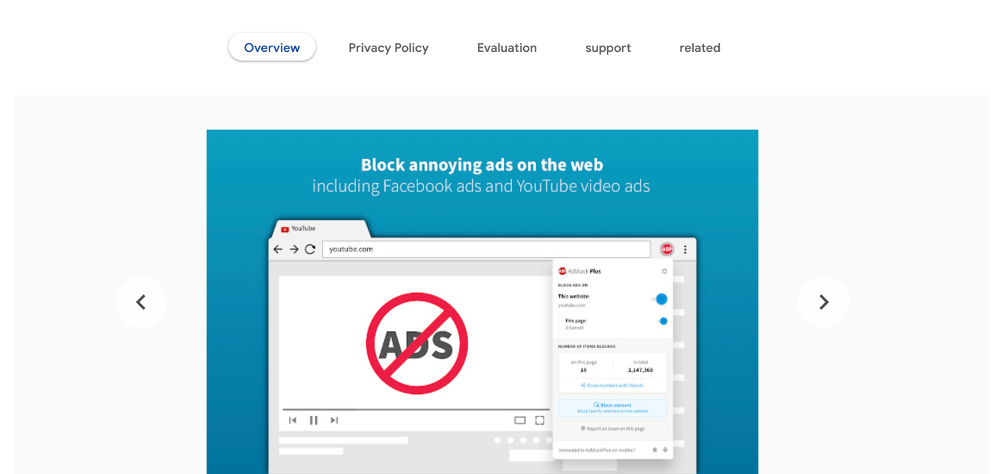 3. AdLock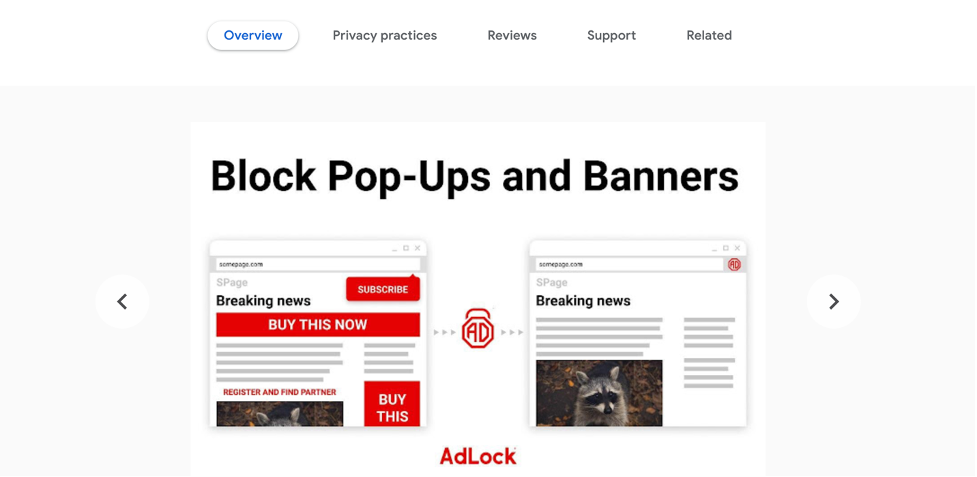 AdLock stands out as an effective tool for blocking various types of online advertisements, such as pre-roll ads and pop-ups, along with providing protection against harmful websites. Here are some key points about AdLock:
Positive Aspects:
Free on the Chrome Web Store:
AdLock is available for free on the Chrome Web Store, allowing users to easily access and install it as a browser extension.
Premium Plans with Guarantee:
Premium plans for AdLock are offered, providing users with additional features and benefits. These plans come with both annual and lifetime subscription options. Additionally, all AdLock products are backed by a 30-day money-back guarantee, ensuring user satisfaction.
Swift Page Loading:
Users can experience fast page loading times when using AdLock, enhancing their overall browsing experience.
Downsides:
Not Accessible on Google Play:
AdLock is not accessible on Google Play, limiting its availability for Android users through this popular platform.
Not Part of Acceptable Ads:
AdLock is not part of the Acceptable Ads initiative, and it doesn't whitelist sites. This means that it does not allow requests to sites on the whitelist, preventing the blocking of external tracking from these sites.
Despite these downsides, AdLock remains a strong choice for users looking to effectively block various forms of online advertisements and enhance their online security.
4. uBlock Origin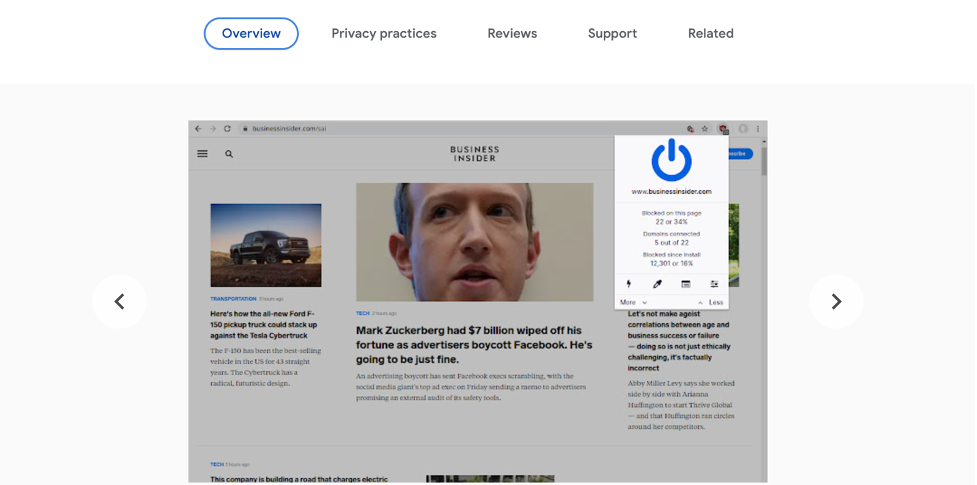 5. AdGuard AdBlocker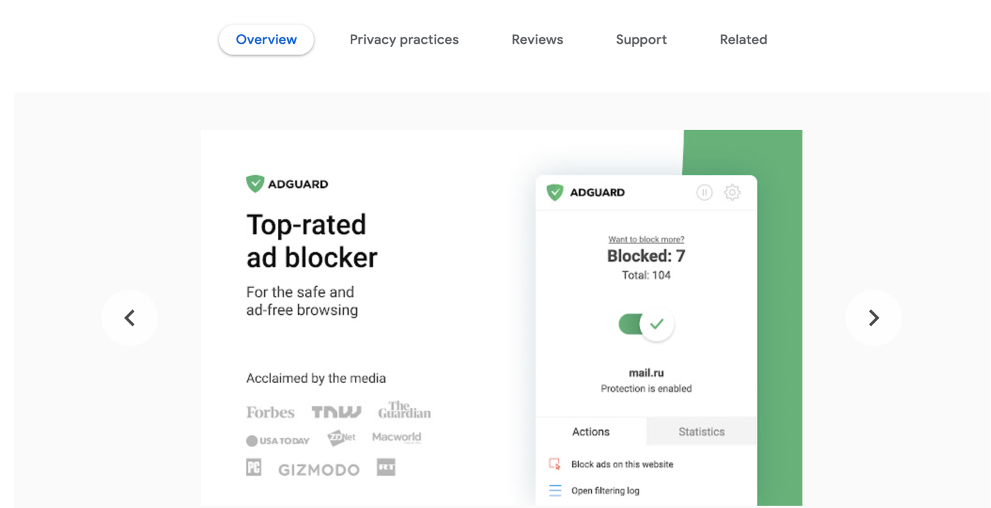 AdGuard AdBlocker, designed specifically for Chrome, stands out as one of the most effective ad blockers for several reasons:
Key Features:
Prevention of Online Fraud and Tracking:
AdGuard AdBlocker plays a crucial role in preventing online fraud and tracking, enhancing user privacy and security during online activities.
Comprehensive Ad Blocking:
It effectively blocks a range of intrusive elements, including pop-ups, banner ads, and pre-roll ads, contributing to a more seamless and distraction-free browsing experience.
Free for Chrome:
The ad blocker is freely available as a Chrome extension, allowing users to enjoy its ad-blocking benefits without any additional cost.
Multi-Platform Support:
AdGuard AdBlocker extends its support beyond Chrome, catering to users on Mac, Android, and iOS browsers, ensuring consistent ad blocking across various devices.
Drawbacks: Despite its effectiveness, AdGuard AdBlocker has some minor drawbacks:
Availability on Google Play:
It is not directly available on Google Play for Android users and needs to be downloaded through AdGuard's website.
Trial Period and Subscription Cost:
While there is a free trial for the first 14 days, users are required to subscribe at $2.49 per month or $79.99 annually, plus taxes, after the trial period.
These features and considerations make AdGuard AdBlocker a powerful choice for users seeking robust ad blocking and enhanced online privacy.
6. Poper Blocker: Pop up blocker for Chrome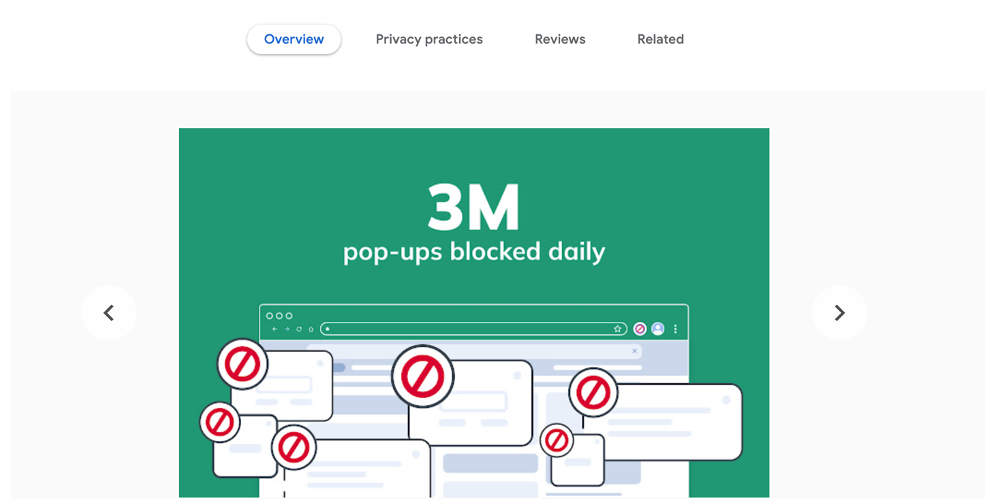 Poper Blocker has gained popularity as a Chrome extension for ad-blocking, and here's why:
Key Features:
Supplemental Ad Blocking:
Poper Blocker positions itself as a supplementary tool rather than a replacement for other ad blockers. It complements existing ad-blocking solutions.
Specialized Pop-Up Prevention:
The extension specializes in preventing various types of pop-ups, including pop-up overlays, timed pop-ups, scrolling pop-ups, and it often blocks ads that may go unnoticed by other ad blockers.
Informative Notifications:
Users receive informative notifications whenever Poper Blocker successfully blocks pop-ups, ads, or potential viruses, providing transparency about its actions.
Compatibility with Other Ad Blockers:
Poper Blocker is designed to work alongside other ad blockers, minimizing any potential conflicts and allowing users to benefit from its specialized pop-up blocking features in conjunction with broader ad-blocking solutions.
Additional Note:
Using an ad blocker, such as Poper Blocker, can significantly enhance the browsing experience by eliminating intrusive pop-ups and ads, leading to a cleaner and more user-friendly online environment.
These features make Poper Blocker a valuable tool for users looking to specifically address pop-up-related annoyances while maintaining compatibility with other ad-blocking solutions.
7. Ghostery – Free Ad Blocking Extension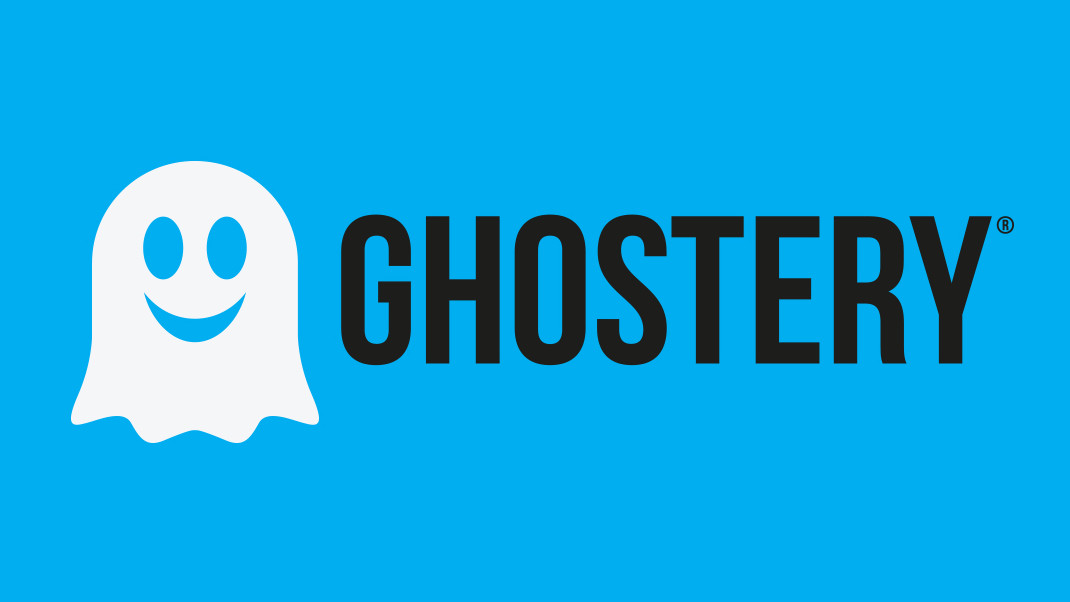 Ghostery, an open-source ad blocker, stands out with its efficient smart blocking technology, dedicated to optimizing your browsing experience. Here's a closer look at its features:
Key Features:
Smart Blocking Technology:
Ghostery's smart blocking technology excels in effectively blocking both ads and trackers, contributing to a streamlined and secure browsing experience.
Customizable Interface:
The user-friendly interface of Ghostery allows for customization, empowering users to decide what elements they want to block and what they prefer to allow. This flexibility enhances personalization based on individual preferences.
Analytics and Reporting:
Ghostery goes beyond mere blocking by providing users with analytical reports. These reports offer insights into the ads and trackers that have been successfully blocked, empowering users with information about their online environment.
Pros:
User-Friendly Interface:
Ghostery's interface is designed with user convenience in mind, ensuring ease of use for individuals seeking a hassle-free ad-blocking experience.
Analytics Available:
Users benefit from analytics that offer a comprehensive overview of the blocked ads and trackers, enhancing transparency and control.
Cons:
Browser Compatibility:
Ghostery primarily works for browsers, and its functionality may not extend beyond the browser environment.
Ghostery's combination of efficient blocking, a customizable interface, and insightful analytics makes it a valuable tool for users looking to take control of their online content and privacy. While its focus is on browser-level protection, its features contribute to an enhanced and secure browsing environment.
8. Adblocker Max
Adblocker Max is a free Chrome extension designed to provide users with a secure, straightforward, and ad-free browsing experience. Here are its key features:
Ad Blocking Capabilities:
Block ads, auto-play video ads, audio ads, and popups on various platforms, including Facebook, YouTube, and other websites.
Whitelisting Functionality:
Whitelist specific websites that you wish to support, allowing you to customize your ad-blocking preferences.
Customizable Blocklist:
Tailor the blocklist according to your preferences, giving you flexibility in managing the types of content you want to block.
Tracker Blocking for Privacy:
Enhance your privacy by blocking trackers that may compromise your online data.
Virus and Malware Protection:
Safeguard your browsing experience by protecting against viruses and malware, ensuring a secure online environment.
Fast and Safe Browsing:
Experience fast and secure browsing with Adblocker Max, enhancing the overall efficiency of your online activities.
Adblocker Max aims to empower users with control over their online environment, providing a safer and more enjoyable browsing experience on the Chrome browser.
9.Easy Ad Blocker
Easy Ad Blocker stands out as a fast, efficient, and user-friendly adblocker extension for Chrome, providing users with a seamless and ad-free browsing experience. Explore its key features:
Comprehensive Ad Blocking:
Effectively blocks annoying ads, video ads, banners, and popups, enhancing your browsing experience by eliminating distracting content.
Cryptocurrency Mining Prevention:
Guards against crypto mining activities, ensuring your system resources are not exploited without your consent.
Malware and Phishing Protection:
Enhances your online security by protecting against malware, phishing attempts, and hazardous websites.
Traffic and Bandwidth Savings:
Optimizes your internet usage by blocking unnecessary ads, leading to significant savings in both traffic and bandwidth.
Child-Friendly Content Filtering:
Safeguards children from inappropriate and adult content, providing a more secure online environment for family browsing.
Accelerated Web Surfing:
Speeds up your web surfing experience by eliminating the delays caused by intrusive ads, allowing for a smoother navigation process.
Easy Ad Blocker is designed to streamline your browsing journey by efficiently blocking unwanted content, ensuring a more enjoyable and secure online interaction on the Chrome browser.
10. AdAway
AdAway stands out as a highly effective and free Chrome extension designed to eliminate annoying elements such as ads, auto-play video ads, popups, and banners. Its installation is straightforward, offering users an optimal and clutter-free browsing experience.
Key Features:
Clean and Clutter-Free Browsing: AdAway ensures a browsing environment free from unnecessary distractions and intrusions.
Removal of Annoying Web Elements: The extension excels in removing various irritating elements encountered during web browsing.
No Whitelisted Advertisers: AdAway operates without whitelisting advertisers, providing a consistent ad-free experience.
Blocking Malware, Phishing, and Tracking: With a focus on user security, AdAway blocks potentially harmful elements like malware, phishing attempts, and tracking mechanisms.
Privacy Protection: Users can benefit from enhanced privacy protection, safeguarding their personal information.
Lightweight: AdAway is designed to be lightweight, ensuring efficient performance without slowing down browsing.
Fast Browsing Speed: The extension contributes to a faster browsing experience by eliminating resource-intensive ads.
AdAway, with its user-centric features, offers a seamless and protected online journey for Chrome users.
11. AdBlocker Ultimate
AdBlocker Ultimate stands as a robust and user-friendly adblocker extension for Chrome, offering users respite from intrusive ads while enhancing online security.
Key Features:
Safe and Ad-Free Browsing Experience: AdBlocker Ultimate ensures a secure and ad-free environment for an improved browsing experience.
Comprehensive Ad Blocking: The extension efficiently blocks all types of ads, including popups, banners, videos, providing users with uninterrupted browsing.
Enhanced Browser and Page Loading Speed: By eliminating resource-intensive ads, AdBlocker Ultimate contributes to improved browser and page loading speeds.
Virus, Spyware, and Adware Protection: Users benefit from protection against viruses, spyware, and adware, enhancing overall online security.
Reduced Memory Usage and Bandwidth: The extension helps decrease memory usage and conserves bandwidth by blocking unnecessary ad content.
Malware and Tracker Filtering: AdBlocker Ultimate filters out malware and trackers, adding an extra layer of security to your online activities.
Customizable Lists: Users have the flexibility to customize their ad-blocking preferences, tailoring the extension to their specific needs.
AdBlocker Ultimate, with its comprehensive feature set, provides users with a seamless and secure online browsing experience on the Chrome browser.
Ad Blocker Recovery Solution – How to Stop Losing Revenue to Ad Blockers?
For publishers, the impact of ad blockers on revenue has been a persistent challenge over the past decade. Ad blockers not only hinder the collection of impressions and clicks, the fundamental drivers of revenue, but they also disrupt site functionality, distort Google Analytics, and sever data connections with third-party entities. This disruption has compelled publishers to seek effective ad blocker recovery solutions to mitigate losses, recover lost revenue, and minimize the adverse effects of ad blockers on their websites.
Ad blocker recovery encompasses a range of methods that publishers can employ to offset revenue losses. These solutions leverage a combination of strategies to optimize the experience for both visitors and publishers, fostering sustainability. As a publisher, exploring and implementing these recovery solutions becomes crucial for navigating the evolving landscape of online advertising.
Key Considerations for Ad Blocker Recovery:
Diversified Revenue Streams:
Publishers can explore diverse revenue streams beyond traditional ad formats. This may include sponsored content, affiliate marketing, or premium subscription models to reduce reliance on ad-driven revenue.
User-Friendly Messaging:
Implementing non-intrusive, user-friendly messaging can encourage visitors to disable ad blockers voluntarily. Clear communication about the impact on site functionality and the value of ads in supporting free content can build understanding.
Acceptable Ads Standards:
Adhering to acceptable ads standards ensures that displayed ads are non-intrusive, maintaining a balance between user experience and revenue generation. This approach aligns with the preferences of users who may be more willing to allow such ads.
Ad Blocker Detection and Education:
Detecting ad blockers and providing educational content can inform visitors about the importance of ads in sustaining free content. This proactive approach aims to foster a sense of cooperation and understanding between publishers and users.
Ad Quality Improvement:
Enhancing the quality and relevance of ads can contribute to a positive user experience. By focusing on engaging, targeted, and well-designed ads, publishers can potentially reduce the inclination of users to employ ad blockers.
Subscription-Based Models:
Exploring subscription-based models, where users pay for an ad-free experience, offers an alternative revenue stream. This approach caters to users who prioritize an ad-free browsing experience and are willing to pay for it.
Effective ad blocker recovery solutions require a strategic and multi-faceted approach. Publishers can navigate revenue challenges by embracing a combination of these strategies, fostering a symbiotic relationship between content creators and consumers in the digital landscape.
Frequently Asked Questions – Chrome Ad Blocking Extensions
What is the Benefit of Using Adblocker Extension for Chrome?
Adblocker extensions offer several benefits, including: i) Hiding Cookie Notifications ii) Blocking Pop-ups iii) Improving Page Load Times
Where do Ad Blocker Extensions Appear on Chrome?
For Chrome users, the ad blocker extension will be displayed next to the URL. In the case of mobile ads, the extension appears below the ad.
What are Some of the Best Adblocker Extensions for Chrome?
i) Total AdBlock
ii) NordVPN Threat Protection
iii) Surfshark CleanWeb
iv) Atlas VPN SafeBrowse
v) Proton VPN NetShield
vi) AdGuard
vii) Ghostery
These ad-blocking extensions provide users with enhanced control over their online experience by suppressing unwanted ads, pop-ups, and improving overall browsing performance on the Chrome browser.
What is an Adblocker?
An Adblocker is a program designed to block various forms of advertisements, including popups and banners, during your web browsing. It enhances your online experience by providing a faster, safer, and ad-free environment. Additionally, it contributes to privacy protection by blocking malware, phishing attempts, trackers, and malicious content.
Is ad-blocking Chrome extension safe?
Yes.
Are all ad blockers effective?
Not all ad blockers are created equal in terms of effectiveness. The efficiency of an ad blocker depends on various factors, such as the technology it employs, the types of ads it aims to block, and the level of customization it offers.
Some ad blockers are browser extensions designed to block ads while you browse the web in a specific browser. Others are standalone applications that can block ads across different browsers or applications.
Certain ad blockers operate at the network level, filtering out ads before they reach your device. For instance, VPNs may use DNS-based filtering rules to block ads and trackers at the server level.
It's crucial to note that the effectiveness of ad blockers may vary. Some are adept at blocking specific types of ads, while others target a broader range across numerous websites and services.
Moreover, some ad blockers can detect and block new types of ads, effectively identifying novel advertising techniques attempting to bypass ad blockers.
Unfortunately, ad blockers may have false positives, unintentionally blocking parts of a website that users want access to.
For a seamless online experience, combining various ad blocker types and services is often recommended. For example, using AdBlock Plus alongside uBlock Origin and Privacy Badger can help reduce tracking, block ads, and improve page load times.
Each recommended ad blocker in this guide has its own advantages. It's essential to choose the one that aligns with your specific needs. Keep in mind that not all ad blockers effectively block ads on platforms like YouTube and Twitch, so additional research may be necessary for such requirements.
Conclusion
In conclusion, we have provided a list of the best free Adblocker extensions for Chrome, each offering unique functionalities and features. It is recommended to review and choose the one that aligns with your preferences and requirements.  If you found this article helpful, feel free to share it with your friends. For any questions or concerns, please comment below, and we will assist you in solving your queries. Thank you for reading this blog.
We trust that this article will assist you in discovering the best free Adblocker extension for Chrome.