27

min read
Online Digital Marketing has become very advanced in recent years. Most online marketers don't know what they should do next. This is happening at the same time that small business owners are starting to understand how to use online tools to build a community or interact on social networks. Search engines are adding new features and updating their data.
At the moment, social media is in one of its many stages of growth. Pay-per-click advertising platforms are also working on a number of new features that they haven't shown off yet. So, it's hard for small businesses to keep up with industry news, changes, or how-to tips, because what's new today may be completely out of date in a few years, if not months. Small businesses need to get better at marketing on the web if they want to stay in business.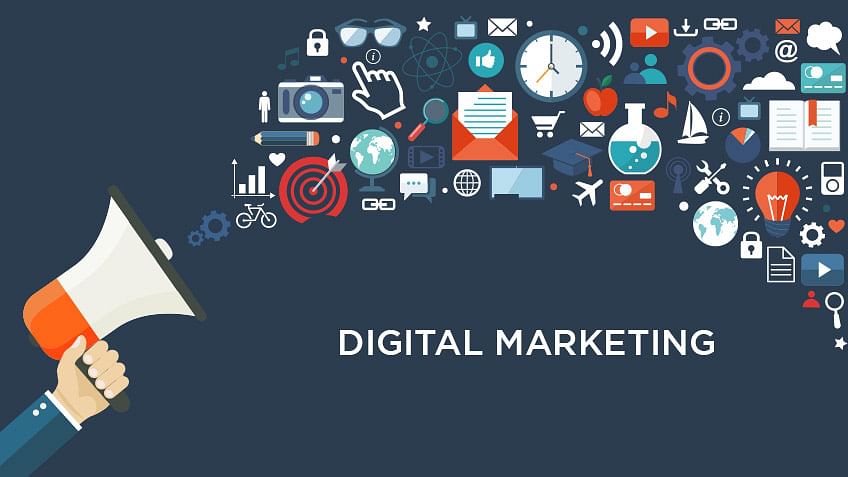 They should try things that are very different from what is usually done. So, here are five advanced ways to market your business online that every small business owner should use as the year goes on:
Advantages Of Digital Marketing – Full Guide

Content marketing Focus.
People have never been more likely to use useful information to win over clients and customers and gain trust and authority. And this is the way to go if you want to take your small business to the next level. Using blog posts, videos, newsletters, and a number of other inbound marketing techniques, you can quickly build a strong business relationship and trust with a large audience. This will help you sell more overall.
People say that marketing budgets are moving away from traditional methods like magazine ads and TV commercials and toward inbound marketing. As companies keep track of the return on investment (ROI) of content marketing, it's important to remember that this strategy only works if it fits perfectly with your company's overall goals. You might not be able to find any trained content marketers to help you with the research.
But Aaron Kahlow, who started the Online Marketing Institute, says that the benefits of content marketing can be "outrageously overwhelming" if you take the time to learn about the basics of the strategy before diving in.
In recent years, the corporation has restricted its social media marketing to Facebook, Twitter, and LinkedIn. However, other new social media platforms are already entering the mix. And, as it turns out, they are just as important as the three giants when it comes to marketing particular products and services.
They include Google+, Pinterest, Tumblr, and Instagram, which are all increasingly popular and offer a number of interesting new features that make reaching a wider audience easier. Businesses are extending their reach by utilising many social media platforms to reach the biggest number of prospective clients. It is also getting easier to develop brand equity through social media marketing.
Beginners should start learning about more advanced ways to market online.
At first glance, the vague word "marketing" may seem simple. After all, isn't it just spreading the word about something? From a big picture point of view, it may look simple, but there's a lot more to it than what meets the eye.
Marketing, and online marketing in particular, is a deep, wide, and large field with a lot of different subgroups and disciplines. In a capitalist society, marketing is king, and it has a lot of power and influence in business. Because of this, it's likely one of the most important things to learn right now. Most business owners, entrepreneurs, and even freelancers know the basics of marketing and how to use it to get their brand known.
Most of them are easy to understand. But there's more to it than just the basics, and advanced web marketing techniques are often the ones that can take your business further than you ever thought possible.
Here are some advanced marketing methods for newbies.
There seems to be no end to the things that could be talked about here, since each one has its own set of complexities and advanced techniques to think about. We might start with the most important things instead of trying to eat the whole elephant at once.
#1. Search Engine Optimization (SEO)
SEO (search engine optimization) is a broad term for a number of different ways to improve your company's rank in search results for relevant keywords and phrases. SEO comes in two forms: on-page and off-page. It means any change you make to your website to make it faster.
SEO that is done outside of your website's domain is called "off-page SEO." To do this, you must first link to your website from other sites that people trust. You can reach more customers and make more money online by making your site rank higher in search results. We can also help you come up with a standard or local SEO strategy to help your business reach more local customers. For people to find, contact, and visit your business, it must be listed on Google Maps. SEO is a part of a good plan for marketing on the Internet. It can also give you a big return on your money. If you're still not sure about SEO, GetSocialGuide offers SEO services that are guaranteed. This means that if we don't meet the goals of your campaign, we'll give you your money back.
SEO is the best way to market Anything Online.
SEO is needed for online marketing. Even though it's a stretch to say that SEO is just internet marketing, it's not too far off at this point. If you own a business in the year 2020, it's likely that you already do. But just having a website isn't enough because there are so many businesses on the web. Being live doesn't mean you'll get more clicks. SEO helps with this, and it's one of the best free ways to grow your business.
You can't ignore it, and if you understand how it works, you'll go far. SEO is still important, and it may stay that way in the future as well, because we've found a good balance between automation and human interaction. Now is the time to make the most of the chance.
By 2022, you'll know for sure that your business needs digital marketing. People will have spent more than $375 billion on advertising on the internet by next year. In the past few years, there have been a number of Internet marketing projects, such as social media, search engines, and content marketing. But we don't want to waste your time by talking about things that have nothing to do with your company's goals.
Instead, we'll talk about how even the most basic digital efforts aren't enough to keep you ahead of your target audience. Since digital marketing is always changing, it's important to stay ahead of the curve. The problem is that advanced strategies are hard to understand in a changing world. In many fields, it can be hard to understand how to fix problems, use new technology, and find solutions.
No matter what your situation is, you can use digital marketing in smart and sophisticated ways, which we'll talk about below.
Two Types of SEO: SEO and Advanced SEO.
If you take SEO seriously, it may be a sophisticated strategy to sell online. Incorporating keyword-rich blog posts and creating landing pages on a website based on a simple CMS are all examples of basic SEO. But it goes deeper.
Many organisations hire online SEO consultants like Game Of SERPs to analyse and improve their SEO rankings. These tools allow website owners to analyse SEO data qualitatively. There are many things to consider and loose ends to tie up when taking charge of your internet marketing strategy. This makes it difficult to do alone.
These sites can teach you a lot about your internet marketing scenario and how you compare to others. Online tools and specialists can aid you with your marketing strategy and, most significantly, your SEO. On-page and off-page SEO both impact your website's overall authority and rating.
SEO Gets Even better
"What is off-page SEO, but anyway?"
I thought SEO was only about the words on your website? SEO has also changed along with search engines. Off-page SEO is just as important as on-page SEO now. Backlinks are the main focus of off-page SEO. Backlinks are links that take people back to your website after they click on them. You can find these links on many websites, apps, directories, and social media platforms. Backlinks show how authoritative your domain is on the web.
Spiders will see if other websites link to yours and decide if you have good content or not. Give them a good name.' You can't just use your links to make 15 new websites, because search engines are too smart for that.
This is likely either black hat or grey hat SEO. You can also do a "backlink gap study" to compare yourself to your competitors. This way, you'll be able to compare your numbers to theirs and see how you compare to them. If you know how far away they are from you, you can take steps to protect your backlinks and close the gap.
#2 – Contextual SEO
We all know how important SEO is now, when only 7% of people who use search engines get to the third page. Basic SEO isn't enough to get to the top anymore, because everyone uses it. With innovations like BERT, Google Analytics is getting better and better at focusing on context. This new product from Google uses natural language processing to change how one out of every ten search queries are ranked.
That's the biggest change Google has made since RankBrain, and it's important for SEO because BERT is much better at understanding context. Google is putting more and more weight on ART (authority, relevance, and trust), which means that irrelevant content is falling further and further behind. For example, the blog you started to improve SEO now needs to have relevant content and well-thought-out links to other sites.
Because of this, the way your web pages are set up may need to change. Many businesses are impressing Google and reaching more customers with each relevant search by using high-quality landing pages that are based on a customer's location and other similar techniques.
#3 – Unique promotions
Increasing brand recognition through email marketing and other techniques is one of the digital activities. As expected, traditional "money-off incentives" no longer work to increase conversions. In fact, many organisations discover that using promo codes for bulk purchases increases costs rather than revenue. Still, 75% of clients expect a discount, so don't give up.
Instead, several businesses are coming up with creative promos. Advanced methods require targeted or influencer-led advertising that are easier to track and pay attention to. These customisation methods can help firms target issues including shopping cart abandonment, remarketing, abandonment, and code abuse. Even better, new technology in promo generators makes achieving these goals easier than ever. Improve your marketing strategy without adding more labour. For more specific targeting, they can connect to larger networks or even merge with giant coupon code sites like Groupon.
#4- Marketing Automation with Programmatic Technology
By 2020, programmatic marketing automation will account for 69% of all digital marketing spend. So, this should be the priority right now. Digital ads aren't new, but many businesses are finding that they don't always work in a world where the typical consumer sees 5,000 ads every day. Companies have long tried to overcome this issue by employing programmatic methods, which let them to buy more targeted advertising.
In this case, even regular methods can be worthless and inefficient. That's where AI and automation come in. These platforms learn about your products and services by making connections that are often concealed. This allows them to identify more time-efficient personalised advertising options. Also, it ensures that your unique codes are always seen by the proper people. This automation can compare advertising efforts to KPIs, budgets, and other parameters. With the option to immediately pause or cease campaigns if they aren't performing, digital advertising may nearly ensure future profits.
#5 – Influencer Marketing
Influencers were briefly mentioned when discussing unique codes, but they're such a hot topic in social media marketing today that it's worth examining separately. Putting your marketing efforts here can make your online marketing more effective than targeted ads, as 49 percent of people trust recommendations. Working harder in this area can put you at the top of the fastest acquisition strategy online right now.
Many companies take advantage of this by giving free products in exchange for honest reviews and, more importantly, by giving each influencer a unique code so campaigns can be tracked. No matter how you approach influencer marketing, your efforts can pay off big time in Digital Marketing. The personal confidence that comes with word-of-mouth marketing without the often untrustworthy character.
#6 – Responsive Web Design
Mobile cannot be ignored in 2022 digital marketing discussions. Simply put, mobile devices now account for 40% of all internet purchases, with 80% of consumers using them regularly. Marketing to mobile consumers requires a responsive web design. Why try to reach 80% of your clients online if they can't reach you? Many firms are still wary about using responsive designs, fearing a lot of coding and redesigning. This isn't true, and it will affect this year. All you have to do is invest in adaptable software. This facilitates switching. Things like AMP (accelerated mobile pages) are helping digital marketers in ways they couldn't have imagined five years ago.
#7. Pay-per-click (PPC) advertising
Pay-per-click (PPC) advertising is popular online. Pay-per-click allows advertisers to bid for spaces in sponsored links on search engines (PPC). When someone types a keyword into the search bar, your ad will appear above organic search results. In addition, when you utilise pay-per-click advertising to promote your website online, your ads may begin bringing qualified people to your site as soon as they are clicked live. PPC is also affordable because you only pay when someone clicks on your ad.
No effort or money is wasted trying to reach those who aren't interested in your product. You can also use PPC to retarget customers who have previously showed interest in your products and remind them of their previous website visits. Reciprocal marketing targets internet shoppers who have abandoned their carts but have not yet purchased. You can accomplish this by showing them adverts on other websites, encouraging them to return and complete the purchase.
#8. Content marketing
One of the most effective strategies for generating new online leads is content marketing. It entails producing unique content such as infographics, blog articles, ebooks, tutorials, and other written forms. Visitors can also get an inside look at your company's operations by using photographs and videos. People will be interested in learning more about your products after reading material that was both useful and intriguing.
Rather than selling through your content, find ways to engage your readers, educate them about your brand, and inform them about your products or services. Reach out to reporters, bloggers, and other industry influencers in order to have your work published on other websites. The more credible websites that link to your company, the stronger your website becomes and the higher it ranks in search engine results.
#9. Social media
Maintaining a presence on social media platforms is an important aspect of any online marketing strategy for engaging with current and potential clients. You may use social media to engage individuals, provide them with helpful information about your brand, and establish relationships with them that will lead to a purchase decision.
If someone has a query about your company, they may contact you directly through social media, and you'll be able to help them move forward with your company. GetSocialGuide  can help you create profiles on social media platforms like Facebook, Twitter, Pinterest, YouTube, LinkedIn, Instagram, Tumblr, and others, as well as on other websites. We have a team of social media marketers with years of experience who know how to engage people and produce meaningful results.
#10. Email marketing
Email marketing lets you get in touch with people directly through their email boxes. It could also give you a huge return on your investment. For every dollar you spend, you might make $44. Email services like MyEmailFX offer simple templates that are easy to change to fit the needs of your business. Based on how a user interacts with your website, you can divide your email lists into different groups and send them different emails.
Think about the following: If someone downloads an SEO guide, you can give them more tools and information about your services to help them learn more. Keeping in touch with current and potential customers and giving them updates is a great way to keep them up to date on your business and what it has to offer.
#11. Web design
The majority of potential consumers will contact you via your website, which is ideal. It needs to make a terrific first impression to do this. It can help you gain more clients and revenue online. A simple design and easy navigation may help users use your website and get the information they need to become customers and return. If your site appears attractive, visitors will stay longer.
This allows them to learn more about you and your company. This increases their likelihood of becoming clients and sends positive signals to search engines, helping your business rank higher. GetSocialGuide 's plans are also fully responsive. In other words, if you work with us, your site will look fantastic and perform properly on all browsers and devices.
#12. Conversion rate optimization (CRO)
Conversion rate optimization (CRO) is crucial for maximising web traffic value. Your website's buttons, pictures, and layouts may all be tested to see which versions your visitors prefer. Perhaps a green button gets more clicks than a red one, or your visitors like one image over another, or one version of a form over another. Knowing which elements of a website attract visitors will help you optimise your site and increase conversions and revenues. As a result, many organisations use CRO as a continuous Internet marketing strategy.
#13. Reputation management
Reputation management services improve your company's online reputation, making it more trustworthy to Internet users. GetSocialGuide can help your company monitor and manage internet reviews and mentions, giving you more control over your online reputation. This is a great way to show potential customers that your organisation cares about their needs, questions, and concerns. With GetSocialGuide's reputation management services, you may avert a reputation crisis and put your best foot forward. We will also help you maintain and promote positive ratings on Google, Yelp, and Facebook.
#14. Influencer marketing
Influencer marketing allows you to engage with high-profile persons online and have them promote your products to their audiences. Influencer marketing allows you to build relationships with people who can help you gain more loyal customers. A large network of bloggers can help you generate positive discussion about your company, products, and brand on the internet using GetSocialGuide 's influencer marketing plans. We'll help you create targeted campaigns using influencer-generated content to reach your target demographic. Our strategists will also help you make the most of your online interactions with your company.
#15. Optimization for Mobile Devices
Companies are now optimising their mobile websites. Mobile marketing in 2015 will centre on smartphone-optimized content combined with social media marketing. According to Google, mobile-friendly websites will rank higher. Google introduced Mobile Usability, a new feature in Webmaster Tools that is now a ranking factor, to reinforce this message.
Many businesses will use mobile marketing methods in many aspects of their digital marketing in 2022. This includes a mobile-friendly website, content tailored to smartphones, and, most importantly, mobile ads. As a result, companies must implement mobile social media strategies that enable mobile users to interact with their posts.
Social signals used to be less important than links from other sites. But for now, they're inextricably linked. As one of the three pillars of SEO, social shares have a big impact on how well a website ranks. Because search engines like Google are supposed to provide people with the most relevant information, it makes reasonable that they would factor in social shares. Google and other search engines favour information that is shared widely.
As a result, the material will rank higher in search engine results than less shared information. Also, visitors to your page may interpret social shares as a positive indicator. To put it simply, visitors are more inclined to read and share a content that has been shared 100 or more times. As a result, many businesses now include social sharing buttons and invite readers to share their material. In the future, no one knows how algorithms will develop, but social shares are likely to surpass traditional incoming links.
#17. Translations
The idea is simple: the more people who can see your content, the better. If you translate your website into different languages, your business will become more international. You can always use online translation services if you don't speak a foreign language and don't know anyone who can do it for you. For example, The Word Point offers translations in a fair number of languages.
For this marketing plan to work, it needs to be translated into at least two or three other languages. North Americans should think about moving into South America. This means you'll have to change your content for countries where Spanish and Portuguese are the most common languages. As a European company, you might want to focus on the biggest markets you haven't reached yet. But start slowly and with just a few. You can make that number bigger in your target countries.
#18. Smart Emails
You're probably thinking about how ineffective and inefficient email marketing has become over the last few years. But this isn't true if you know what you're doing and how to do it right. All of the things that make a good ad can be found in a well-written email. Consider adding the following things to your emails to make them more interesting. You can't say enough about how important design is. Make it stand out from what everyone else is doing. In this version, there is less text. There are a few more pictures. You should sprinkle your content with keywords. Only about the current topic. There's nothing else.
Instead of going for a large audience, think about going for specific people in addition to those on the list above. Make a list of the Internet users you want to reach and send your emails straight to them. If you want to have more control over your email marketing, you might want to use a service like MailChimp or an old-fashioned method like direct mail. It makes it easier and faster for these messages to get to their destinations.
How Does Internet Marketing Help You?
#1. It is a cost-effective solution.
Internet marketing's cost-effectiveness is unrivalled compared to traditional marketing tactics. Digital Marketing allows you to save money by targeting individuals who are already interested in your products and services, as opposed to wasting money on those who have no interest in what you have to offer. Internet marketing is an excellent option if you're looking for a cost-effective and accountable way to generate new leads for your business.
#2. It broadens the audience's reach
Internet marketing also offers you the chance to expand your customer base and acquire even more clients. When employing conventional marketing tactics, your reach is sometimes constrained by the amount of the available advertising space. Suppose you place an advertisement on a billboard; only individuals who drive by the billboard will be able to view it. Instead of being limited to certain media or audiences, web marketing enables you to contact potential clients anywhere in the globe. This has the ability to boost your marketing efficiency while allowing you to touch more people in less time, which is a huge advantage for your business.
#3. It helps to raise awareness about the brand.
Because Internet marketing allows you to reach a larger audience, it will also help you increase brand awareness. As a result of your digital marketing activities, more individuals will learn about, recognise, and eventually select your firm. Users are more likely to remember your company if they encounter it several times, even if they are not ready to become clients the first time they encounter it. They may even refer you to family members, friends, or business acquaintances who require your knowledge. Since a result, word-of-mouth recommendations are extremely powerful, as consumers trust recommendations from others more than official advertising, and 80% of Americans seek recommendations before making purchases.
#4. It results in a higher number of qualified leads.
People that are already searching the internet for your business, products, or services are the ones who gain from internet marketing. In other words, Internet marketing facilitates the generation of more quality leads. As a consequence of your Digital Marketing efforts, website visitors are more likely to make a purchase and become repeat customers than those who hear a radio advertisement. This will also aid your organisation in maximising its marketing expenditures, since you won't squander money attempting to attract those who aren't interested in your products or services.
Internet marketing may position your company as an industry expert. Using SEO techniques, for example, can help your company rank better in search results for relevant phrases. The higher your company's website ranks, the more credible it seems. Also, greater search engine rankings mean more clicks and traffic. In fact, 33% of all traffic comes from Google's organic first page. Publishing exceptional content establishes your company as a credible source of knowledge and attracts new customers.
#6. It is simple to keep track of.
Tools like Google Analytics make it easy to measure and assess internet marketing activities. You will get the most out of your marketing dollars if you constantly monitor, analyse, and test them. You will also understand which approaches create the most revenue for your firm, allowing you to reallocate funds to those activities. With Internet marketing's testing capabilities, you can easily fine-tune your campaigns and make modifications to maximise your return on investment.
#7. It can assist you in increasing your revenue.
Internet marketing tactics are intended to maximise your marketing budget while delivering a high return on investment. Many businesses view Internet marketing as a cost-effective approach to reach more customers. GetSocialGuide can assist with getting started. Our Internet marketing specialists understand how to maximise your budget, attract more customers, and increase your online income. Discover more today.
#8. It can boost the perceived worth of your goods or service.
The adding of value to a product or service is a good way to increase brand recognition and consumer loyalty. It is highly advantageous to increase the persuasive power of your marketing efforts by giving away more than the actual worth of your product or service. Value enhancements may take on a variety of forms. For example, you may provide a discount to returning clients in appreciation for their loyalty, or you could provide a free promotional gift to new consumers.
High-quality gated content, such as free whitepapers, webinars, and free trials, is gaining popularity among digital lead generation-focused firms. The objective of this marketing plan is simple. What factors will increase the likelihood that a member of your target audience would pick your product or service over that of your closest rival if they are forced to choose between you and them? The answer to this question will decide the content of your personalised value advertisement.
#9. IT can help you take advantage of opportunities for more customization.
It's not news that your Digital Marketing should be tailored to the tastes of the people you want to reach. In fact, this is what the vast majority of the people you want to reach expect. So, if you want to stand out from the other people in your field, you need to take the next step in your career. In the next step of your Digital Marketing plan, you may decide to make intelligent content. Personalizing a website means more than just putting the recipient's first name in an email. Instead, it means changing the website's content based on information you already have about that visitor.
For example, a lead who has already been to your website may see a completely different homepage than someone who is visiting for the first time. So, you'll be able to give your audience more personalised content, which will make what you say to them more important to them. The same level of customization is also possible with other types of marketing, like direct mail. Emails, for example, can be made to fit the needs of a specific audience by using effective audience segmentation and custom content blocks. As was already said, the goal is to give potential clients a better marketing experience than they have had in the past.
#10. It can help you connect with well-known consumers.
A lot of people who know about Digital Marketing think that influencer marketing will be the next big thing. Traditional ads are becoming less appealing to people of all ages and backgrounds. Software that blocks ads is the cause of billions of dollars in lost income. The solution is to work with people who are important to your audience so that the message comes from them and not from you. Building a network of influential people takes a lot of time and effort.
It involves not only finding important Internet users who your target audience trusts, but also getting to know them and building a relationship with them. You can only be successful if you find the right people and give them the right reasons to share the right information. But once you get there, there are a lot of good things that happen. One case study found that influencer marketing has a return on investment that is eleven times higher than other forms of digital marketing.
#11. Make the most of local SEO.
SEO has evolved into much more than just a means to acquire a high ranking in search results. For example, Google now considers location when ranking results. This helps small firms compete with big ones. So now Google is pushing all businesses, big or small, to focus on local SEO. Success comes in many forms. A smart plan will help your target market find you when they are seeking for a similar brand.
Mobile users in particular may have a major impact on your SEO efforts. In fact, 50% of smartphone users who conduct a local search visit a store located through the search the same day. According to a recent poll, 89 percent of respondents seek for local companies at least once a week. As we wait,
Creating a Digital Strategy for 2022 and the Future
These techniques are not always simple. Simple operations like sending out an email blast or publishing on social media take considerably less time than more sophisticated ones like generating a 360-degree video or ranking first in local searches. Nonetheless, if applied effectively, they may serve as the foundation of a successful digital marketing strategy that puts your firm ahead of the competition.
Of course, for any of these strategies to work, a good backend is essential. Websites are becoming the cornerstone of success in an increasingly competitive digital marketing environment, delivering the conversion chances as well as the in-depth information that your target audience requires after first being exposed to your marketing messaging. If you need help constructing a website that can handle sophisticated marketing strategies like the ones indicated above, please contact us.
Summary – Advantages Of Digital Marketing
Businesses now try to be like well-known brands like Google and Apple. Businesses are now putting more emphasis on short marketing messages than on constant, detailed information dumps. In this method, it's important to tone down the marketing messages so that buyers don't get too excited. Pinterest is a great example. Its popularity is largely due to the fact that it has a simple, clean look. Google and other well-known companies all have a limited number of words. Text-based lessons are being replaced by video lessons so that clients don't get tired looking for the right information. 2015 is expected to be the year when the most successful online marketing strategy promotes products and services that make consumers' lives and experiences easier.