10

min read
10 AI Marketing Tools for Modern Marketers to Use
As a marketer, you have to handle lots of different tasks, platforms, and types of content every day. Sometimes, the workload can become too much to handle, and you might struggle to keep up with everything. It would be great if there was a way to get some help with all of this, right? Fortunately, we have some AI tools that will reduce your workload and save time without compromising the effectiveness of your work. Whether you're a seasoned marketer or just starting on your journey, understanding and utilizing these AI tools can significantly impact your marketing efforts.
From content creation to customer segmentation and personalization, AI-driven solutions offer a wealth of benefits. These tools do need you to have a good understanding of the various digital marketing techniques. This is where digital marketing training can prove to be effective in understanding and using the tools as a digital marketer. So without further delay, let us take a look at the best AI tools to use in digital marketing.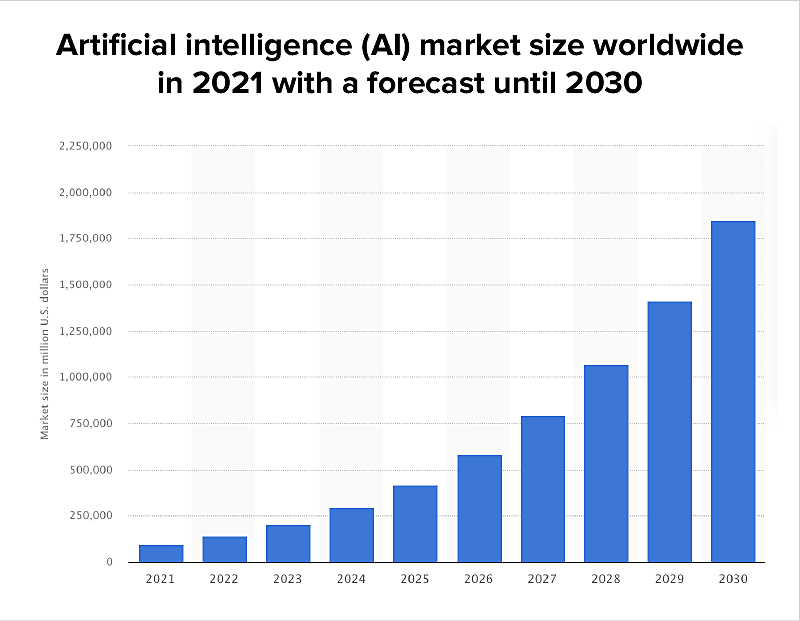 10 AI Marketing Tools for Marketers to Use
1. ChatGPT
ChatGPT is an AI-powered natural language processing tool that enables you to engage in human-like conversations and beyond with the chatbot. This language model is capable of responding to questions and providing assistance for various tasks, including composing emails, essays, and code. In addition to answering simple questions, the model can do many other things. With ChatGPT, you can create essays, describe art in detail, get AI art prompts, have deep philosophical conversations, and even get help with coding. It's a versatile tool with a wide range of capabilities!
Key Features:
Conduct keyword analysis for SEO purposes.
Generate content marketing ideas.
Write and optimize content for organic search and PPC campaigns.
Manage email marketing efforts.
Summarize market research findings.
Create product descriptions for E-commerce platforms.
ChatGPT requires the right prompts to work effectively and hence requires the right knowledge of digital marketing. As the possibilities are endless with ChatGPT you need to be aware of the right prompts to give. With Digital Vidya you can learn the effective use of ChatGPT in carrying out effective digital marketing activities.
2. Jasper.ai
Jasper is an AI writer designed to help marketers in many ways. It uses AI in different ways, making it a great choice for people who need various types of content. What's cool about Jasper is that it combines GPT 3 technology with its own special LLM, which is trained specifically for marketing and sales content. This mix of technologies makes Jasper stand out as a long-format content generator for creating SEO-friendly content that ranks well on search engines. Jasper is really popular and successful among online AI writing services. The reason for this is that it provides better AI writing compared to other AI writers that use a simpler approach and rely solely on the GPT 3 API.
Key Features:
Use Surfer SEO integration to write content based on Surfer's NPL SEO data.
Utilize Jasper Chat, a content creation tool with a familiar ChatGPT-styled user interface (considered one of the top ChatGPT alternatives).
Try Jasper Art to generate images based on simple text prompts.
For marketers, Jasper is a powerful tool to have, especially for content writers and communication specialists who produce a lot of content every week (like writing more than 4000 words a week).
3. Ocoya
Ocoya is a smart tool that helps social media managers create and schedule posts easily. It's like an all-in-one assistant powered by AI for marketing on social media. While tools like Buffer or Hootsuite have made scheduling content easier, Ocoya takes it a step further. It has a visual post creator, an AI writing assistant, and all the content scheduling tools you'd find in other apps. Ocoya provides many tools that help you be more creative and share more content on the social media channels you handle.
Key Features:
Create social media content using AI technology.
Access a wide collection of post-image templates.
Schedule posts across multiple platforms from a single dashboard.
Use eCommerce integrations to design marketing materials focused on products.
The higher plans are ideal for agencies and businesses with multiple team members (each business can have its own workspace). You can post to Facebook, Instagram, Twitter, LinkedIn, and Pinterest. The AI writer follows best practices for social media copywriting, making it easy to create effective posts with a little guidance.
4. Rapidely
Rapidely is a cutting-edge tool built on powerful GPT-4 technology, with the goal of transforming social media content creation. Created by two tech enthusiasts who recognized the importance of efficiency and automation, Rapidely is designed for entrepreneurs and social media professionals seeking to simplify their content generation process.
Key Features:
Manage multiple accounts and collaborate with teams easily.
Maintain a seamless workflow for social media management.
Utilize the Monthly Calendar Generator for engaging and customized posts.
Create on-brand carousels quickly with the Carousel Maker to boost social media engagement.
Rapidely significantly enhances the social media management experience with these key features.
One of the most impressive features is the Captivating Content tool, which creates compelling captions using smart AI tools that match your brand's style. Also, the platform keeps you up-to-date with the latest sound trends for Reels, helping you stay relevant and trendy.
5. Surfer SEO
Surfer SEO examines search results and compares your content with top-ranking pages. Their content analysis looks at things like related words, content length, and images to make sure your content is on the right track. It's considered one of the best SEO tools and would be a great addition to your tools for increasing organic traffic.
Key Features:
Compare your content with top-ranking articles in your target search results.
Choose country-specific search results to customize your content for different regions.
Generate content briefs and outlines based on competitor content analysis.
The Grow Flow feature continuously examines your website for content decay and quick opportunities for improvement.
Surfer SEO is an excellent tool for website managers and content editors who want to significantly enhance the quality of their content. Editors can create content briefs and outlines that help writers succeed more effectively. Additionally, website and SEO managers can use Grow Flow to keep a close eye on published content and be alerted when Google starts devaluing content due to its age or reduced relevance (content decay).
6. Pictory AI
Pictory AI is a video generator powered by AI, designed for marketers using websites and social channels. Its special editing tools allow you to transform text content into videos and edit video content using text. This way, you can make videos using your writing team's skills without having to train them or hire new staff specifically for video creation.
Key Features:
Turn long-form videos into "Shorts."
Generate videos using stock footage, background music, and AI-generated voiceovers.
Edit videos using transcribed speech in a document editor.
Automatically generate captions for your videos.
Pictory AI is perfect for designers, content creators, and businesses looking for an automated solution to create video content using long-form text and videos.
7. Flick
Flick AI Social Media Assistant is a strong marketing tool that makes it easy to come up with ideas, write, and plan social media content. You can try it out with a 7-day free trial and see how it helps you create engaging and on-brand content effortlessly.
Key Features:
AI-driven platform with AI Idea Brainstorming for unique content concepts.
AI Caption Writing for creating customized captions.
Ability to transform long content into bite-sized pieces for easy sharing.
Excellent Post Scheduling feature for arranging and timing posts effortlessly.
Auto-Suggested Hashtags and Hashtag Search & Manager for effective content management and improved visibility.
This tool is made specifically for social media and comes with 24/7 support. Setting it up is straightforward. Flick AI Social Media Assistant is trusted by over 100,000 content creators, brands, and marketers. It helps them save time, get better results, and make their social media presence even better.
8. Beacons AI
The Beacon's AI Outreach Tool was created by blending technology and passion, aiming to revolutionize brand outreach for creators. Co-founded by former creators and tech entrepreneurs, John and Lisa, the tool combines their understanding of the creative industry with their technological expertise.
Key Features:
Simple way to create personalized pitch emails to brands.
Streamlines the once daunting task into an effortless process.
Users only need to select a brand, define tone, and pitch length.
The AI engine generates a professional and personalized pitch quickly.
Editing feature allows further fine-tuning of the pitch.
One of its impressive features is the Brands Database, a big collection of brands that creators can pitch to. Combined with the tone of voice customization, it ensures that every pitch truly represents the creator.
9. Otter AI
Otter AI is a smart transcription service that uses AI to accurately transcribe live meetings. For marketers who spend a lot of time in planning meetings or inside the Meta Ads manager, Otter aims to give some of that time back. It listens to your meetings, records important information, and creates meeting notes with timestamps, showing each person's contributions. You won't need to create a new Google doc for every meeting or constantly share links with your co-workers anymore.
Key Features:
Transcribes meetings in real time.
Records slides and presentations for note-taking.
Provides timestamped meeting notes that you can easily search.
Integrates with your preferred meeting platform.
Records meetings and saves them in one place for future reference.
If you work in marketing or sales and have many meetings, Otter can save you time and boost productivity. It offers collaborative tools to make meetings more efficient, helping you and your team save valuable time.
10. Adzooma
Adzooma is a platform that uses AI to manage ads. It handles ads on various channels like Google Ads, Meta, and more, providing top-notch AI suggestions all in one place. With simple ad scores and metrics, you can easily see how your ads are doing and make changes based on its advice. It also offers extra tools for website SEO and managing local listings and reviews.
Key Features:
Control local listings and reviews using an AI-powered dashboard (available in the Plus plan).
Create and optimize Ad campaigns across ad networks with AI assistance (free plan with a possible percentage of ad spend collection).
Receive SEO performance insights and actionable steps (included in the plus plan).
Digital advertisers and SEMs will find Adzooma incredibly helpful. Instead of spending hours manually searching through metrics, this AI ads platform provides you with all the information you need easily. Use Adzooma to your advantage and achieve new levels of success.
Conclusion
In conclusion, these 10 AI marketing tools offer a groundbreaking opportunity for modern marketers to amplify their strategies and boost efficiency. From content creation to social media management, AI-powered solutions have become indispensable in today's digital landscape. Embracing these tools can revolutionize the way marketers engage with their audience, optimize campaigns, and drive results. As the digital marketing landscape evolves, staying ahead requires leveraging cutting-edge technology. For those seeking to master AI and digital marketing, consider enrolling in the best digital marketing course in lucknow to gain in-depth knowledge and practical expertise. Embrace the power of AI, and propel your marketing efforts to new heights.
FAQs
1. How do AI tools help in marketing?
AI marketing involves the utilization of artificial intelligence technologies to automatically make decisions based on data collection, analysis, and observations of audience and economic trends affecting marketing efforts. AI is particularly useful in digital marketing, where speed is crucial.
2. Why are AI tools important in modern marketing?
AI tools are vital in modern marketing because they streamline tasks, personalize content, analyze data, and enhance decision-making, ultimately boosting efficiency and driving better results.
3. What are the top AI tools for marketing?
The top AI tools for marketing are:
ChatGPT
Jasper.ai
Ocoya
Rapiedly
Surfer SEO