28

min read
The Best AliExpress Alternatives for Dropshipping (June 2022)
Despite the fact that AliExpress is currently the leading online wholesale platform for dropshippers, many store owners are looking for AliExpress alternatives in order to boost their profit margins. This is due to the difficulty in locating some products and the high cost of delivery.
One of the best wholesale choices for dropshippers right now is AliExpress. For a long time, AliExpress has stood out as a user-friendly website with a vast assortment of goods (apps like Printful, Spocket and Oberlo make it easy to find the best products to sell online). Sadly, not everyone thinks it's perfect. Some shoppers just can't find what they're looking for on AliExpress, or they are unsure of the sellers' veracity.
Dropshipping has quickly become one of the easiest and most alluring ways to generate money online. If you run a dropshipping business, you won't have to worry about things like finding a warehouse where you can store your products or purchasing more inventory than you can handle.
With dropshipping, you may work with a supplier to guarantee that your customers always get the products they need right away and without any hassle. Dropshipping company concepts that leverage trustworthy wholesale suppliers like Amazon are profitable for even some business owners. Using a number of online shopping sites, you may sell anything to buyers throughout the world, from Chinese items and pet supplies to a choice of top brands.
If you're seeking for such possibilities, you've come to the correct place. In this post, we've identified a few of the top AliExpress alternatives that offer buyers high-quality products at reduced rates. As a result, you might get a competitive advantage as a dropshipper by utilising other shopping platforms to maintain a decent profit margin.
Finding Dropshipping Suppliers: An Introduction
It's crucial to realise that dropshipping as a business strategy involves far more than most people realise. For example, not all of your purchases have to be made on sites like Amazon and eBay. You'll require a setting where you can buy the things you require in large quantities. The majority of consumers are likely aware with Amazon, eBay, and other online marketplaces, but these companies aren't technically wholesalers.
The places you go as a customer to find inexpensive goods and the places you'll need to go as a business owner to stock your virtual warehouse differ significantly. The purpose of AliExpress and other dropshipping sellers is to offer businesses reduced costs on large orders of a particular product.
Dropshipping vendors can provide a variety of things at lower prices than you'll find elsewhere, ranging from Chinese to American goods. Without spending a fortune, you may have goods sent directly to your customers from Hong Kong and other parts of the world using a firm like Spocket or AliExpress, for example. Even wholesale vendors exist today who ship from areas a lot closer to your target market.
Where can I locate the top dropship suppliers?
You must locate a supplier who can not just deliver the large assortment of goods you want to sell if you want to start a successful dropshipping business. In order to easily produce money quickly, you'll also need to choose a dropshipping provider that can work with your e-commerce site.
What is AliExpress?
However, if you are new to the dropshipping industry, let's first learn a little bit about AliExpress, the largest website for dropshippers to visit and score some sweet discounts. With its headquarters in China, AliExpress is an online store where you can buy practically any physical product made there.
The enormous Chinese global eCommerce business Alibaba owns the website, which was established in 2010. Credit card payments are accepted on AliExpress, which is designed for retailers. The products frequently have two-week delivery times to any location in the world and extremely inexpensive pricing.
Despite its widespread use, not everyone enjoys using AliExpress. Your customers may obtain inferior goods while you are unable to prevent it due to the threat of bogus internet vendors. If your company is centred around a speedy shipping process, the lengthy shipment periods can cause issues.
Alternative alternatives are therefore required so that you may exert more control on the dropshipping procedure. You must learn how to identify the appropriate names before looking at those names, which we will cover in the following part.
How to choose a suitable AliExpress alternative?
Before you decide to dropship from another platform rather than AliExpress, please consider the following factors:
Discover how to connect the platform to your dropshipping store (Shopify).: The majority of platforms let you utilise a Shopify app, but if they don't, you'll need to locate a third-party app to connect. You should give it some thought even if it will increase your monthly expenses slightly. Make sure you can link the store and the platform even if you don't use Shopify because this will help your dropshipping business work effectively.
Check their products and suppliers: Check to see if the products are of high quality and the vendors are reputable, just like on AliExpress. Learn how to assess the supplier's reputation and send messages to determine whether they can respond quickly and speak English fluently.
Do they offer a secure payment method: There are many other brands that can offer secure payment gateways, ensuring that your transactions are protected. PayPal is a well-known third-party payment service that all websites ought to have. Verify if the website offers these choices.
Consider the cost: Some drop shipping websites may charge a monthly subscription, be completely free to use, or offer a combination of both. Think about the advantages you can obtain from these costs and whether they are worthwhile.
What is AliExpress?
It is important to have a look at the standard product before moving on to discuss the various alternatives to AliExpress that are available to contemporary dropshippers. AliExpress was launched for the first time in 2010 and is a business that is a part of the Alibaba Group. Since that time, the company has developed into one of the eCommerce platforms with the most rapid expansion anywhere in the globe.
This also means that shipment times will be significantly reduced compared to dropshipping with Chinese suppliers. The platform is compatible with Shopify, so if you have a Shopify-powered web business, the procedure will be completed in a matter of minutes. They are also tied to WooCommerce.
You can locate a tutorial titled "Winning Products" at the top of the webpage for a brief introduction to the platform's many steps and actions. You can also gain a great deal from its realistic perspective on eCommerce and dropshipping. It is possible to discover advice on marketing for specific occasions such as Black Friday.
If you are headquartered in the United States or Europe, the site generally provides excellent services for locating high-profit products and dropshipping them quickly. Facebook's community can help you grow farther and assist others along the road.
Additionally, if you pay the cost annually, you will receive up to 5 months free. A free 14-day trial is provided so that you can experience everything before signing up. When I originally reached the home page, I was unable to locate the pricing page, which is something I dislike about the site.
Check Spocket Pricing & Features
The Best AliExpress Alternatives: DHGate

DHGate is likely to appeal to you if you're seeking a dropshipping website with a similar aesthetic to AliExpress. This website's navigation and design are fairly comparable to what you would expect from AliExpress, so you shouldn't experience too much confusion.
There are some of the same issues on DHGate as there are on AliExpress, which is the site's only drawback. For example, shipping timeframes are typically lengthy, and you cannot always rely on every provider you approach. On the other hand, if you're looking for an alternative to AliExpress with a larger selection of products, DHGate could be the perfect fit.
Nonetheless, if you're seeking for other dropshipping suppliers, DHGate is one of the top alternatives mentioned on Google, with rates that are significantly lower than you'd expect. This website makes it more simpler to stock your eCommerce store than Amazon, eBay, and other US-based competitors. In addition, there is a vast selection of drop shipping products available at cheaper pricing than elsewhere. Whether you offer technology or pet supplies, this choice could be ideal for you.
DHGate is an online marketplace comparable to AliExpress. It features sellers from the Far East who offer manufactured goods to consumers directly. It is a popular alternative to AliExpress utilised by many dropshippers. Both DHGate and AliExpress provide identical products, allowing you to compare pricing to maximise your profit.
Note that you must conduct your own due diligence on DHGate by examining the suppliers' ratings and the number of orders they have already fulfilled.
DHGate provides approximately 10 million dropshipping items from China, Hong Kong, Taiwan, and other Central Asian nations.
DHgate is a Chinese marketplace comparable to AliExpress. The country's suppliers sell manufactured goods on the website and can transport them directly to your clients. It is a famous website that many dropshippers use as an alternative to AliExpress. Both sites provide products that are relatively comparable, allowing you to compare costs to maximise your profit.
DHgate likewise employs ePacket shipping to distribute products, so the shipping time is comparable to AliExpress. You will need to conduct your own research on DHgate by examining suppliers' ratings and the amount of orders they've fulfilled.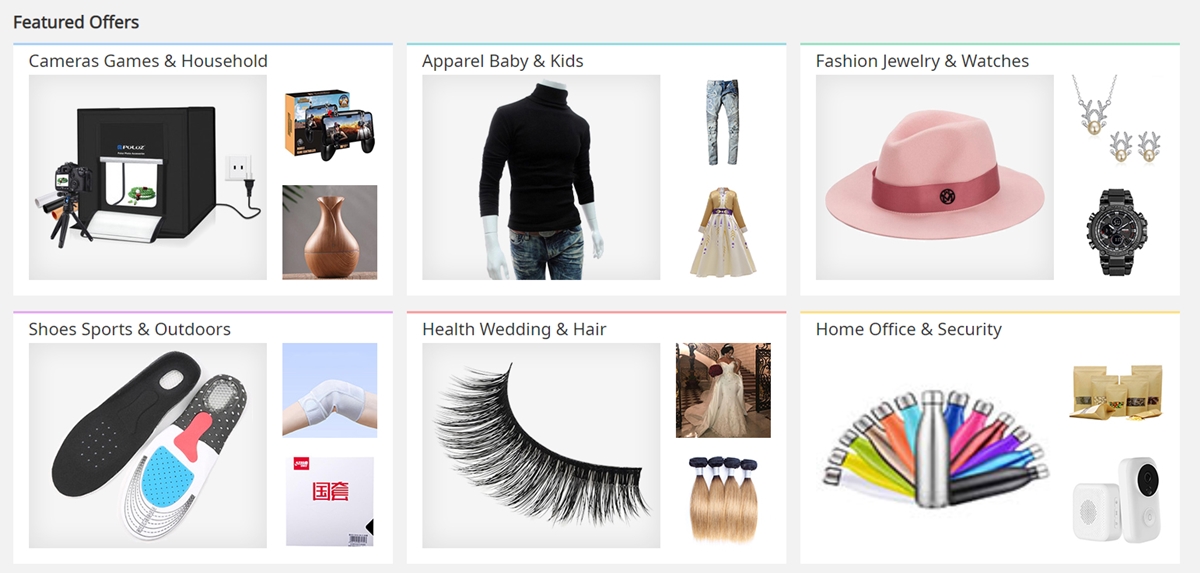 The website offers more than 10 million products from China, Taiwan, Hong Kong, and other Central Asian nations. Additionally, they are all in popular categories. Transactions can be performed by PayPal and credit cards, the two most popular payment options among online consumers.
The Top AliExpress Alternatives: Printful
Printful is an option to consider if you are looking for alternatives to AliExpress expressly for the purpose of establishing a business in which you can generate one-of-a-kind printed and personalised things. With the help of this user-friendly plugin, business owners have a quick and simple way to develop an appealing Shopify store, replete with print-on-demand products such as t-Shirts, hats, and a wide variety of other items.
When someone makes a purchase from your Shopify store that utilises Printful, the bulk wholesale suppliers that are connected to the other end of the Printful application will immediately complete the transaction on your behalf. Printful is one of the finest alternatives to AliExpress not only because it is simple to use and wonderful for fashion companies who want to provide amazing online shopping, but also because it is wonderful for rapid shipment. This makes Printful one of the best alternatives to AliExpress.
The Top AliExpress Alternatives: Alibaba
The fact that eCommerce has evolved to the point where selling through suppliers is now one of the most common types of business is excellent news for dropshippers operating in the modern market. Dropshipping is an option available to business owners who want to simplify their sales process but don't want to deal with the headaches and inconveniences of storing their own products in a warehouse or managing shipping. This indicates that in addition to AliExpress, there are a number of other reputable online marketplaces that you may look at.
One of the most effective solutions available is actually Alibaba, the parent firm of the online marketplace AliExpress. Alibaba provides a shopping experience that is unparalleled and unrivalled in terms of professionalism; if you're searching for something a little different than AliExpress, Alibaba is the place to go.
Alibaba is essentially a global trade platform that specialises in selling goods in large quantities. You may typically find products in enormous quantities, which means that in order to obtain a decent discount, you will need to purchase large quantities of the item all at once. However, if you merely wish to sell through a small online store, you could spend as little as a few pence for each thing you sell. Depending on your preferences, you can even pay for things using either your credit card or PayPal account.
The Top AliExpress Alternatives: Salehoo
Salehoo is a dropshipping and e-commerce platform designed to allay the concerns of e-commerce business owners about their inventory. With Salehoo, you can access more than one million products from 8,000 suppliers for just $67 a year.
Do not be alarmed if neither AliExpress nor Alibaba strike you as the ideal drop shipping service; there are plenty of other options to consider. For those who are sick and tired of worrying about the reliability of their providers, Salehoo is one of the most alluring options. While some AliExpress vendors are trustworthy, others may have you tearing your hair out and with dissatisfied clients.
If you want to buy electronics, pet supplies, or anything else for less money, Salehoo is one of the most dependable options online for quick shipping, great online shopping, and a range of payment options.
Fortunately, you receive a far more trustworthy experience when you purchase your dropshipping products with Salehoo. Salehoo consistently screens its suppliers, so you can be sure that all of its 25 million+ products come from reliable sources. Salehoo has likely been highlighted on websites like Forbes and HuffPost because of this.
Because Salehoo sources its inventory from wholesalers directly, you have an advantage over other ecommerce store owners that source their goods via AliExpress and DHgate. Salehoo offers some of the top products for dropshipping.
Most Salehoo wholesalers let you negotiate delivery times so you can obtain the products whenever you like. The shipping of the goods will, however, take at least 30 days if the wholesalers are headquartered in China.
You can choose the goods you wish to offer through your store with Salehoo by clicking a few buttons. For only $67 a year, it also enables you to bargain with customers and purchase and sell goods at the best prices.
The Top AliExpress Alternatives: Doba
Doba has a very thorough database of wholesalers and manufacturers to pick from, and is widely recognised as one of the most comprehensive dropshipping sites on the market. You don't absolutely need to start your business with Doba by forming partnerships with dozens of suppliers. Instead, you locate the item you wish to sell, put it on your website, and begin taking orders.
Doba handles the majority of the labor-intensive tasks for you by speaking with the supplier and delivering goods to clients on your behalf. This means that you are relieved of the responsibility of overseeing the wholesalers you deal with.
This can be a possibility for you if you're looking for a means to start dropshipping products with your eCommerce company but are worried about losing out on customer service. You can communicate more frequently with your wholesale suppliers by doing so rather than having to Google your inquiries if there is a problem with an Apple or PayPal payment. You'll also reap the rewards of setting up your dropshipping store with quick and simple solutions like Fedex.
 The Top AliExpress Alternatives: Taobao
Taobao may appear perplexing at first look because it is a Chinese website created primarily to appeal to Chinese drop shippers. Although this website appears to be fairly similar to AliExpress, it also provides much more choice than the typical dropshipping option. The best AliExpress substitute for businesses interested in selling apparel is by far Taobao.
After AliExpress, Taobao is one of the most popular shopping websites in China. AliBaba also possesses it. The main distinction between Taobao and AliExpress, a different division of AliBaba, is that Taobao is a B2C marketplace that primarily serves Chinese manufacturers. AliExpress, on the other hand, is designed for the global market. In comparison to Taobao, it offers a broader selection.
Taobao stands out, though, for its pricing. Due to the fact that Taobao mainly caters to Chinese buyers, the majority of products are inexpensive. If drop shippers wish to use Taobao as a dropshipping supply source, they must first get in touch with the suppliers and find out if they genuinely send goods abroad.
Only Chinese speakers can use Taobao. Therefore, in order to find the best dropshipping products, you will either need to use Google Translate. The following is a list of items that you can buy on Taobao.
Customer-to-Customer (C2C) selling is available on Taobao. In general, most products can take a week. On the majority of its products, Taobao gives discounts. So, because Taobao offers advantageous prices, you can order items that are expensive on AliExpress through Taobao.
There is a tonne of options to make money with this site because of the enormous assortment of products, which includes clothing from top brands. The website is simple to convert into English, especially with the amount of material displayed on the photographs, so you could have trouble navigating it.
Unfortunately, this website doesn't have the best customer service, and you could find it more difficult to find what you need than if you used another Dropshipping vendor. Additionally, there might not be as many alternatives to credit card payments and options for your online buying.
The Top AliExpress Alternatives: Worldwide Brands
Undoubtedly, a business like Worldwide Brands has a solid reputation as a wholesale goods authority. This well-established corporation will provide you with a huge selection of goods to market to your audience.
In addition to bulk wholesale, their suppliers offer a wide range of other dropshipping choices. Like many of the other directories on this list, this one is paid. But quality also comes with exclusivity. In truth, these providers have a similar arrangement to Salehoo in which they are regarded as reliable and secure. This company's product selection is vast compared to the other AliExpress choices.
Dropshippers and wholesalers can connect on the Worldwide Brands network. Access to all wholesalers who use WorldWideBrands is available to you for just $224 in one-time fees. According to the platforms, users have access to more than 16 million products. Numerous products are available from WorldWideBrands that you may order and dropship directly to your consumers. These things will be inexpensive because you will be purchasing the majority of them directly from wholesalers.
For experienced dropshippers who want to test out selling new products in the market, WorldWideBrands is the ideal venue. It is not intended for beginner dropshippers who want to establish their own business.
Worldwide Brands is yet another highly well-liked tool for dropshippers nowadays. You'll note as soon as you enter the website that this one approaches dropshipping extremely differently than rival websites like Alibaba or AliExpress. The good news is that this business has been around for a while and can easily provide a large choice of things for you to sell to your customers.
Worldwide Brands is simple to use, offering millions of products and direct access to all the wholesalers you could wish to engage with. But unlike AliExpress, using the directory does cost money. This is one of the wholesale distributors on the market right now that feels extremely different from stocking your online store with products from a retailer like Ebay or Amazon. Fortunately, you may place orders using a variety of payment methods, including PayPal and credit card.
The Top AliExpress Alternatives: Banggood
Banggood, which offers inexpensive pricing on a variety of wonderful products, has a look and feel quite similar to AliExpress. You'll adore Banggood if you're looking for a website that sells anything from cellphones to cutting-edge VR gear. It's also important to keep in mind that not many people are aware of this website, making it an appealing location to discover new goods.
Banggood is another online store with affordable rates on a variety of goods and a strong rivalry with AliExpress. With more than four million things listed, it contains everything from iPhones to drones. This eCommerce shop is relatively unknown, which naturally makes it an alluring location for dropshipping goods.
You can purchase goods from China, Hong Kong, the United States, and other countries, so Banggood is sure to have what you're looking for. However, similar to AliExpress, it may take up to 30 days for the goods your consumer's order to arrive at their destination.
This is unquestionably among the greatest AliExpress alternatives out there and one of the best websites for building a strong international reputation. Even while Chinese goods are cheaper, you don't always receive the greatest outcomes in terms of quick shipping. Similar to other alternatives to current eCommerce platforms like DealExtreme or AliExpress is this dropshipping company.
In fact, US, UK, and EU businesses are increasingly turning to Banggood as their top option if they want to shorten shipment times and improve customer happiness. Banggood has numerous warehouses in the US, UK, and EU with a vast assortment of goods in every important category.
Tips for Choosing your AliExpress Alternative
Keep in mind that there are numerous AliExpress options available nowadays, but not all of them will be as dependable or trustworthy as they initially appear to be. It's important to conduct research and find out as much as you can about the suppliers and businesses you'll be working with moving forward, just as with any business choice. If you can, speak with representatives from the business you're considering hiring and read evaluations from other websites.
When choosing dropshipping products, canine products, or any other items for your Shopify store online, Oberlo integration is one thing you won't discover. With AliExpress, the Oberlo option for Shopify functions well.
Be sure to take into account a few important factors before choosing a certain firm to supply your dropshipping platforms:
The kind of products that they sell: Everything from gadgets and pet supplies to clothing and accessories could be sold on your eCommerce site. It's critical to confirm that the dropshipping vendors you partner with can provide your target market with the vast selection of products you desire.
Shipping solutions:More than just the correct products and lower pricing than your rivals are required if you want your eCommerce site to be successful. Additionally, you must offer quick shipping. Not all of the top AliExpress substitutes can provide you with the prompt shipment you require. Make careful to take into account how rapidly goods can travel from places like Hong Kong to the USA and other countries. For quick shipping, some dropshipping businesses even have connections with corporations like Fedex.
Payment options:Your dropshipping suppliers can offer distinctive payment alternatives, just as different eCommerce platforms accept various payment methods. Verify that the vendor you select may accept whatever payment method you prefer, including credit card, Apple Pay, PayPal, and more.
Integrations: Some dropshipping options will seamlessly interact with the eCommerce platforms you already work with. For instance, if you already have a Shopify store, you can quickly and easily add dropshipping products to it using Oberlo, a Shopify integration. Learn how simple it is to integrate dropshipping products into your eCommerce platforms by using integrations.
Simplicity: It's not simply connections like Oberlo that increase the effectiveness of dropshipping websites. You might also want to look at how simple it is to add dropshipping items from certain suppliers to your online store. Can you set up PayPal direct payments so that the things keep coming? How many different things, gadgets, and pet supplies can you buy all at once? Are you also going to receive top-notch customer service from the business you select?
It can be difficult to find the ideal dropshipping solution. However, you're more likely to obtain the goods and services you require if you approach the decision knowing just what to want from your source.
Picking the Best Alternatives to AliExpress
It is obvious that there are many different considerations to ponder when selecting the finest dropshipping supplier for your online store. For clients of Shopify, AliExpress has long been the obvious choice. After all, the Oberlo app for Shopify enables businesses to quickly link their online store to dropship providers located all over the world.
But if you've already tried Shopify, Oberlo, and AliExpress and weren't happy with the results, it might be time to think about trying something else. After all, there are various ways to operate an online store. If you Google "dropshipping firm," you'll come across a tonne of fantastic websites created to help your brand-new business idea.
Doing your research is always worthwhile, whether you're ordering gadgets from DealExtreme or shipping pet supplies via FedEx. By doing so, you can obtain better deals, pay with a credit card or PayPal at a lower cost, and more. You might even discover that the dropshipping provider of your choosing offers you superior customer service, ships products more quickly to the USA, or accepts PayPal payments.
In today's online shopping world, there are many possibilities from which to choose. Finding a provider who delivers the functionality you require is essential, from PayPal payments to Amazon integration. If you take your time to choose the ideal source, you can benefit from eBay listings and quick shipping to keep your consumers satisfied. You may even set up an online store that accepts Apple Pay or has Google search engine optimization.
Good Luck Choosing your AliExpress Alternatives
If you're willing to seek, there are plenty of AliExpress substitutes available, from Dealextreme to Printful. When used properly, these features can truly help you maximise your Shopify selling experience. Researching thoroughly will help you succeed because you'll know exactly what you're purchasing and what type of value you'll receive.
Dropshipping can be a great method to start an online business, but it also has its share of obstacles and difficulties to take into account. One of the most challenging aspects of launching your new business is picking the best dropshipping website.
It doesn't follow that AliExpress, one of the most well-liked dropshipping solutions, is the best for everyone. There are many top-notch AliExpress options available if you want a straightforward dropshipping solution that enables you to stock your website with wonderful products, ranging from gadgets to pet supplies. You only need to conduct a little research.
You can start down the right path with our list of top alternatives up there. Good luck with your search for the top AliExpress substitutes for your online store.
Beware of Dropshipping Alternative Scams [Checklist]
Check reviews: Are they included on independent review sites? What kinds of evaluations are available for them.
Speak with the staff members: Ask their reps about their backgrounds and business practises to learn more. You will feel more confident in the company's legitimacy as a result of this.
Do they list well-known vendors on their website? You should see whether any reputable sellers are listed on the website. If you can't locate them, simply visit dropshipping forums and inquire there about the legitimacy of this dropshipping substitute.
Is the method of payment safe? A third party payment option like PayPal, Payoneer, or Authorize.net is what the majority of dropshipping retailers offer. These are secure and all-purpose payment methods. You must confirm that the dropshipping store accepts certain payment methods as a result.
The list is in no particular order, and each AliExpress substitute is accompanied by a thorough analysis of its advantages and disadvantages as well as the top dropshipping products.
FAQs about Aliexpress alternatives
Is AliExpress better than DHGate?
Compared to DHgate, AliExpress offers less expensive goods. You may get the identical things from it for more money. Second, ordering from AliExpress rather than DHgate is rather simple. You may also use the Alidropship plugin, which benefits customers in a variety of ways.
Is Alibaba cheaper than AliExpress?
You might be able to get products from AliExpress for a little bit more money. Alibaba offers all of the products in bulk or at wholesale prices, which lowers the cost per item. While AliExpress sells products at retail prices, which may be a little more expensive.
Why does AliExpress take so long to ship?
There are a number of possible explanations for late shipments. The company may receive hundreds of orders at a time during certain holidays or celebrations. As a result, the time it takes to receive your order may be greater than 30 days. Depending on the circumstances, your local postal service may be to blame rather than the country from where the package came.
Which shipping method is best on AliExpress?
One of the best and most popular delivery options for dropshipping on AliExpress is the ePacket. All of your orders can be fulfilled by them in 10 to 15 days.
What is AliExpress dropshipping?
AliExpress dropshipping is the practise of marketing products from AliExpress on a different online store or selling platform while obtaining the product from the AliExpress marketplace. The product will be delivered straight to the customer after the order has been placed on the AliExpress website. Your profit is the difference between the selling price and the price to purchase the item from the AliExpress marketplace.
Why do people dropship from AliExpress?
The vast assortment of affordable goods in every area and niche available on AliExpress makes it a popular dropshipping provider. Along with having a strict buyer protection and money-back guarantee policy, AliExpress is a very secure website. As a result, you can use a single central platform to obtain goods from a variety of top China-based sellers in total comfort.
Is dropshipping from AliExpress allowed?
Dropshipping is permitted from the AliExpress marketplace. In fact, dropshipping from AliExpress has grown to be so well-liked that AliExpress has devoted a Dropship Center where customers can access the top-selling dropship items and niche suggestions as well as detailed product information like total sales and reviews. When a specific (total) order volume is reached, AliExpress additionally offers dropshippers special discounts of up to 6%.
Why find an alternative to AliExpress for dropshipping?
AliExpress is a fantastic marketplace for dropshipping because it has millions of products and thousands of vendors. AliExpress isn't the ideal option for everyone, though, as the majority of the products are shipped directly from China and are consequently susceptible to delayed shipping times and import charges. It is preferable to hunt for an AliExpress substitute with a nearby US, UK, or EU warehouse if you want to dropship on sites like eBay and Amazon.
What is the best AliExpress alternative for dropshipping on eBay?
The best AliExpress substitute for dropshipping on eBay in the US is CJ Dropshipping, while the best AliExpress substitute for dropshipping on eBay in the UK is Banggood. With a local US warehouse and direct eBay integration, CJ Dropshipping is ideal for US sellers. Banggood has a warehouse in the UK and can automate price and stock management with a number of well-liked dropshipping platforms.
What are some niche AliExpress dropshipping alternatives?
There are other well-known websites like AliExpress if you're trying to sell goods in a certain area of speciality. For individuals wishing to sell clothing or fashion items, BelleWholesale and LovelyWholesale are fantastic alternatives to AliExpress, while 8Seasons and Pandahall are distributors of jewellery with a dropshipping programme.
Final Word
The most widely used platform for dropshipping from Chinese vendors is AliExpress, which has swiftly gained popularity. For individuals trying to establish a long-term dropshipping business, particularly those selling on marketplaces like eBay or Amazon, it is now a less attractive alternative due to sluggish shipment times and probable import tax concerns.
The companies in this report are the top AliExpress substitutes for dropshipping from regional US, UK, and EU warehouses. We have now reached the end of this blog. Five of the top AliExpress alternatives for dropshippers were covered in this blog. We sincerely hope you enjoyed our list of various options. Try them out by placing orders for merchandise for your dropshipping store to determine which one suits you the best.
What did you learn about Aliexpress alternatives to dropshipping, above all else? Keep in mind that a dropshipping business depends on cost, product quality, and quick shipping. All buyers will be drawn to your products if you succeed. Do you intend to source the goods, then?