15

min read
A website's header helps guide users. A header is the topmost aspect of your website, thus it must captivate readers. It should be user-friendly and visually appealing.
Visitors consistently focus on a website's header, therefore it is crucial for you to capture their attention right away by making your WordPress website header appealing and easy to navigate. The header of your website frequently serves as the user's first impression. As a result, it's crucial that your header looks flawless.
Therefore, we've included some of the amazing WordPress header plugins to help you add a unique header to your website. Let's first examine the benefits of using a WordPress header plugin. Use a WordPress header plugin if you're seeking for the best method to design the ideal website header. The top WordPress header plugins that might draw clients to your WordPress eCommerce site are compiled in this article.
15 Best WordPress Header Plugins – Ultimate Guide [ UPDATED]
Every WordPress theme comes with a predefined header. For a more visually pleasing header, use WordPress header plugins. We'll tell you about the top WordPress header plugins in today's blog. This list includes free and premium plugins to enhance your site's header. See.
What is a WordPress header?
A website's headers, which are located at the top, are an important component. The Site Title, Logo, Navigation, Social Media Icons, Hero Images, and occasionally more are included. A WordPress header is often kept constant across all pages of a WordPress site. As soon as a visitor lands on your website, an eye-catching header can help you capture their interest and improve their purchasing experience. In order to satisfy your needs and client desire, you should design WordPress custom headers.
Why do you need WordPress Header Plugins?
You may modify the WordPress header in two ways: by inserting custom code and by utilising a WordPress header plugin. Using custom codes, you may simply change any aspect of your header if you are proficient in coding. If you're new to WordPress, you should employ WordPress header plugins, which are used to enhance the header in your WordPress websites with a variety of functions. The following are some advantages of using a plugin to create a custom WordPress header.
Fix the header's visual components, including the banners and notification bars.
Include messages and custom header images.
Promotional offers should include savings, specials, freebies, etc.
In light of the above discussion, let's have a look at our pick of the Best WordPress Header Plugins for effective website header customization.
Best WordPress Header Plugins 2022 – Full Review 2022
Woostify is the company that created the plugin known as Boostify Header Footer Builder. It enables you to generate a personalised header and footer, and you can choose to show them on a particular page or on all of the pages. This WordPress plugin, in contrast to other plugins, includes built-in widgets for the header that are compatible with Elementor. As a result, it is not need to install any third-party plugin for the add-on widget.
You are able to generate a sticky header with the help of the Boostify Header Footer builder plugin, and then enable it on screens of any size, including mobile, tablet, and desktop. In addition, you can construct a giant menu quickly and efficiently with Elementor, and you can also use it to apply a vertical menu arrangement to make your header stand out more.
Key features:
Upload a unique logo to receive a logo from the customizer automatically for a sticky menu. You may even add a Retina picture for retina display and set a custom image as a logo with a custom URL and message.
On your website, provide a collection of prepared menus. Simply select the desired menu layout and then customise it as you please. With the Boostify header and footer builder, Megamenu may also be created.
Give you the option to construct a search widget with either an icon search or a form search.
Support for the [btf year] [btf site tile] [btf site tile] copyright shortcode for the footer.
If you use WooCommerce, support the cart icon.
Offer devoted help through tickets, emails, and online communities.
Download Boostify Header Footer Plugin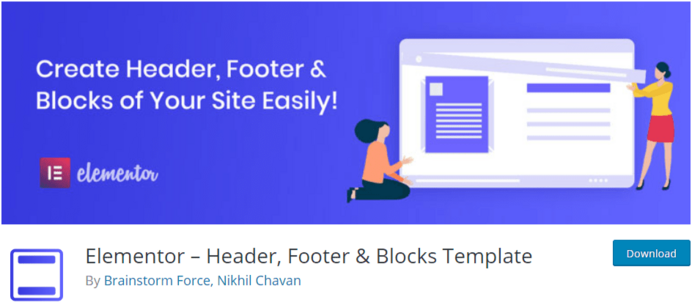 You are able to design a Header, footer, and block using Elementor, which is made possible by a handy plugin for WordPress called Elementor – Header, Footer & Blocks Template. However, you will need to have the Elementor page builder installed in order to use this plugin. In more specific terms, you may use this plugin to generate a layout in Elementor and then assign it to either the header or the footer position on your website.
You can also display a custom header anywhere you wish, such as solely on the homepage, store pages, or the entire website. You have complete control over where the header appears.
Key Features:
Choose a specified target position where the header and footer will appear.
Add the site's name and logo automatically.
Different navigation menu designs
Suitable for use with major plugins
Dedicated assistance
Download Elementor Header Footer Template
#3. JetBlocks Elementor Plugin
Crocoblock Team is responsible for the development of the JetBlocks Header & Footer plugin. There are a total of six widgets available, including breadcrumbs, a site logo, a login widget, a hamburger panel, a search widget, and an authentication links widget.
This plugin assists in the construction of tidy navigation, which improves usability; it also helps to add sticky sections and produce improved headers and footers. In conjunction with the JetThemeCore plugin, you will have the ability to select several header and footer themes, as well as simply modify your navigation.
Key features:
Give your header a shopping cart icon.
Make a hamburger panel.
Create a drop-down menu for the navigation
To design the site's structure and establish a hierarchy for each page, include breadcrumbs.
Assistance through chat, tickets, or Zoom calls
Download JetBlocks Header Footer Plugin
#4. STAX Header Builder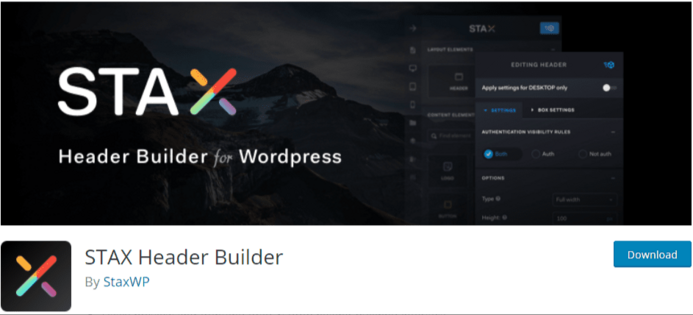 STAX Header Builder is the next choice on the list of the best plugins for creating headers in WordPress. It employs a front-end drag and drops visual interface to facilitate the creation of page headers.
While building the header, you will be able to effortlessly transition between desktop, tablet, and mobile views using STAX, which will provide you with a live preview of the header as you work. Changes to the header's background, border, and font, as well as the ability to enable sticky, boxed, full-width, and custom height and width headers, are all within your control thanks to the plugin's capabilities.
Key Features
Front-end drag-and-drop header construction interface with a live preview.
with any WooCommerce theme without a hitch.
Simple screenshot switching between a tablet, desktop, and mobile device
Permit you to design alternative headers for various pages on your WordPress website.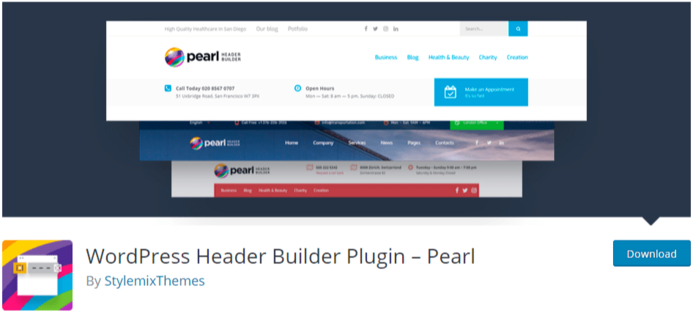 The Peal WordPress header builder is another option that is covered in this compilation of resources. Using a visual drag and drop interface, it guides you through the process of designing and personalising headers for your website.
The personalization of your headers, including the addition of images, words, and logos, among other things, is quite simple to accomplish. In addition, the plugin provides a large number of ready-made WordPress header templates that you can use on your website if those templates are a good fit for the styles you want to use.
Key Features:
Completely adjustable options for position, size, and colour for the header.
Give you the freedom to design your own menu and to decide on elements like the type, columns, and backdrop settings.
Give you the option to add sticky headers
This free WordPress header and footer plugin allow you to add helpful code to the headers of any post and page on your website. However, unlike other plugins, you can place and customize scripts from one single place. This plugin is easy to install and set up.
This incredible free plugin by WPBeginner, which has over 900,000 installations, allows you to add code for Google Analytics, custom CSS, Facebook Pixel, and other similar services to the header and footer of your WordPress website. Instead than adding thousands of plugins to your website, this plugin offers a straightforward interface where you can quickly put scripts. Additionally, you may make it responsive by using different codes for desktops and mobile devices.
You can add Google Analytics, custom CSS, Facebook Pixel code, etc. It provides an easy way out of a convoluted process involving various plugins and gets it all done in one go.
Key features:
Install and set up quickly
Custom CSS options throughout the theme
Support Google Analytics, Facebook Pixel code, and more
Add any code or script, including HTML and Javascript
Have user-friendly interface
Download Insert Headers and Footers by WPBeginner
One of the top WordPress header plugins is Header Footer Code Manager, which has over 300,000 active installations. It offers a simple user interface for adding snippets to your website's header and footer. Not to mention, this plugin allows you to place code snippets above and below the content of your website. Additionally, there is no limit to how many scripts you can add. The plugin additionally informs you precisely what snippets are loading and where they appear.
This free header design plugin provides excellent functionality for your website header and now has over 100,000 active instals. You can add snippets using its simple interface anywhere below or above the content of your website, including the header and footer. It enables you to do away with the requirement for many plugins in order to add a short piece of code to your header. Additionally, you may find out which snippets are loading on your website, where they appear, and who added them by using this plugin.
Key features:
Support Google AdSense and Google Analytics
Avert ill-placed code fragments
Assist with custom post kinds
Label the code snippet for quick identification.
Numerous possibilities for page display
Download Header Footer Code Manager
Sticky Menu & Sticky Header is compatible with all elements, in contrast to the other plugins in this page, which were developed just to serve the header. You got that right! You may make any element that has a class or ID sticky by using this handy WordPress plugin. You have the ability to place them, change the spacing between them, and even enable stickiness on certain screen sizes.
The plugin even comes with a Debug mode, which allows you to rapidly determine the cause of any crashes that may occur. Admin Bar-aware mode is an additional sophisticated feature that can be utilised. This verifies that the person in question possesses an Admin Toolbar at the very top of the page.
Key features:
Almost any element with an ID or class should be supported.
Include many modes, such as Dynamic, Legacy, and Debug
Encourage custom spacing
Possess various push-up possibilities
Download Sticky Menu & Sticky Header
This free plugin, which has over 200,000 active installations, provides a straightforward approach to modifying the headers and footers of your web pages. With the assistance of this plugin, you will be able to insert individualised code both after and before the sections of your website that are designated as header and footer respectively.
It gives you the ability to add the codes of numerous plugins, such as Facebook Pixel, Google Analytics, Google Webmaster, Alexa, and Tradedoubler verification, so that you can access the capabilities that such plugins offer. To save the hassle of installing each of these plugins, all you have to do is copy the code for these services and paste it into the appropriate portion of the page.
Get This Plugin Add Google Analytics to WordPress
#10. Unique Headers

Using this innovative WordPress plugin, you'll have the ability to creatively change your website's header. It will make the process of creating appealing headers for any WordPress page or post quite simple for you. This plugin will add a box for a custom header picture to your post or page, which you can then use to submit a header image that is unique to that post or page. The plugin is simple to use and does not require any coding knowledge on your part. In addition, there is no cost associated with downloading it, and it is quite easy to use.
Get This Plugin Best Responsive Mega Menu Plugins for WordPress
This plugin can be the best choice for you if you want a header for your website that stays in the location you want it to be regardless of where you move it. This plugin is simple to learn and use because all it does is ensure that your website's header is shown prominently at all times.
In addition to this, it enables the user to modify the header by providing a number of personalization choices such as a custom backdrop, text colour, and a fixed header scroll. You may make it simpler for your users to browse to your site by downloading this plugin for free and adding it to your site.
This plugin for a sticky menu has more than 70,000 installations, and it enables you to keep the header or menu at the top of the page even while scrolling down. Because it is such a flexible plugin, the myStickymenu plugin may also be utilised for the creation of welcome bars that can be used for a variety of purposes like displaying announcements, promotions, and more.
It is a very lightweight plugin that moves the header menu to the top of the page, making navigating much simpler for your users. This plugin is localised in the sense that it supports multiple languages. Additionally, it is responsible for the majority of themes.
#13. WP Header Images

You'll be able to set unique header images for each page of your website by making use of this free plugin for WordPress. You have the ability to select a different image for every single page of the menu in a straightforward manner. In a later step, you'll be able to manage the CSS for these photos from within your theme. Items in the menu, such as categories, posts, and pages, can be managed with relative ease from the Dashboard of WordPress.
#14. Awesome Header
Awesome Header You may give the header of your website a new look and make it sticky with the help of a plugin for WordPress. It is a plugin that is safe, lightweight, and simple to use. It provides you with the ability to customise your header with an unlimited number of colour schemes in addition to up to three layers of navigation. In addition to that, this plugin provides you with the ability to set a background picture or pattern, as well as the Sticky option (Omni-visible navigation). It is also compatible with a wide variety of browsers and quite extensible.
#15. Ultimate Header Builder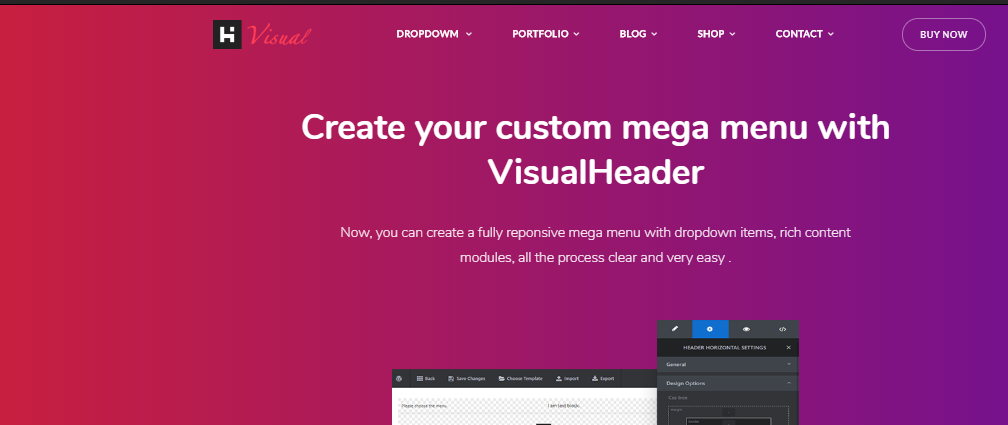 The Ultimate Header Builder plugin is a fully featured drag-and-drop header builder that gives you the ability to design your own header while providing a wide variety of options for customising your header. This plugin provides you with access to a visual builder that you can make use of to generate an unlimited number of header layouts that contain a wide variety of outstanding elements.
You can also choose from the available templates and import them into your website with a single click by using the import function. In addition, this plugin boasts a lightning-fast loading speed, and excellent responsiveness, and is prepared to support multiple languages.
#16. WordPress Sticky Anything

This WordPress header plugin gives you the ability to build an unlimited number of sticky elements, such as a sticky header, sticky menu, sticky sidebars, or anything else you might want to turn into a sticky feature. This plugin provides two features, global and specific, in addition to other various features, all of which may be used to make the elements of your website sticky.
#17. Sticky Header on Scroll for WordPress
You may add a floating header to your website with the help of this plugin, which is simple to configure and doesn't require much effort. The header appears whenever a user scrolls down the page. This plugin allows for a great deal of header customization, including full responsiveness, the ability to change colours, upload a logo, modify label positions, and much more. Additional helpful features such as the ability to modify the header, a dropdown menu, the ability to show and customise a logo, the presentation of the post title, share buttons, next post buttons, and more.
Final Words – Best WordPress Header Plugins
These were some of the best WordPress Header Plugins in 2022, both free and paid. Any of these can be used to personalise your website's header and create user-friendly and interesting site navigation. We hope you found this post useful. Please share any recommendations you may have for us in the section below.
With the aid of the above Best WordPress Header Plugins, you can customise your website header much more quickly and effectively. You can use any of them to make your WordPress site header more appealing and navigable. You can look for further assistance from the top review plugins, SEO plugins, security plugins, etc. to strengthen the development of your WordPress eCommerce sites in addition to the list of WordPress plugins for modifying website headers. Please let us know if you have any more queries or suggestions by posting a comment below.