3

min read
Tips for Buying Your First Car
Whether you are a person who just got their license or landed a real job for the first time and needs a vehicle to get there, purchasing your first car is an exciting time. It is a process filled with uncertainty and can seem daunting at first. You may get a bit of sticker shock as you look at what a vehicle costs, but although buying your first can be stressful, it is worth it in the end. To make this process more bearable, you will want to follow these tips to ensure you get the best car for you.
Make a Budget
First and foremost, you need to narrow down your budget. Make sure it is realistic. Calculate what you bring in each month and figure out what you can afford for a monthly payment since there is a high chance you will need an auto loan to purchase the vehicle, especially if you are looking at a newer car. Adding the mechanical maintenance necessary when owning a car would also be beneficial.
Specify Transportation Needs
When choosing your first car, going to the most exciting option, like a convertible, is very easy. But you need to stop and think before making such an impulsive decision. A vehicle is a major purchase, and considering your specific transportation needs is a necessary step.
Consider your day-to-day life, how far you will be traveling for your job, and whether you need enough space in the vehicle to carry a ton of stuff constantly. All of these things need to be considered before making a decision. However, you do not want to forget what you wish for a vehicle. Your first-time purchase should not only be about your needs but also your wants. Do not forget that as you consider your options.
Do Your Research
Once you have established what type of car will fit your needs best and how much you can pay monthly, it is time to research. Mainly, you want to look into new model cars versus later models. There are pros and cons to purchasing brand-new or used. It would be best to find a balance between your gut instinct and the information you gather.
Choose a Car Dealership
Next, it is time to choose a car dealership. This part is tricky because of how cutthroat car salespeople can be. To ensure the dealership you are going to will be a positive experience, you will want to look up reviews beforehand to see what people say about the specific dealership. You want to purchase your first car from a reputable source that will not trick you into buying something you do not need or want.
Also, do not be afraid to walk away from a dealership if you feel uncomfortable. The last thing you want is to stick through it, even if your gut tells you to leave, and then you end up with a car you do not want or like. It is okay to leave without buying anything.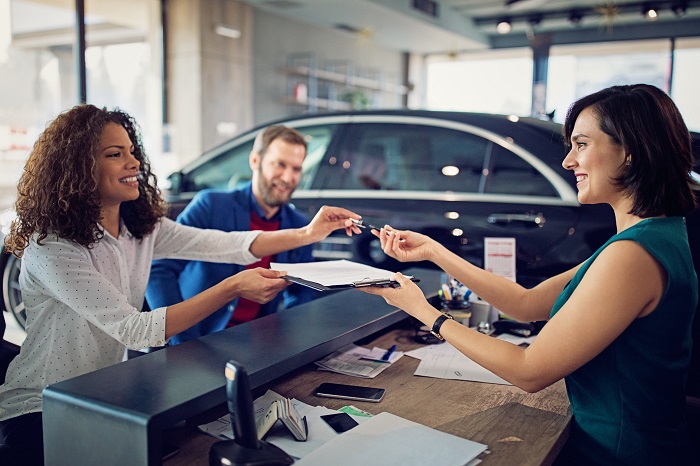 Test Drive the Car
One of the most critical steps that should never be skipped when purchasing your first vehicle is to take it for a test drive. You must know how it feels behind the wheel to ensure you buy the best car. When you are test driving, be sure to adjust the seat to your comfort level as well as the mirrors and steering wheel. If you feel comfortable and confident while driving around, there is a good chance that the car is perfect for you. Before making the final decision, drive around for at least half an hour to solidify the decision.
After making the decision, all that is left to do is secure your financing and then drive away in your first car. It may seem like a daunting task when you are first starting, but the end result is exciting. You will find the process enjoyable if you follow these tips.