6

min read
Canva vs. DesignCap – Full Review & Guide for Every Graphic Designer
When it comes to presenting our offerings attractively online, it's crucial to capture users' attention within seconds. The use of infographics can be a powerful tool in keeping visitors engaged on a website and conveying information effectively.
To create appealing graphics, it's important to choose the right software. Two popular options worth comparing are Canva and DesignCap. Let's explore the main differences between these programs to help you make an informed decision.
Canva is widely recognized for its user-friendly interface and convenient drag-and-drop functionality. It is an ideal choice for beginners, small businesses, entrepreneurs, and marketers who need to create designs quickly and easily.
On the other hand, DesignCap is a great tool specifically designed for creating original posters and flyers for various purposes. While it is beginner-friendly, its functionality is somewhat limited compared to Canva. It's worth noting that some advanced features in DesignCap may require additional payment.
Infographics have become one of the most effective methods for showcasing product benefits and improving sales. They offer concise and visually appealing information that users are likely to share, thereby increasing brand recognition. Infographics allow readers to consume information in a pleasant and comfortable manner.
Now, the question arises: how can we create infographics correctly? The first step is choosing the right program. Among the numerous alternatives available, DesignCap and Canva stand out for their user-friendliness and features tailored for infographic creation.
By selecting the most suitable software for your needs, you can leverage the power of infographics to effectively communicate information, engage users, and enhance your online presence.
What is Canva?
Canva is a versatile graphic design software that is available both online and as a desktop application for Mac and Windows, as well as mobile apps for Android and iOS devices. It offers a wide range of design options, allowing users to create flyers, posters, brochures, invitations, logos, cards, and more.
With its drag-and-drop interface, Canva makes graphic design accessible to users of all skill levels. It provides a collection of templates, images, and fonts that can be customized to suit individual preferences. Users have the flexibility to start from scratch or use pre-designed templates as a starting point.
The software offers a variety of editing options, including cropping, blurring, and layering tools. Users can easily arrange objects, add text captions, incorporate original stickers, and make adjustments to achieve their desired design. Canva empowers users to create visually appealing content for various purposes.
One of the key features of Canva is its web-based platform, which allows businesses to quickly and effortlessly create professional visuals for social media posts, presentations, flyers, and more. It offers a range of templates and tools that simplify the design process.
Canva also provides collaboration features, allowing team members to work together on projects. Users can save templates, share designs, assign tasks, and communicate within the platform. This makes it a suitable choice for teams working on design projects, enabling easy coordination and progress tracking.
In addition to its user-friendly interface, Canva is known for its affordability, making it an attractive option for businesses on a budget. Canva Teams further enhances collaboration by enabling remote work and centralized project management.
Overall, Canva offers a comprehensive set of features that facilitate the creation of visually stunning designs while providing a seamless user experience.
Pros
Cons
1. User-friendly drag-and-drop interface
1. Limited advanced design capabilities
2. Wide range of pre-designed templates
2. Some features require a paid subscription
3. Accessible on various devices
3. Occasional lag or slow performance
4. Extensive library of images and fonts
4. Limited control over image quality
5. Easy collaboration with Canva Teams
5. Not suitable for complex or intricate designs
6. Affordable pricing for premium features
6. Canva watermark on free version
7. Quick and efficient design process
7. Relatively fewer export options
8. Regular updates and improvements
Price Plan Canva
DesignCap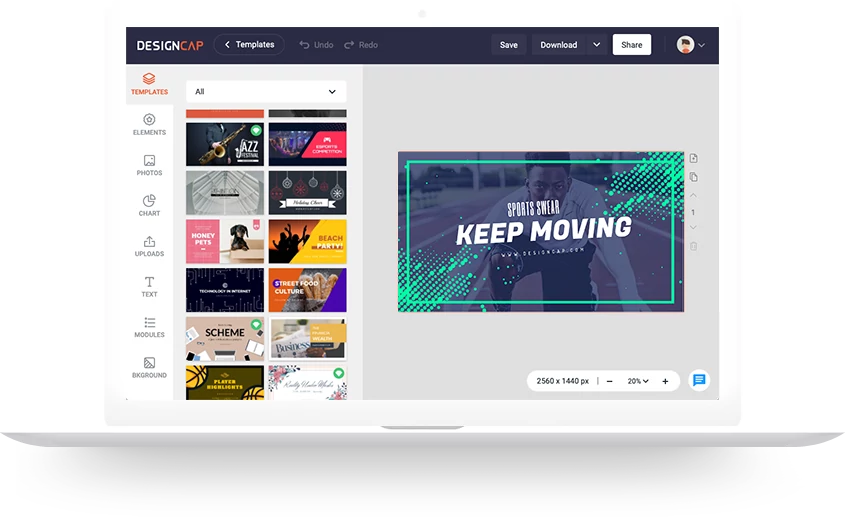 DesignCap is an online platform that serves as a poster and flyer maker, making it easy for users to transform their creative ideas into stunning posters and flyers effortlessly. The process involves three simple steps, ensuring a quick and efficient design experience while saving time and energy. With DesignCap, users can access a wide range of professional editing tools to customize their posters and flyers according to their preferences. These tools include options for adjusting size, position, rotation, changing text font, color, and applying various effects and alignments. Additionally, users can work with specific backgrounds and manage layers to achieve the desired visual appeal. DesignCap empowers users to explore their creativity fully, enabling them to create compelling and persuasive posters and flyers that effectively convey their message.
This online software is available for free, catering to individual users and organizations alike. Whether you need to create eye-catching flyers for personal projects or professional purposes, DesignCap offers a plethora of options for editing and customizing images. Its user-friendly interface allows for easy adjustments to image size, fonts, and various effects. With DesignCap, users can achieve visually appealing and engaging designs to captivate their audience effectively.
| Pros | Cons |
| --- | --- |
| User-friendly interface | Limited advanced design features |
| Easy and quick poster and flyer creation | Limited template options |
| Professional editing tools | Some features require a paid subscription |
| Customization options for size, fonts, and effects | Limited integration with other design software |
| Layer management for easy design organization | No offline editing capability |
| Free to use with basic features | Limited stock photo and icon library |
| Saves time and energy in design process | No option for custom dimensions |
Price Plan DesignCap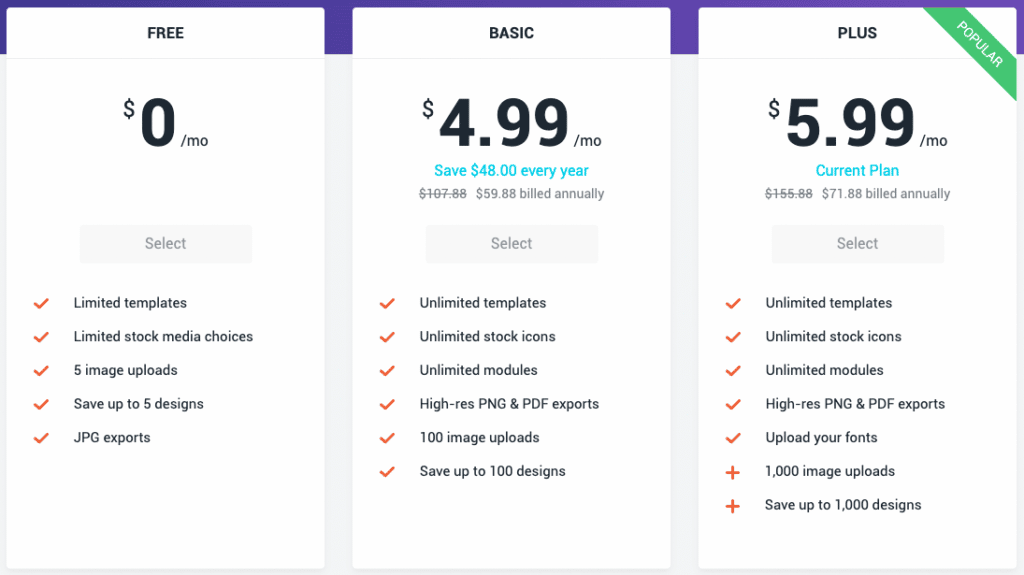 Who's The Winner
When comparing Canva and DesignCap, both platforms offer user-friendly interfaces and support drag-and-drop functionality, making them suitable options for beginners. DesignCap excels in creating impressive posters and eye-catching flyers for social media platforms and e-book covers. However, its free version has limitations, requiring the purchase of a Basic or Plus package.
For those who prefer not to spend money, Canva is a better choice as its free version provides a decent toolkit. Unlike Canva, DesignCap lacks team collaboration and video options, and it offers fewer templates. In terms of features, Canva clearly takes the lead.
Canva is widely recognized as the top design service in the market. Its developers continuously enhance the product, and it boasts an intuitive UI. Users can choose between a free version or a subscription. Additionally, Canva offers a mobile app, eliminating the need to hire professional designers who may take days or weeks to complete a project. On the other hand, DesignCap is only accessible online, while Canva can be accessed from various devices, including mobile and computers.
Ultimately, the winner depends on your specific needs and preferences. It is recommended to try out both platforms to determine which one aligns better with your design requirements.