24

min read
There is a lot of competition on the internet. So, it's great to focus on writing, but if you want to get more people to read your work, you also need to market it. But if you've ever tried to run more than one social media account at once, you know how much time it can take. You may have to spend hours more on your blog each week getting content ready, writing captions, and actually posting. Social media has a great deal of power.
There are 4.48 billion social media users in the world, and that number keeps growing every year. This is why it's important to put social media platforms at the top of your marketing plan. With social media marketing, you can reach a bigger audience, make your brand more well-known, find your ideal customers, boost your brand's authority, and so on.
Even if you have a good plan, it can be hard to keep up with all of your social media posts all the time. You can't just use social media all the time. It's even harder if you're in charge of a lot of different social media sites. Lastly, you waste important time and energy, and nothing seems to go according to plan. There are tools on the internet that can help you schedule posts for social media ahead of time, so you can get more done in less time.
In this article, we'll talk about the best ten free social media scheduling tools that will help you get things done faster than ever. Not to mention that every time you go online to publish something, you get sucked into social media. There are a lot of free social media schedulers that you can use to automate a big part of your work and keep your sanity while still marketing your blog well.
Top 10 Free Social Media Scheduling Tools in 2022
10 Free Social Media Scheduling Tools
There is a variety of software available for managing social media accounts; however, not all of it is free. As a result, we went through the process of selecting 10 totally free social media scheduling apps that at the very least offer a free plan. You may also find free alternatives to Hootsuite, free Facebook post schedulers, and more of these kinds of free social media management tools.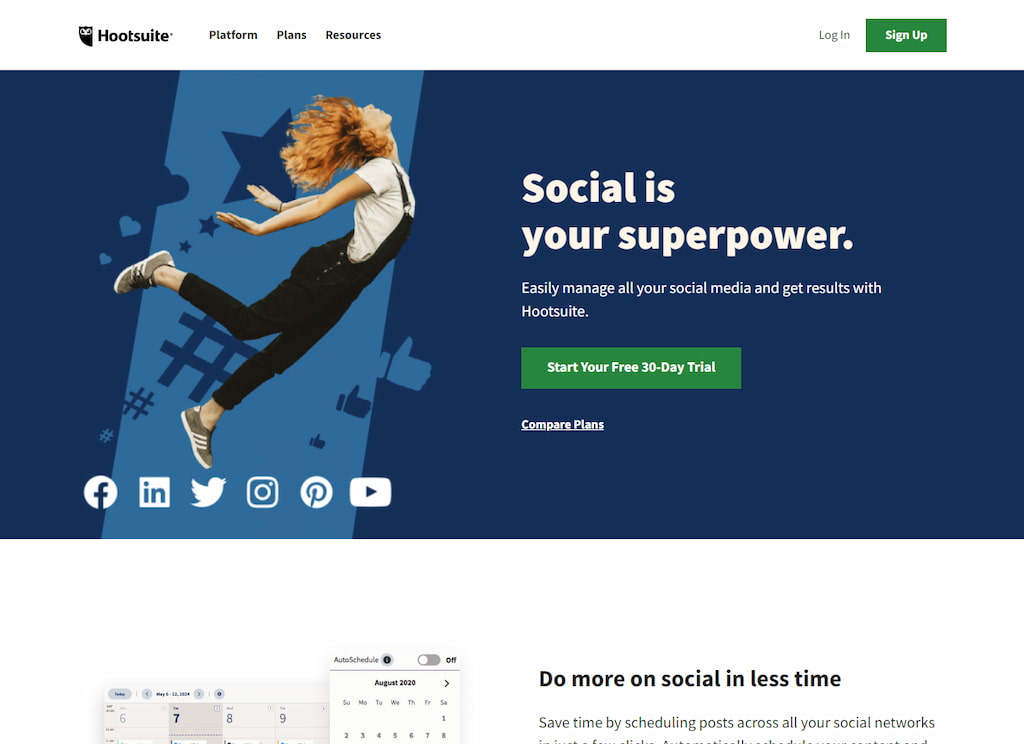 The most popular tool for managing social media channels is Hootsuite. It's used by more than 18 million social media marketers, and it contains everything you need to manage your team, schedule posts, track outcomes, and plan upcoming campaigns, among other things. It's the ideal tool for anyone who wants to expand their social media presence the proper way, from freelancers to huge enterprises.
Hootsuite offers five different plans, including one that is completely free. The free plan allows you to manage two social media accounts, schedule up to five posts at once, and have one user. From their user-friendly dashboard, you can effortlessly publish, schedule, and customise posts for all of your connected networks. You can also link to over 20 various social media platforms, such as Facebook, Twitter, Instagram, Linkedin, and others. Engage is one of Hootsuite's primary features that I like. You may rapidly access all incoming messages across your social networks using this option.
In the world of social media management, Hootsuite has long been a favourite. You can use Hootsuite to generate and plan social media posts, construct content calendars, interact with followers, and even run advertisements on Google, Facebook, and Instagram.
Hootsuite is adaptable because of all of its features; large publications and independent bloggers alike use it to manage their social media accounts.
Although five posts isn't much, Hootsuite's free plan is sufficient if you only want to automate one post each week to a specific channel. For $49 per month, the Professional plan gives you unlimited social media scheduling, 10 social profiles, and follower messaging. You may try Hootsuite for free for 30 days to see if it's the right social media scheduler for you. To learn more about Hootsuite, go here.
Hootsuite's free edition allows you to manage up to three social media profiles and plan up to five messages at once. You may create, schedule, and customise posts for all of your connected networks from the Hootsuite dashboard. You can also let them determine the optimum time to post for the most engagement by using their AutoSchedule tool. If you're feeling very ambitious, you may upload all of your social media posts in.csv file at once and use their Bulk Composer to preview, modify, and add images before scheduling. You can also personalise the feed on your dashboard with Hootsuite to keep track of planned posts and notice at a glance when people interact with your posts or mention your company: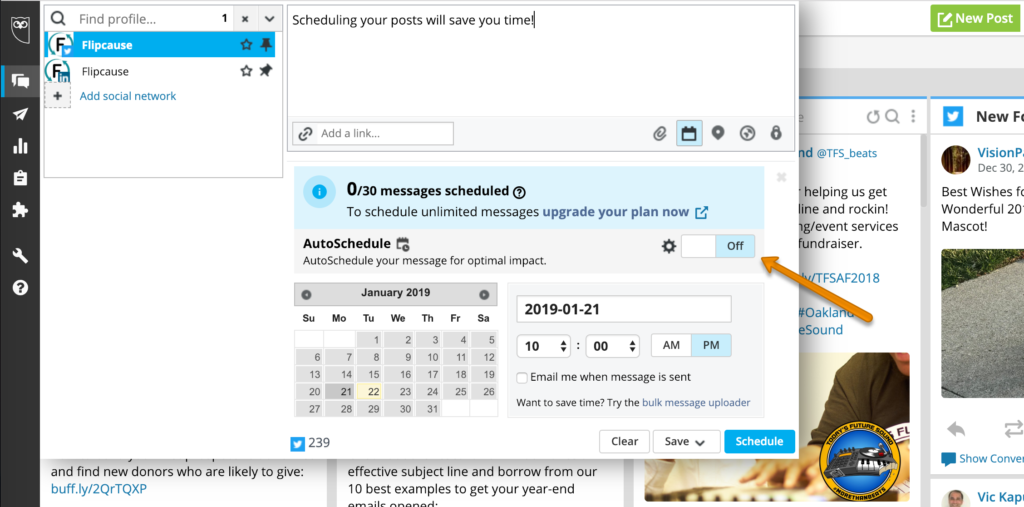 Facebook, Linkedin, Twitter, Instagram, YouTube, and Pinterest are among the social media platforms supported by Hootsuite:: Signup for Hootsuite free.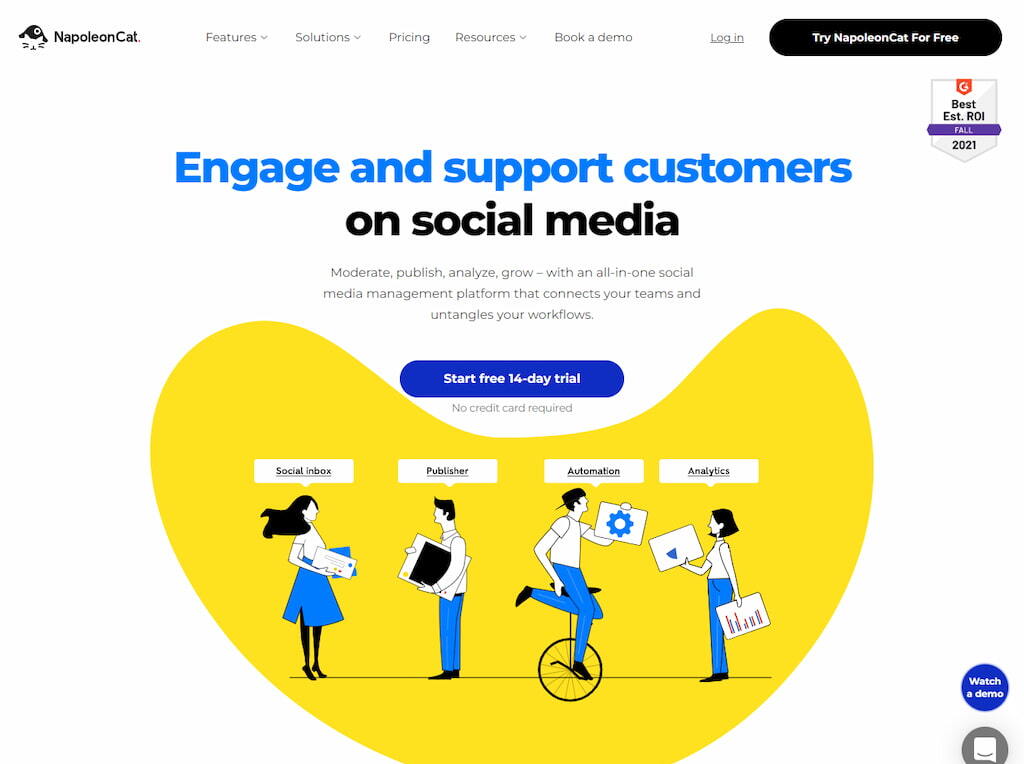 NapoleonCat is a comprehensive social media management tool that will assist you with all aspect of your social media strategy, from content scheduling to comment moderation, analytics, and reporting. NapoleonCat's pricing are incredibly competitive, despite the fact that it only offers free access for two weeks. If you have a lot of accounts to manage and a limited budget, this is a good alternative to explore. During the free trial, you can add up to three users, ten social media profiles, and schedule up to 30 posts.
You will only be charged for as many users and profiles as you utilise once you have subscribed to one of the plans. NapoleonCat's Publisher aids in the production, publication, and scheduling of material. You may share your material on all of the main social media platforms, including Instagram, Facebook, Twitter, LinkedIn, and – most notably – Google My Business. One useful feature is that you may share a single post across multiple channels at the same time while also tailoring it to each platform. You can post to all of your business's Google locations with just one click if you manage numerous locations on Google.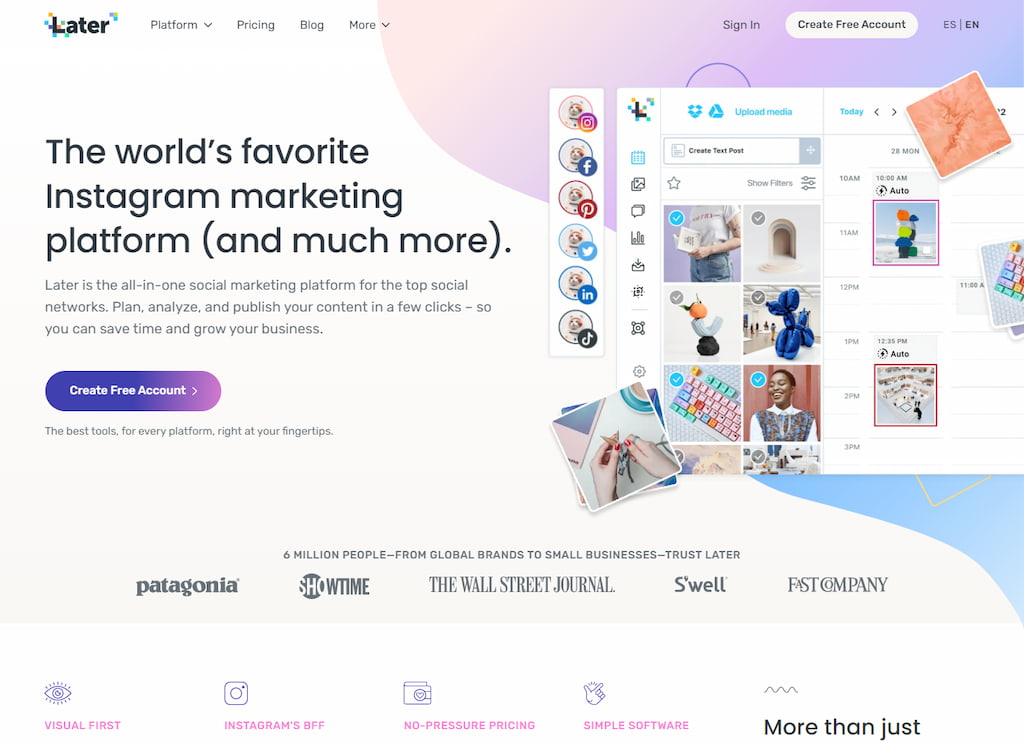 Later is the greatest app for Instagram scheduling and publishing. It was created in 2014 and today serves over 4 million customers throughout the world. It began as a simple Instagram scheduling tool, but it has since expanded to include networks such as Facebook, Pinterest, and Twitter. Later's free plan includes one social set (one Instagram, Pinterest, Facebook, Twitter, Linkedin, and Tiktok account), 30 posts per social profile, and basic analytics. They also feature a tonne of pre-made templates, so you'll never have to start from scratch. You can locate the proper hashtags for your posts using their hashtag research tool, which also includes comprehensive statistics so you can monitor how well your posts are performing in terms of interaction. a 14-day free trial
Instagram is one of the most popular social media platforms, with over 1 billion monthly active users. Later began as an Instagram scheduling tool, but they've now expanded to include support for other social networks and are constantly introducing new features. The app puts a lot of emphasis on visual material. Later supports all of these possibilities, whether you want to plan in-feed picture or video posts, stories, or carousel posts. Later offers a free subscription that you can use indefinitely, but pricier plans include features like statistics, stored captions, scheduled stories, and more. Paid plans start at $9 per month.
You should consider Later if you want a generous, free social media planner that also helps you develop content ideas. With Later's visual planning tool, you can rapidly develop a content map and post schedule. It's basically a calendar where you can drag and drop material onto a posting schedule. Later also suggests hashtags and suggests the optimal times to post.
Later can help you come up with content ideas if you run out. By searching for specific profiles and hashtags, you can uncover information to reshare. Later also allows you to add photographs from Unsplash to your text-based posts. When it comes to pricing,
In addition, Later allows you to build a clickable Linkin.bio button for your Instagram profile, which directs visitors to a landing page with your links. This function assists you in converting Instagram visitors into greater cash if you offer things on your site. Paid plans start at $15 per month if you need more scheduling flexibility. The cost of unlimited scheduling is $40 per month. The free version of Later lacks hashtag suggestions and publishing time suggestions. However, because 30 articles will likely cover at least a week's worth of information, you can save time by using Later and simply refreshing your content calendar once a week.. Learn more about Later.
Crowdfire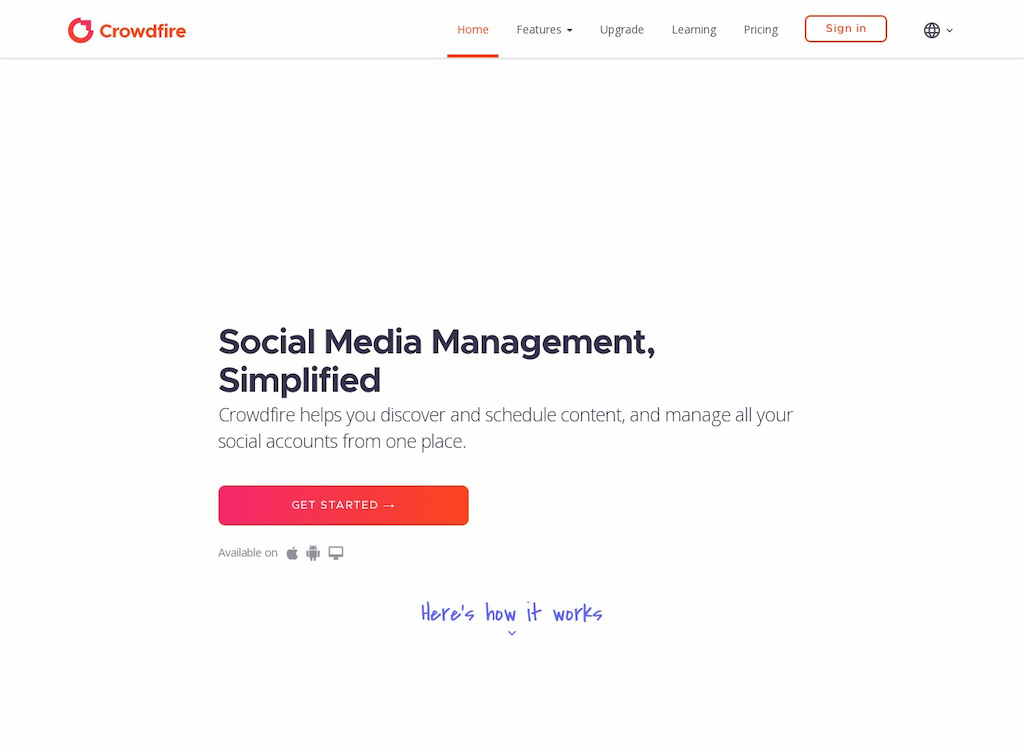 In many aspects, Crowdfire is comparable to Hootsuite. The Crowdfire app is used by over 19 million people across the world to automate their social media activities. It's chock-full of features that make day-to-day tasks easier and more productive. Crowdfire's free edition allows you to connect three social media accounts, plan 10 posts per account, and receive one day's worth of social analytics data. You may connect up to 25 accounts with Crowdfire and schedule posts across all platforms from a single location.
You can quickly and simply get the most popular and relevant hashtags for your posts by using their hashtag suggestion option. They also feature auto-customize material for each platform, saving you time from having to create several posts for different sites. You may also use their bulk upload feature to schedule up to 50 posts at once, saving you time and effort. You can also get instant access to up to 30 days of performance data analytics for your account.
SocialOomph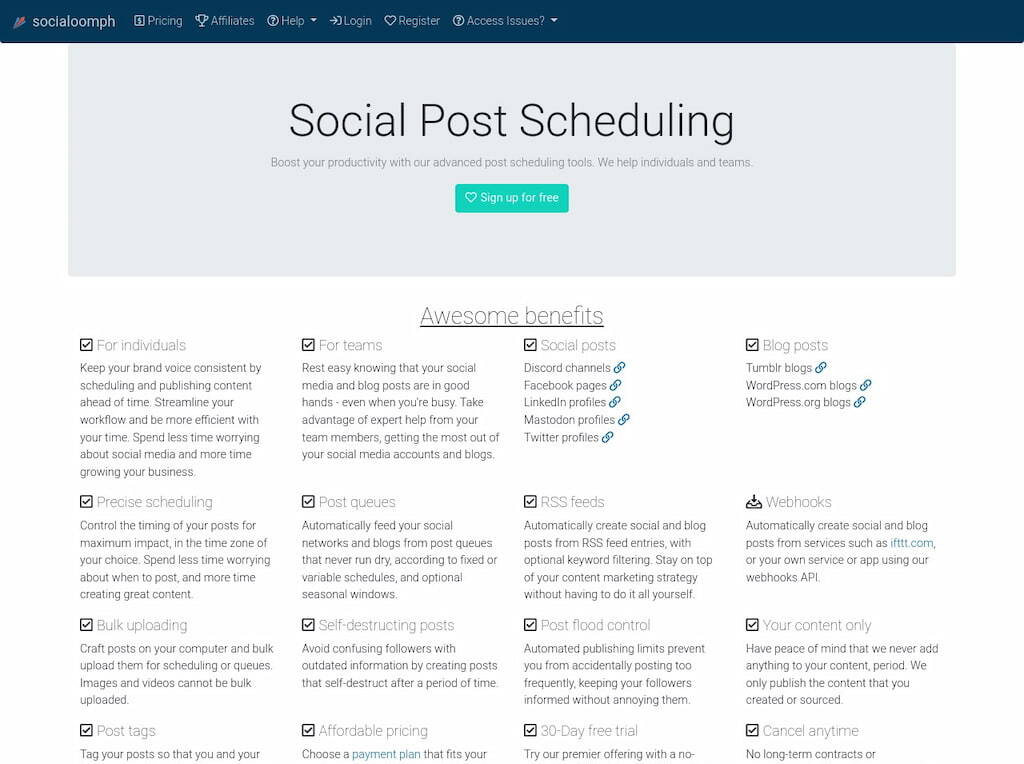 SocialOomph is a social media scheduling application that tracks your activity across several social media platforms and allows you to schedule posts ahead of time. It allows you to schedule content for publication at any moment in your preferred time zone. With a single click, you can also bulk upload blog content from your computer.
Because they limit scheduling capacity, most free social media scheduling apps compel you to pay. Socialoomph, on the other hand, is one of the few scheduling applications that provides limitless publishing with a free account. You get the following benefits as a free user:
Furthermore, you are limited to three posts every hour. If you only use one platform, Socialoomph allows you to establish a big content backlog, then set it and forget it. Plus,
A significant disadvantage is the lack of Instagram support. Integrations with community-based websites like Reddit, Discord, and Mastodon, on the other hand, are handy if you're the admin of a group and want to publish content for members on a regular basis. Socialoomph costs $25 per month for ten social profiles, 60 posts per hour, and more in-depth posting options like RSS feeds. Before paying for Socialoomph, I'd definitely go with SocialBee or a premium account with Hootsuite or Later. However, if you only use one social media network, Socialoomph is one of the best free social media schedulers available. To learn more about SocialOomph, go here.
SocialOompah provides a variety of features, including self-destructing messages that are automatically removed after a certain amount of time. They have a free plan that allows you to link one social profile, use basic posting options, and post up to three times each hour, among other things. You may also use SocialOomph to connect your Shopify, Tumblr, and WordPress blogs, but you'll need to upgrade to a higher subscription to do so. Although the dashboard is straightforward and clear, adding social profiles is a little more difficult.
Planly
Planly is a freemium social media scheduler. Planly can schedule posts for 7 different social media platforms. If you're a content creator, social media influencer, or someone working with a marketing team, Planly will be your best social media friend. Planly supports social media platforms such as Instagram, TikTok, Twitter, Pinterest, LinkedIn, Facebook, and Google Business Profile. With an advanced and easy interface, it is possible to schedule posts simply with the help of a dashboard.
So why should we choose Planly? Because, Planly's main difference from other social media scheduling tools is that it does not send any notification to the user while auto-posting Instagram posts, carousels, reels, and TikTok videos. Thus, you will be able to schedule Instagram and TikTok posts in just one step. Planly will auto-post them for you.
When scheduling various social media posts, you can upload the images or videos you want to use by drag and drop or by using Planly's unlimited Media Library. You can also change your scheduled posts to another day using the drag-and-drop planner.
Planly is free to use. In the free plan, it is possible to add 1 user and 2 social channels. Also, no credit card is required. If you want to use more social media platforms together, you can use other.
Tailwindapp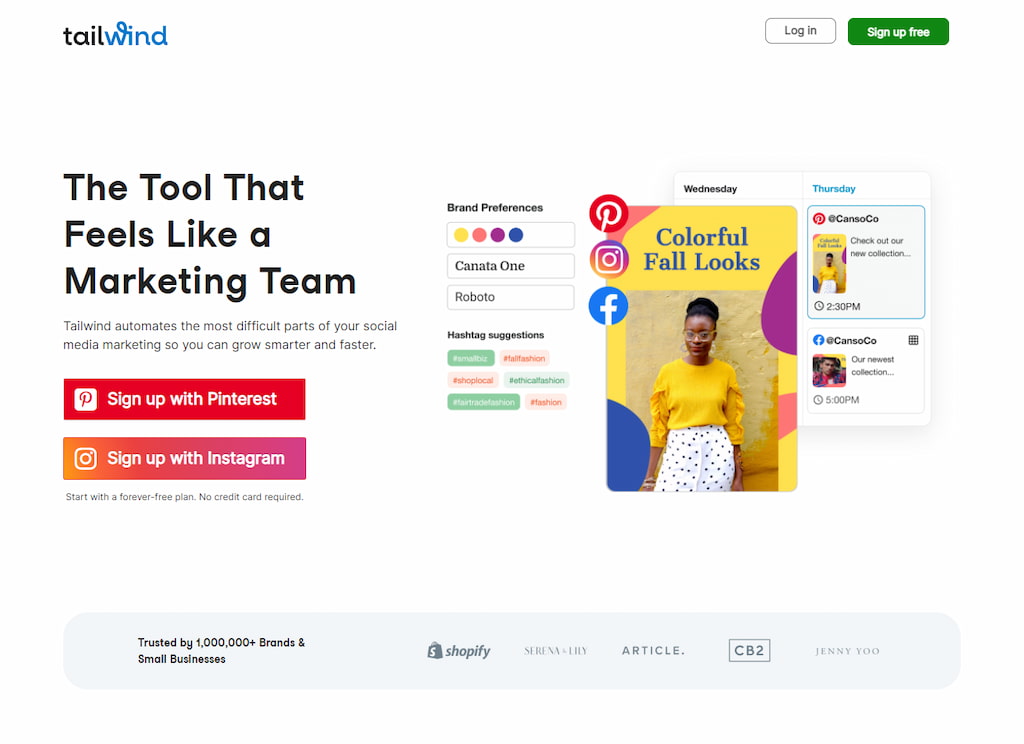 Tailwind is a Pinterest and Instagram marketing toolset that allows you to manage all of your social media accounts from one place. It does, however, only support two platforms, unlike other utilities. You can use this tool to schedule posts at the most optimal times, create attractive pins faster, discover content, monitor conversations, broaden your reach, and track outcomes.
You can schedule hundreds of pins at once using Tailwind's clever scheduling features in just minutes. As a result, you won't have to spend hours every day pinning or wasting time attempting to come up with new content ideas — they've already done that for you. Tailwind's analytics feature is pretty excellent. It displays your followers, top pins, referral traffic, organic activity, comments, and much more, as well as your followers, top pins, referral traffic, organic activity, and comments.
Zoho Social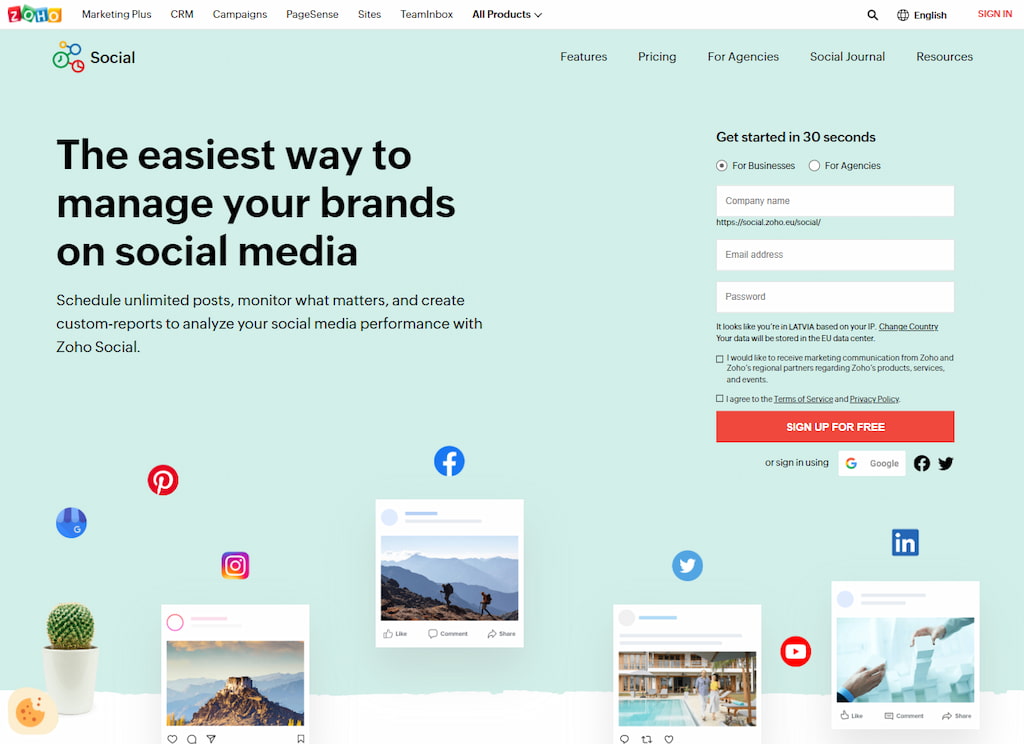 Zoho Social is a robust social media management solution that assists organisations and agencies in keeping track of their social media accounts. It lets you to schedule posts, track mentions, and create custom dashboards, among other things. Zoho Social, like other solutions, has a free plan that covers one team member, the zShare browser extension, and publishing to seven social media networks. Premium plans, of course, have more advanced features.
You may use this tool to schedule an unlimited number of posts, follow social media activities, build custom reports to analyse your success, and receive notifications when someone mentions your business on the internet. It also has an intuitive design and an easy-to-use interface that makes managing several accounts a breeze. One of the aspects of the collaboration that I enjoy the most. It enables you to work fluidly with your team. You may also give your team members bespoke roles so that they can work on different projects. Overall, Zoho Social is an excellent social media management tool and a cost-effective alternative to Hootsuite.
Combin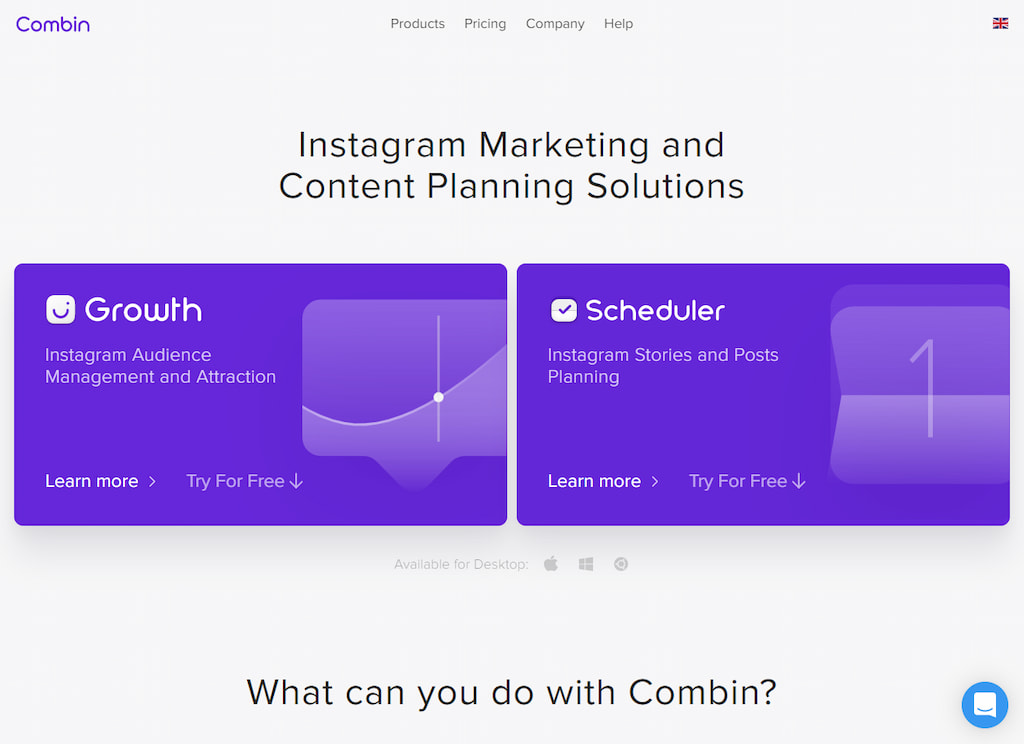 Do you want to increase the number of people who follow you on Instagram? Then Combin is the place to go. Combin is the ideal tool for anyone looking to grow their Instagram following and interaction. It's straightforward and simple to use, and it can help you fast attract genuine followers. Growth and Scheduler are the two plans available from Combin.
The Scheduler tool is absolutely free to use and offers features like as managing 15 Instagram accounts, bulk image uploading, location tagging, user tagging, and more. Combin can help you locate influencers in your field or business with whom you can cooperate and gain visibility. Alternatively, if you want to promote your account, this is an excellent option. More strong capabilities in their growth plan include the ability to discover who does not follow you back, evaluate the quality of your Instagram audience, track audience engagement, and more.
Friendsplus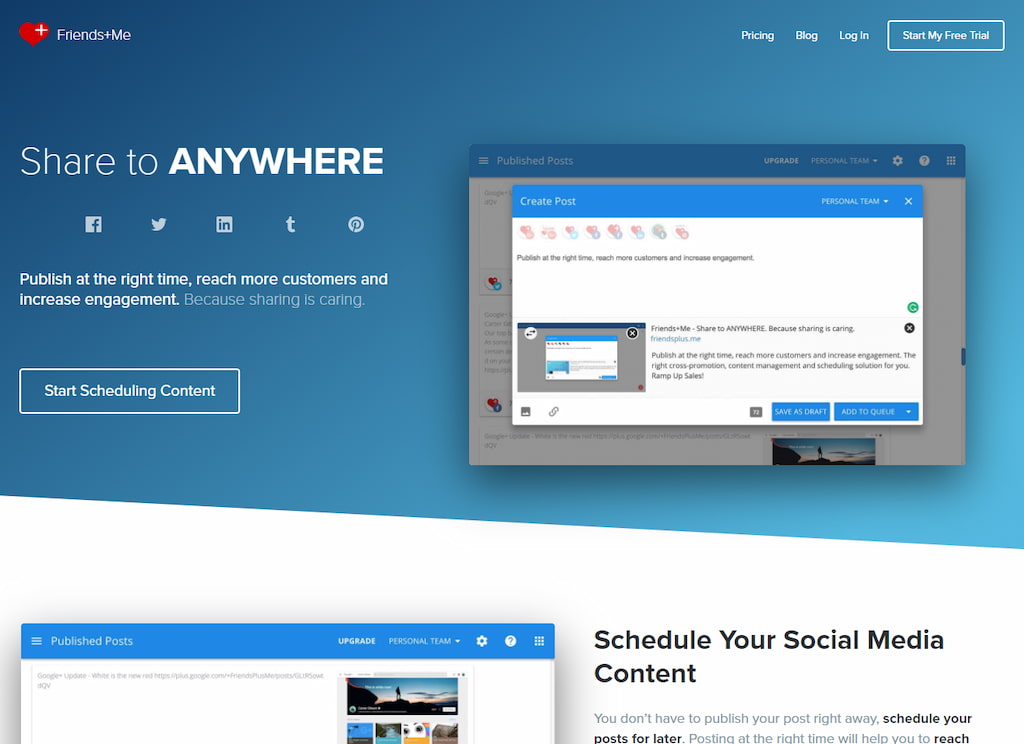 Another free tool for scheduling and automating social media postings is Friends Plus. With their desktop application, you can generate fantastic content, collect it from all over the web, and bulk schedule it. They also provide browser extensions that allow you to share directly from your browser on Facebook, Twitter, Linkedin, or Pinterest. They also have apps for iOS and Android so you can manage everything in one spot if you're using a mobile device. The dashboard is quite basic and lacks many of the features found in other applications.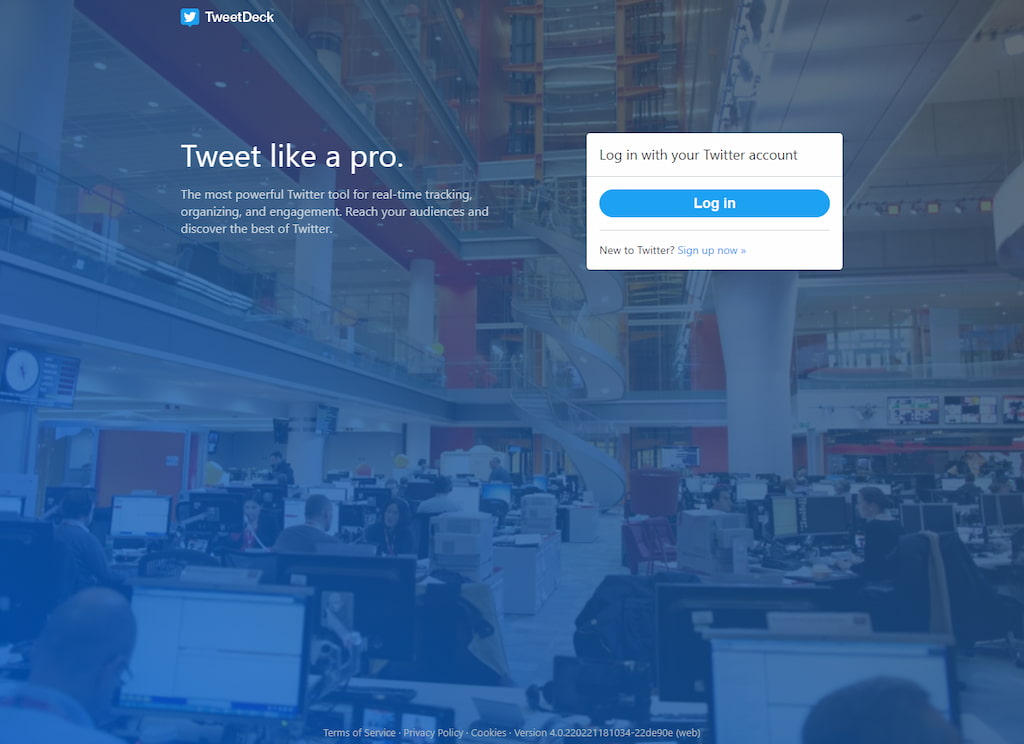 You can figure out what this tool does just by looking at its name. TweetDeck is a free tool that allows you to manage all of your Twitter accounts from one place. It's simple to use and packed with features that let you reach out to your target audiences and learn about the finest of Twitter. You can quickly keep track of conversations, locate new people to follow, send messages, and receive updates from everyone you follow. It's incredibly easy to use TweetDeck. You only need to sign in with your existing Twitter account to get started.
TweetDeck is a must-have application if you use Twitter to drive blog traffic and network with other bloggers. As the name implies, this free social media scheduler is solely for Twitter. TweetDeck turns your Twitter homepage into a powerful dashboard with real-time timeline updates, quick inbox access, notifications, and a trending tab in a nutshell. You can also add the following to your homepage:
TweetDeck will appeal to those who rely on Twitter to communicate their message. TweetDeck is a free programme that lets you manage numerous (unlimited) Twitter accounts from one centralised location. You may customise your own social media dashboard to send and receive tweets, as well as manage and monitor your Twitter profiles. TweetDeck is available as a web app, Chrome app, or desktop software. TweetDeck may be configured to send out pre-scheduled tweets, create Twitter lists, and more. Plus, the best part is that it's always free.
Finally, you can publish and schedule Tweets directly from TweetDeck. I enjoy TweetDeck because it keeps everything in one place. As a result, when you're writing posts, you can include trending hashtags, communicate with new followers, or comment on industry news. Because TweetDeck is completely free, it's the ideal social media scheduling tool to use if you're a frequent Twitter user. Use TweetDeck to get started.
Staying on-platform is sometimes the simplest method to schedule social media posts for free. Facebook's Creator Studio is a great example of this. You can create and schedule content for Facebook and Instagram using this free content management tool. Creator Studio allows you to draught posts in the same way that you would on your Facebook page or Instagram account, with the exception that you may schedule them. You may browse recent comments and engage with your followers straight from Creator Studio, just like you do with other social media marketing tools.

Creator Studio is focused on video content. To begin, if your videos are at least three minutes long and include advertisements, you can make money with them. You can also upload and schedule videos to IGTV. Instagram stories will be supported as well. When it comes to creating large amounts of planned material, tools like Later and Buffer are more efficient. I'd choose Creator Studio if you want to avoid using third-party tools and rely significantly on video.. Learn more about Creator Studio.
The visual aspect of social media is becoming increasingly important. Canva is a fantastic tool for anyone in charge of social media accounts. You can use any of the thousands of ready-made designs they have to generate designer-level marketing assets. You can now link your social media accounts and publish or schedule content directly from Canva. They provide a free version that allows you access to a good number of pre-made layouts. For only $12.95 per month, the pro plan gets you access to all of the templates.
Another popular social media management tool is Buffer, which allows you to schedule updates for Facebook, Instagram, LinkedIn, and Twitter. Buffer, like Hootsuite and Later, allows you to respond to comments and engage with your followers without having to enter into each network separately. Buffer, like other popular social media management apps, uses a calendar-style post scheduler. Buffer allows you to produce content, schedule it, and manage all of your social media accounts from a single dashboard. Buffer's free plan provides the following features:
Buffer's free edition lacks hashtag research, Instagram stories, and Pinterest integration. A disadvantage is the lack of Instagram stories and hashtags. If Pinterest is your primary emphasis, Tailwind, the go-to Pinterest scheduling tool, is preferable to any free social media planner. Buffer costs $15 per month for 100 scheduled posts and Pinterest support. Buffer is on the pricey side, with a monthly fee of $65 for the entire software bundle. Overall, Buffer is a good compromise between Hootsuite, which doesn't provide much scheduling space for free users, and Later, which has roughly the same capacity as Buffer but is more channel-friendly. More information on Buffer can be found here.
In many aspects, Buffer is similar to Hootsuite; the free version allows you to connect up to three profiles and plan up to 30 posts at once. Their interface is more simpler than Hootsuite's, and it merely allows you to schedule and view your posts (whereas Hootsuite gives you streams of all your content and engagements). While its interface for creating and modifying content is far more straightforward and user-friendly, it lacks an auto-scheduling capability. You'll need to link a third-party app to Buffer if you wish to mass upload posts. Their platform, on the other hand, is more straightforward in general and provides you with only the information you require to do your task successfully: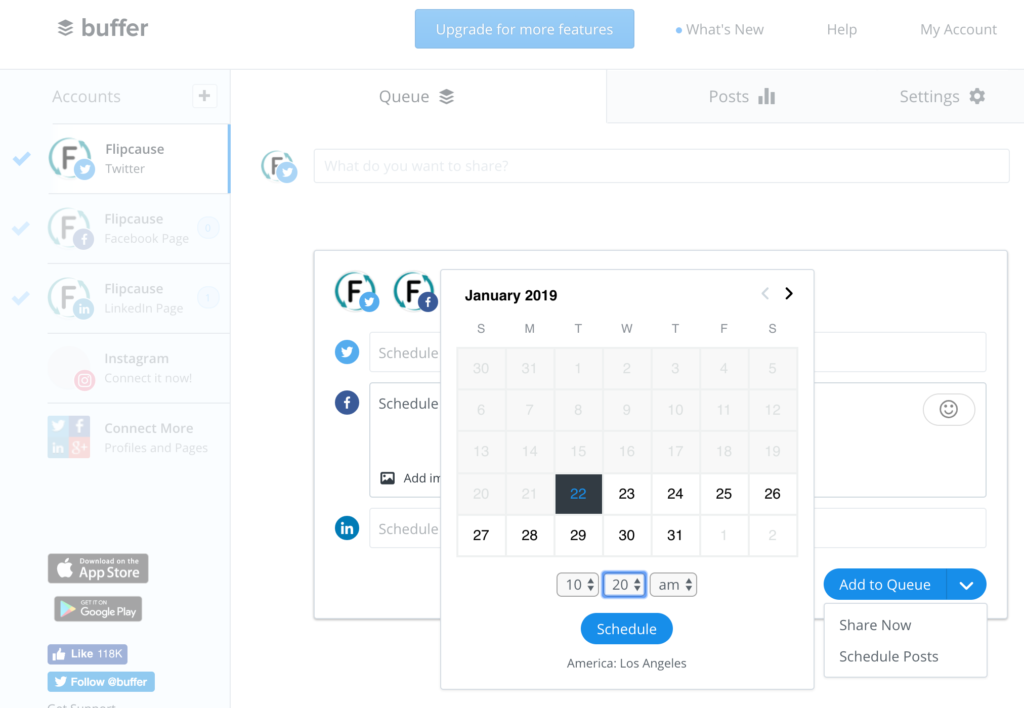 Buffer allows you to connect your Facebook, LinkedIn, Twitter, Instagram, and/or Pinterest accounts:


When you want to schedule social media posts in advance that include links to your scheduled (as in not yet published) blog content, Buffer comes to the rescue. All of the other scheduling solutions, in our experience, fall short, but Buffer is able to consistently deliver material that works and looks beautiful. Buffer is completely free to use.
Buffer is also one of the best tools for managing and scheduling your social media postings. The app also includes analytics capabilities that allow you to monitor your audience's behaviour and determine when the best time is to post in the future. Its Chrome extension, in particular, is one of our favourites since it smoothly integrates and never gets in the way, yet it is always there when you need it. It's a more simple and effective method to manage your social media, and you're never more than a few clicks away from getting everything set up. Buffer supports over seven different platforms, with the free plan allowing you to add up to four more.
Planable is a social media collaboration solution that helps marketers collaborate more effectively and efficiently. So, if efficiency is important to you, this is the tool to consider. It's one of the most visually appealing systems for creating, planning, collaborating on, reviewing, and scheduling social media content. Facebook, Instagram, Twitter, LinkedIn, TikTok, YouTube, and Google My Business are among the most prominent social media platforms supported. Planable is entirely focused on collaboration and permission, so you can obtain comments on each post, have dialogues, request and receive approval, and schedule posts automatically. To get you started, they provide a free plan that allows you to try out all of the features for the first 50 articles.
The ideal tool for bringing your company together is ContentCal. You may collaborate on ideas, set up approval protocols, construct a content strategy, and then publish your material across numerous platforms (Facebook, Instagram, Twitter, LinkedIn, Pinterest, Google My Business, YouTube, and Medium). The latest 'Respond' capabilities work as a shared inbox for monitoring and responding to mentions, messages, and comments across social media, and ContentCal's analytics will help you understand your content performance.
One of the standout advantages is that ContentCal interacts with over 2000 other apps, allowing you to build the ideal social media workflow by linking ContentCal to existing tools (think Slack or Trello) and distributing material to channels other than social media, like as emails and blog posts. The best content is developed in collaboration. Involve your staff (and clients) in the content development process, share ideas, get feedback, and watch your content perform better than ever.
While maintaining a social media presence and ensuring that your material reaches a bigger audience is a difficult undertaking, there are some things you can do to make it simpler on yourself. This includes using apps to assist you with tasks that do not require you to use your creative abilities, such as scheduling. We hope you find these apps to be useful. Best of luck!
 Airtable
Because Buffer and Hootsuite allow you to schedule large amounts of material at once, you should consider utilising Airtable in conjunction with them to organise your content and work with others on postings. It's like a magical, dynamic spreadsheet that can handle all of your social networking requirements. You can utilise their Social Media Planning and Design template to organise your material before scheduling your articles. You can even have partners post their photographs so that your nonprofit's scheduling is handled by just one person: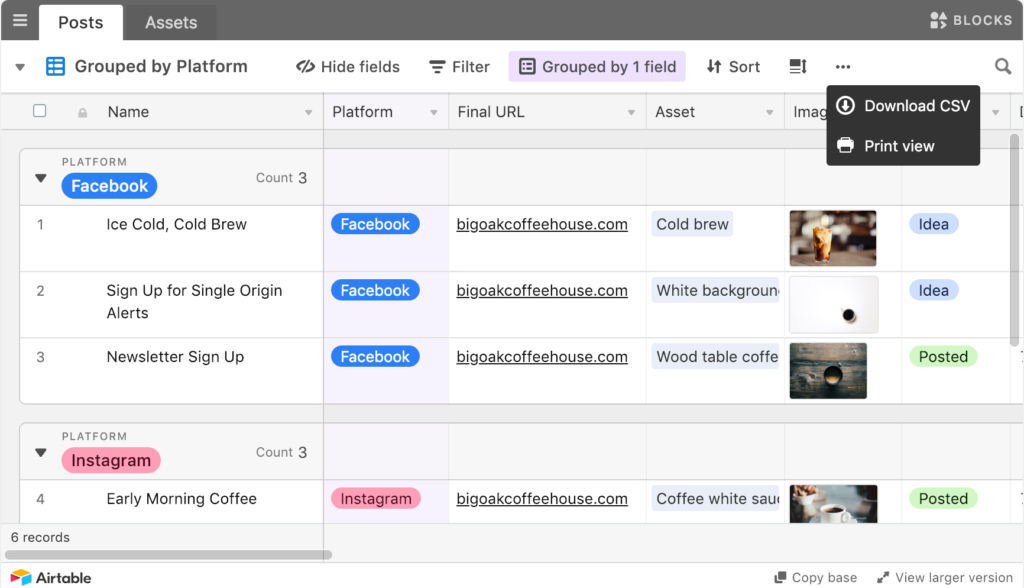 After you've finished creating your content in Airtable, you can export it as a.csv file and upload it to your favourite scheduling platform.. Try Airtable for free.
Frequently Asked Questions
Social media management solutions allow you to manage all of your social media accounts from a one spot, allowing you to save time and effort. Scheduling articles, managing comments and messages, and tracking social networking @-mentions are some of the most typical functions they provide…
Buffer, Socialoomph, and Later are three options. These are three of the best free social media management tools available. You can schedule a maximum of 10 posts across three social accounts using Buffer's free plan. A single user can schedule limitless posts to one social profile with Socialoomph's free plan. Later's free plan is also limited to one user, but you can make up to 30 Instagram, Facebook, and Pinterest posts each month, as well as 50 Twitter posts per month.
While getsocialguide.com focuses on improving your team's efficiency and workflow rather than social media marketing specifically, marketers may still utilise it to develop a logical workflow to assist manage their social media accounts. They have a number of templates, including one for social media management. You can make two boards with this template: campaign progress and status and campaign ideas and requests. Your staff can recommend upcoming social media posts, and you can keep track of your campaigns this way.
AgoraPulse, Hootsuite, and Sprout Social are all worth a look. While AgoraPulse and Sprout Social are both quite professional, their most basic services cost $99 each month. While Hootsuite's core app focuses on social publishing, if you need social listing features, you can purchase a second software (Hootsuite Insight).
Is there a tool for content curating that is free?
Social Pilot is a good place to start. Small and large businesses alike will benefit from Social Pilot. While they do not have a free plan, they do provide a free content curation platform called ShareIt. You may use ShareIt to find, curate, and share the most recent material straight on your social media profiles. This free tool can also assist you in finding influencers. It's a fantastic substitute for Quuu.
Social Media Scheduling Tools Free – Conclusion
Managing your brand's or company's social media accounts can be a difficult chore. You must devote a significant amount of effort to posting material, tracking engagement, and connecting with your audience. As a result, incorporating social media management tools into your social media marketing strategy could be beneficial. You may use social media scheduling tools to plan ahead of time, track performance, track brand mentions, engage with your team, come up with fresh content ideas, and much more.
There are many options, but we've compiled a list of the top ten free social media scheduling apps. This includes free Facebook post schedulers, Instagram schedulers, and Hootsuite equivalents. Each tool has a free version, and you may upgrade to the premium version if you like. We'd like to hear from you now. Which of the available free social media scheduling tools do you use? Please let us know!