34

min read
17 Best Google Calendar Alternatives – Full Guide
If you're searching for alternative options to Google Calendar, you've come to the right place. Whether you're self-employed, an entrepreneur, a project manager, or a salaried employee, a calendar is an essential tool for organizing schedules and tracking tasks and events. While Google Calendar is a reliable application used by many, it may not be the best choice for everyone. As calendars have transitioned from traditional paper booklets to sophisticated software on digital devices, there are now various alternatives available that cater to different needs.
In this article, we have compiled a list of the top Google Calendar alternatives to help you make an informed decision about which option suits you best. These alternatives offer more flexibility and functionality, addressing the diverse requirements of individuals and organizations. While Google Calendar may be a popular choice, it's important to explore other options that may better align with your specific needs. So, if you're looking for a scheduling solution beyond the one-size-fits-all approach of Google Calendar, join the many individuals like yourself who are seeking suitable alternatives.
What Should You Look for in Google Calendar Alternatives?
Google Calendar, as part of the Google Workspace suite, is widely used for personal scheduling. However, its automatic syncing with Gmail can quickly fill up your calendar and make it appear crowded. It's important to find an alternative that not only offers more features than Google Calendar but also aligns with the specific needs of your team.
While Google Calendar allows for easy event creation, it becomes less intuitive when incorporating other calendars and task management. This complexity often leads teams to create additional calendars in Google Sheets or Docs, making the process more complicated.
That's when the search for a Google Calendar alternative begins. The best alternatives bring together meetings, events, and projects in a single software, eliminating the need to switch between different tools. Key features to look for in an alternative include automation for recurring events and tasks, multiple views for comprehensive management, reminders and notifications, time tracking for productivity tracking, drag-and-drop functionality for easy scheduling adjustments, and integrations with apps like Zoom and Slack to enhance calendar functionality.
By finding the right alternative, you can streamline your scheduling, improve collaboration, and enhance productivity.
Why May You want to Look for a Google Calendar Alternative?
Google Calendar is indeed a popular choice due to its event tracking, sharing capabilities, reminder settings, and invitation features, all offered for free. However, it may not be the best fit for everyone. Some limitations have been identified by users, such as the requirement for an internet connection to access the calendar, which can be inconvenient in certain situations.
Additionally, Google Calendar is restricted to users with a Google account, making it less appealing for those who don't already have an account and would need to create one specifically for using the calendar. Furthermore, some users have found that the reminder functionality is lacking, and when there are numerous events, the calendar can become cluttered and difficult to navigate.
Considering these limitations, individuals may seek alternative calendar solutions that better suit their specific needs and preferences.
Why do You May need To Look For The Best Google Calendar Alternatives?
While Google Calendar has many positive features that users appreciate, there are also some notable limitations or weaknesses that should be considered. These include:
Requirement for a Google account: Users need to have a Google account to access and use Google Calendar, which may be a drawback for those who prefer not to create or manage another account.
Dependence on an internet connection: Google Calendar relies on an internet connection, making it inaccessible in offline scenarios where internet connectivity is limited or unavailable.
Cluttered interface with numerous tasks: When a large number of tasks and events are added to Google Calendar, the interface can become cluttered and complex, potentially making it more challenging to navigate and manage.
Limited integrations with other apps: Google Calendar's integration options with other applications are relatively restricted, limiting its ability to connect seamlessly with a wider range of tools or services.
Simplistic interface design: Some users find the interface of Google Calendar to be too simplistic or underwhelming, lacking more advanced features or a visually appealing design.
Mediocre customer support: Users have reported that the level of customer support provided by Google for Calendar-related inquiries or issues is not always satisfactory.
Considering these factors, users who seek more advanced functionality, wider integration capabilities, a more robust interface, or enhanced customer support may find that other scheduling solutions offer a better fit for their needs.
Top 17 Google Calendar Alternatives You Can Get Today
Below are 17 noteworthy alternatives to Google Calendar that you may find worth considering when seeking a more robust scheduling solution. It is important to thoroughly explore these options before finalizing your decision, even if you are in search of a simple calendar solution.
1. Zoho Calendar
This calendar software offers various features such as reminders, task lists, and a built-in to-do list. Zoho Calendar can be seamlessly integrated with other Zoho apps, as well as Google Calendar and Outlook. One notable advantage of Zoho Calendar is its strong integration with other Zoho applications. For example, users can create tasks and appointments in Zoho Calendar and view them in Zoho Mail or create contacts in Zoho CRM. This facilitates a more efficient workflow for teams relying on multiple Zoho apps.
Zoho Calendar is highly rated among the best Google Calendar alternatives. It simplifies scheduling by providing an easy-to-use interface to track your schedule and share calendars with your team, ensuring everyone stays on the same page. With its user-friendly design, Zoho Calendar allows users to create events, invite participants, manage group calendars, and organize team events with shareable calendars. The ability to share and sync calendars makes it a smart choice for scheduling meetings and enhancing team coordination.
Zoho is a comprehensive suite of software that offers a range of functionalities, including the Zoho Calendar. This calendar software is designed with simplicity and ease of use in mind, making it a convenient addition to your work routine. It enables users to share and sync schedules with external calendars, which is particularly useful for scheduling meetings and collaborating with team members.
Notable Features of Zoho Calendar:
Public calendars or group calendars for collaborative work events
Smart Add feature extracts event details from sentences you type
RSVP status updates and reminder notifications
Embedding Zoho Calendar into websites
Easy import and export capabilities
Cross-platform synchronization
Team calendar functionality
Mobile app availability
Limitations of Zoho Calendar:
Limited capability in handling complex schedule dependencies
Limited flexibility in adapting to specific project needs
Pricing of Zoho Calendar: Zoho Calendar is available for free to all users.
Ratings and Reviews:
Capterra: 3.8/5 (based on 5+ reviews)
G2: 4.5/5 (based on 50+ reviews)
2. Fantastical (iOS, macOS) – Best Calendar App For its Design
Calling Fantastical "fantastic" may sound cheesy, but it's not an exaggeration when it comes to this calendar app. Fantastical offers an impressive array of features for iOS and macOS, with an added companion app for Apple Watch. It has become my go-to calendar app for daily use.
While the mobile app is convenient, Fantastical truly shines on desktop, particularly on macOS. It boasts the best design among calendar apps, not just on macOS but across all operating systems. The left panel, for example, is thoughtfully utilized, displaying an agenda view or reminders instead of a mostly useless list of calendars found in other apps. This attention to detail and intuitive design permeates every aspect of the calendar app. Even the smallest details, like handling identical events in different calendars, are elegantly addressed with a pin-stripe pattern indicating the event's presence in multiple calendars. Using Fantastical over time, you'll discover numerous thoughtful touches like these.
Fantastical seamlessly integrates with your system, providing lock screen widgets, Handoff support, a share sheet extension that allows event creation from other apps (such as addresses in Maps and URLs in Safari), and even Focus Mode-based filtering (currently available on iOS and coming soon to macOS).
The standout feature of Fantastical is its natural-language event creation. Simply start typing something like "Lunch with Casey at noon at Park Place," and the app will parse your words into calendar fields and pull in relevant information. While Apple Calendar offers a similar feature, Fantastical executes it far better. Furthermore, Fantastical supports syncing with various services including iCloud, Exchange, Office 365, Google, Yahoo, fruux, Meetup, and any CalDAV service, ensuring extensive syncing options.
One of my personal favorite features is the easy appointment scheduling. While other apps offer this functionality, Fantastical's seamless integration with the calendar I use across all my devices makes it particularly appealing. No other scheduling app harmonizes as effectively with Apple devices. If you're seeking the best calendar app for Apple devices, Fantastical is the one you've been searching for.
3. Etar
Etar is a feature-rich calendar app that offers several advantages for users looking to switch from Google Calendar. One of its notable benefits is its seamless integration with CalDAV, which simplifies the migration process. Users can effortlessly transfer their calendar data to Etar when setting up the app on a new device, eliminating the need for manual recreation of events. Additionally, Etar allows for easy sharing of calendars and provides export options for smooth transitions to and from other calendar apps.
In terms of functionality, Etar goes beyond the basic features of the AOSP (Android Open Source Project) calendar. It offers a variety of views including daily, weekly, monthly, and agenda, catering to different preferences and needs. Unlike Google Calendar, Etar even works without an internet connection, ensuring accessibility in various scenarios. To enhance organization, users can label tasks with different colors, enabling effective categorization such as distinguishing between personal and work-related tasks.
Etar boasts a visually appealing user interface, utilizing material design principles to deliver a polished and intuitive experience. Users can also opt for dark mode to reduce eye strain during usage. Notably, Etar is an open-source application, meaning it is completely free to use without any limitations or intrusive advertisements.
Overall, Etar stands out as an excellent Google Calendar alternative, offering seamless data migration, a range of views, synchronization with Android's built-in CalDAV, an attractive UI, and open-source availability.
4. Teamup Calendar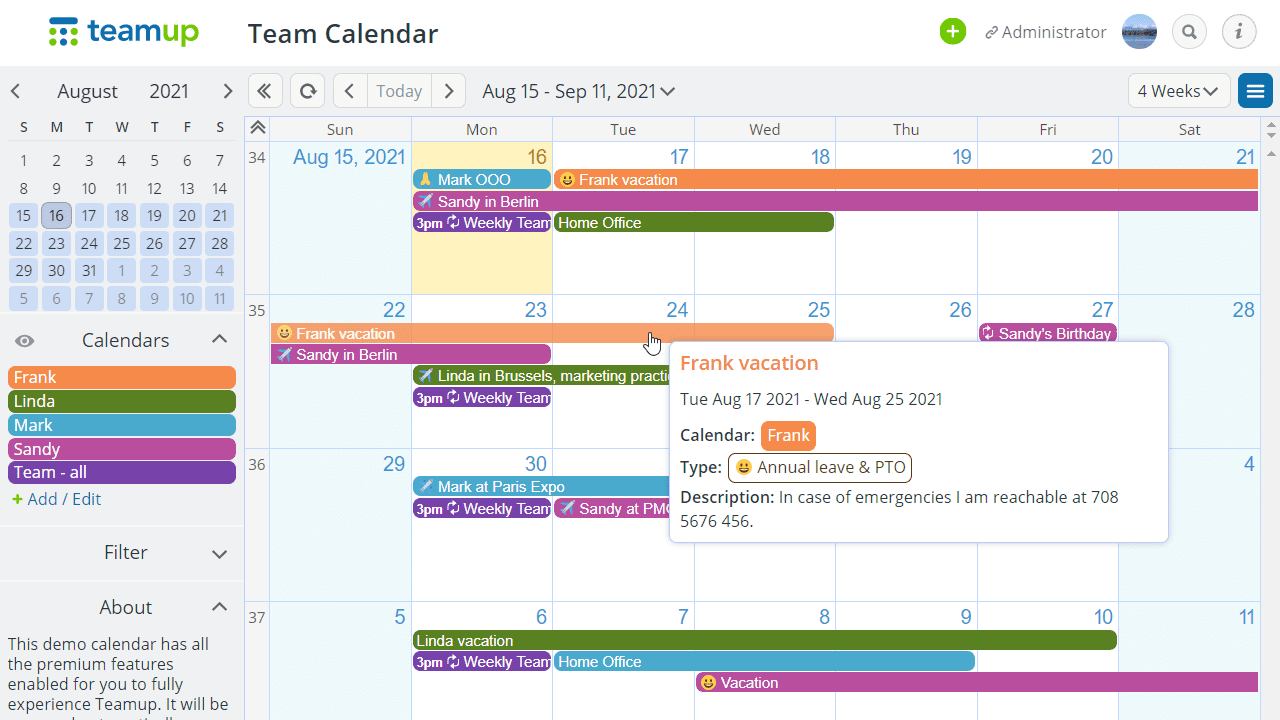 Teamup Calendar is a web-based calendar and scheduling software that offers robust features for managing appointments, events, and meetings, while also enabling easy sharing with others. Unlike Google Calendar, Teamup Calendar excels in handling complex scheduling needs and provides advanced options like resource scheduling. The Sub-calendar feature allows users to create multiple layers of calendars within a single master calendar, making it ideal for organizations managing cross-functional teams and resources.
Teamup Calendar is a user-friendly shared calendar application that streamlines team communication. Trusted by numerous small and large teams, it consolidates people, resources, and activities on a single page. Customization options are available to tailor the calendar according to individual or team preferences. This organization and planner application simplifies collaboration by enabling users to share plans, events, schedules, and status updates. With custom calendar access for individuals and groups, users gain visibility into team activities, ensuring seamless coordination.
Color-coding calendars based on projects, teams, or resources is a notable feature of Teamup Calendar. The platform is centrally managed, requiring permissions to be granted to different users. Unlike Google Calendar, team members do not need to create accounts to use the program, enhancing accessibility and convenience.
Key Features of Teamup Calendar:
Custom fields for specific job information categories
Task statuses with easy filtering and prioritization
Multiple choice fields displayed in the Table view
Employee leave categories
While Teamup Calendar offers powerful features, it does have some limitations. For instance, it lacks advanced functionality for stakeholder management and communication. The calendar interface might appear outdated compared to the Google Calendar app.
Teamup Calendar provides various pricing options:
Free plan
Plus: $10/month per calendar (billed annually, excluding VAT)
Pro: $25/month per calendar (billed annually, excluding VAT)
Business: $60/month per calendar (billed annually, excluding VAT)
Enterprise: $105/month per calendar (billed annually, excluding VAT)
Users have rated Teamup Calendar positively, with Capterra and G2 ratings ranging from 4.5 to 4.7 out of 5, based on multiple reviews.
Main features of Teamup Calendar include:
Scalable, color-coded sub-calendars and folders
11 calendar views, including year and table views
9 levels of access permissions
Assigning one event to multiple calendars
Adjustable calendar resolution
Custom fields for text, choices, and numbers
Sharing via links
Complete and reliable time zone support
Stand-alone shareable event page
5. TimeBlocks
Visit Site
TimeBlocks offers a unique advantage over Google Calendar with its block-based approach to scheduling. This productivity technique involves allocating specific blocks of time for tasks, ensuring individuals prioritize important activities. Freelancers or contractors can benefit greatly from TimeBlocks' focus on time management. However, teams might find the app less suitable for project management and time tracking, in which case ClickUp can be a recommended alternative.
TimeBlocks serves as an effective tool for time management, combining calendar and to-do list functionalities. Its simple design allows for easy color-coding, enabling users to quickly identify upcoming events. The sticker feature in TimeBlocks adds an extra level of organization, allowing users to assign stickers to different event types, enhancing calendar visibility.
As a multi-platform calendar application, TimeBlocks helps users create structured agendas for team discussions and meetings, facilitating adherence to plans and schedules. The interface is sleek and intuitive, providing a detailed view of events. Users can assign stickers and color-code events, adding a fun element to scheduling and organization.
Key Features of TimeBlocks:
Calendar synchronization with Google, Apple, Outlook, and other platforms using a single login
Quick Type page for easy schedule input without complex settings
Monthly calendar view for quick access
Drag-and-drop interface
While TimeBlocks offers notable features, it does have some limitations. It may have difficulty handling resource constraints and conflicts, and it lacks a native time-tracking feature.
TimeBlocks is a free app, making it accessible to users without additional costs. Unfortunately, specific ratings and reviews for TimeBlocks on platforms like Capterra and G2 are not available at the moment.
Main features of TimeBlocks include:
Calendar
To-do list
Memo
Habit tracker
D-day
Time management
Key Features:
Drag-and-drop schedule-changing abilities
Quick Type page for efficient schedule writing
Ability to sync with other calendars such as Google, Apple, and Outlook
6. DigiCal Calendar Agenda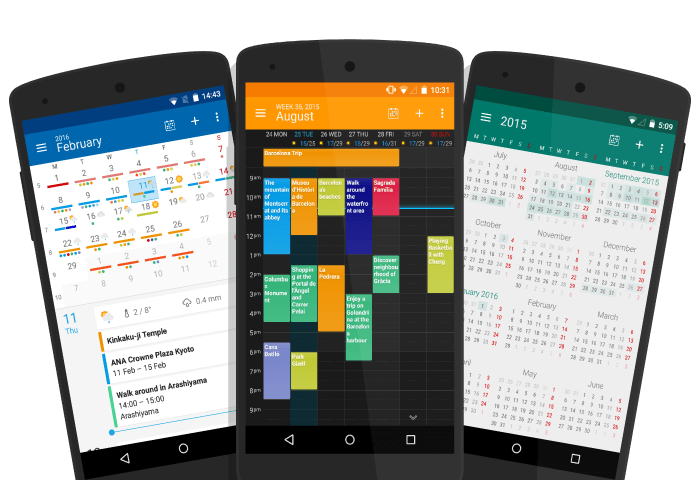 DigiCal is widely recognized as one of the best calendar apps available. Its visually appealing interface and user-friendly design make it a popular choice. The app offers customizable widgets and integrated weather forecasts, enhancing the planning experience. With the DigiCal Calendar Agenda, users can enjoy seven powerful views to visualize their calendars effectively.
Additionally, the app allows full customization of nine preset themes or the option to create a personalized theme. The calendar catalog offers thousands of interesting calendars to choose from and add to your schedule. DigiCal seamlessly syncs with other calendar apps such as Outlook, Exchange, and Google Calendar, simplifying the transition from Google Calendar by facilitating data transfer.
DigiCal Calendar Agenda is an impressive calendar app that boasts a clean and well-designed interface, providing flexibility and customization options. With various view options including month, list, week, day, and agenda, users can choose the most suitable layout. Like other apps on this list, DigiCal seamlessly syncs with popular calendars like Outlook, Exchange, and Google Calendar, streamlining the transition process by facilitating data transfer.
Main features of DigiCal include:
Seven calendar views
Synchronization with all your calendars
Six widget views
Weather forecast integration
Nine pre-set widget themes
Location search functionality
Image match feature
Smart action bar
Event pop-up notifications
Key Features:
Support for seven agenda views
Six customizable calendar widgets to choose from
Access to detailed weather information
Color coding for easier organization
Built-in location search
Notification options for event reminders
7. Apple Calendar
If you use macOS or iOS devices, you already have the advantage of having the Apple Calendar built-in, making it a convenient option to consider as your calendar app. The Apple Calendar has a simple and user-friendly design and offers the ability to sync with various other calendars such as Microsoft Exchange, Yahoo, Google Calendar, and more. Additionally, you can leverage iCloud to sync calendar entries across all your Apple devices.
Apple Calendar serves as the default calendar application on iPhones, iPads, and Macs. When using Apple products, you can expect a user experience that is straightforward, intuitive, and seamless. By default, iCloud syncs all your calendar data, or you have the option to sync Apple Calendar with other platforms like Google Calendar, Microsoft Exchange, Yahoo, and others. Apple Calendar's simplicity allows you to focus on your events, tasks, and milestones rather than getting overwhelmed by the app itself.
Main features of Apple Calendar include:
Ability to add, modify, and delete events
Option to include location or travel time for events
Reply to invitations
Event alerts and notifications
Creation and editing of all-day or multi-day events
Invite people to events
Integration of FaceTime video calls into events
Fast syncing capabilities
Key Features:
Easy addition, modification, or deletion of events
Creation of repeating events
Setting event alerts and notifications
Inviting people to events
Responding to event invitations
8. Microsoft Outlook Calendar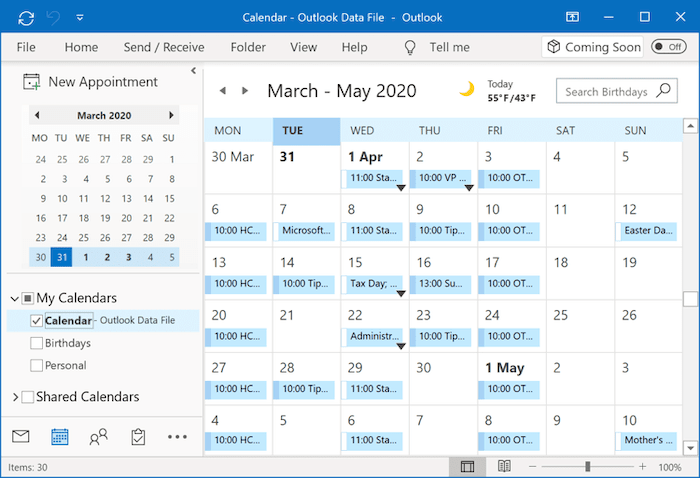 Microsoft Outlook Calendar is a popular choice for many individuals, thanks to its extensive suite of applications. As part of the Microsoft Outlook software, the Outlook Calendar provides a versatile and reliable solution for managing your schedule. It offers a multipurpose desktop interface where you can handle various aspects of your personal information, including email, notes, tasks, and contacts, all in one platform.
The Microsoft Outlook Calendar stands out with its robust sharing capabilities, making it an excellent tool for coordinating with team members. You can easily schedule and organize meetings, view group schedules, and even subscribe to other team members' calendars using Exchange server accounts. This collaborative functionality enables effective team coordination and streamlined scheduling.
Key Features of Microsoft Outlook Calendar include:
Ability to create appointments and events, allowing you to schedule and manage your time effectively.
Organizing meetings and sending meeting invitations to participants, simplifying the process of setting up and coordinating group events.
Viewing group schedules to have an overview of team members' availability and find suitable time slots for meetings.
Simultaneously viewing multiple calendars, providing a comprehensive view of different schedules and helping you manage your time more efficiently.
Microsoft Outlook Calendar offers a comprehensive solution for managing your personal and professional schedules, promoting productivity and collaboration within teams.
9. TimeTree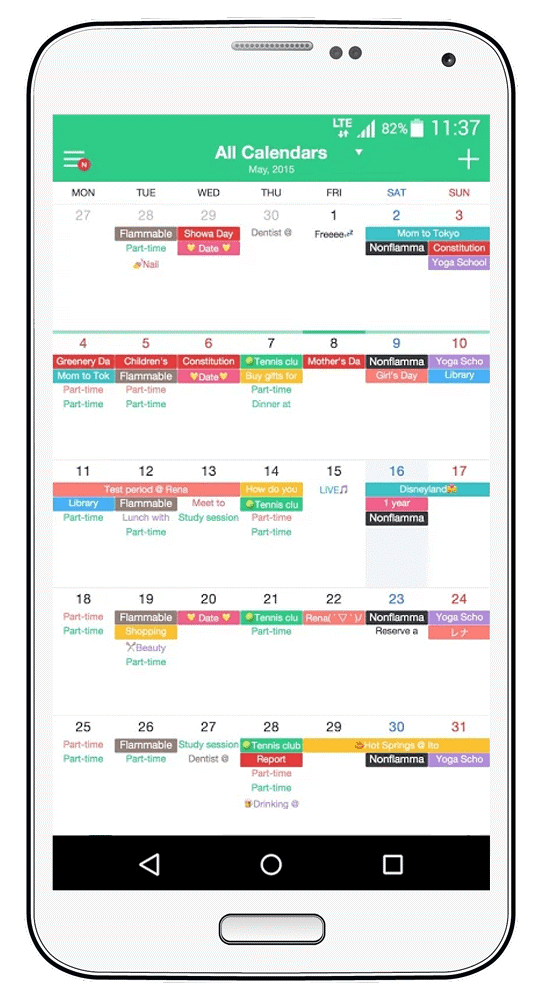 TimeTree is a multi-platform calendar app that focuses on providing users with the ability to share their calendar with different groups, whether it's team members, friends, or family. The app aims to help users keep their schedules organized by offering the option to create different event calendars, allowing for easy separation of work and personal events. With a simple layout, TimeTree provides various views where users can see all their events together or segregate them based on their preferences.
Key Features of TimeTree include:
Shared calendar and scheduling, enabling users to collaborate and coordinate events with their chosen groups.
Multiple calendars for different categories such as personal, workplace events, family, and more, providing a way to keep events organized and separate.
Shared notes and lists, allowing users to create and share important information and task lists with their selected groups.
Compatibility across different devices, including PCs, mobile devices, and widgets, ensuring accessibility and synchronization of calendars across platforms.
TimeTree offers a collaborative and versatile calendar solution, making it easier for users to share and manage their schedules with various groups and stay organized in different aspects of their lives.
10. ProofHub
ProofHub is a comprehensive team collaboration and project management software that offers a range of powerful features in one centralized platform. It serves as an excellent alternative to Google Calendar due to its simplicity, ease of use, and robust scheduling and organization capabilities. Let's explore some of the key features offered by ProofHub:
Task Management: ProofHub's task management software allows teams to efficiently manage tasks, streamline workflows, and achieve goals. Users can create and assign tasks to individuals or multiple team members, break tasks into subtasks, add labels, set start and due dates, estimate time, track time spent, create recurring tasks, and attach files.
Visualize and Prioritize Tasks: ProofHub provides multiple views, including Board view, Table view, and Gantt view, to visualize and prioritize tasks. Kanban boards display stages of the workflow, and tasks can be easily moved between stages. Gantt charts help with task visualization and planning, while the Table view offers a neat and organized overview of all tasks, allowing categorization and prioritization.
Scheduling Calendar: ProofHub offers a project scheduling calendar where users can organize events, tasks, and milestones in one place. It supports recurring tasks and events, sends automatic reminders, allows limited visibility to selected individuals, and enables calendar subscriptions and exports in various formats.
Time Tracking: Time management is crucial for effective scheduling and organization. ProofHub's time tracking software enables users to record time manually or using timers, define time estimates, add timesheets, create time reports, and centralize all time data.
Files and Documents: ProofHub serves as a centralized hub for storing, managing, and collaborating on digital files and documents. Users can upload files from various sources like Dropbox, Google Drive, OneDrive, and Box, attach files to chats, discussions, notes, and tasks, and collaborate on them in real-time.
Project Export: Users can easily access their files, discussions, projects, and tasks even when not logged into ProofHub. The platform allows users to create data backups and take them along as needed.
Additional Features: ProofHub offers features like stickies and bookmarks for quick note-taking and easy access to frequently used content, discussions for centralized team and client communication, chats for instant messaging, notes for organizing and storing information, activity logs for tracking updates, integrations with third-party applications, and reporting for progress monitoring and performance evaluation.
ProofHub offers various pricing plans, and more details can be found on their pricing page.
In summary, ProofHub provides a comprehensive solution for team collaboration, project management, and scheduling, making it a strong alternative to Google Calendar. Its range of features and user-friendly interface ensure teams can effectively organize, schedule, and manage their tasks and projects in one centralized platform.
ClickUp is an all-in-one productivity tool that consolidates schedules, tasks, and work across various apps into a single platform. It offers a wide range of customizable features that cater to teams of any size, businesses, and individual users. With ClickUp, users can manage their daily meetings, tasks, and complex projects all from one screen. Here are some key features and limitations of ClickUp:
Key Features:
Calendar View: ClickUp provides more than 15 ways to visualize work, including a flexible Calendar view. This view allows users to plan timelines, sort tasks, and schedule events by simply dragging and dropping them across the week.
Integration: ClickUp seamlessly integrates with over 1,000 other work tools, including popular applications like Google Calendar, Zoom, and Slack. This ensures users can leverage existing productivity tools while using ClickUp.
Sorting and Filtering: Users can easily sort and filter their calendars for a high-level or detailed view of their work. This functionality helps with organizing and managing tasks effectively.
Productivity Features: ClickUp offers hundreds of features aimed at improving time management and productivity. Users can prioritize their schedule by project, color-coded tasks, assignees, and tracked time. The platform also includes automation features like recurring tasks and reminders.
Pricing Plans: ClickUp offers a range of pricing plans, including a Free Forever plan with limited features. Paid plans start from $5 per user, per month for the Unlimited plan, and go up to custom pricing for the Enterprise plan. The Business and Business Plus plans are priced at $12 and $19 per user, per month, respectively.
Limitations:
Learning Curve: Some users may experience a learning curve when adapting to the numerous features offered by ClickUp. The extensive functionality may require some time and effort to fully utilize.
Mobile App: Not all views available in ClickUp's web version are currently available in the mobile app. However, the Calendar view is accessible through the mobile app.
Ratings and Reviews: ClickUp has received positive ratings and reviews from users. On G2, it holds a rating of 4.7/5 based on 5,510+ reviews. Capterra rates it at 4.7/5 based on 3,510+ reviews.
In summary, ClickUp is a comprehensive productivity tool that brings together schedules, tasks, and work from various apps into one platform. With its customizable features, integration capabilities, and pricing options, ClickUp offers a powerful solution for managing and organizing work effectively.
12. Microsoft Outlook Calendar
Microsoft Outlook Calendar is a versatile application that allows teams to efficiently manage their daily activities, events, and appointments. It offers a wide range of features including reminders, calendar sharing, overlays for comparing multiple calendars, customizable themes, and more. One of its major advantages is seamless integration with other Microsoft products, particularly Microsoft Teams. With the Teams Meetings feature, users can easily schedule, participate in, and host online meetings and events without needing to open a separate window.
Microsoft Outlook Calendar serves as a strong alternative to Google Calendar, providing users with a comprehensive set of tools to meet their calendar and scheduling needs. Despite being free, it offers a user-friendly and uncluttered interface that surpasses many paid alternatives found on the Windows Store. With Microsoft Calendar, you can create appointments and events, organize meetings, view group schedules, send calendars via email, and much more. The application excels in its sharing capabilities, allowing users to subscribe to other team members' calendars using exchange server accounts.
Key Features of Microsoft Outlook Calendar:
Creation of appointments and events
Viewing group schedules
Organizing meetings
Simultaneous viewing of multiple calendars
Managing other users' calendars
Subscription to internet calendars
Reminders
Email integrations
Customization options
Best Features of Microsoft Outlook Calendar:
Automatic deactivation of unsafe links that may contain phishing scams, viruses, or malware
Google Calendar import feature to avoid the need for re-entering all appointments
Powerful search function to locate messages, people, and documents
Side-by-side calendar views for easy comparison
Limitations of Microsoft Outlook Calendar:
The abundance of functionality may overshadow simpler scheduling needs
Changes made in the Outlook calendar won't automatically reflect in Google Calendar unless specifically exported
Pricing of Microsoft Outlook Calendar:
Microsoft Outlook Calendar is available for free with a Microsoft account.
Ratings and Reviews:
Capterra: Not available
G2: Not available
In summary, Microsoft Outlook Calendar is a versatile application that offers a wide array of features for efficient calendar management. With its seamless integration with other Microsoft products and strong sharing capabilities, it serves as a reliable alternative to Google Calendar. While it may have an extensive feature set that can sometimes overwhelm simpler scheduling needs, Microsoft Outlook Calendar remains a popular choice due to its user-friendly interface and the wide range of customization options it offers.
Basecamp is a robust project management and team communication software that serves as a strong alternative to Google Calendar. With Basecamp, you can effectively organize your work by dividing it into separate projects, reducing the need for chaotic and disorganized emails. Each Basecamp project encompasses all the essential elements related to the work, including team members, discussions, documents, tasks, files, dates, and events. This comprehensive approach allows for streamlined collaboration among team members.
To enhance collaboration within your team, Basecamp provides a wide range of tools such as message boards, to-do lists, schedules, document sharing, file storage, and real-time group chat. These features ensure seamless communication and efficient task management. Another advantage of Basecamp is its accessibility from any location and on any device, enabling team members to stay connected and productive regardless of their location.
Key Features of Basecamp:
App integrations: Basecamp integrates with various third-party applications, allowing for a seamless workflow.
Boards: Create boards to visually organize your tasks and projects.
To-do lists: Manage tasks and assign them to team members, ensuring clarity and accountability.
Schedule: Plan and organize project timelines and events.
Group Chat: Engage in real-time group discussions and quick exchanges of information.
Automatic check-ins: Basecamp prompts team members to provide updates and progress reports on a regular basis.
File storage: Centralized storage for documents and files, ensuring easy access and collaboration.
My stuff (menu): Personalized menu where team members can access their assigned tasks, notifications, and bookmarks.
Hill charts: Visualize project progress and track milestones using hill charts.
In summary, Basecamp offers a comprehensive set of features for project management and team communication, making it a strong contender as a Google Calendar alternative. Its ability to centralize project-related information and provide tools for effective collaboration sets it apart. With integrations, task management features, real-time communication, and accessibility across devices, Basecamp empowers teams to work efficiently and stay organized.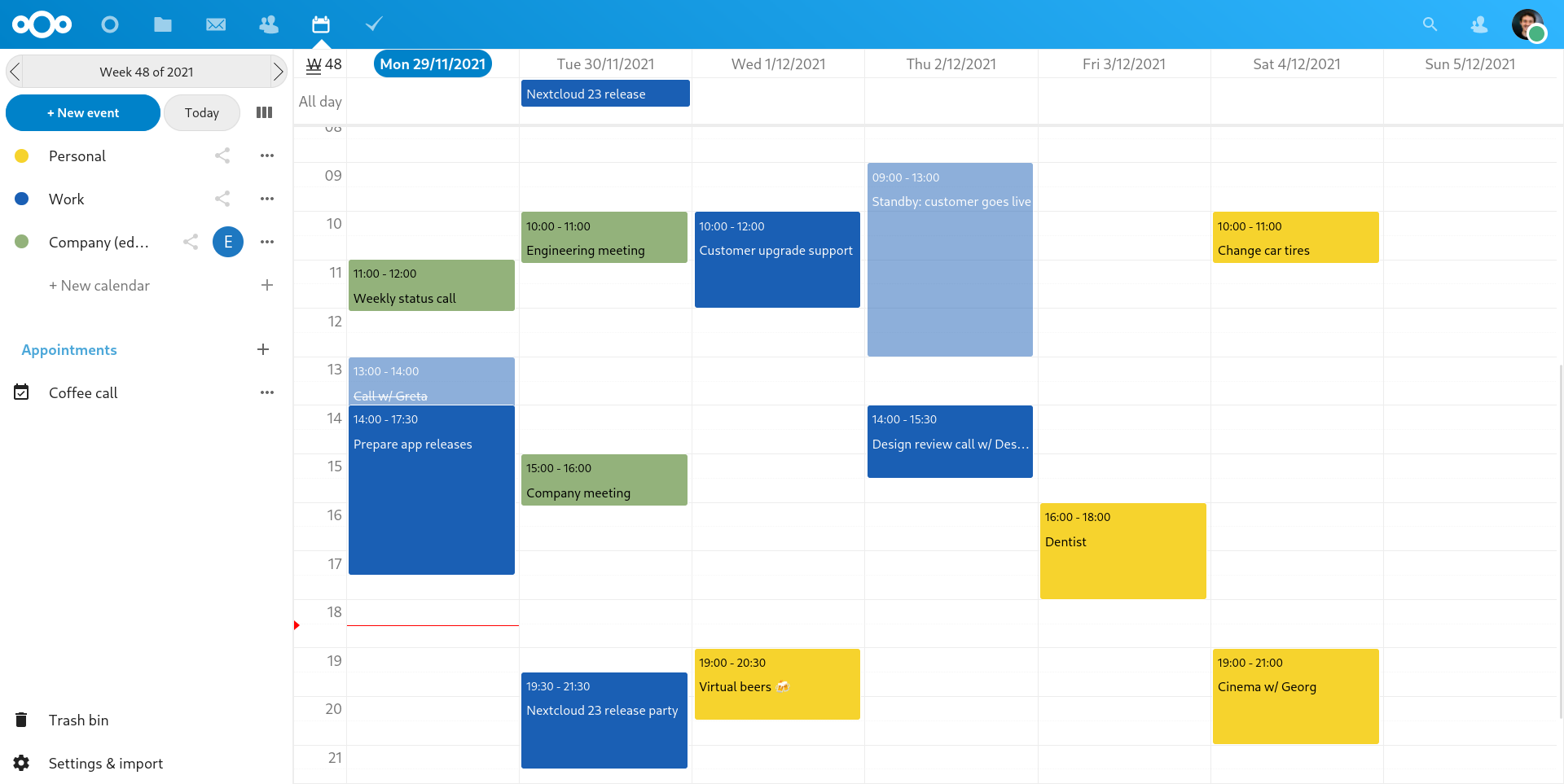 Visit Site
Nextcloud Calendar is a self-hosted productivity platform that provides users with complete control over their data. With Nextcloud, you can securely share and collaborate on files and documents, send and receive emails, organize and manage calendars, and have video chats, all while ensuring data privacy and security. This free and open-source software allows you to monitor communication and data within your company, making it suitable for various industries due to its compliance, security, and flexibility.
On the other hand, Basecamp is a project management and team communication tool that offers features such as to-do lists, file storage, and messaging. It provides a collaborative environment where team members can work together and easily share information. Basecamp's Schedule calendar app feature allows project managers to create and schedule events, helping teams stay organized and plan check-in meetings leading up to project deadlines.
Key Features of Nextcloud Calendar:
Nextcloud Hub: A comprehensive suite of productivity tools, including the Calendar app.
Nextcloud Files: Secure file sharing and collaboration.
Nextcloud Talk: Encrypted video calls and chat.
Nextcloud Groupware: Integrated group collaboration features.
Outlook integration: Seamless integration with Microsoft Outlook.
Collabora online office: Real-time document editing and collaboration.
Onlyoffice online office: Collaborative online document editing.
Key Features of Basecamp:
Project schedule: Display deadlines, to-dos, milestones, and events on a centralized schedule.
Project dashboard: Get an overview of projects, assignments, and schedules on a single page.
Direct messages: Communicate with individuals or groups within the app.
Check-ins: Conduct automatic polls to gather updates and feedback from the team.
While Basecamp offers strong collaboration and communication features, Nextcloud Calendar provides a self-hosted solution with a focus on data control and security. Basecamp is known for its simplicity and ease of use, while Nextcloud offers more extensive functionalities beyond just calendars.
Limitations of Basecamp include limited progress tracking functionality and the absence of task priorities. Nextcloud Calendar, being a self-hosted solution, requires technical setup and maintenance.
Regarding pricing, Basecamp offers different plans based on the number of users, while Nextcloud is a self-hosted solution that allows you to have full control over your infrastructure.
Based on user ratings and reviews, Basecamp has received positive feedback for its project management capabilities, with high ratings on platforms like Capterra and G2. Ratings for Nextcloud Calendar specifically are not available on these platforms.
In summary, Nextcloud Calendar provides a self-hosted productivity platform with a focus on data control and security, while Basecamp offers project management and team communication features. Both tools have their own strengths and are suitable for different needs and preferences.
Edo Agenda is a useful Google Calendar alternative that serves as a workspace for organizing your workday. This online calendar application is particularly beneficial for creative freelancers, providing an overview of productivity levels and suggesting ways to enhance them. Edo Agenda helps you stay on top of your events, to-do lists, and tasks. You can set reminders on your phone to remember important events and check your to-do lists to track the tasks that still need to be completed on a specific day.
The app offers most of its features for free, and there is also a premium version available with additional functionality.
Key Features of Edo Agenda:
Tasks: Create and manage tasks to stay organized and track your progress.
Snippets: Use predefined text snippets to save time and easily insert commonly used phrases.
Agenda days: Get a comprehensive view of your daily schedule, including events and tasks.
Reminders: Set reminders to ensure you don't miss important deadlines or appointments.
Google Calendar events: Sync your Google Calendar events with Edo Agenda for seamless integration.
Media: Attach media files to your events or tasks for better context and reference.
To-do lists: Create and manage to-do lists to keep track of your tasks and prioritize them.
Edo Agenda aims to provide freelancers with a comprehensive toolset to enhance their productivity and keep their work organized. With its focus on creative freelancers, the app offers features tailored to their specific needs.
While many of Edo Agenda's features are available for free, opting for the premium version can unlock additional functionality and further improve the productivity and organization of your workday.
Please note that the information provided here is based on the available details about Edo Agenda as of my last knowledge update in September 2021. For the most up-to-date information and to explore the specific features and pricing of Edo Agenda, I recommend visiting their official website or contacting their support team.
Asana is a widely used Google Calendar alternative and work management tool that offers convenient task and project management capabilities for teams. With Asana's work graph data model, teams can efficiently organize their work within a unified platform, enabling them to meet deadlines and collaborate effectively. Asana allows you to capture every detail, step, and piece of work in one centralized location.
Boards in Asana provide a visual representation of your work, allowing you to quickly assess the progress, identify any bottlenecks, plan next steps, and take timely actions to stay on track. You can gain insights into the status of your team's work and monitor progress across multiple projects in real-time. This visibility helps in effective project management and coordination.
Asana offers automation features that enable you to streamline workflows and eliminate repetitive manual tasks. By automating certain actions and processes, you can save time, simplify your work, and reduce the likelihood of errors. This allows you to focus on more critical aspects of your work.
Key Features of Asana:
Workflow builder: Customize and create workflows that suit your team's unique processes and requirements.
Timeline: Visualize project schedules and dependencies on a timeline to better plan and manage deadlines.
Reporting: Generate reports to gain insights into your team's performance, project progress, and workload distribution.
App integrations: Integrate Asana with other popular applications and tools to streamline your work and enhance productivity.
Automation: Automate repetitive tasks and actions, reducing manual effort and improving efficiency.
Workload: Monitor the workload of team members to ensure balanced task assignments and prevent overburdening.
Boards: Visualize work progress and status using boards, allowing for quick and intuitive tracking.
Dashboards: Create customized dashboards to visualize and track key project metrics and performance indicators.
Asana provides a comprehensive set of features designed to improve team collaboration, streamline workflows, and enhance productivity. By leveraging its capabilities, teams can effectively manage their projects, tasks, and deadlines, ensuring successful project completion.
17. Cozi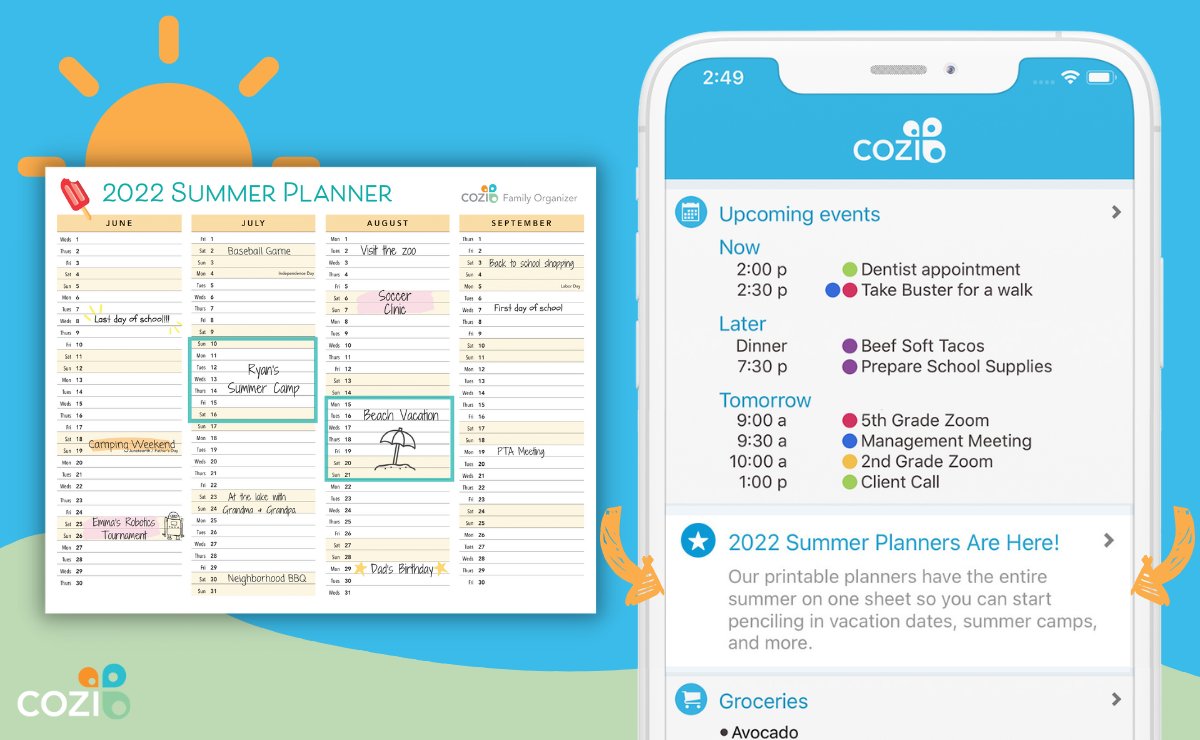 Cozi is a noteworthy Google Calendar alternative that offers a combination of features to help manage tasks, appointments, and schedules. While Cozi is primarily designed for families to streamline household activities, it can also be used by individuals to organize their daily tasks effectively.
With Cozi, you can consolidate your to-do lists, shopping lists, and calendar in one central location. This integration allows for seamless coordination between various aspects of your life. The tool provides a user-friendly calendar interface that offers a color-coded view, making it easy to differentiate between different schedules and activities.
Cozi enables you to store all your appointments and activities in a centralized calendar, ensuring that you have a comprehensive overview of your commitments. The tool incorporates agenda emails and reminders for each calendar appointment, helping you stay informed and ensuring that you don't miss any important functions or events.
Key Features of Cozi:
Overview: Get a comprehensive view of your family's schedule, to-do lists, and upcoming activities.
Calendar: Keep track of appointments, events, and activities using the color-coded calendar view.
Shopping lists: Create and manage shopping lists to stay organized during grocery trips or other shopping tasks.
To-do lists: Create to-do lists to manage tasks and responsibilities, ensuring nothing falls through the cracks.
Recipes and meal planners: Plan meals, store recipes, and simplify the meal preparation process.
Birthday trackers: Keep track of family and friends' birthdays to remember and celebrate them.
Shopping mode: Access and use your shopping lists while on the go, making shopping more efficient.
Calendar search function: Easily search for specific events or activities within the calendar.
Cozi offers a range of features tailored to help families and individuals streamline their daily routines, manage household tasks, and stay organized. By leveraging Cozi's capabilities, users can maintain a well-coordinated schedule, effectively manage their to-dos, and ensure that essential functions are not overlooked.
Please note that the information provided here is based on the available details about Cozi as of my last knowledge update in September 2021. For the most up-to-date information and to explore the specific features and pricing of Cozi, I recommend visiting their official website or contacting their support team.
FAQs
What are the reasons to choose an alternative to Google Calendar?
Many organizations are opting for Google Calendar alternatives for the following reasons:
More capabilities for your business: Alternative calendar solutions offer a wider range of features and functionalities that cater to specific business needs. These tools can provide advanced project management, collaboration, and customization options to enhance productivity.
Stay on top of your schedule: Google Calendar alternatives often offer unique features and views that help users effectively manage their schedules. With customizable notifications, reminders, and intuitive interfaces, staying organized and meeting deadlines becomes easier.
Customize calendars for your own needs: Alternative calendar tools allow users to personalize their calendars according to their specific requirements. From custom color-coding and event categorization to tailored views and layouts, you can optimize the calendar to suit your preferences and workflow.
Enhance security: Choosing a self-hosted calendar alternative provides an added layer of security as you have full control over your data. By hosting the calendar on your own servers, you can ensure the protection and privacy of sensitive information.
Improve usability: Google Calendar alternatives often prioritize user experience and offer interfaces that are intuitive, user-friendly, and responsive. These tools streamline scheduling, simplify task management, and provide a seamless user journey.
Why choose a self-hosted calendar alternative?
Opting for a self-hosted calendar alternative, as opposed to a cloud-based solution like Google Calendar, offers the following benefits:
Full control: With a self-hosted calendar, you have complete control over the design, functionality, and data management of the software. This allows for customization, integration with existing systems, and tailoring the calendar to meet your specific requirements.
Added security: By hosting the calendar on your own servers, you have greater control over the security measures and data protection protocols. This reduces the risk of data breaches or unauthorized access to sensitive information.
What features should the best mobile calendars have?
The best mobile calendar alternatives to Google Calendar typically possess the following features:
Fast syncing across devices: Seamless synchronization ensures that your calendar data is consistently updated and accessible across all your mobile devices.
Customizable widgets: Mobile calendar apps with customizable widgets allow you to personalize your home screen and have quick access to your schedule without opening the app.
Availability on Android and iOS: The ideal alternative should be compatible with both Android and iOS platforms, ensuring accessibility for users across various devices.
Clear and responsive interface: A well-designed mobile calendar app should have a user-friendly interface that is easy to navigate and provides a smooth and responsive user experience.
What is the best alternative to Google Calendar?
There are numerous alternatives to Google Calendar available, each offering unique features and benefits. Here are some of the best alternatives worth considering:
Bitrix24
Microsoft Outlook Calendar
Teamup Calendar
TimeBlocks
Cal
DigiCal Calendar Agenda
TimeTree
Zoho Calendar
Edo Agenda
Jorte
Nextcloud Calendar
Cozi
Business Calendar 2
Apple Calendar
nTask
Etar
Proton Calendar
Fantastical
Exploring these alternatives can help you find the best calendar solution that suits your specific needs and preferences.
The Final Thought 
In addition to the previously mentioned alternatives, here are eleven more noteworthy Google Calendar alternatives that offer a range of impressive features to meet your scheduling needs. While each tool has its own strengths and benefits, one tool that stands out is ProofHub, which provides a comprehensive set of features under a single platform at a flat-rate pricing structure.
ProofHub is known for its simplicity, intuitive interface, and user-friendly learning curve, making it a popular choice among users. We hope that this article has provided you with valuable and well-informed information to assist you in making an informed decision. Good luck with finding the perfect calendar tool for your needs!