37

min read
Whether you're looking for some back-to-school wardrobe ideas or a killer look to wear to the office, fashion websites and bloggers have become a fantastic source of inspiration. To help you stay up to date on the latest fashion trends, we've compiled a list of our favourite blogs and bloggers that we believe everyone should be following in 2022. Our collection includes all of the top fashion information, fashion advice, and beauty recommendations from across the internet.
Hottest Fashion Blogs To Follow
Fashion blogs, as well as fashion bloggers, have been around since the early 2000s. Today, though, blogging is a very other animal. While the number of fashion blogs is at an all-time high, we can't deny that social media platforms like Instagram remain the single most important source of traffic for fashion blogs. But we're not moaning because it's made our lives easier by a factor of two. It's a hashtag game out there, and we're neck-deep in people's profiles because of it. While perusing one hashtag after another, we become engrossed, enamoured, and even lose a few days. Seeing every second influencer with thousands (and often millions) of followers and the products they have to promote might be overwhelming at times. Despite this, some fashion bloggers manage to stand out. And that's what we're going to speak about today. So, if you're into fashion and being current, check out the influencers in this article and follow them!
100 Hottest Fashion Blogs You Must Follow in 2022
Your closet will be looking better than ever after trying on the most well-known names in fashion blogging! Instagram is great for OOTDs (outfit of the day) and quick fashion ideas, but blogs are where serious fashionistas go to keep up with trends, advice, and the most recent vogue developments. Are you not feeling particularly stylish right now? Even on these idle mornings, fashion blogs may provide you with ideas for dressing properly. Have your eyes on the season's hottest characteristics? These websites are useful for assisting you in determining which clothing items and colours are appropriate for your body type. They may also provide you with ideas for mixing and matching goods to create a dozen different looks without breaking the bank.
Best Fashion Blogs and Bloggers to Follow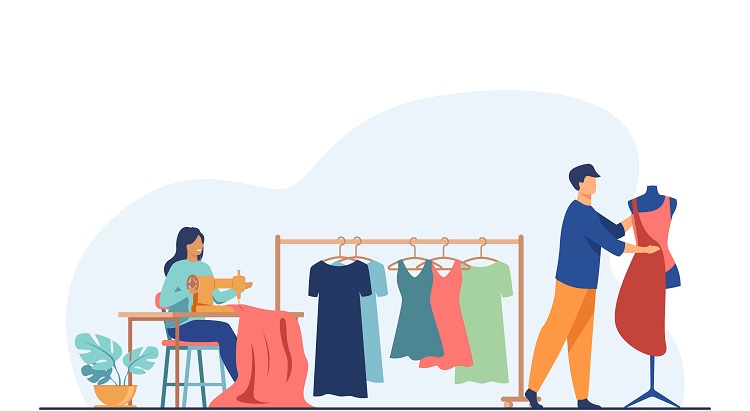 You can find our list of the most popular fashion blogs and bloggers further down on this page. We are providing you with all of the information that you need to find out about their style of dressing, the kind of stuff that you can anticipate from them, and the locations online where you may comply with them.
Babba C Rivera – Best Eco-Conscious Blogger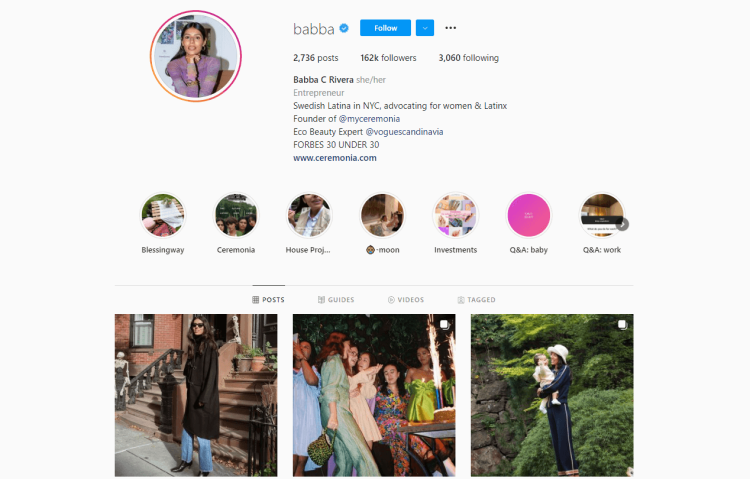 Babba C Rivera is a Swedish Latina currently based in New York City, whose minimalist, Scandinavian-inspired style has helped her amass over 159,000 Instagram followers—so she's successful that she was named to Forbes' Under 30 list! Babba's website is the place to go if you're looking for unique street-style inspiration. She wears casual clothes with gleaming hues, statement pieces, and killer accessories that would look great on anyone. Along with providing vogue content, Babba is the resident Eco Beauty Expert at Vogue Scandinavia and has now launched Ceremonia, her own clean haircare line inspired by her Latinx ancestry. Babba's most popular postings include her guide to summertime dressing and a more recent ideas video that demonstrates how to easily style loafers.
Catarina Mira – Best Photography Fashion Blog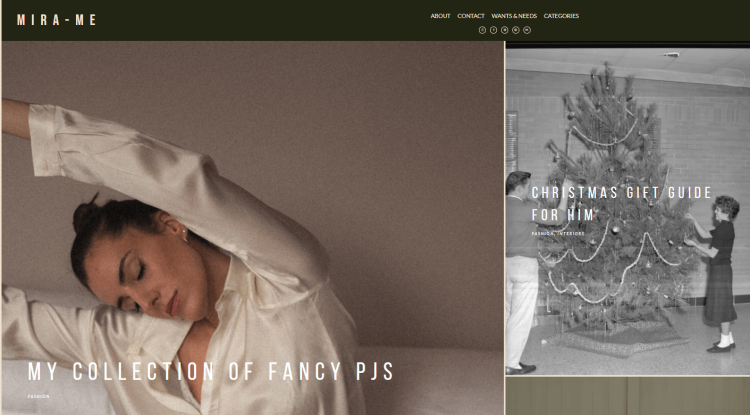 Catarina Mira is a fashion influencer who was born in Portugal and moved to London to pursue her creative dreams and launch her blog, Mira-Me. Mira-Me is a fashion blog with stunning pictures. Catarina is a talented photographer who captures her style in a sombre and innovative way that sets her apart from other blogs and has helped her establish a large following of devoted followers.
Catarina's style can be both conventional and complex, with most outfits featuring a variety of neutral colours. She's also expecting a child, so you'll be able to find a variety of pregnancy fashion suggestions on her blog. Catarina's Recommendations page, which she frequently refreshes with the fashionable things that have only recently caught her eye, is one of the most popular posts on her blog. There's also her Fancy PJs column, in which she reviews some of the most fashionable nightwear items of the moment, allowing you to sleep in style.
Eniswardrobe – Best Petite Blogger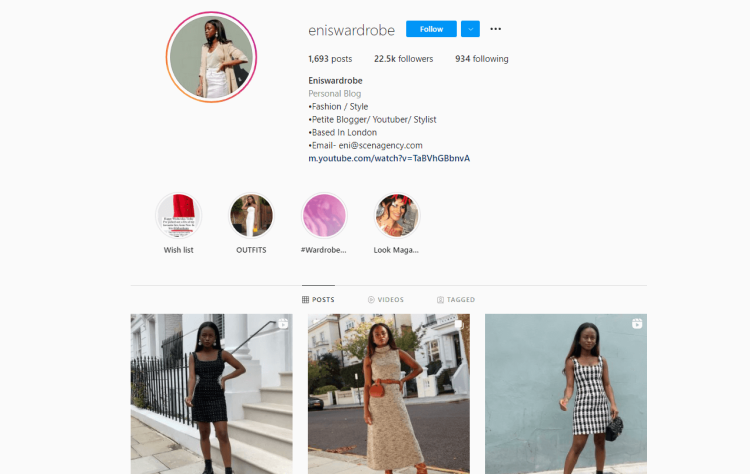 Eni is a small fashion blogger located in the United Kingdom who was born in Nigeria and works as a blogger, YouTuber, and stylist in London. Eni has established a platform where she creates beautiful images and provocative clothes that are simple to duplicate, use fashion as a fun way to categorise her personal private fashion. Her style combines exciting, vibrant designs with easy wardrobe basics, providing all of her readers with the inspiration they need to easily boost their day-to-day clothes.
Eni has grown to be one of many most-loved bloggers offering fashion suggestions for those with a small physique form who might otherwise struggle to find garments that match their physique shape, with over 22,000 followers on Instagram alone. Eni's most popular posts include her summer styling video, which shows how to style the popular athleisure trend, and her 4 all-black looks video, which is perfect for those who prefer to go monochromatic.
Mercer 7 – Best Blog for Capsule Wardrobes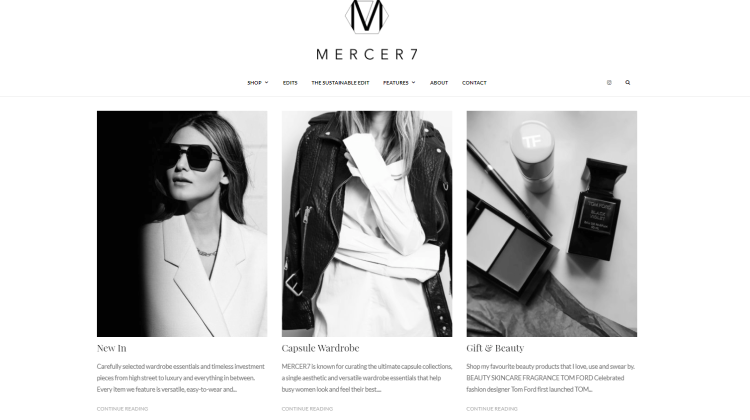 Erna Leon, a New York seamstress, stylist, and creative director, runs the blog Mercer 7. The blog and Erna are situated in London and define themselves as a "curated womenswear concept and a collaborative lifestyle platform." The blog is best known for assisting readers in creating their own capsule wardrobes, which are made up of a small number of clothing that can be worn in a variety of ways. The site is a proponent of long-term style and investing in products that will last you through the seasons, rather than shopping for trendy items from fast-fashion brands that won't last long.
Mercer 7's fashion could be quite simple and timeless, focusing on a "less is more" approach to fashion. This means that the complete look you see on the site will be simple to replicate and, more importantly, will not go out of style anytime soon. The capsule wardrobe edit, which lists all of the goods you should invest in for a minimalist wardrobe, is one of the most popular posts on Mercer 7. Also included is the sustainable edit, which focuses on responsibly produced garments and ethical fashion designers.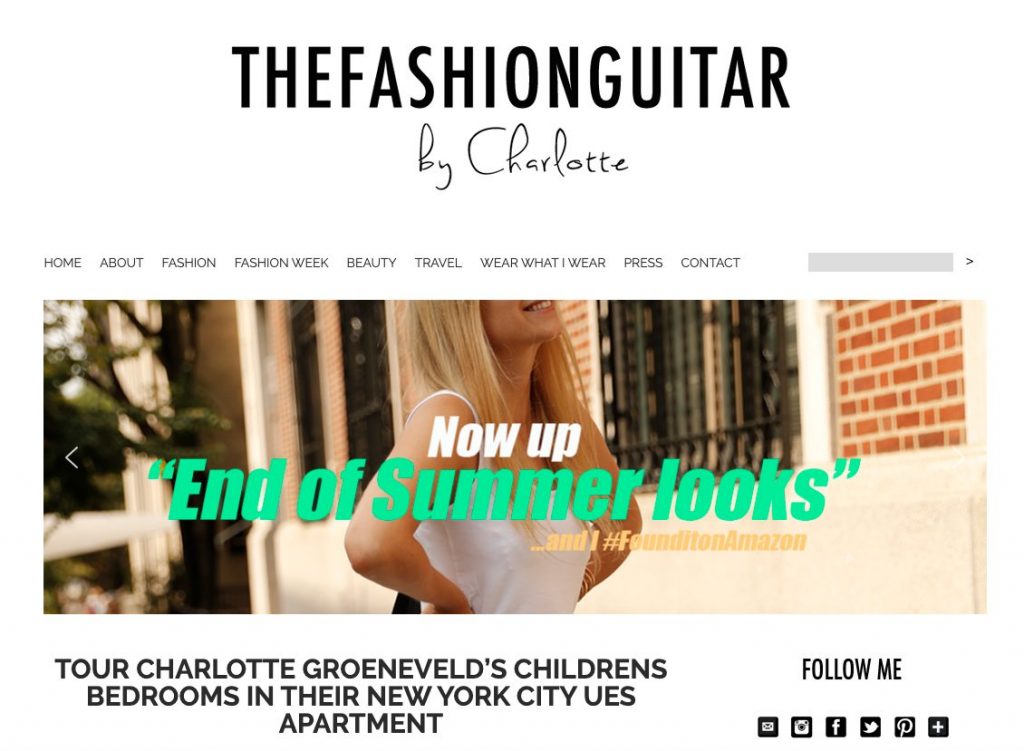 Charlotte Groeneveld-Van Haren, who was born in the Netherlands, is the author of the online weblog known as The Fashion Guitar. She has two children and is currently living and working in New York. She is a full-time blogger and mother of two. Before deciding to start her own fashion blog, Charlotte had previously worked in the fashion blogging industry at one of her previous employment.
The Fashion Guitar is Charlotte's personal fashion blog, and it serves as a platform for her unique sense of style. When she became a mother, it was only inevitable that the postings would feature her maternity and motherhood fashion; as a result, this subject became a significant element of the website. Charlotte has a history of partnering with some of the brands and designers that are at the top of her list, and she enjoys working with them.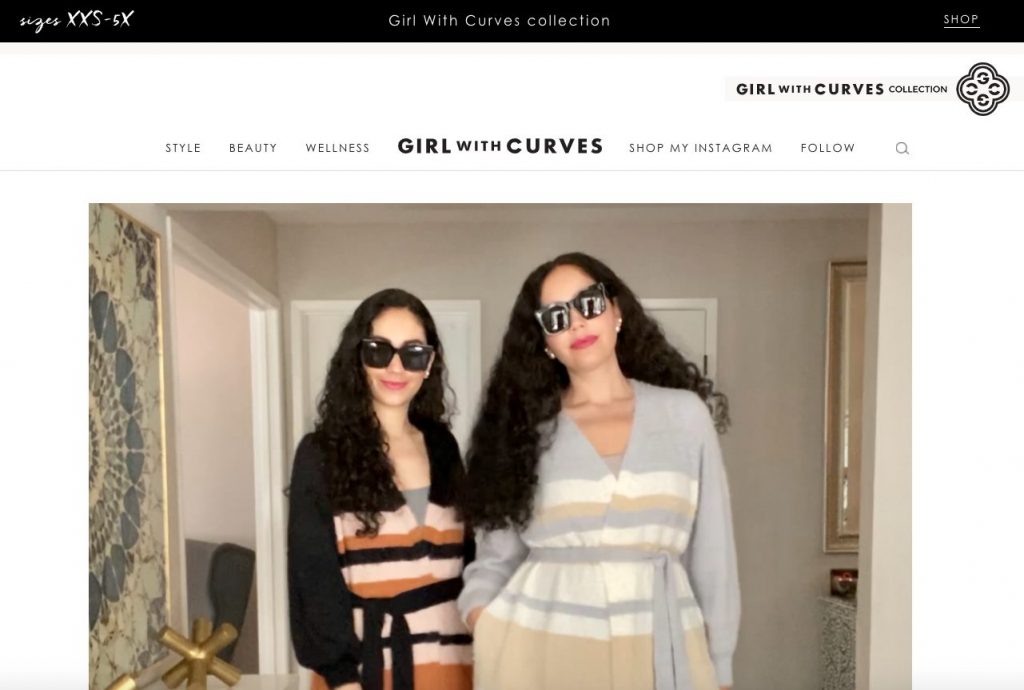 Let's face it: the body type of styles is a far cry from reality. Slim people definitely exist in real life, but there are women of all sizes who can look just as attractive. People come in many sizes and forms, yet many people have been conditioned to believe that only one body type is suitable for fashion. Girl With Curves aspires to change this perception. Girl With Curves was founded by Tanesha Awasthi in 2012 to represent everyday people who aren't a size 0 or 2. "Award-winning site made possible by those who believe women deserve to look and feel beautiful, regardless of weight, shape, or size," the blog says.
Tanesha has established herself as a well-liked plus-sized fashion blogger in the industry since the start of her blog. She intends to use fashion to help women, particularly those of larger stature, gain confidence and vanity. The site covers topics such as personality traits, fashion tips, beauty advice, parenting, and wellbeing. Their tagline #StyleHasNoSize underlines their belief that style and beauty are for everyone, regardless of body type.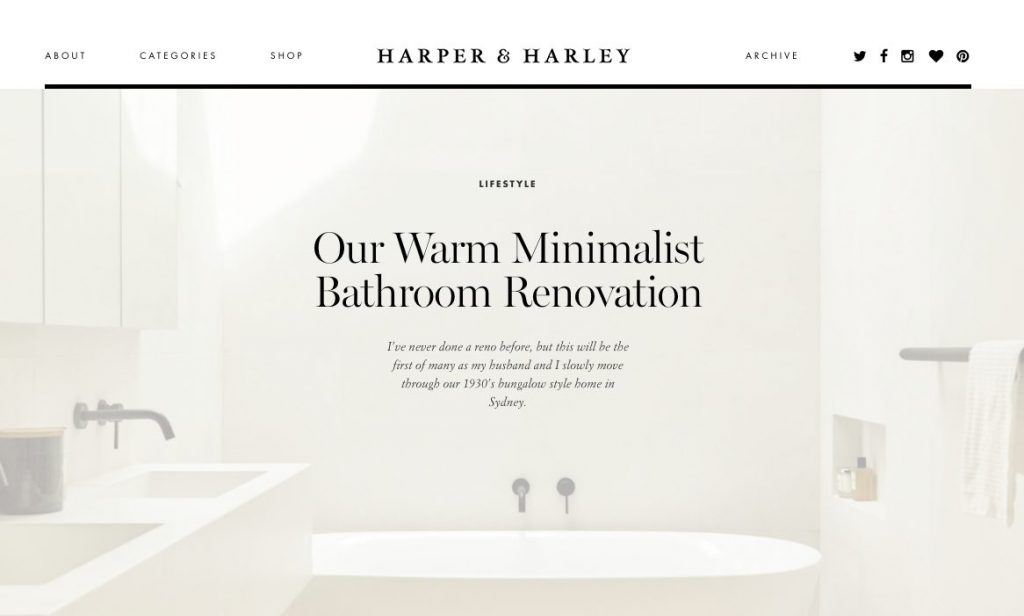 Harper & Harley, the blog of Australian blogger Sara Crampton, is a must-visit for minimalists. From clothes fashion to her home design, her "less is more" concept is clear in her posts. Sara has established herself as the go-to model for the conventional, timeless, and simple wardrobe since starting the blog in 2008. Sara has appeared on Fashion Bloggers, an Australian reality show. She has also collaborated with big fashion houses such as Gucci, Estée Lauder, Uniqlo, and Nike. Sara's influence has spread to non-fashion brands, with Jaguar, YSL Beauté, L'Oreal, and Dyson enlisting her services.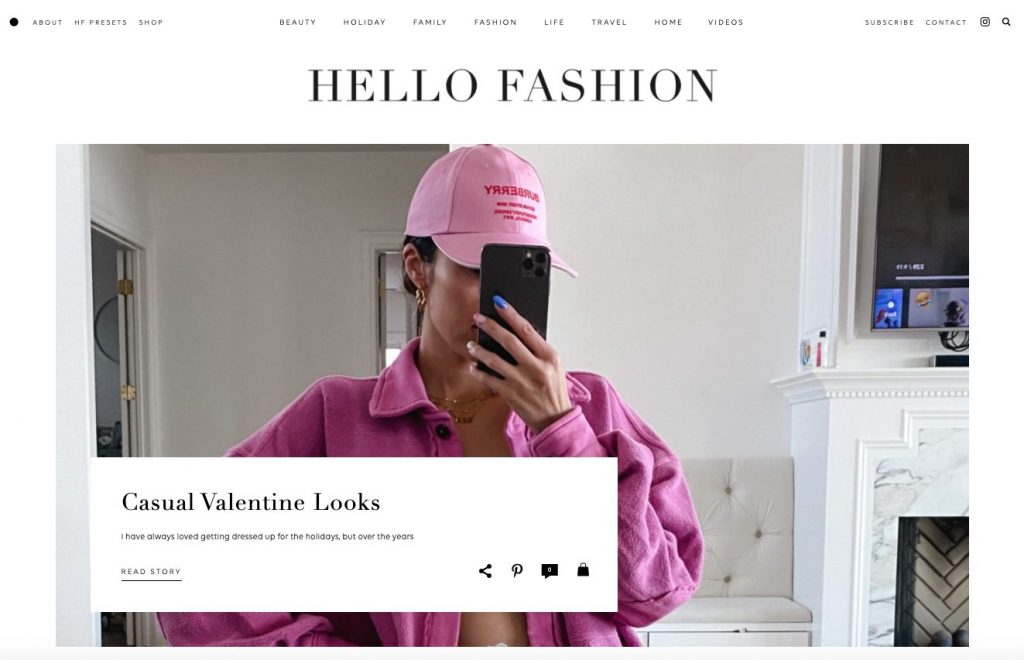 Christine Andrew, a Colombian-American blogger, writes about everything from fashion to beauty, family, way of life, and travel on her site Hello Fashion. Christine launched her own fashion line, ILY Couture, in 2011. In the same year, she launched Hello Fashion, which began as an online journal where she discussed her favourite fashion findings and advised clients on how to put on and flaunt their ILY Couture purchases. Christine has landed on Vanity Fair's Best-Dressed List and is a true fashion icon. Ironically, she was rejected from a fashion design school, and it was this rejection that inspired her to pursue a career in the fashion industry.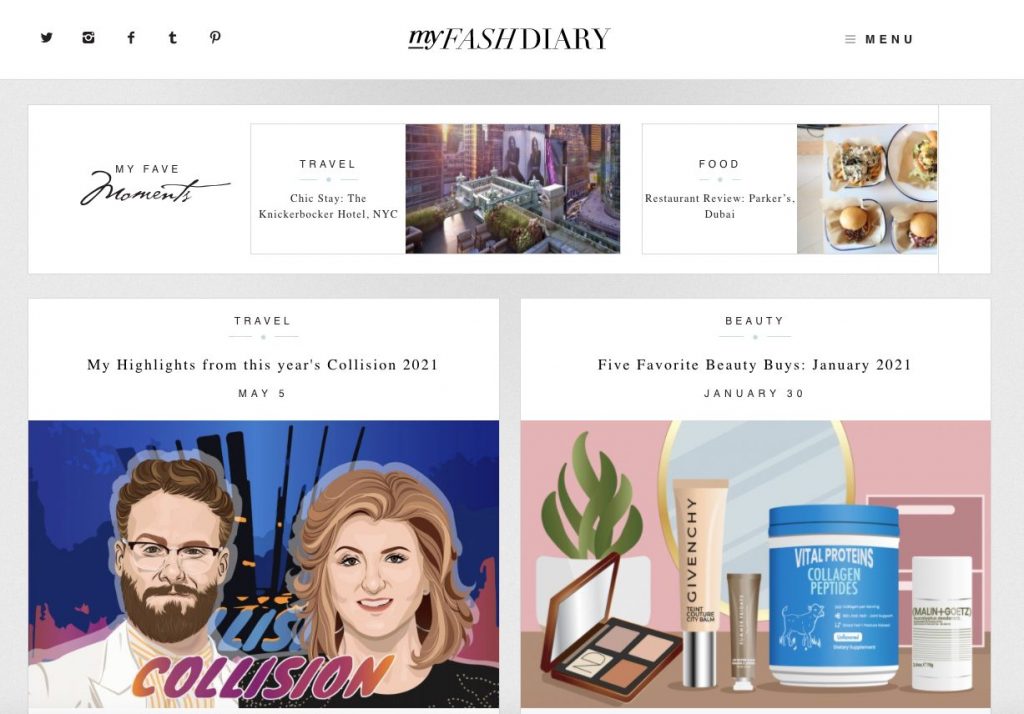 Vogue, according to blog creator and editor Tala Samman, is "what others say is in," whereas fashion is "what you declare is in." My Fash Diary is Tala's own fashion journal, where she posts about the things she likes, what she wears, the most popular trends in Dubai and other cities where she visits, and so on. Tala, a Dubai-based stylist with Syrian heritage who was born in Chicago, gives us a glimpse into Middle Eastern style and kinds.
Despite the fact that the blog's name suggests a strong focus on fashion, Tala also writes on beauty, food, and travel. My Fash Diary has received nominations for Marie Claire, Twitter, the UK Blog, and Ahlan! Magazine's Best on the Dubai awards from all over the world. She was named one of Dubai's Hot 100 in 2011 and has been featured in magazines such as Grazia UK, Grazia Middle East, Harper's Bazaar Arabia, and Marie Claire Middle East.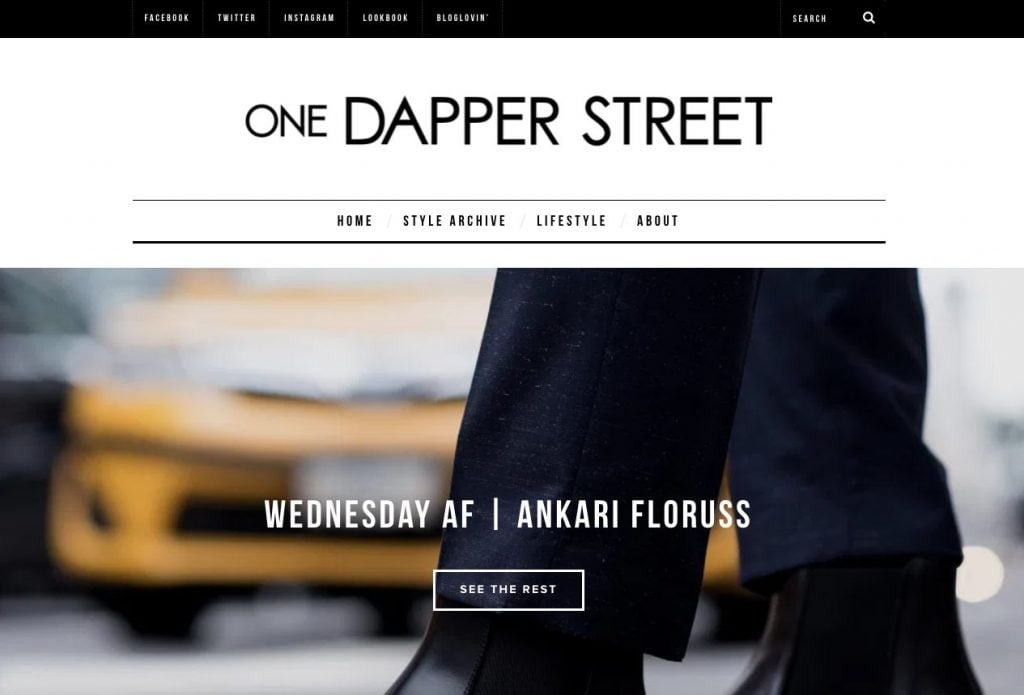 We often think of fashion blogs as being exclusive for women, yet fashion is for everyone. One Dapper Street is a blog that focuses on men and aims to change the way people think about fashion. Marcel Floruss – "a German bloke who loves fashion and all that goes with it" – runs this blog. Marcel's passion for fashion has brought him to New York City from Germany. Marcel, a former model, attended New York's Vogue College. While pursuing his bachelor's degree, he was keen to make a difference in the way men dress and perceive vogue as a female concept. Marcel has combined his two passions—images and buying—in One Dapper Street. As the name implies, the site features a combination of dapper and street styles for the modern guy.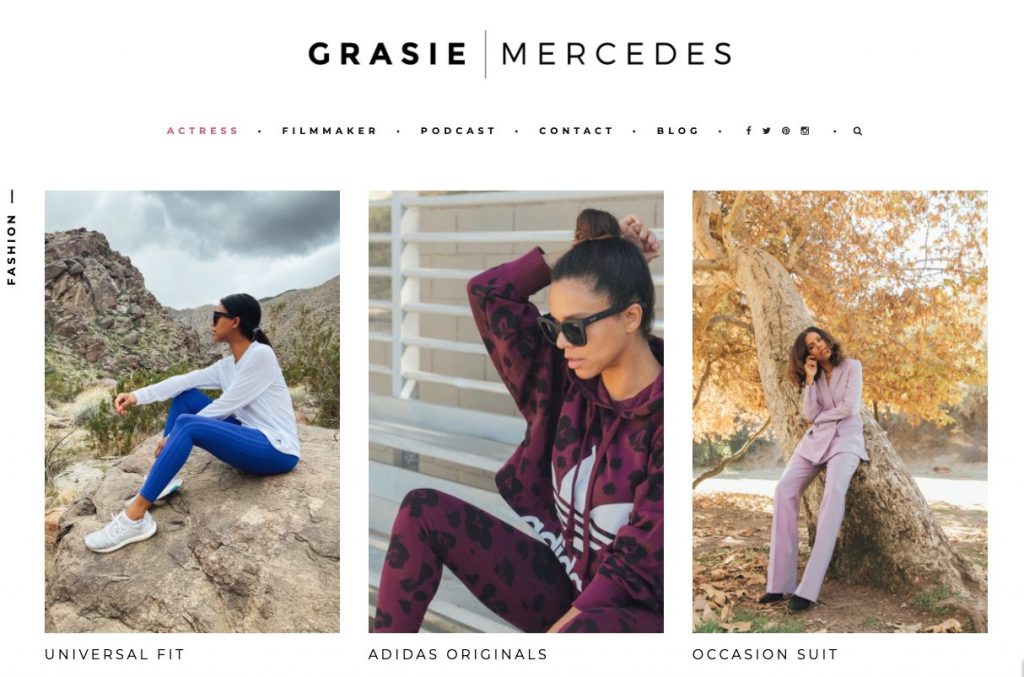 Inventive with many hyphens Grasie Mercedes isn't your typical fashion blogger. She's a multi-talented actress, novelist, filmmaker, director, and podcast host with a strong sense of style. Her website, simply titled Grasie Mercedes, showcases her work in the leisure industry. She writes about fashion, travel, beauty, and way of life in the blog section. In her blogs, you'll find lovely photographs. Grasie will be shown wearing the latest fashion trends as well as her favourite clothes.
What My Boyfriend Wore isn't a fashion-forward girlfriend's blog, although it did start with creator Sergio Ines' now-ex-girlfriend uploading photos of his ensembles on Instagram. As Sergio explains it, this "fashion diary with a twist" is all about vogue and styling for the unconventional man. It covers a wide range of topics related to men's style and lifestyle, including everything from how to wear a T-shirt properly to alternate ways to wear a T-shirt, as well as entries on drinks. Sergio's weblog posts are complemented by photographs of him in his stylish attire or photographs of his travels. The South African blogger discusses common fashion criteria for men's style, like as matching your belt with your footwear and where your tie bar should rest, on a regular basis in "Dressiquete." (In case you're wondering, it's between the third and fourth buttons on your shirt.)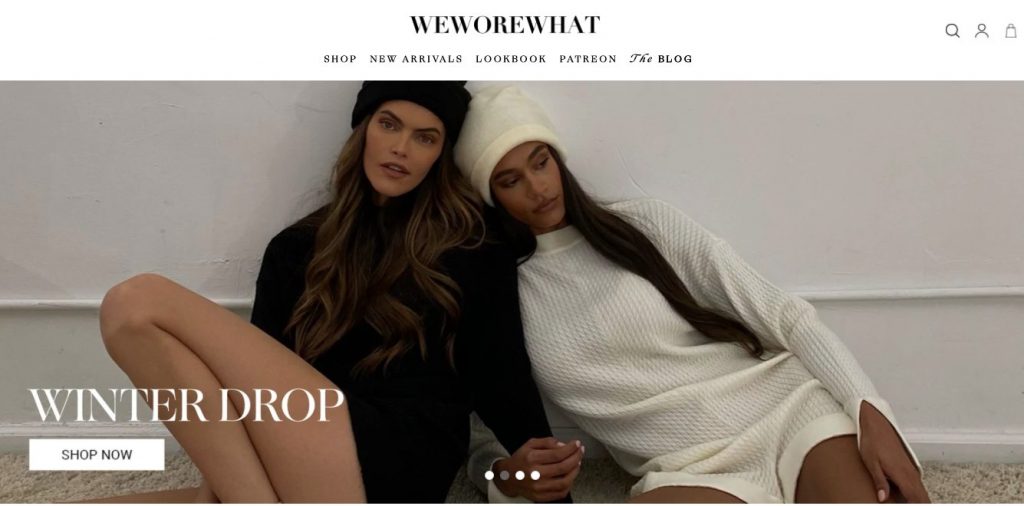 We Wore What is an example of a fantastic blog that has found success as an online retailer. We Wore What was founded by Danielle Bernstein in 2010 when she was still a student in New York City. She began documenting road vogue on her campus as a self-taught photographer. Danielle's career as a fashion influencer began once the weblog evolved into something more personal.
She went on to write the New York Times bestseller "This Is Not a Fashion Story" and was named to Forbes' 30 Under 30 list before she was 25. We Wore What hasn't forgotten its roots and is still active as a fashion blog, despite its transformation into an online store. Danielle and her team provide articles about the latest fashion trends, gift guides, and other accessories.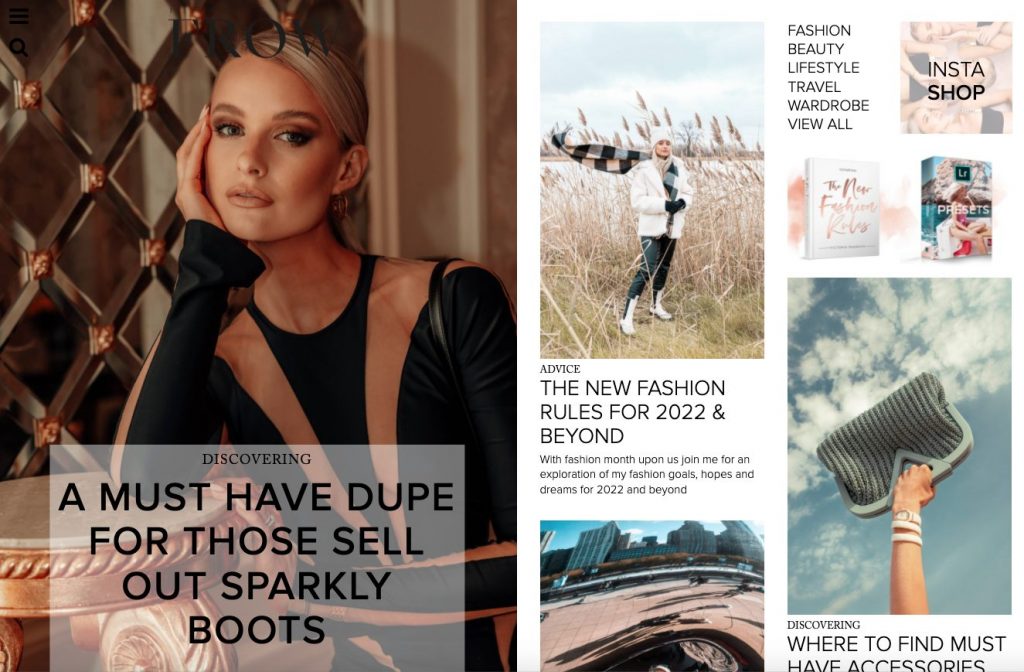 You won't often see a fashion blogger with the title "Dr." However, Victoria Magrath, Ph.D., the founder of Inthefrow, completed her postgraduate research in Fashion Marketing at the University of Manchester at the same time she established Inthefrow. It wowed the globe, and it is now one of the most well-known fashion blogs on the internet.
Victoria's vogue experience and talent have also been recognised by others: she was nominated Glamour's Woman of the Year in 2016 and 2017, and she earned the Vuelio Blog Awards' Best UK Fashion Blog for 2018. Victoria's celebrity has made her a brand ambassador for worldwide manufacturers. Bvlgari, Dyson Hair, Lumene, St. Tropez, and Armani Beauty have all collaborated with her. But that's not all there is to Inthefrow. Victoria, a former college lecturer, has published a book called The New Fashion Rules and collaborated with retailer Edge of Ember to create her own collection of sustainable silver jewellery.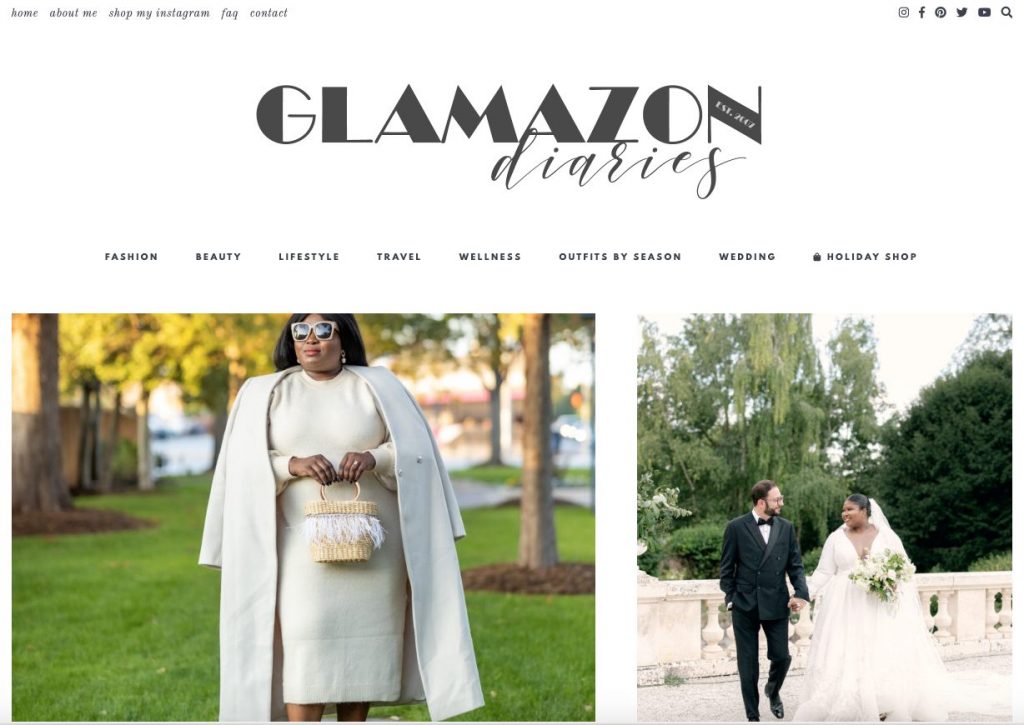 Glamazon Diaries is the ideal blend of fashion, beauty, lifestyle, travel, wellness, and a dash of wedding ceremony advice. Glamazon Diaries, one of the first vogue blogs in Washington, D.C., was founded in 2007 by Makeda Saggau-Sackey. She's determined to making females of all sizes and shapes feel confident in their skin, and she's doing it on a budget as an influencer in the body positive movement. Makeda's approach is really personal.
The Glamazon Diaries' wedding section, for example, documents Makeda's personal experience, from their proposal tale until her marriage to Frenchman Thomas Rabioux, a senior supervisor at Louis Vuitton. You'll find a lot of interesting takes on qualities and seasons, as well as a look at what Makeda likes to wear. And if you see anything on her blog that you absolutely must have, Makeda assists you by providing links to stores where you may get the look.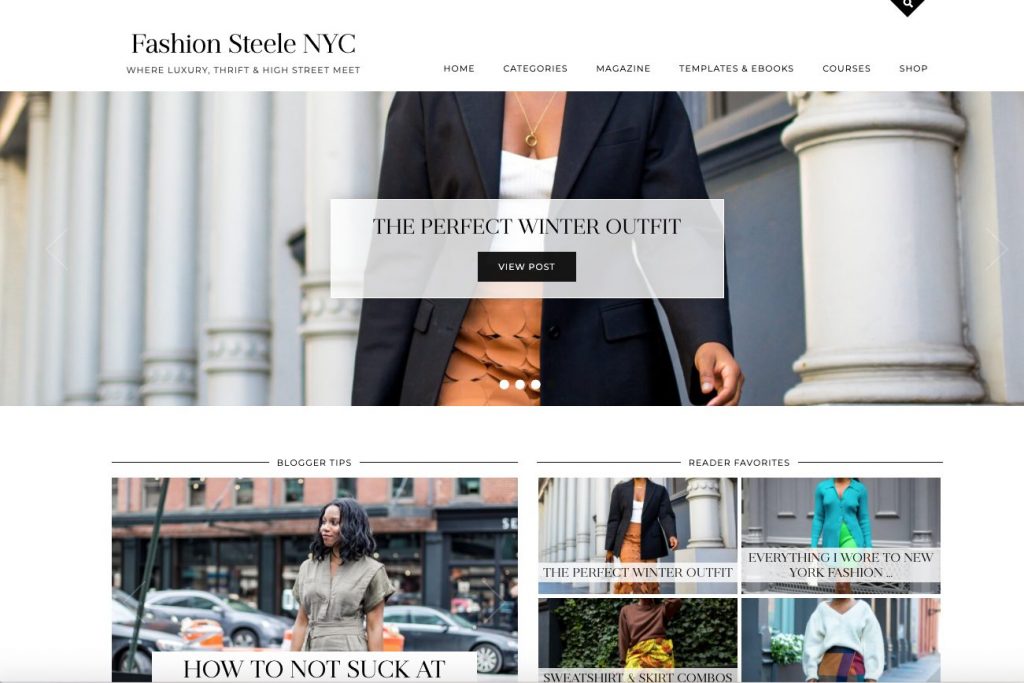 Monroe Steel, the founder of Fashion Steele NYC, is another doctoral graduate on our list. Monroe received her Ph.D. in Physical Therapy in 2010 and was looking for a creative outlet. She was filled with ideas and a passion for fashion, and it didn't take long for her to cash in on both. Monroe has since ditched her scrubs in favour of a more fashionable ensemble, shifting to full-time blogging to combine her two passions—writing and fashion. You'll find everything you need to look your best, from the best thrift finds to high-end events like New York, Paris, and Milan Fashion Week. Fashion Steele NYC also delves into travel, beauty, way of life, and special events.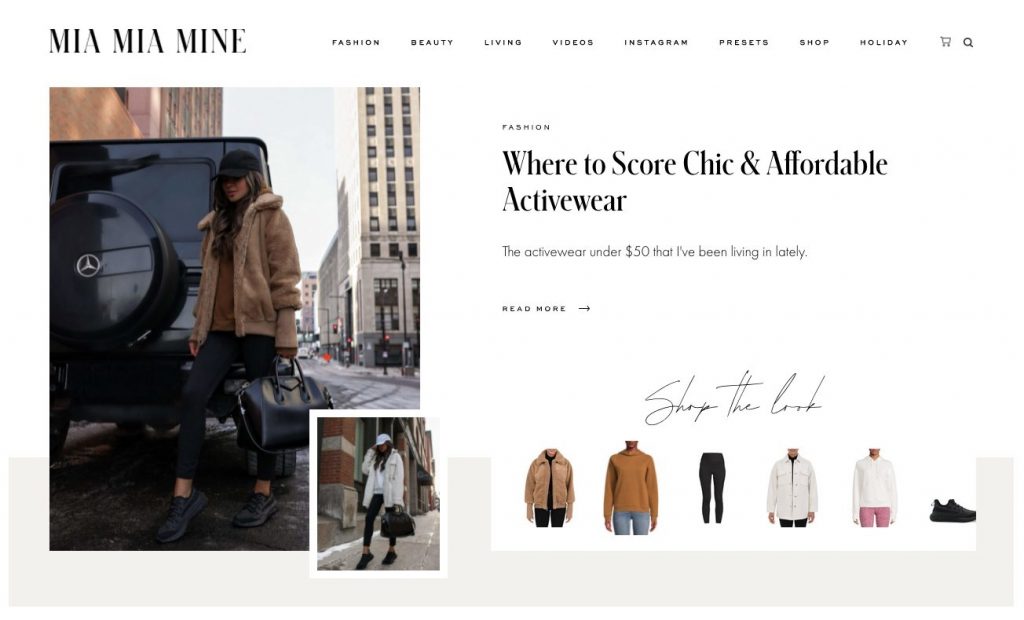 Maria Vizuete is a fashion blogger who used to work as an inventory analyst. She started her fashion blog Mia Mia Mine as a creative outlet while working on Wall Street. Maria, like the other bloggers on our list who came from other businesses, says that switching to fashion blogging was the finest decision she's ever made. Her background in finance can be noticed in several of her blog's themes. She advises women on how to fund goods they'll splurge on, as well as how to combine them with more cheaply priced clothing. Her target market is the working woman who wants to appear her best at all times of the day and night.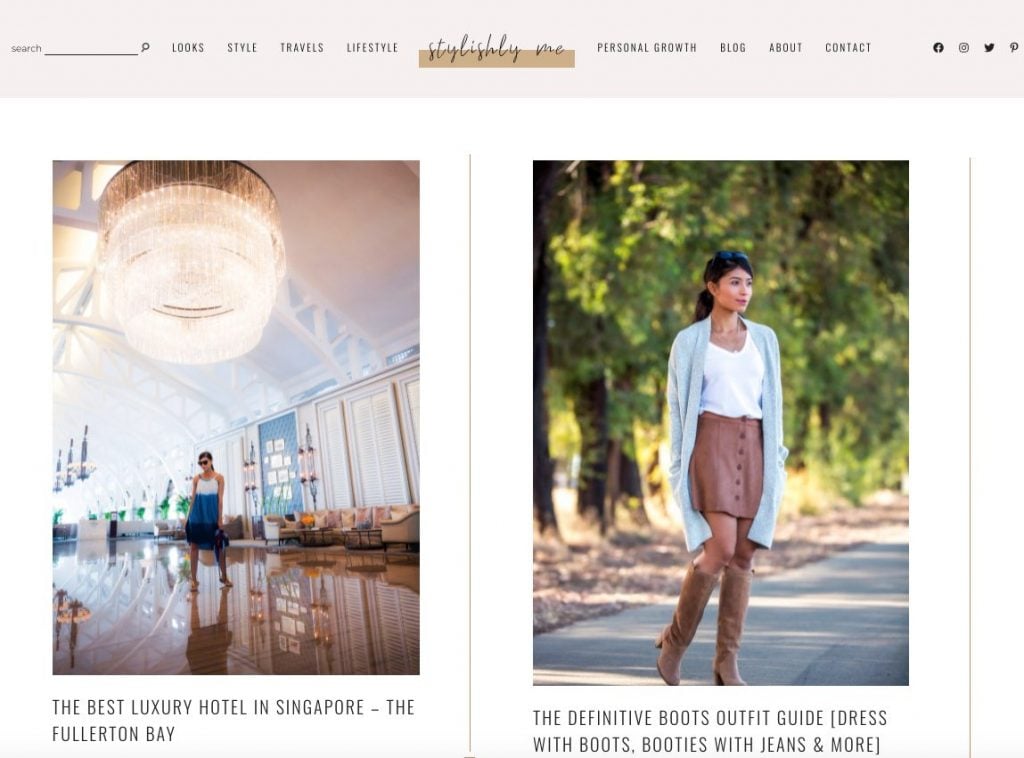 Vanessa Rodriguez Lang considers herself an entrepreneur, fashionista, and advisor in addition to being a fashion blogger. Vanessa keeps her hands full running a digital advertising firm while also producing and managing the Stylishlyme blog. She helps other entrepreneurs build sustainable businesses while also bringing her love of fashion to life.
Her husband encouraged her to start a blog in 2009 so she could express herself. Stylishlyme was born as a result. Stylishlyme features all of your basic fashion and beauty advice, including guides on how to wear products like midi dresses, boots, caps, and ankle strap shoes. Aside from this, Stylishlyme devotes a section of its website to personal development. The site offers advice on how to improve yourself through proper time management and good habits, among other things.
Chrissy Ford – Best New York City Blog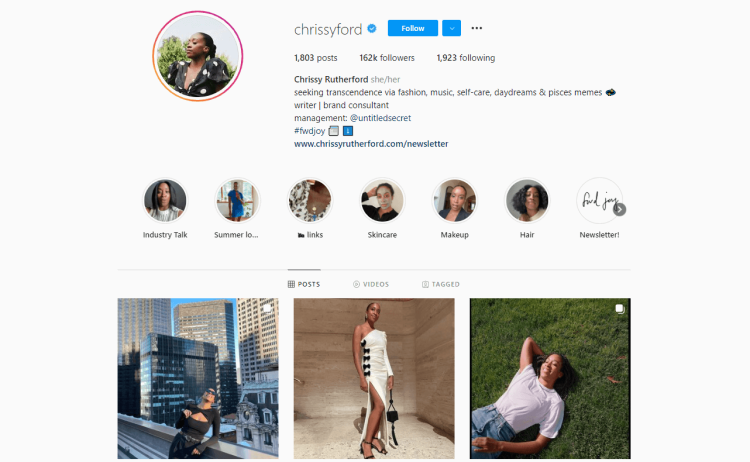 Chrissy is a New York-based author and wellness advocate who also has one of the most inspiring fashion sense that she shares with all of her fans! Chrissy is the definition of 'cool girl style,' and her fashion-forward and road-style-inspired looks are always incredibly imaginative and effortless. She's able to combine manly tailoring with statement pieces and incredibly creative designs to create a unique look that you won't see on anyone else. Along with her fashion content, Chrissy has a lot of postings about wellness and self-care, which is a huge passion of hers. .
She also gives some fascinating insights into what it's like to live in the bustling metropolis of New York, which will make anyone want to pack their belongings and book the next ticket over there right now! Chrissy's most popular postings include her regular videos showcasing the ensembles she'll be wearing for the next month. You'll be able to view all of the newest fashion trends ahead of time in the articles, and start planning what you want to wear during the month. Chrissy's blog, e-newsletter, and Instagram are all good places to look for more of her work.
In the Frow – Best Designer Fashion Blog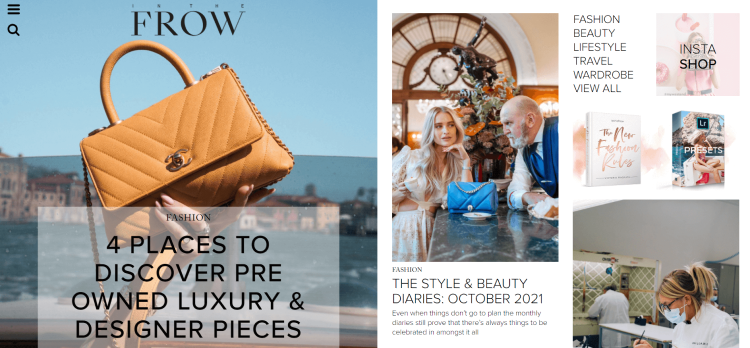 Victoria, a London-based luxury vogue aficionado, runs In The Frow, one of the trendiest vogue blogs in the UK. Victoria not only looks great, but she also has a PhD in fashion and a best-selling book about fashion rules, so she knows what she's talking about when it comes to being a style influencer. Victoria started In The Frow in 2012 and has since won multiple honours and amassed a fan base of over 1,000,000 people who turn to her for all of their fashion advice and inspiration. Victoria's style is likely to be sophisticated, with fine tailoring, classic lines, and plenty of blazers. If you're interested in designer clothing or high-quality investment pieces that will last, In The Frow is the blog for you.
Every vogue and sweetness piece on In The Frow is exceptionally well-written, and many of the most stunning graphics we've ever seen accompany it. All of the photographs are editorial in nature and would not seem out of place in any publication, providing serious inspiration to each reader. Victoria's most popular blog entries include her list of the greatest Autumnal motorcycle jackets and the best new pieces in her late-Summer wardrobe to provide you all the inspiration you need to boost your style in several seasons.
Edaowa Fashion – Best Risk-Taking Fashion Blog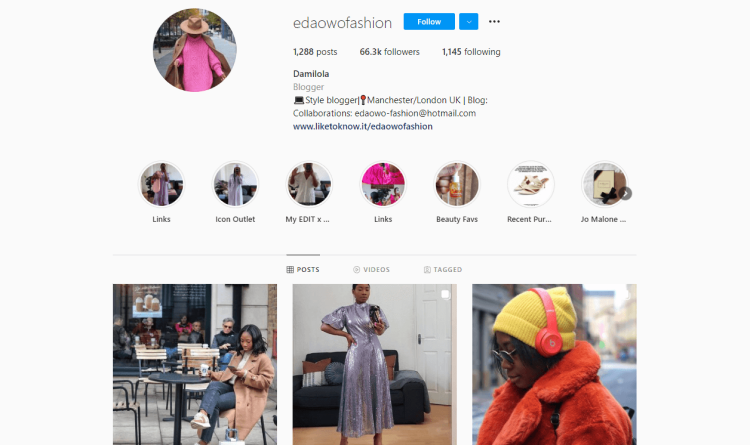 Edaowa Fashion is all about taking fashion risks, whether it's in the form of traditional or not-so-traditional fashion choices. Damilola, a popular fashion website based in Manchester, combines blazers and tailoring with fun, vivid clothing and plenty of bursts of colour to create a truly unique look that everybody can appreciate.
Damilola, in addition to her more informal, on a regular basis vogue posts, is a huge fan of clothes, as any reader of her website will quickly discover. We enjoy visiting Damilola's website to see how she styles outfits for various events and how to accessorise to take your outfits to the next level. Some of Edaowa Fashion's most popular pieces include a list of Damilola's favourite wool hats and a fun film featuring some of the cutest Summer outfits we've ever seen.
Megan Ellaby – Best Creative Fashion Blog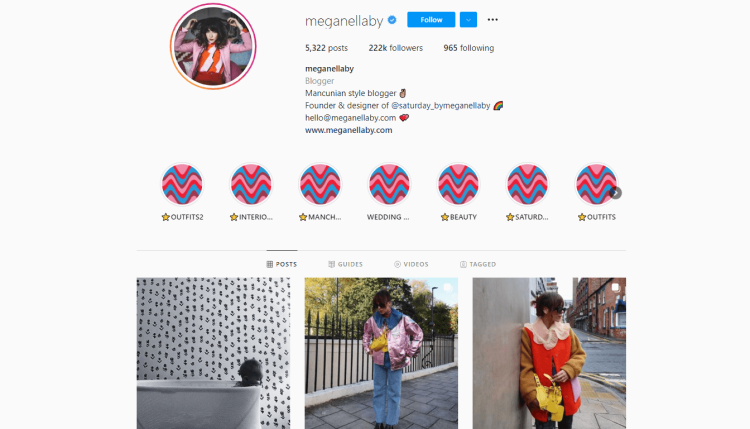 If you're into bright colours and clashing prints, Megan Ellaby's content material is for you. Megan Ellaby is one of the most creative and entertaining fashion bloggers we've seen in a long time. Every dress she wears gives off positive sentiments right away, which we love! Megan began her blog seven years ago while studying fashion at university and has since grown her platform to become one of the most well-known fashion blogs in the UK.
Megan has won three awards for her blog in the last seven years, and she has now launched her own clothing line, Saturday by Megan Ellaby, which is inspired by her own personal style with a touch of glamour from the 1970s. Megan Ellaby is the ideal person to look to for inspiration if you want to try something new with your style and experiment with fun prints and colours. Megan's most popular content includes her rainbow outfit ideas and information about the very finest small businesses in the fashion and lifestyle industries that you should be supporting.
Oracle Fox – Best Editorial Fashion Blog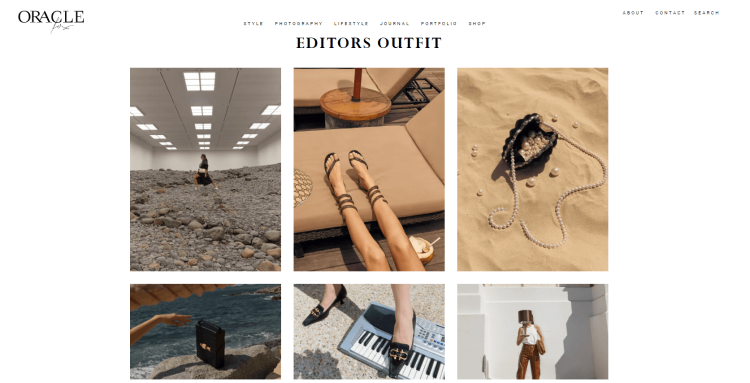 Oracle Fox, founded by Amanda Shadforth, is well-known as a high-end style and sweetness destination that presents the most well-liked fashion goods in imaginative and editorial ways. Amanda is a talented artist, so each and every post on the site would look right at home in the pages of a major fashion publication. If you're a blogger or aspiring fashion photographer, Oracle Fox's posts are sure to provide plenty of creative inspiration.
If you're looking for inspiration for your next designer purchase, or simply want to see fashion in a new and innovative light, Oracle Fox is the place to go. The runway breakdowns from the various fashion shows that Amanda attends all year, as well as Amanda's pictorial journal excursions, which most recently arrived from her stay in Venice, are among the most well-liked posts on Oracle Fox.
Guy Overboard – Best Plus Size Men's Fashion Blog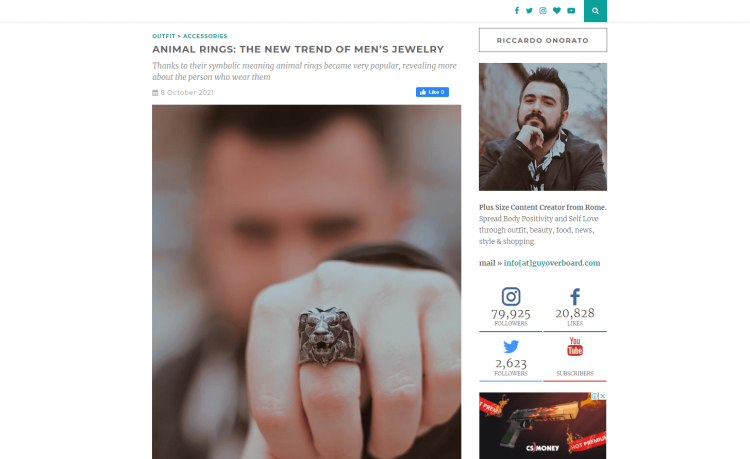 Riccardo Onorato, an Italian who grew born in Naples, runs Guy Overboard. He works as a UX/UI designer during the day and operates Guy Overboard, a popular men's fashion site dedicated to spreading body acceptance and self-love culture to men all over the world. Riccardo's most recent outfits, beauty reviews, and information about life and shopping can all be found on Guy Overboard, making it the ultimate destination for any man looking to improve his wardrobe and personal style.
Guy Overboard focuses on clothing for plus-size men, who all too often realise that there are a range of products available in sizes that they can't wear. Riccardo has been able to locate inclusive males's style brands that offer entertaining and exquisite clothing for any man to rock, regardless of their measurement or body form, thanks to his blog. A tutorial on how to incorporate patterns into your wardrobe and a tutorial on how to style outsized jackets are two of Guy Overboard's most popular articles.
Chiara Ferragni – Best Women's Fashion Blogger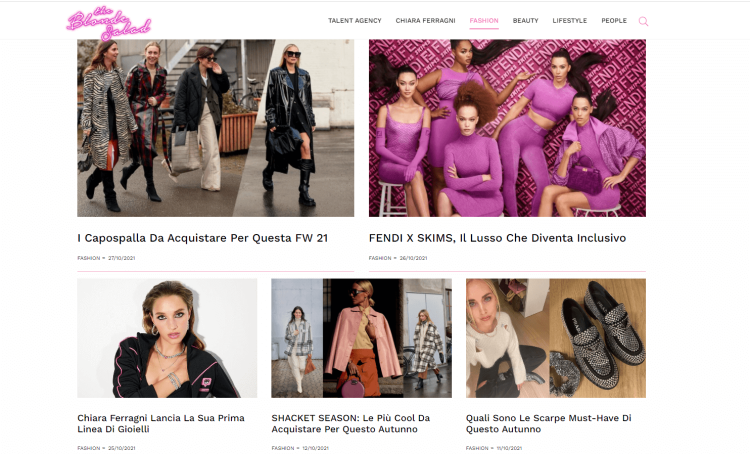 Chiara Ferragni, the author of The Blonde Salad, is the world's most popular fashion blogger. The Italian blogger started her lifestyle blog over a decade ago and now has a massive Instagram following of over 24 million people who come to her for daily fashion articles. The Blonde Salad focuses on fashion, news, and personal snippets from Chiara's life, and has amassed a devoted following of fellow fashionistas. Chiara is always on the cutting edge of new fashion trends and ideas, which is why she has become so fashionable.
Her readers go to The Blonde Salad for the most up-to-date styling advice, fashion news, and style inspiration for each new season. Chiara's style is classic, but she adds fun flashes of colour and a mix of on-trend prints to keep each ensemble looking fresh and unique. Some of The Blonde Salad's most popular blogs include a look at some of the greatest footwear to buy for Autumn, as well as pattern analyses. Chiara discusses some of the latest trends she's seen on the runways at fashion shows where she's been asked to sit front row.
You can discover extra content material from Chiara Ferragni on her blog and Instagram.
Who What Wear – Best Fashion Blogs for Professionals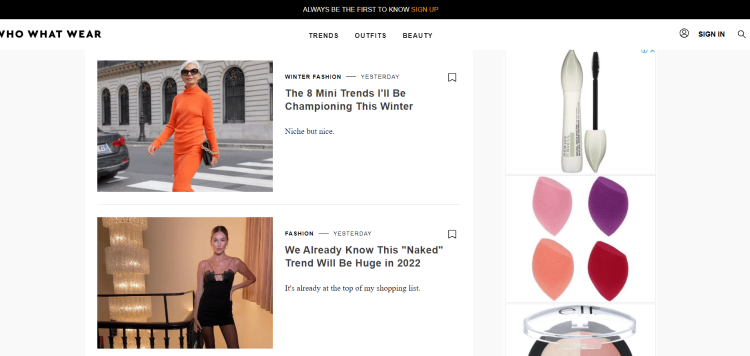 Who What Wear (WWW) is an award-winning fashion and beauty site founded by Katherine Power and Hillary Kerr in 2006 with the goal of rethinking how women consume content and shop for products online. WWW is a highly experienced on-line weblog with articles on every little thing related to style and sweetness, from the most recent tendencies to wardrobe styling recommendations that motivate readers to update their wardrobe collections and be more adventurous with their wardrobe.
Because there are so many various writers who contribute articles to Who What Wear, no matter what your own style is, you should be able to find content material that speaks to you. You'll also find a decent mix of designer clothing inspiration and more budget-friendly, highstreet options, so there are items for any budget. Some of the most popular curriesrent posts on Who What Wear embody the 7 lingerie fundamentals that everybody wants, and a number of the best highstreet items from London Fashion Week.
You can discover extra content material from Who What Wear on the blog and Instagram.
Catherine Summers – Best Fashion Blog for Over 40s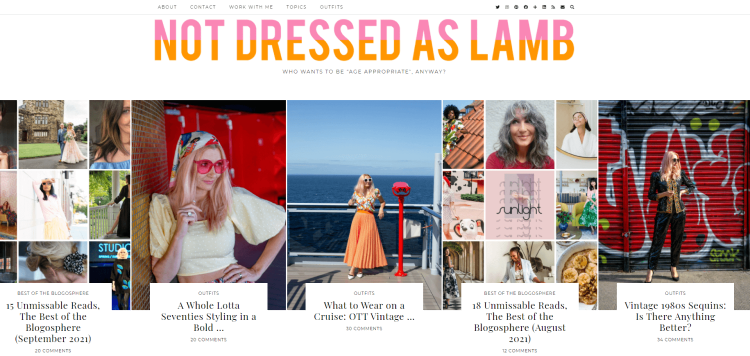 Catherine Summers started her fashion and beauty blog, Not Dressed as a Lamb, in the 365 days leading up to her 40th birthday as a way to share outfit ideas and styling suggestions with others who didn't want to look 'age appropriately.' What started as a year-long obsession has turned into nearly a decade of outfit style advice and trend content that has evolved alongside Catherine herself. Catherine shows off a variety of ensembles that feature fun patterns, colours, and prints that encapsulate her creative and unique style.
Catherine also provides insights into her life, trips, and the occasional piece of beauty content with her followers, in addition to vogue stuff. Catherine is the greatest person to seek advice from if you're over 40 and looking for clothing ideas that doesn't seem outdated or uninteresting. Because there's no point in abandoning your own personal style once you've turned 40! A piece on what to wear on a cruise and a post on how to style white straight-leg denims are two of the most popular recent entries on Not Dressed as a Lamb.
Girl With Curves – Best Curvy Fashion Blog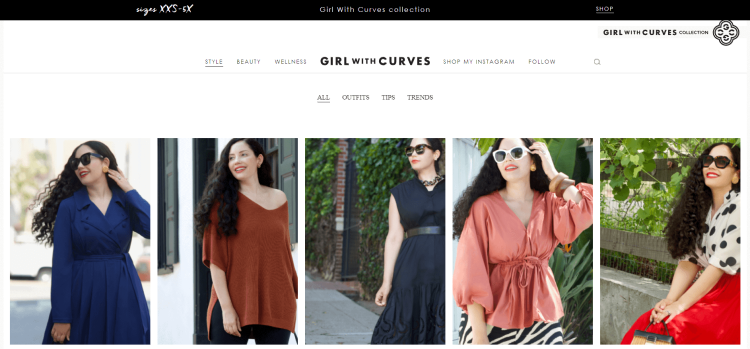 Girl With Curves is a fashion blog started in 2011 by curvy fashionista Tanesha Awasthi as a place to share outfits that are flattering for women with curves. The personal blog has grown into a multi-award-winning website that has inspired women all over the world to feel and look beautiful, regardless of their shape or size. Tanesha has recently released the Girls With Curves clothing collection, which is a truly inclusive range of wonderful apparel, fit for everyone, after years of inspiring women's plus-size fashion and the popularity of the blog.
The Girl With Curves blog covers a wide range of topics, including personality traits and fashion advice, with a focus on plus-size fashion. Tanesha has been successful in locating a number of the best clothing items and equipment that fit perfectly on plus-size bodies, and she has assisted her readers in remaining fashionable while wearing things that fit them well. A run-down of some of the hottest black cotton apparel and a tutorial on how to style the GWC tunic sweater are two of the most popular recent posts on Girl With Curves.
My Fash Diary – Best Urban Fashion Blog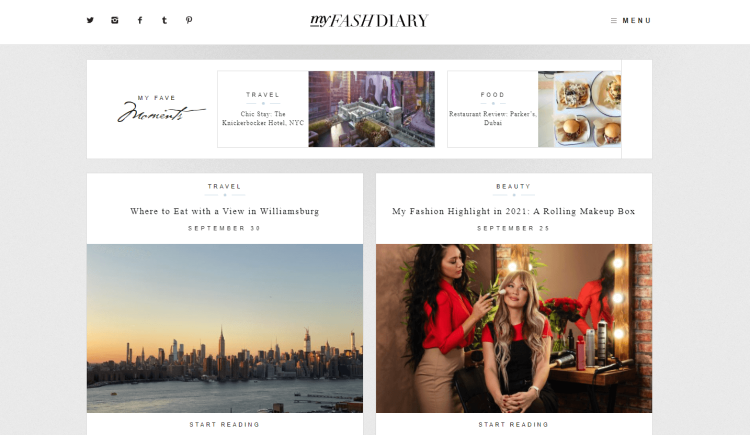 My Fash Diary is a fashion journal published by Tala Samman, a Chicago native who grew up in Dubai. Tala started her blog as a way to share her passion for fashion with a larger audience. Tala's style is really obvious and sophisticated; on her website, you'll find ensembles that include lovely dresses, fun beachwear, and the appropriate pieces to wear on your next night out. What began as a fashion blog has since extended to include anything Tala is interested in, ranging from wellness and beauty tips to DJing and music. Her month-to-month favourites article, in which she discusses everything she's been liking in the previous month, and her interview with Shiva Safai are two of the most popular recent posts on My Fash Diary.
We Wore What – Best Fashion Inspiration Blog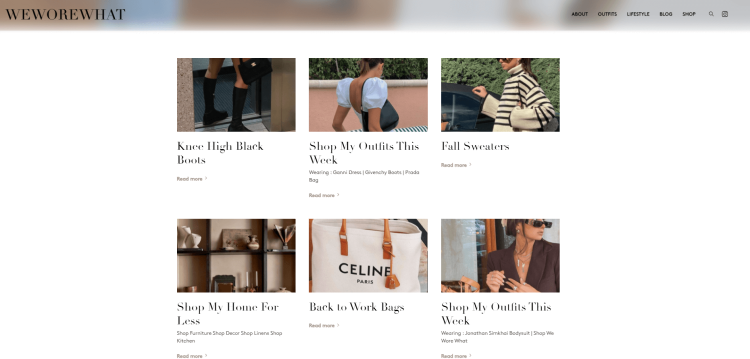 We Wore What, founded by Danielle Bernstein, was one of many unusual fashion blogs headquartered in New York City that became quite popular. Since the beginning, Danielle has been able to go out and start her own line of fashion-forward and unique clothing, also known as We Wore What. Danielle started the blog to serve as a daily source of style inspiration from all corners of New York City. Many of Danielle's earlier blogs focused on street fashion in NYC's five boroughs, but more recently has become more focused on Danielle's personal style.
We Wore What's style is simple, easy, and absolutely stylish. On the blog, you'll find the perfect denim jeans, pristine white shirts, and classic boots that are the perfect accent to any wardrobe and are completely timeless. Some of the most popular recent entries on We Wore What include the best boots to wear in Autumn and a run-down of all of Danielle's ensembles for the week, which goes into detail on each item of clothing Danielle wore the previous week in order to purchase the objects for yourself.
Permanent Style – Best Luxury Men's Blog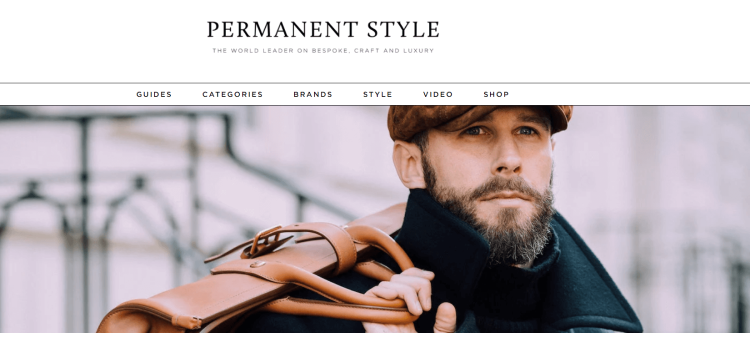 Permanent Style is the most popular weblog for men's high-end fashion, with over 600,000 monthly pageviews. Because Simon Crompton, an accomplished journalist, founded the website, the entire content material on Permanent Style has an editorial bent, focusing on sharing high-quality information and knowledge with its visitors.
If you're a fan of high-end fashion, handcrafting, and bespoke design, Permanent Style is the place to go because it features a number of the most well-known names in men's fashion. It's also helpful for readers who are just getting into fashion, as the positioning frequently breaks down various goods and types to educate readers on the concept of fashion. Some of the most popular recent postings include a case for a summertime bikini and a list of must-have luggage for any man's capsule wardrobe.
Simply Mr T – Best Men's Style Fashion Blog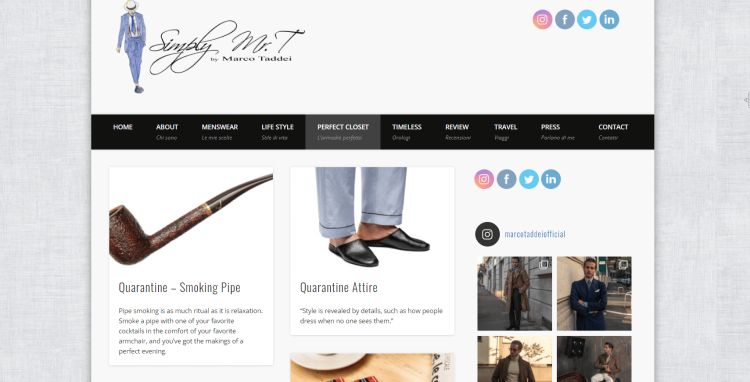 Simply Mr T is an Italian men's fashion blog authored by Marco Taddei, who has a passion for fashion and beauty that he enjoys sharing through his blog. Marco's style is traditional and intricate, with traditional Italian influences, so you'll find all the swimsuit and tie inspiration you'll ever need on his blog. Along with Marco's day-to-day clothes, readers can discover suggestions on how to style an outfit for your future event, or simply enhance your everyday vogue to be more adventurous and classy. Simply Mr T is a go-to vacation location for any man who wants to improve their fashion and discover their subsequent wardrobe essential, with a focus on tailoring and well-made goods. Some of the most popular recent entries are how to wear a grey jacket in the summer and how to put together an all-white ensemble.
Lizzy Hadfield – Best Indie Fashion Blog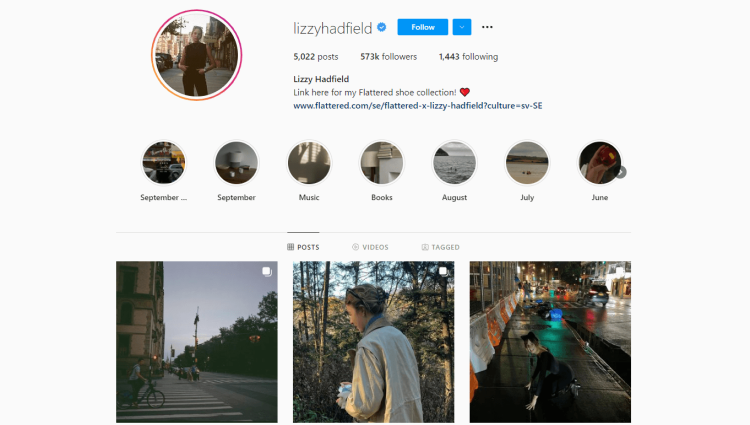 Lizzy Hadfield—AKA Shot From The Street—is a British blogger, writer, and podcaster known for merging her love of fashion with a passion for film imagery on her blog. On Lizzy's blog, you'll discover lengthy editorial essays with a plethora of stunning cinematic photographs showcasing the full ensembles and goods in their best light. Lizzy's minimalist style emphasises on upgraded basics that can be worn in a variety of ways, such as denim denims, white t-shirts, and black pants.
Lizzy is a fantastic person to go to for advice if you're looking to start investing in key pieces or build up your capsule wardrobe. She frequently publishes 'depth dives' into specific topics on her blog, such as denims, in which she covers all of the bases, including how to buy denims, which stores sell the best denims, and how to determine the proper size. Her fashion knowledge has solidified her as a proficient fashion blogger. Lizzy's most recent postings include her tutorial on how to style denims and a t-shirt, as well as her YouTube collection in which she compares basic clothing items from a variety of retailers at varied prices.
Freddie Harrel – Best Eco-Fashion Blog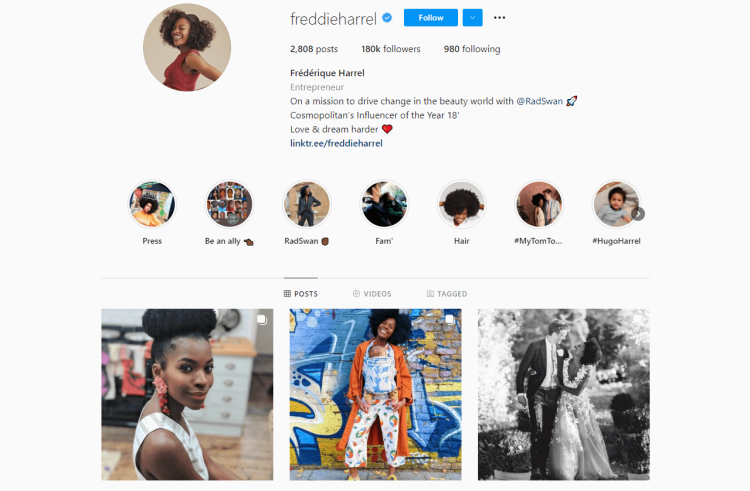 Freddie is a French-born blogger turned entrepreneur who has become known for her daring prints and killer power suits on her blog for nearly a decade. Freddie currently resides in London and is well-known for her numerous entrepreneurial endeavours. Freddie is all about female empowerment, and she runs a number of confidence seminars in addition to her fashion blog to further her mission—even she's established her own ethical haircare line!
Margaret Zhang – Best Fashion Trend Blog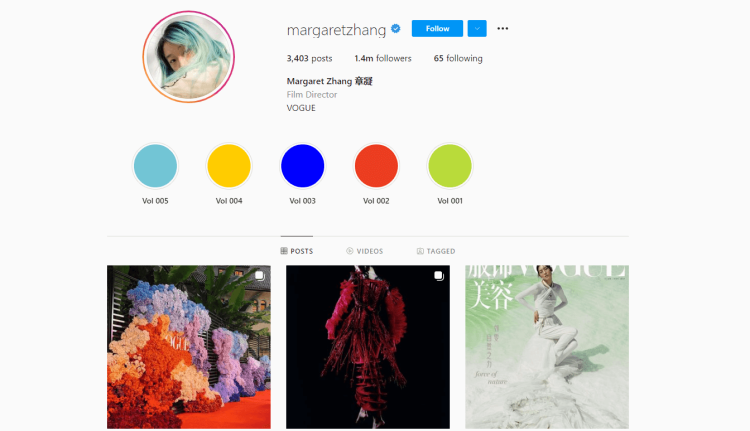 Margaret Zhang, who recently became the editor in chief of Vogue China, is an excellent example of how to use your fashion blog as a way to get into the industry. Margaret started her fashion blog at the age of 16 as a way to showcase her daily style, and she now has over 1.4 million Instagram followers. Her style is incredibly creative, unique, and focuses on the most recent fashion trends.
Margaret's blog and magnificence feature an eclectic mix of contemporary trends and traditional pieces that will be ideal additions to anyone's closets, drawing on influences from her Australian upbringing and Chinese heritage. Despite her success in the fashion industry, Margaret continues to update her blog and Instagram followers on what she's been up to, as well as providing sneak glimpses into the most popular vogue trends that the editors are thrilled about. Margaret's most popular recent pieces on her blog include behind-the-scenes photos from recent editorial shoots she's done with Vogue, as well as a mother-daughter fashion chat with Yara Shahidi.
Zagufashion – Best High Fashion Blog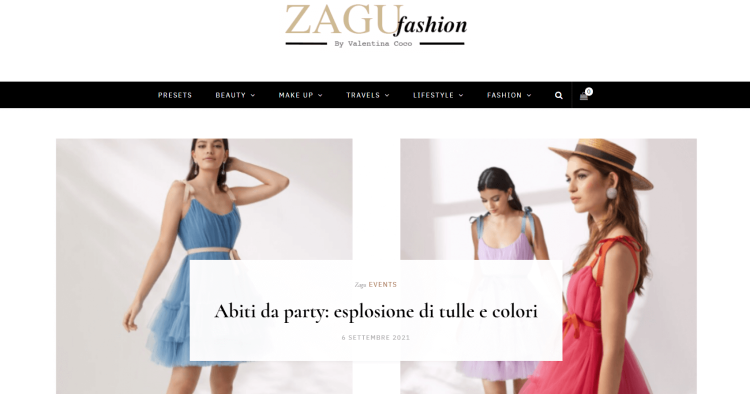 Valentina is the founder of the well-known high-fashion blog Zagufashion, which is based in Italy. Her style is exquisite and fashionable, and she provides her readers with tips on how to style all of their outfits in the most attractive way possible. On Valentina's blog, you'll find tips on how to shop for clothes, how to style the latest trends, and how to choose the best new pieces to add to your collection. Valentina is the go-to blogger for all things high vogue, with a combination of Italian fashion and inspiration from her travels abroad. Some of the most popular recent pieces on Zagufashion include how to dress for a mountain vacation and where to find the greatest exquisite occasion apparel to go to your following event.
Yolande Macon – Best Hipster Fashion Blog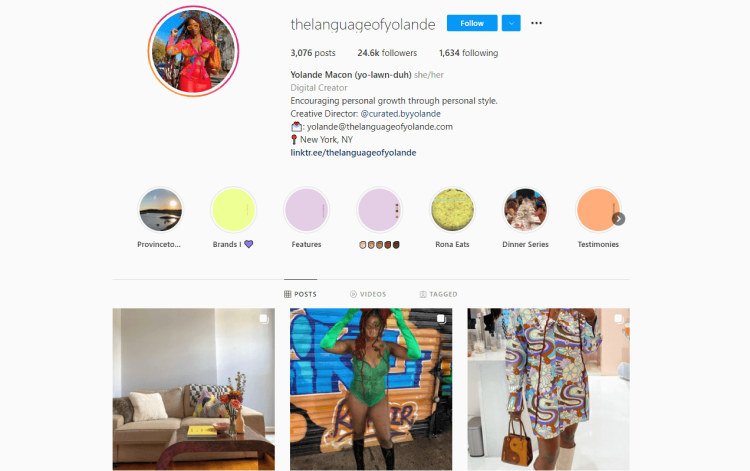 Yolande Macon is another NYC-based fashion blogger who combines hipster street style with bold colours and motifs. Yolande's style is fun, eclectic, and daring, but it's also incredibly adaptable. She's just capable of going from a gleaming and exciting knit one day to basic denims and a t-shirt the next, and making each seem quite attractive and wearable. If you're looking for ideas on how to incorporate colour into your everyday attire, go no further than this blogger. Yolande can surely provide you with the right wardrobe inspiration, whether you prefer a little hint of colour or are feeling more daring. Some of the most well-liked recent entries on The Language of Yolande include how to wear neon and neutrals together in the same outfit and how to put on the most well-liked new spring trends.
Wendy's Lookbook – Best Sophisticated Fashion Blog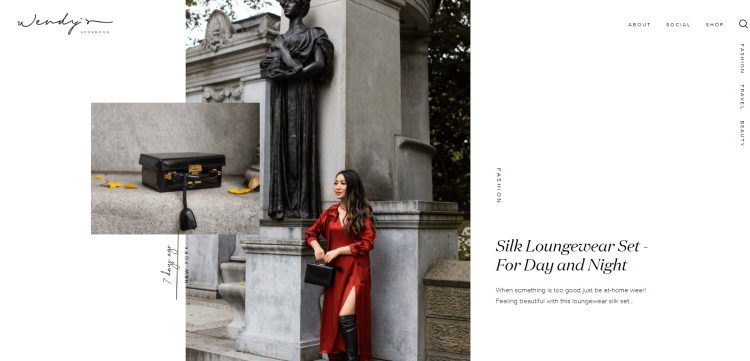 Wendy's Lookbook is a go-to resource for people who want to enhance their fashion game in a subtle and beautiful way. Wendy, a small fashionista who enjoys vivid clothing, statement accessories, and effortlessly beautiful looks, runs the blog. Wendy not only reveals clothes that are appropriate for any occasion or night out, but she also offers styling advice to help you get the most out of each piece in your closet.
Wendy is passionate about supporting children and has established the Wendy's Lookbook Foundation, which fights for young people who have been affected by the juvenile justice system. Wendy's most popular postings include her video on how to style a shawl in 25 different ways (which has over 42 million views!) and simple methods to put on a flashy summer costume.
Lindsey Holland – Best Casual Fashion Blog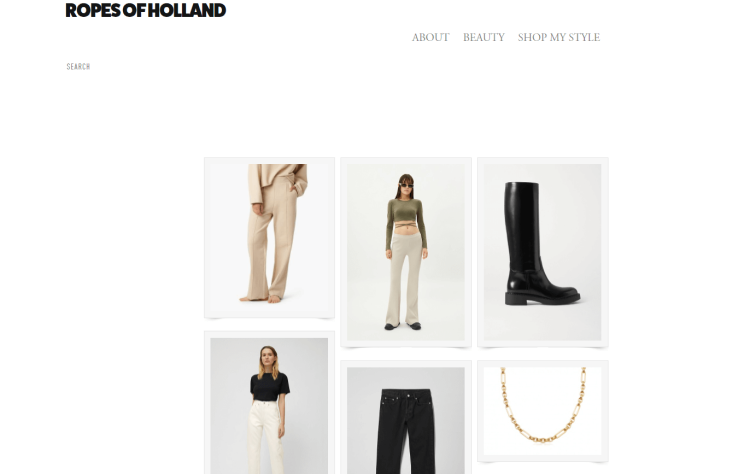 Lindsey Holland is the fashion influencer behind Ropes of Holland, a casual fashion blog that focuses on Lindsey's own personal style. On Ropes of Holland, you'll find pieces from Lindsey's carefully curated wardrobe, which includes a variety of trench coats, shirts, denim, and blazers that are ideal for everyday wear. The fashion inspiration is endless, with both inexpensive and high-end goods available for everyone to add to their wardrobe. Lindsey has over 120,000 Instagram followers and is a well-known Instagram influencer.
She also co-hosts a popular podcast with fellow fashion blogger Lizzy Hadfield, in which they discuss a variety of topics related to lifestyle, fashion, and beauty. Ropes of Holland's in-style postings include her comfortable season post, which includes a mix of images and outfit footage to give you ideas for your Autumn/Winter wardrobe, and her week in pictures posts, which share outfit inspiration and tips.
Hannah Crosskey – Best Personal Style Fashion Blog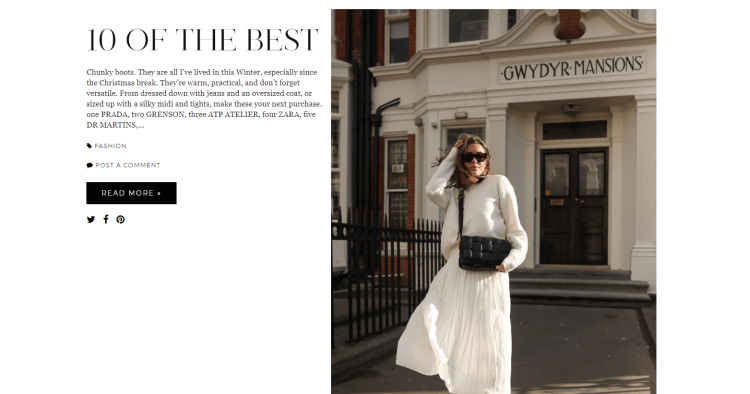 Hannah started her blog, A Fashion Fix, in 2012 as a hobby while pursuing a career in personal shopping. What began as a hobby has developed into a full-time job, and Hannah is now one of the UK's most sought-after private fashion and beauty bloggers. Hannah has a distinct personal style that is simple and Scandinavian-inspired. On her blog, you can expect to see classic silhouettes and designs, as well as neutral tones and tailoring, all shot in Brighton, where she currently resides. Hannah admits that she isn't an expert on the subject of fashion, which may be part of what makes her so approachable and accessible as a fashion blogger. On Instagram, she has over 120,000 followers who follow her for sneak peeks into the latest trends, goods, and styling advice.
Tarmarz – Best Minimalist Fashion Blogger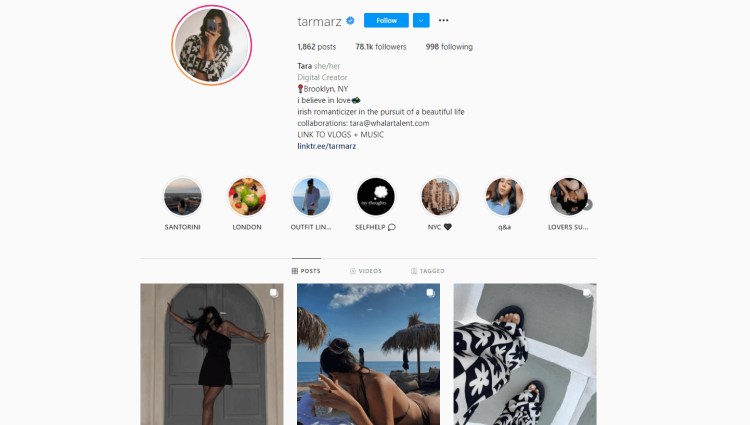 Irish blogger and YouTuber Tara resides in NYC. Tara is a well-known blogger for her simple and laidback style. Tara blends traditional street fashion with more conventional elements to create a unique style that has over 200,000 fans. Tara is a blogger with modest styling, subtle accessories, and regular colour and print pops. She recommends investing in essential items that can be used season after season and visits local vintage shops to add fun statement pieces.
All of these content material is on Tara's YouTube channel, the where she urges her fans to be extra considered with style purchases and gives counsel on expressing your particular persona via clothes. Some of her most popular pieces include her every day jewellery video, where she discusses the key items everyone should have, and her fashion update hauls, where she unveils recently introduced clothes products and offers styling advice.
A Mother's Edit – Best Mom Fashion Blog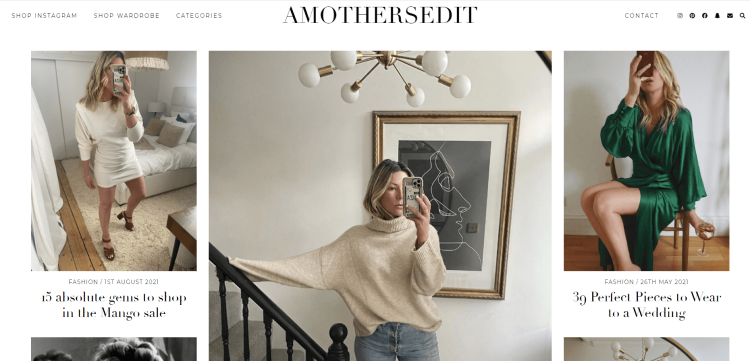 Ashely Wilson's blog A Mother's Edit shows that you don't have to sacrifice your personal style as a mother. Ashley is a London-based blogger who shares fashion tips, clothing inspiration, and mothering advice. What started as a place to post daily outfit photos to urge other parents to get out of the working-from-home trend slump has become a successful online community for motherhood and vogue.
On the site, you'll find casual, stylish wardrobe inspiration and styling tips for the morning school rush. Ashley mixes easygoing daywear with beautiful nightwear that may take you from a canine stroll to a fancy occasion. There are plenty of fashion blog post ideas for beginners. Ashley focuses her postings on affordable high-street brands like Zara, ASOS, and Mango. If you want luxury garments, A Mother's Edit has some. Some popular entries on A Mother's Edit include a roundup of the top party dresses for the holiday season.
9to5 Chic – Best Work Style Fashion Blog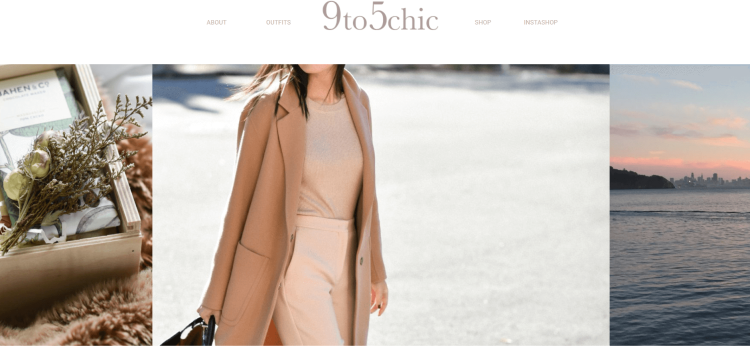 It might be difficult to know how to dress appropriately for the workplace while still looking attractive, whether you've just gotten your first job after college or are starting a brand new place where you want to make a good impression. Thanks to 9to5 Chic, any professional woman may get vogue and styling advice that she can wear to work without compromising her particular style. Anh, who is located in San Francisco, is the author of 9to5 Chic, a blog that focuses on how to put together comfortable but professional ensembles that can be worn throughout the workplace.
Anh feels that you shouldn't have to dress in a dull way just because you're at work, and instead offers tips and advice on how to incorporate your personal style into your work wardrobe. You'll discover plenty of inspiration at 9to5 Chic, whether you're looking for a day-to-day outfit or something more practical to wear to an important meeting. Anh's advice on how to wear one cardigan in two different ways and how to style a fun linen swimsuit for the workplace are two of the most popular entries on 9to5 Chic.
College Fashion – Best Fashion Blog for College Students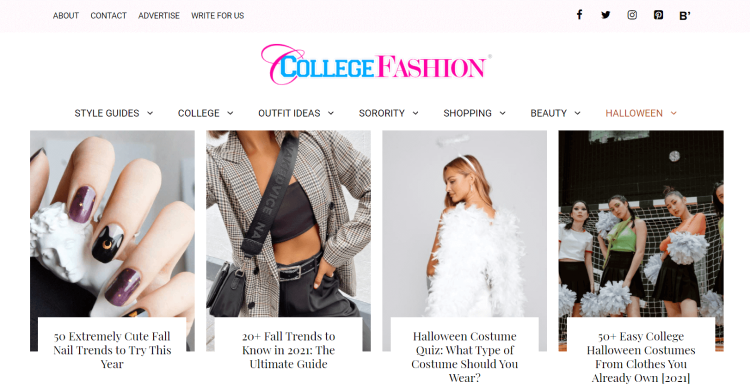 College fashion is all about dressing as comfortably as possible during a long day of lectures, then transitioning into fun pieces to wear while partying. College Fashion may have the inspiration you're looking for, no matter what kind of faculty dress you're looking for. If you're at college and want to keep up with the most recent fashion trends, tips, and styles for students while staying on a budget, this is the blog for you. The site, which is produced by students for students, began as a personal fashion blog but has now expanded to incorporate all aspects of school fashion and currently has a large team of authors contributing pieces.
The topics on College Fashion range from what you should wear your first week of school to fun Halloween costume ideas to wear to your next sorority event. College Fashion blogs furthermore keep readers up to speed on the most recent fashion gross bargains and reductions to take advantage of the subsequent time they log on to shop. Some of the most popular items on College Fashion include 40 of the finest Halloween costumes to try using clothes you already own and the best low-cost boots to wear in the fall that cost under $50.
FAQ – Hottest Fashion Blogs To Follow
Who is the most well-paid fashion blogger?
Chiara Ferragni, the author of The Blonde Salad, is the highest-paid fashion blogger, with an average monthly income of $250,000! Chiara has been running The Blonde Salad since 2009 and has been successful in growing her blog and connected social media channels. She has a total of 17 million followers across all of her platforms.
Is it still possible for people to read blogs?
Yes! In fact, current figures show that 77 percent of internet users read blogs on a regular basis—a that's lot of people! Of course, reading habits vary and fashions come and go, but blogging has managed to adapt to all of this and remain one of the most popular forms of information on the internet. We hope you enjoyed learning about the most popular fashion blogs and bloggers to follow in 2022; did we miss any of your favourites? If you think we left somebody off the list, please let us know in the comments!