14

min read
Definition of a Profile Page
To begin, let's clarify what a profile page entails. Essentially, it's a webpage that provides essential details about a user's identity. Whether it's on a website or an app, a user's profile page serves as a comprehensive showcase of their personal information, including their photo, data, achievements, and more.
Additionally, it offers users the flexibility to keep certain sections of their information private, ensuring that only pertinent and crucial details are made available to the public.
Moreover, in the modern landscape, profile pages have become highly personalized, enabling users to tailor their profiles for optimal representation and a lasting impression.
What is a User Profile Page?
User Profile Page: Mobile and Website Version
Screen-size
The variations in screen size between the two interfaces are notable. When visiting a website, a keyboard is typically employed, which is not feasible on a smartphone. Consequently, this disparity affects certain aspects of the interface, including the placement of buttons.
Contextual
Different processors
What is effective for your website may not be suitable for your app. Smartphones generally have slower processors compared to computers, which is why it's important to prioritize a straightforward and less resource-intensive layout for applications.
User Profile Page Components: What to include
To be successful in the face of competition and appeal to your target audience, it's important to adhere to some fundamental design principles when creating a user profile page. We've outlined essential elements for user profile pages to guide you through the process. Let's get started.
Design can be a powerful tool for the success of your business and generating a steady income. However, if the page design is overly complex, it could deter new customers. In such cases, certain components may need a redesign.
Ensuring easy navigation is crucial for user convenience. Each section on the profile page should be easily accessible with just a few clicks, and every menu button should provide the exact option users expect when opened.
When users create a profile on a website or mobile app, whether it's for social media, an employee profile, or a fitness app user profile, they are typically encouraged to upload a photo. The profile picture is often the first thing that catches a user's attention. It's vital to make it possible for users to upload custom images and change them as frequently and conveniently as needed.
In the user profile page design process, the names section is an integral part. Nowadays, it's a good practice to include sections for both a real name and a nickname. Many people use fictional names on various websites and apps, especially on those where a real name is not mandatory. By doing so, you can increase traffic to your site and foster loyalty among the tech-savvy target audience.
The "Follow" button is often associated with social media user profiles, but it has become a must-have component for any app or website that features personal profiles (such as job dashboards, doctor's profiles, employee profiles, etc.). Best practice for designing a user profile page is to place the button in a prominent and visible location, preferably near the profile picture.
Sometimes, it's useful for users to see whether a particular person is online. However, it would be even better to allow users to control their online visibility. Consider adding a button that enables users to choose whether they want to be visible online.
Additional elements that may be included:
"Contact me" button
Search button
Ratings (if necessary)
Location
Followers and following
Active links
Reports
These elements are important in creating a user-friendly and engaging user profile page, tailored to the needs of your audience.
User Profile Design Examples
Before we delve into examples, we'd like to share a couple of rules that our experts follow to achieve excellent UI design in every project, not limited to just user profile UX design.
Part 2. What Are the Main Components of a Profile Page?
Now, let's explore the key components that contribute to a credible user profile page:
The user's profile photo is the initial focal point of the profile page and plays a vital role in creating a positive impression. It should be a high-quality image that reflects the user's core values.
The user's name is a crucial element and should be prominently displayed, preferably near the profile picture. The name can be the user's real full name or a nickname.
Some profile pages feature a cover photo, a large image displayed at the top of the user's profile. The cover photo adds personality and depth to the user's identity.
Summarized Personal Information
A summarized section, often labeled as "About Me," provides a brief overview of the user's personal information in a few sentences. This section offers valuable insights into the user's identity, goals, and vision.
Certain profile pages include a section dedicated to the user's interests and hobbies. This personalization helps users connect with like-minded individuals in the social community who share similar interests.
Some profile pages showcase the user's accomplishments, highlighting unique and memorable qualities that set them apart in the community and contribute to their goals.
In graphic design, alignment serves as an essential element to create visually appealing and organized compositions. It acts as an invisible structure that supports design elements and arranges them cohesively.
In this blog post, we'll delve deeper into the significance of alignment in graphic design, explore the underlying principles, and provide examples to illustrate its importance. Let's get started!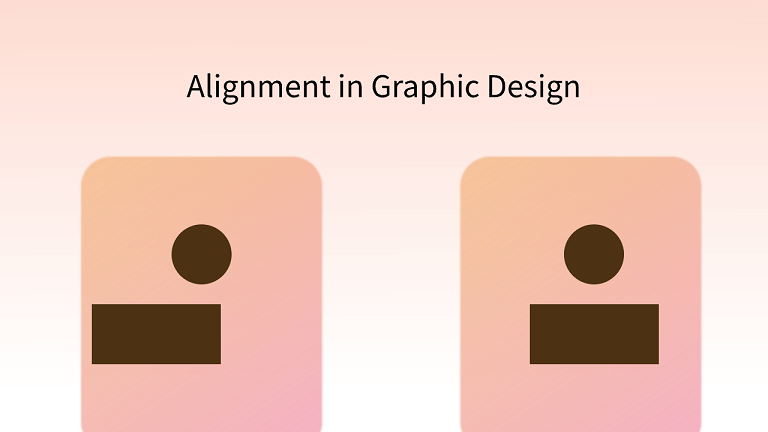 Part 1. Definition and Importance of Alignment in Design
What Is Alignment in Graphic Design
Alignment in graphic design serves as an invisible guide that maintains order and organization within a composition. Think of it as the librarian arranging books on shelves in a neat and structured manner or shoppers at a supermarket forming orderly queues at the cashier. In both cases, the introduction of alignment transforms chaos into order.
In graphic design, alignment plays a pivotal role in ensuring that design elements harmoniously complement each other, resulting in visually pleasing and well-organized compositions. It serves as the invisible hand that guides the viewer's eye and creates a sense of balance and coherence within the design.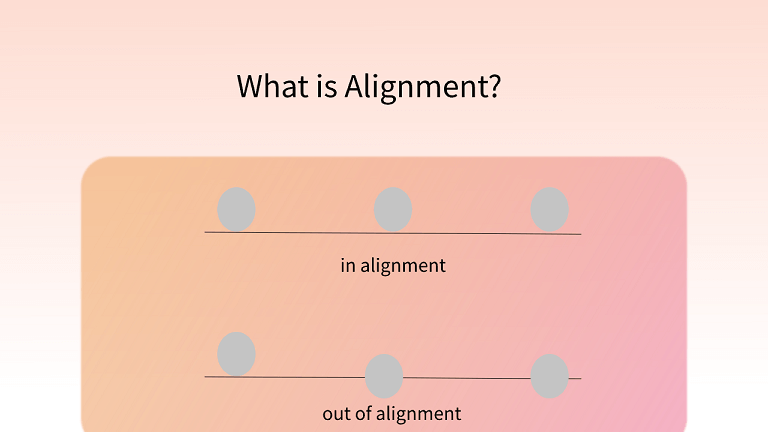 Why Is Alignment Important in Graphic Design
Part 2. Types of Alignment in Design
In design, the alignment is divided into two major types:
1. Edge Alignment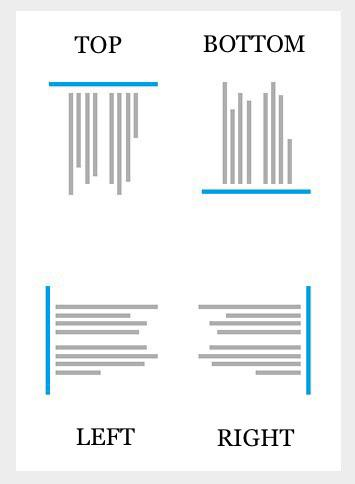 Source: 254 Online
2. Center Alignment
Source: 254 Online
Center alignment involves drawing an invisible line down the middle of the content or elements, resulting in a more central alignment. This can encompass both horizontal center alignment and vertical center alignment. In web layouts, center alignment is frequently utilized in prominent headings to capture the user's attention and in numerous logo designs.
Part 3. Principles of Alignment in Design
Hierarchy Matters
In a design, some elements are more important than others. Show this by using different types of alignment to highlight the central composition.
Seek Harmony
Balance is crucial in design. Don't overlook the overall effect. Hierarchy can coexist with harmony, making your design more appealing.
Embrace Contrast
Contrast is your friend when you have multiple focal points. Use color and alignment contrast to guide users. For instance, use left and right text alignment to emphasize both sides' importance.
Repeat for Consistency
Repetition is a key design rule, and it applies to alignment too. It helps maintain a clean and organized appearance.
Leave Space for Imagination
Just like "less is more," alignment should not overcrowd your design. Leave room for simplicity and let users engage their imagination.
Part 4. Examples of Alignment
1. Uniform Alignment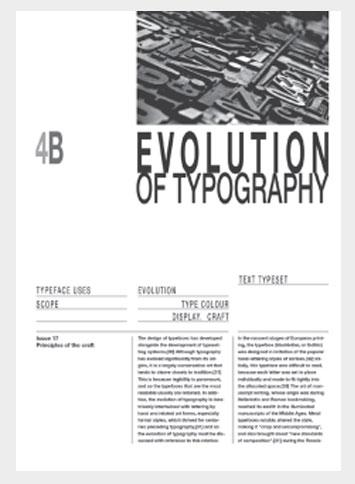 Source: 254 Online
2. Mixed Alignment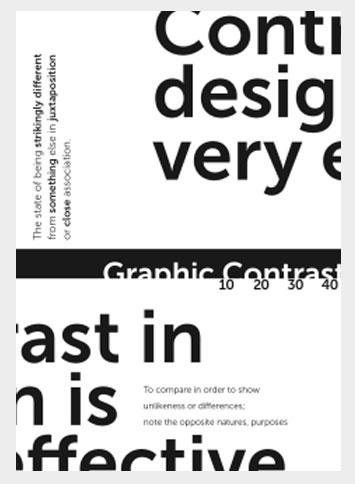 Source: 254 Online
In this example, you'll notice a mix of alignment styles, with contrasting alignments and text placements. Surprisingly, this blend of alignments adds balance to the design and creates an appealing visual composition. It showcases the creative possibilities that mixed alignment can offer.
3. Helpful Grid Lines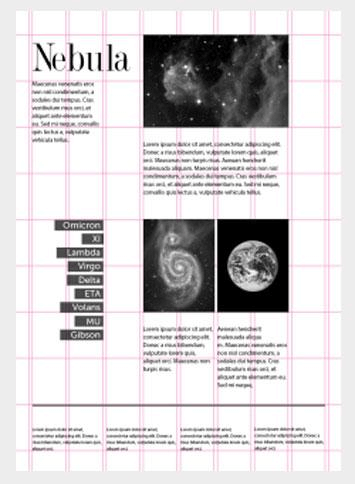 Source: 254 Online
Modern design software often includes invisible grid lines that aid designers in aligning text, images, and other design elements in a neatly organized manner. These grid lines can be visualized to create a unique style, as demonstrated in the image above, where the grid lines assist in positioning and arranging content elements with precision.
User Profile Design: Key Elements to Use
Profile Picture
When users create profiles on websites or mobile apps, the profile picture they upload is a crucial element. This image can be the key to landing a job through LinkedIn, finding a romantic partner on a dating app, or making a strong first impression on social networks. Therefore, it's essential to design the user profile interface to allow users to upload custom images and avatars, giving them the flexibility to change their profile picture as often as they like.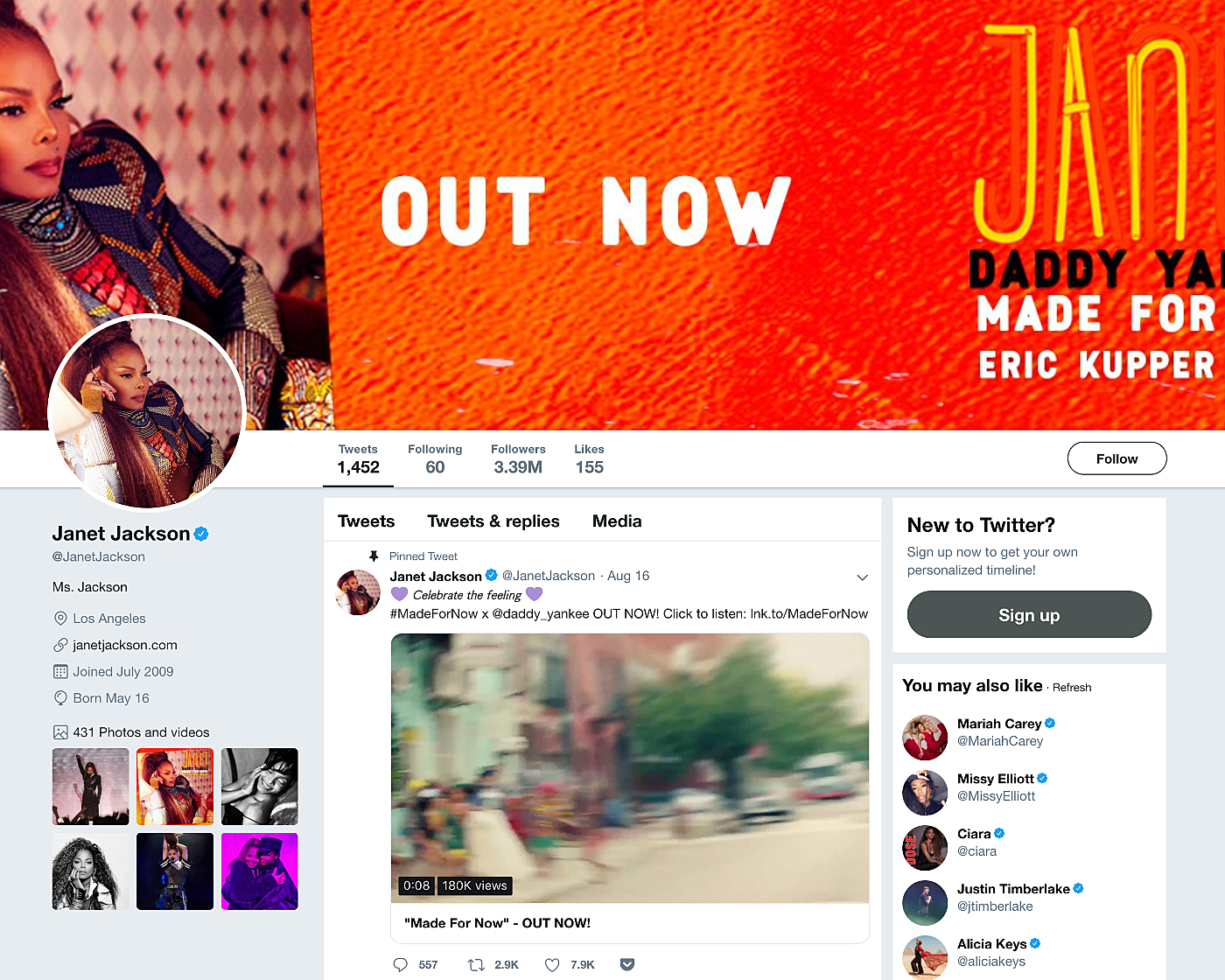 Source: Twitter
Name and Nickname
Names and nicknames are like personal brands for individuals, and giving users the opportunity to promote both is essential. When designing a user profile page, it's a smart move to include fields for both a user's name and nickname. Additionally, incorporating the nickname into the profile's URL can enhance customer loyalty and drive more traffic to your website, especially if the user is a well-known figure. This approach allows users to maintain consistency across various websites and apps, making it easier for their friends to find and connect with them using their familiar nickname.
Summary and About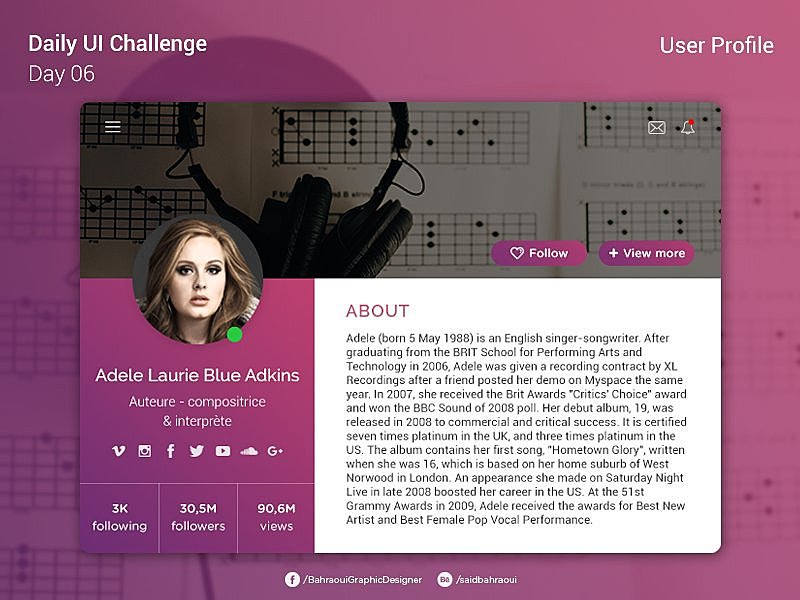 Interests and Achievements
Allowing users to share more details about themselves in addition to the summary section is a great way to create a more comprehensive and well-rounded impression of each individual. This can include information about their achievements, interests, and more, providing a deeper insight into their personality and experiences. However, it's important not to make these fields mandatory to avoid frustrating users. Instead, consider implementing a progressive profiling approach, where newcomers are asked to fill in only the essential information needed for registration. This approach strikes a balance between gathering valuable data and ensuring a smooth user experience.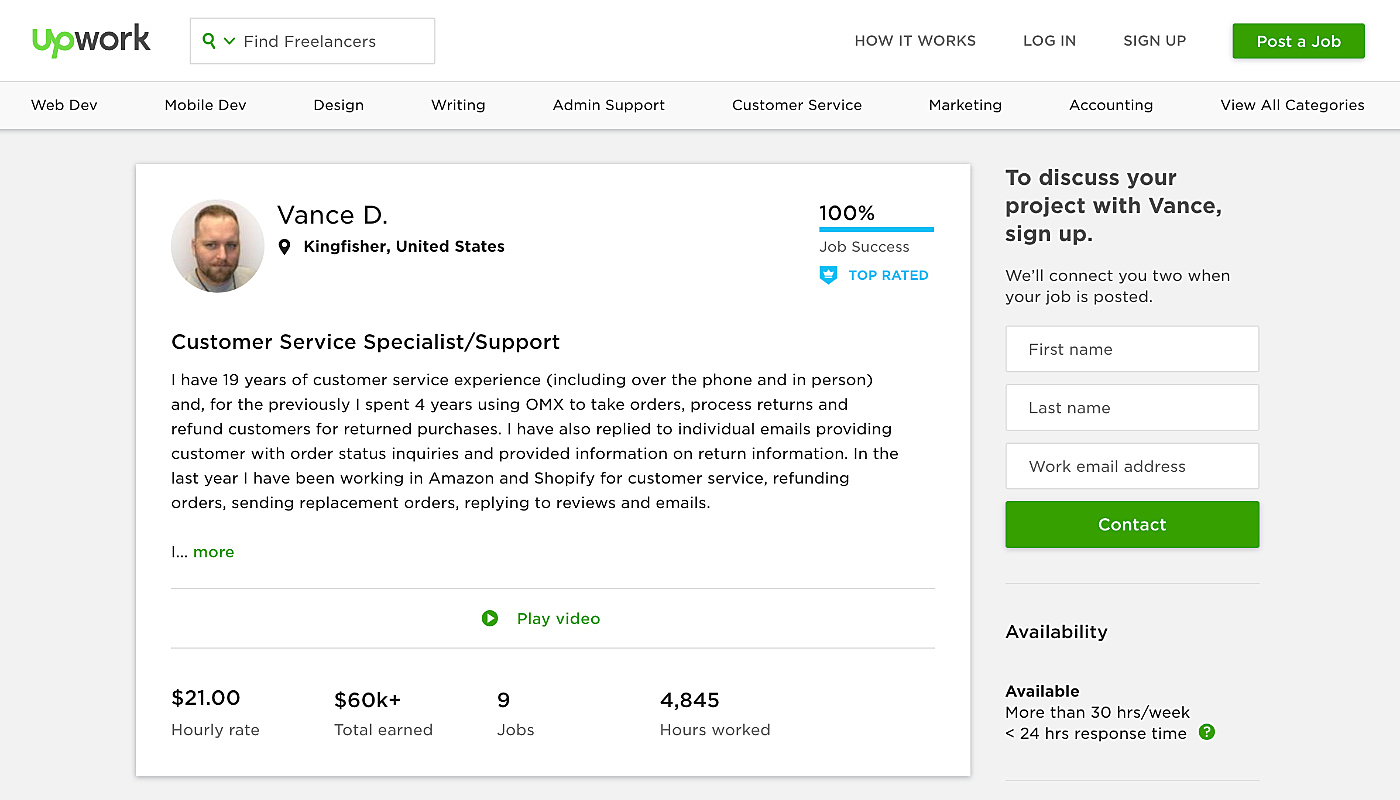 Source: Upwork
The "Follow" button is an essential component for any networking app or website. In the case of a mobile app, it's crucial to position it within the thumb zone to ensure ease of access, as users are more likely to interact with it. Additionally, make sure the button is clearly visible, as its position matters, but visibility is equally important to encourage users to click on it and take action.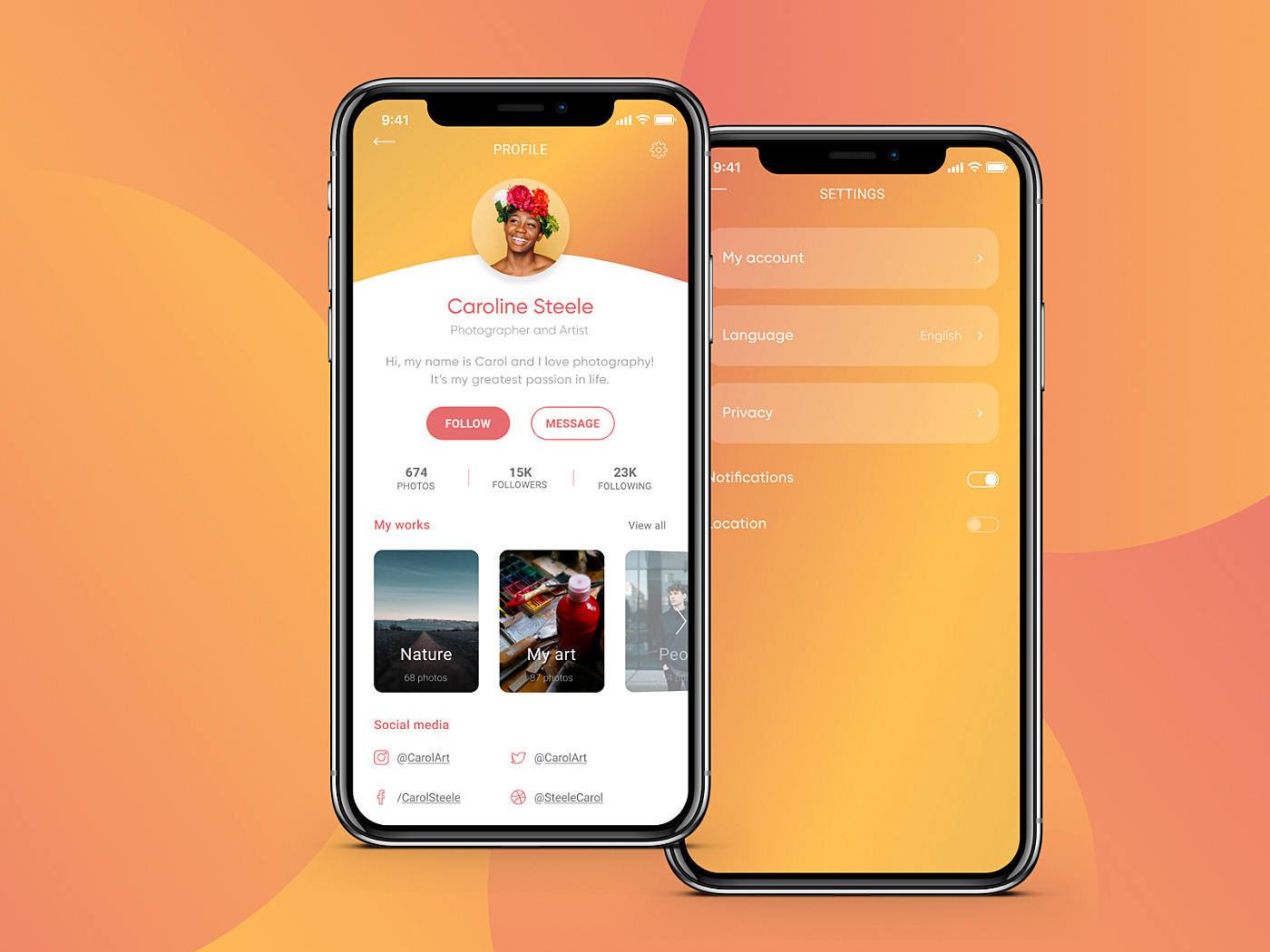 Source: Behance
Other Useful Elements
Every app or website is unique, and developers should conduct a product development workshop to ensure that they incorporate their app's distinctive features into the user profile page. Here are some additional elements that could be included:
User Rating: This feature can indicate how professional or active a particular user is. It can be particularly useful for e-commerce websites, where users with high ratings may have their reviews displayed more prominently.
Followers and Following: In the context of social media platforms like Instagram, this feature can showcase a user's popularity by displaying the number of followers and the accounts they follow.
Activity Status: This feature is essential for apps where it's crucial to know whether a user is currently online. For example, in Direct Messages on Instagram, you can see when someone is active.
Mobile Apps and Website
The UX/UI design of user profiles on mobile differs from web profiles in several ways:
Simplified Layout: Mobile app profiles tend to have a simplified layout, with essential information easily accessible. The goal is to keep things clear and avoid clutter.
Intuitive Navigation: Mobile profiles prioritize intuitive navigation. Menu options should be straightforward, and there should be a focus on user-friendly navigation. A separate menu for the page can help improve the overall user experience.
Mobile-Friendly Forms: Forms in mobile profiles should be easy to fill out, potentially pre-populated, and have a one-column layout for better mobile usability. Clear labels are also crucial for form fields.
These differences aim to provide a seamless and user-friendly experience on mobile devices, considering the constraints of smaller screens and touch interactions.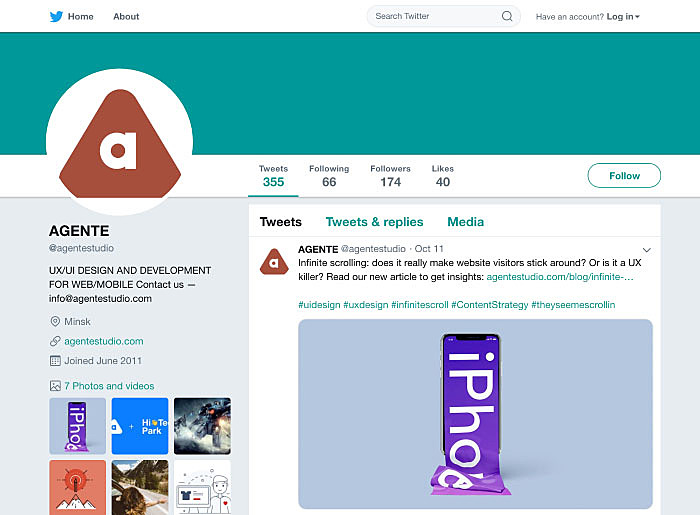 Top 10 User Profile Design Examples
Teammate profile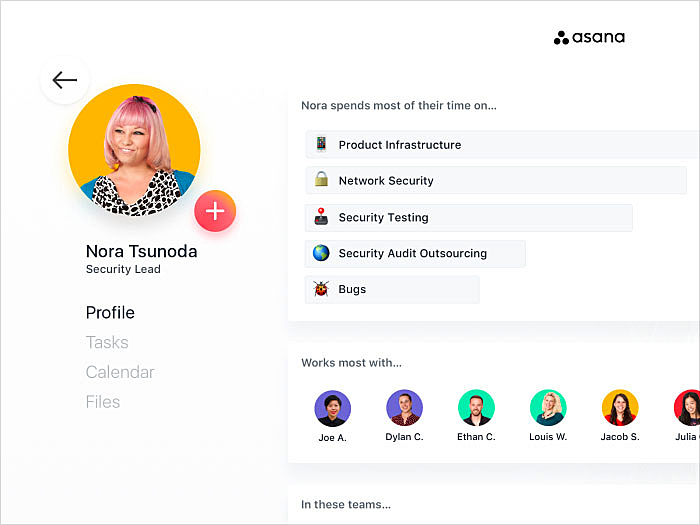 Source: Dribbble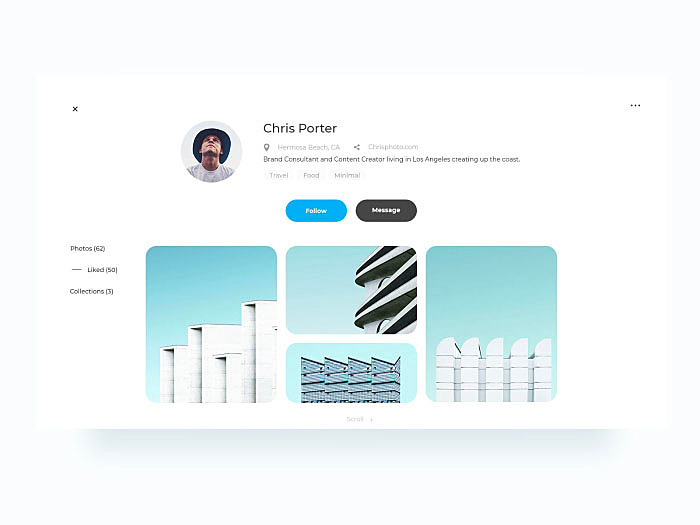 Source: Dribbble
Fitness app user profile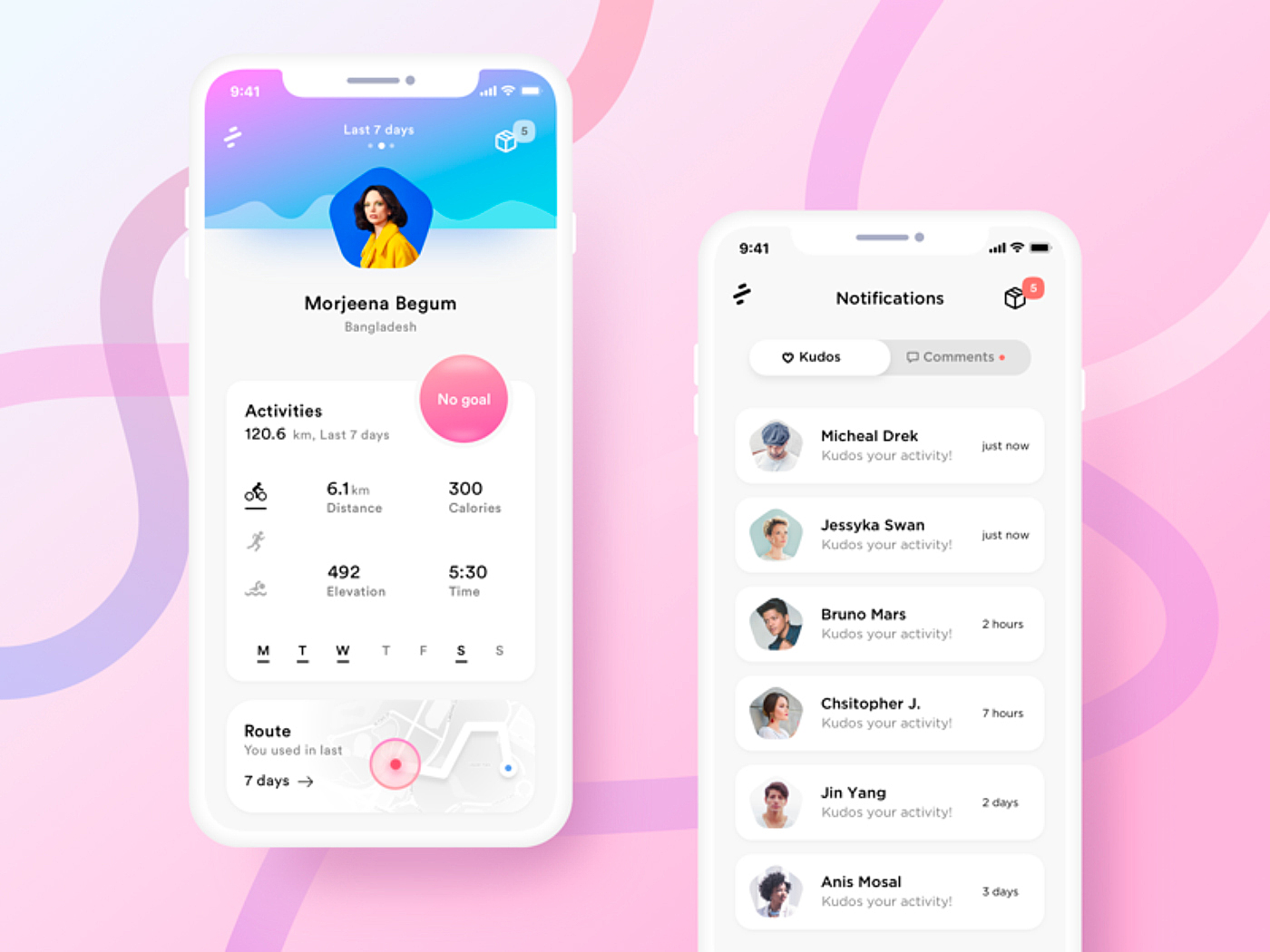 Source: Dribbble
Doctor's profile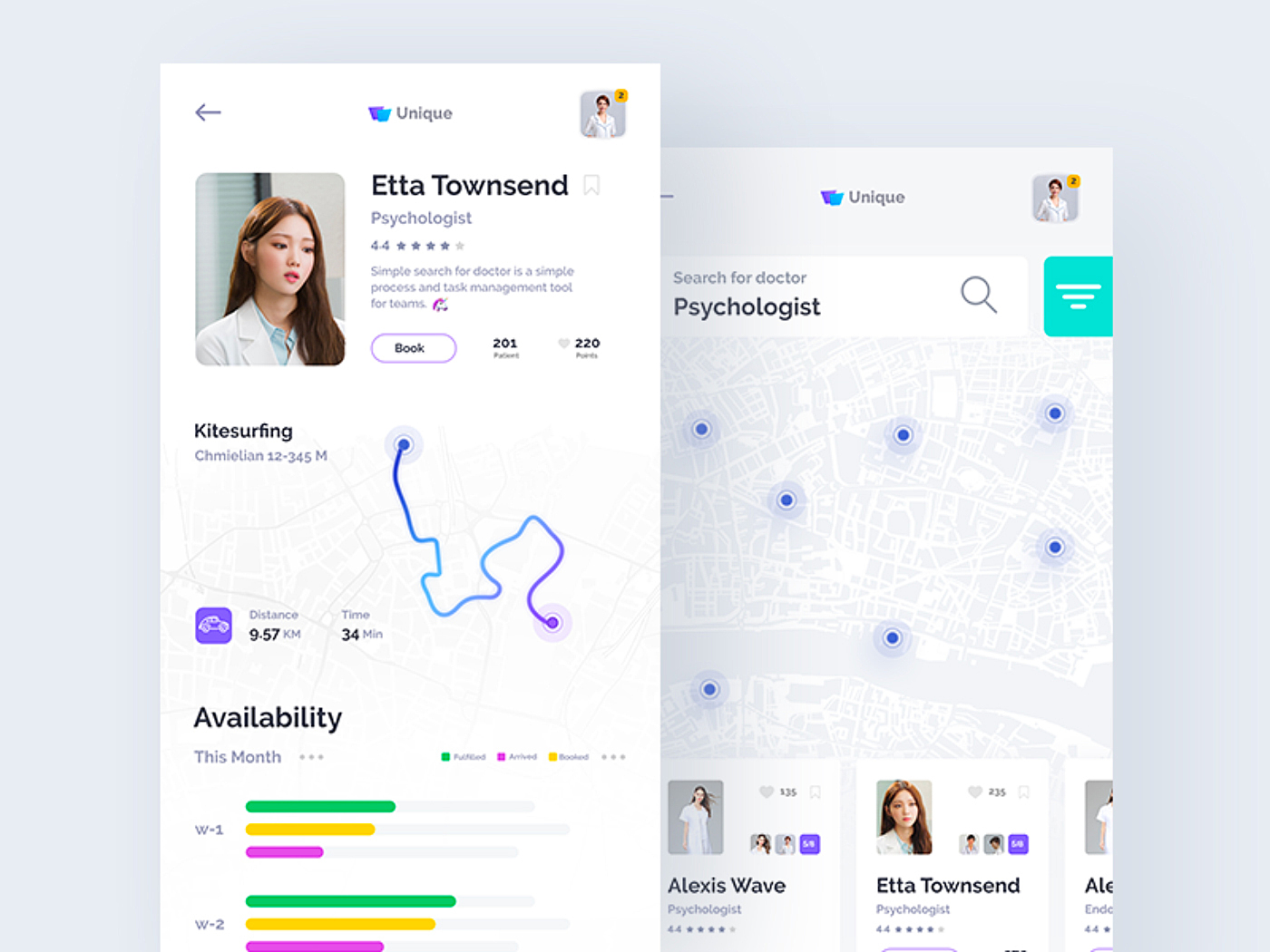 Source: Dribbble
Patient's profile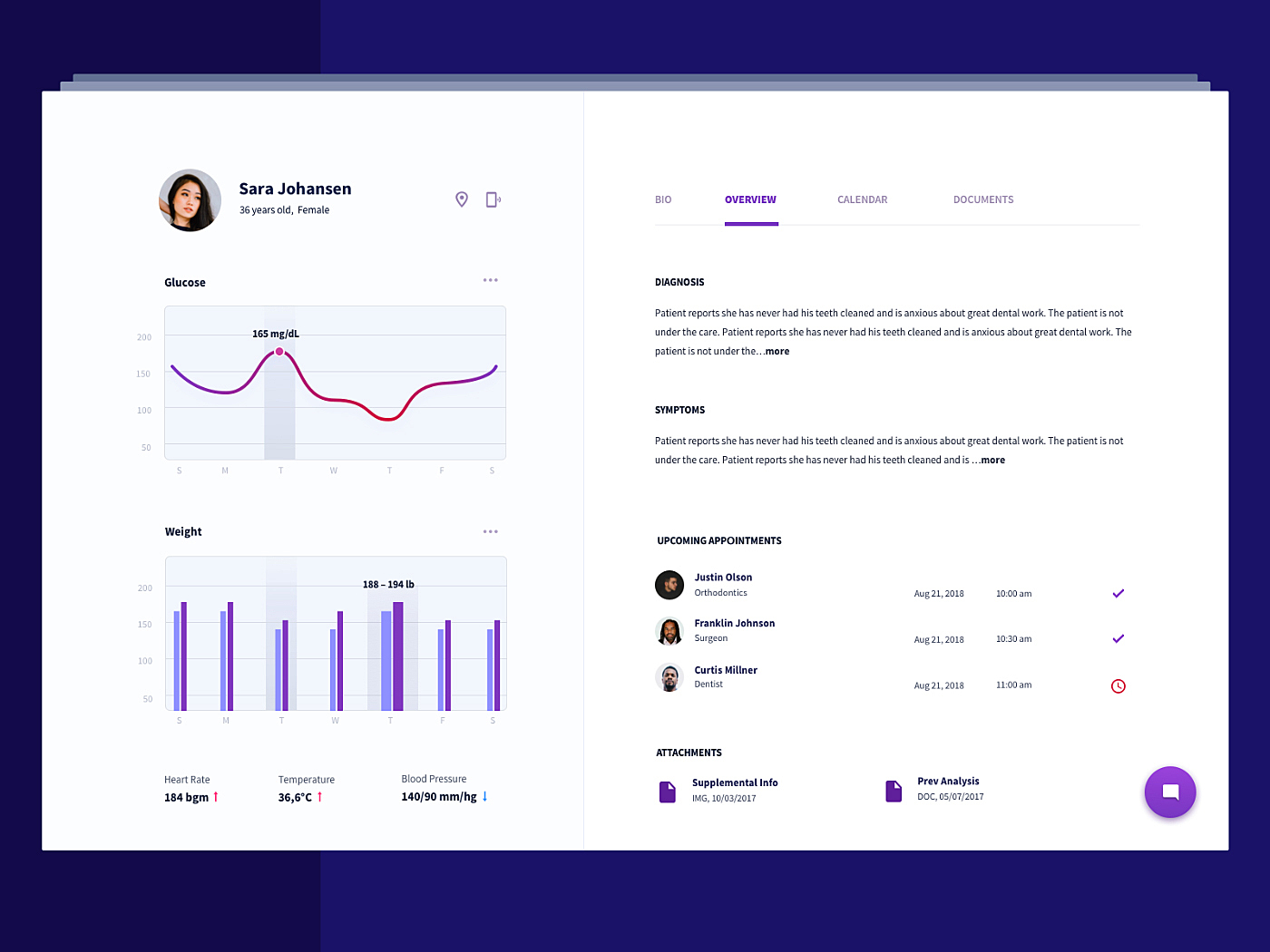 Source: Dribbble
Job dashboard profile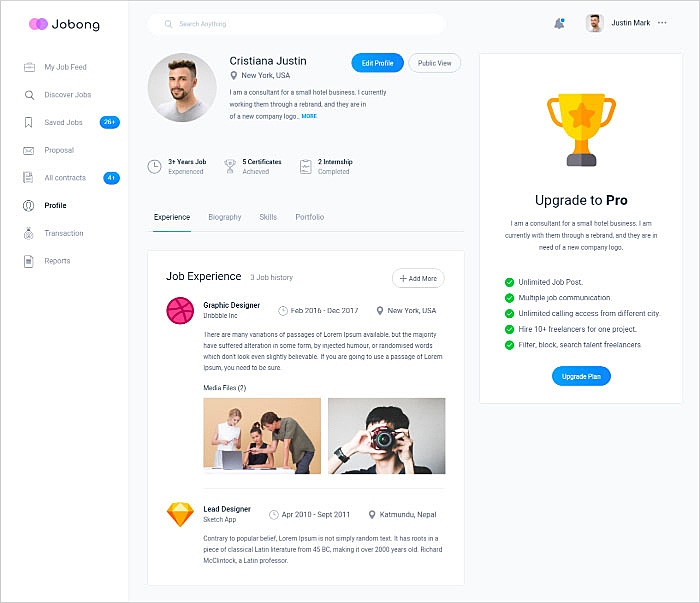 Source: Dribbble
Payment portal user profile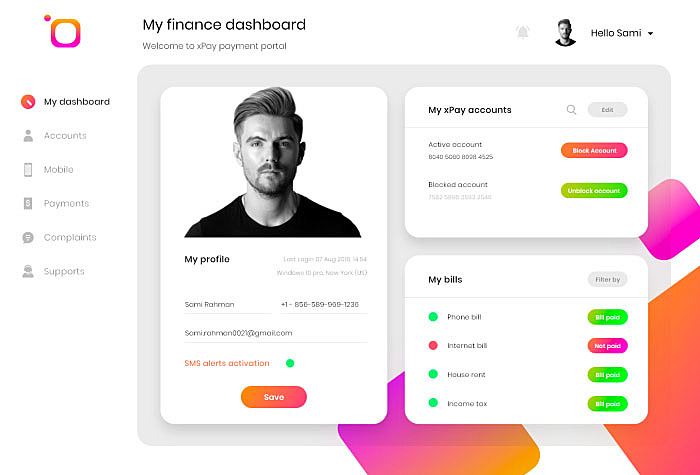 Source: Dribbble
Clinic app user profile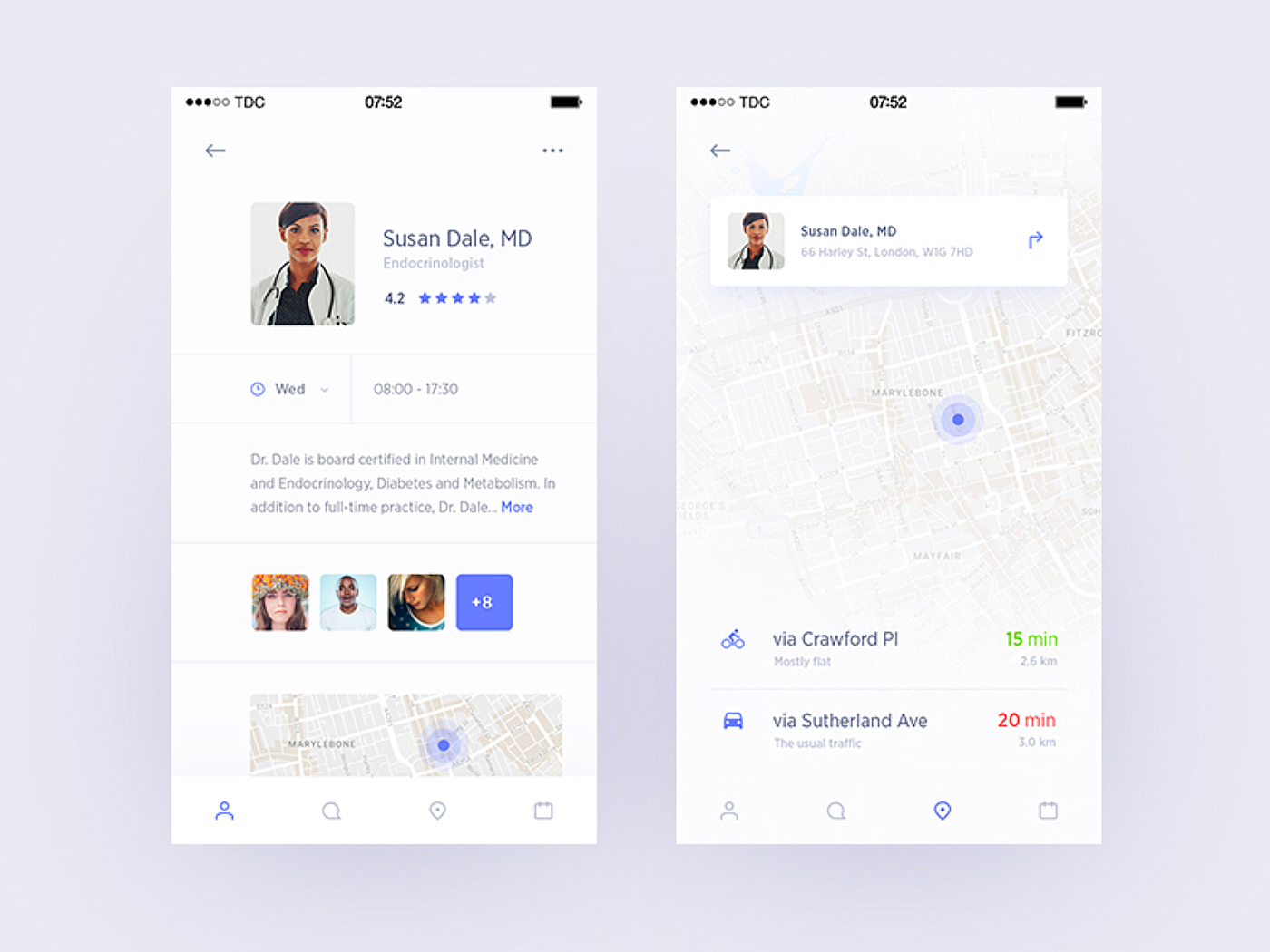 Source: Dribbble
Employee profile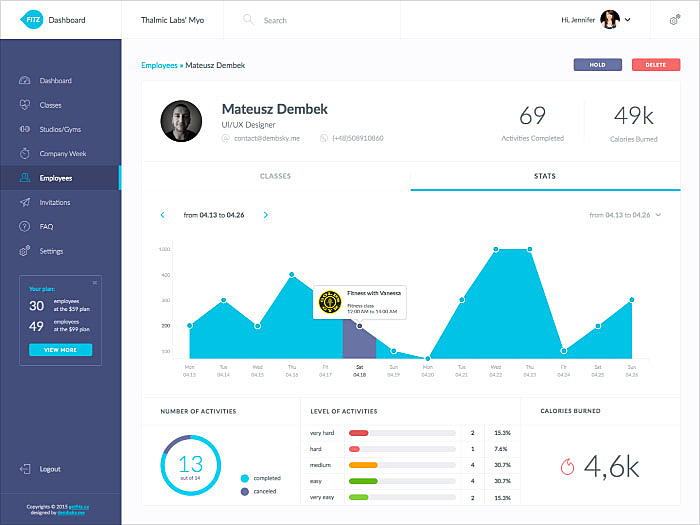 Source: Dribbble
Fintech app user profile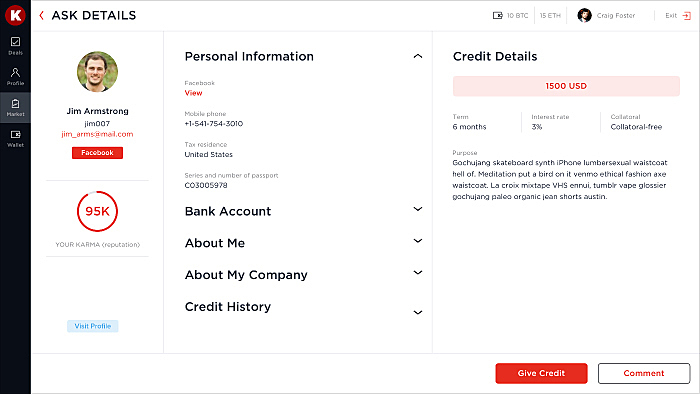 Source: Karma
Summing Up
User profiles can serve as a continuous source of valuable customer data, greatly benefiting marketing efforts. A thoughtfully designed profile page enhances overall usability and user satisfaction. In this article, the getsocialguide.com team has highlighted crucial aspects of user profile page design. If you have any inquiries or require assistance with your design, please don't hesitate to reach out to us via live chat.