14

min read
What font is this? How to Identify a Font? 2022
Continue reading to find out how to choose the best font for your website and how to quickly and simply recognise fonts online using the best tools. Continue reading to find out how to choose the best font for your website and how to quickly and simply recognise fonts online using the best tools.
Typography is one of the most important aspects of any work of art or design, as we have repeatedly mentioned. A visual expression of your design can be expressed through typography, a sort of art.
It has also become clear that typography is the ideal catalyst to enliven your design and elevate it with just a few tweaks as we approach a new wave trend in web design. By selecting the appropriate typography, you can evoke a certain mood, Create a specific mood or remind people of your brand. Your style and the message you want to get over to your audience will determine everything.
You can switch between some of the most gorgeous serif and sans serif fonts to convey your message, depending on whether you want your design to have a more traditional and elegant aesthetic or perhaps you are trying for a more contemporary style. Without deviating too much from our main subject, we will expose you to the top internet resources for quickly and easily identifying any type of font in this post. How many times have you come across a gorgeous font yet been unable to identify it? I am aware that I have encountered many similar impasses. It always makes me wonder what typeface this is.
How do I locate it? All of these questions have answers, and more. With the use of these font identification tools, the mystery of what font this is will no longer leave you hanging. Without further ado, let's begin listing all the top font discovery tools that will enable you to quickly identify typefaces. There are several options on the list; you can use browser add-ons, online font finders, or even just your photographic memory to attempt to identify a typeface. The list also includes tools that assist you in distinguishing between the typefaces used on a website and the list of related fonts they produce.
We'll start the list with a Google Chrome extension called Fontanello, which is a favourite of designers and a fairly common way to find any kind of font on the internet. You can utilise this free application to locate any type of font that is employed online. Install the extension, then bookmark it for simple navigation. You may choose the text, right-click with your mouse, and choose Fontalleo whenever you are browsing the internet and come across a stunning piece of web design that uses a lovely font. The sort of font that particular website is employing will be instantly detected and displayed to you.
This is the quickest and most efficient way to locate a typeface without creating a fuss. Other helpful features, such as the font's weight, size, colour, letter-spacing, and other specifics, can be found underneath the font type. The biggest feature of this application is that it gives you instant access to finding any typeface in a couple of seconds.
Another fantastic font finding tool is WhatTheFont, which allows you to identify typefaces by just uploading a photo of the text or display you're having trouble identifying. WhatTheFont is a tool provided by the MyFonts website, a fantastic online resource for downloading high-quality fonts for any project. How is WhatTheFont put to use? It's easy. Make a screenshot or a photo of the typeface you want to identify, then upload it. The font identifier tool will then advise you to pick out the text you need to recognise. The typefaces that are most similar to the one you submitted will be listed after the programme has processed and calculated the image.
The typeface name and a button that directs you to the download/purchase page are both provided next to the typeface, which is important information. Finding the source to download or buy the typeface you've identified will be much easier and quicker as a result.
The typeface you're seeking for can be found using this next font identifier, a great web resource. To assist you in determining what typeface a website is using, it employs a straightforward algorithm that scans and recognises the specifics of the font you provide and generates the most similar alternatives. WhatFontIs is a free programme that also has two premium packages with additional capabilities including custom text preview, Google font search alternatives for pricey fonts, and more.
WhatFontIs suggests a straightforward search process. To get better results, upload an image of the text that contains the typeface you're looking for first. Make sure the image is of excellent quality. After analysing your image, the tool returns links to pages where you may download or buy the font along with over 60 comparable typefaces. WhatFontIs has more than 700.000 typefaces, both paid and unpaid, in addition to a sophisticated AI system that can recognise the font in a picture.
Another cutting-edge font identification browser plugin is WhatFont, which enables you to determine what typeface is being used by a website, a logo, or any text online. Finding the precise font you're looking for is easy and simple with the WhatFont browser addon. Simply click the WhatFont icon on the extension bar on your browser and then hover over the text you want to identify the font to whenever you see a beautiful font being used somewhere on a website, logo, or piece of text. It will display the precise typeface that a website is using.
Simply click on the text to reveal a display popup with all the font family, style, weight, size, colour, and other information about the text that you want to know. WhatFont is a Chrome plugin that deftly analyses the typeface that a website is using and instantly displays it to you.
Another wonderful and useful online font finding tool that is both free and simple to use is Font Matcherator. A powerful font detecting tool is provided by Font Matcherator, which also has a number of amazing features. A selection of related typefaces will be displayed to you in a matter of seconds once you create an account and submit an image containing the typeface you wish to identify's text.
Like the most of these solutions, FontMatcherator requires you to provide a high-quality photograph of text in order to begin recognising your font. The image will then need to be resized, and you'll be asked to remove all but the text to reveal the font it's using. With the picture editor they offer, you can accomplish that. When you choose to match it, a list of the most comparable typefaces is shown along with relevant metadata.
The second item on the list is TypeSample, a straightforward and useful font identifying tool that operates as both a bookmarklet and an extension for Google Chrome. This application provides a clear and simple process for identifying the typeface used in any online text. Place TypeSample on your bookmarks bar; it only takes a few simple drags to get it there and you may use it right away. Reload the page and start noting fonts you see. Simply click the bookmarklet to activate the tool, then move your mouse over the text to see the desired font. The font family and size will be displayed.
The ability to see how the font you chose appears in your text is another fantastic feature of this application. To open the example window by clicking the text, enter your content there. Additionally, you can use the Fonts in Use webpage's redirect link to Google search to look up the font you've chosen.
One of the largest libraries where you can get gorgeous free fonts that are distributed under the Open Font License, allowing you to use the typefaces for both personal and commercial purposes, is FontSquirrel. The Font Identifier is a fantastic tool for searching and locating the ideal font that Font Squirrel also offers in addition to being a fantastic font repository. The process for using the Font Squirrel font identification is the same as with the other web resources we've discussed. Upload a crystal-clear, high-resolution image, crop it to only show the type you want to recognise, and then click to continue matching your font.
The font identifier will offer you with a list of the closest-matching fonts from their storehouse in just a few seconds. The list will contain both free and paid variations that are comparable to the file you supplied. To be sent to the download or purchase page for each typeface, click on it.
Another wonderful bookmarklet addon that makes it easier to find a font on any website is called Fount. Anywhere online, you will be able to recognise fonts with ease and practicality. Drag the Font button into your bookmarks to begin your search for the ideal font to use on your upcoming project. Simply click on this bookmarklet from your bookmarks once you've added it to begin identifying fonts. Any website's text can be clicked on to reveal the font that is being used, and Fount will provide you with the information right immediately.
Click the bookmarklet again from your bookmarks to turn off Fount, then carry on with your work as normal. Numerous browsers, including Safari, Chrome, and Firefox, are compatible with Fount. Following the results from Fount, you can use the My Fonts website to look for the font or other types that are similar.
The font identifying tool we have so far shown in this post, Identifont, is different. Instead than requiring you to upload photos, Identifont will read your text and will prompt you with questions to identify the font you're looking for. When you don't have any visual information, Identifont is the ideal tool for font discovery. You can use this tool to find a typeface based on some significant and essential criteria. To start, you can tell if a typeface is serif or sans serif based on its appearance. Next, you can search for a font using its whole name or a portion of it.
With Identifont, you can search for fonts that seem similar to the one you wish to locate in order to identify it. Identifont will also assist you in finding a specific font if you have an image or symbol that uses the one you're trying to find. Finally, you can tell who designed or published a typeface by their name. Knowing the tidbits of information about the typeface you're looking for can help you find it and provide the most relevant results for your query, according to Identifont. Additionally, you can click on it to learn more about the font and other pertinent details.
How to Identify a Font – 6 Best Online Tools For Font Identification xxxxxxxxx
Typography is much more than just a means of communication. Fonts have a very utilitarian purpose, but they also provide your content aesthetic value and have a big impact on how people view your brand.
Given the wide variety of typefaces on the market, choose the ideal font for your company may prove to be a little difficult. You can unintentionally encounter the font when browsing a website or scrolling through a Pinterest mood board when you're looking for the one that best complements the visual identity of your brand. How can you find out what typeface that is, while it might be exactly what you've been looking for?
The Internet comes to the rescue yet again. To find the font you liked, you don't have to navigate through a collection of them. Instead, you can use websites and browser add-ons to do the task. We've compiled the finest of them in no particular order, and we'll demonstrate how to use each of them to recognise a typeface from an image or on a website:
WhatFontIs
One of the most well-known web resources for finding fonts is WhatFontIs . Although it is free, you must first register in order to use it.
There are also two premium plans available, and they come with a few more features like Custom Text Preview and Google Fonts Search that recommend cost-free fonts you can use instead of paying for them. The higher plans also don't have ads.
More than 600,000 fonts, both paid and unpaid, are listed in the WhatFontIs collection, which also features a sophisticated AI engine that quickly recognises fonts.
You only need to submit a clear image with the text in that typeface or paste the image URL in the appropriate section to find out the name of the font you liked. This website is able to locate the typeface in an amazing 90% of situations. Poor image quality is frequently at blame if your search yields no results.
The free edition of WhatFontIs lets you choose between 4 and 10 characters that are written in the font you're looking for after attaching a picture.
This website tries to automatically separate the letters when necessary, which is quite neat. You'll need to separate them on your own if you're trying to figure out what a cursive font is, and you can do so by using the picture editor in WhatFontIs.
When the cropping is complete, a list of fonts that are similar to the one in your uploaded image will appear. The site where you may buy the selected typeface will be redirected to you when you click the Download button. Because it saves you the hassle of having to search websites for downloading fonts in search of that particular typeface, this feature is really helpful.
Fonts Ninja
A free Google Chrome addon called Fonts Ninja offers a variety of really cool possibilities. It is useful for finding fonts on any website and includes more than 3000 well-known typefaces, which you can see in any design software before purchasing. With this plugin, you may integrate Adobe Photoshop, Sketch, InDesign, and Figma.
When you've found a font you like on a website, go there and click on the Fonts Ninja symbol in the top right corner of the screen after enabling Fonts Ninja in your browser. The plugin will then start up and list every typeface on the page you're viewing.
You can test the discovered fonts on your PC using Fonts Ninja as well.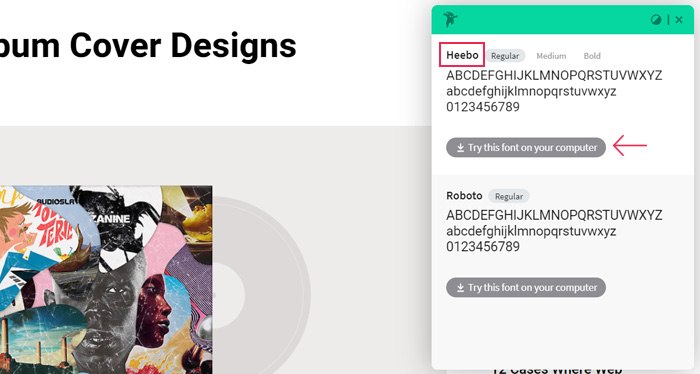 Simply pick the font you've chosen next to see how your content will seem if you use it on your website. You can change the font's size, weight, and letter-to-letter spacing. Install the Fonts Ninja software, which costs $5 per month, if you want to have any of the discovered fonts automatically downloaded.
Qode WordPress Themes: Top Picks
Creative Multi-Purpose WordPress Theme
A Genuinely Multi-Concept Theme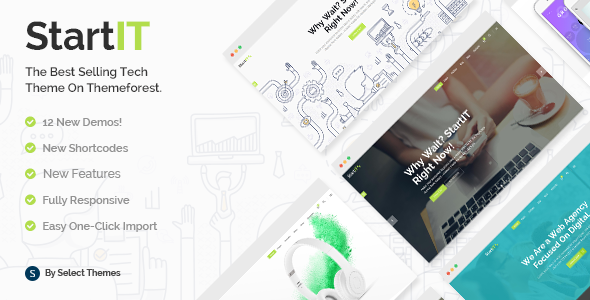 Fresh Startup Business Theme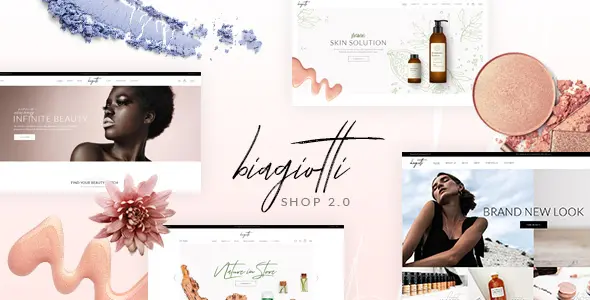 Beauty and Cosmetics Shop
Identifont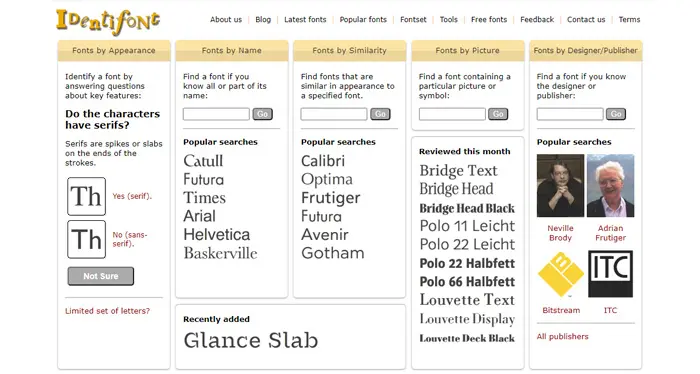 Because it asks you questions about the typeface you're looking for to help you locate it, Identifont differs from the majority of other font websites and tools. Because of this, Identifont is an excellent choice if you don't have a picture of the enigmatic font.
There are a number of well-liked suggestions included beneath each search category that should make your search easier. You'll see all the fonts that most closely match your search criteria as you enter it. When you click on a typeface to learn more about it, Identifont will show you the typeface's publisher and designer's names, the year the typeface was produced, and a link to the store where you can buy it.
FontSquirrel Font Identifier
A fantastic website for downloading fonts, FontSquirrel also comes with a useful tool called Font Identifier alias Matcherator.
Then, highlight the text you want to match, add the image URL or a picture containing the font you want to identify, and then matcherate it..
Then, along with a link to the website where you can download the typeface, you'll see all the typefaces that matched your photo.
All of these tools have been tried and tested by us, resulting in this collection. In the absence of a visual interpretation, you can use other tools like Identifont, which identifies typefaces by asking you a series of questions and providing a textual description, to get the best results.
Conclusion – How to Identify a font
In this article, we covered the many approaches to finding a typeface. Finding typeface is necessary for a variety of reasons. You might enjoy the way it looks or be planning to utilise it on your website.
We really hope that you found this information to be useful. Please feel free to ask any questions you may have about it in the comments. If you could share this article on social media, that would be greatly appreciated. You can also follow us on Twitter and Facebook.