31

min read
How To Make a Udemy Course – Beginner's Step by Step Guide
What is Udemy?
Udemy is one of the biggest online markets for e-learning, bringing together students and teachers for distance learning:
183,00 online courses
Starting at $12.99, online courses
40 million students, 64,000+ teachers
Courses in a number of topics, including game creation, affiliate marketing, and piano lessons, are available for students to choose from. Imagine learning access to a high-paying talent on a website like Udemy and using that expertise to launch a successful profession or business.
One of the top websites for online learning is Udemy. You've come to the correct spot if you're looking for information on creating an online course for Udemy.
Online education gives instructors the chance to establish a name for themselves and the students they educate. A course is also among the top passive income options.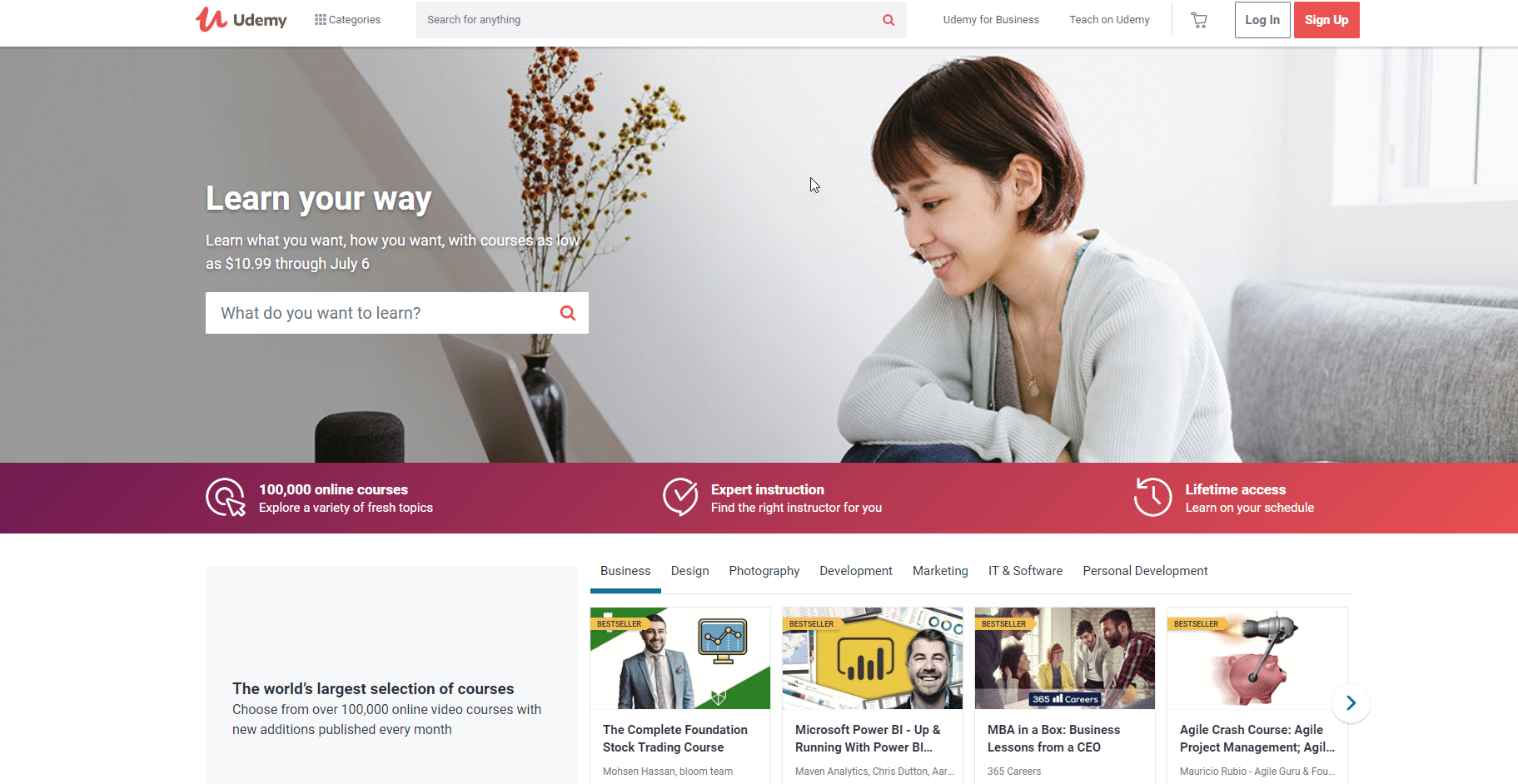 Here's the 8-step process for building a Udemy course.
Pick a topic
Outline your course
Film your course
Course editing
Upload your videos to Udemy
Build your landing page
Submit for approval
Promote your course
How to make a Udemy course – Easy Step by Step Guide 2022
Step 1: Pick a topic
You'll begin the process by planning your courses first. That begins with deciding on a subject to teach. Spend some time choosing the ideal subject to teach about on Udemy.
You should think about the market and the competitors.
Demand enters the picture since you want to offer a course that students are interested in. If there is no demand, even if you create the ideal course for your audience and course topic, it will be tough to sell. The next factor to think about is competition. It's a smart idea to choose a low-competition topic to teach online since you'll be up against Udemy's 60,000+ teachers. Demand and competition, both of which exist, can help you narrow down your choice of potential course topics before selecting the ideal one to offer on Udemy.
Consider your audience
Not everyone will be a good fit for your course. You'll be speaking to a primary target audience. You must identify your target audience before selecting your course content. Choose the appropriate audience by:
Considering goals and passions
Think about the target audience for the content.
Tell us what issue you're trying to solve.
Once your target audience has been determined, be sure to keep them at the forefront of your mind while you create the course.
Step 2: Outline your course
Creating an outline for your course will help students learn and understand the material more quickly. This phase, which concerns the organisation and flow of your course, shouldn't be missed.
You may get started by downloading the Udemy course outline template, which will enable you to create a course that is well-structured.
In order to establish an excellent, interesting course, you'll work to develop your course introduction, arrange your lectures, and set up the curriculum.
Read more about outlining your Udemy course.
Step 3: Film your course
It's time to start filming now! To present the course material, you will have to appear in front of the camera. Think about the following:
High-quality equipment
Good lighting
Excellent sound quality
This page provides information about recording to help you film the finest course videos possible. Film your first video after putting everything in place.
You may upload your test video to Udemy when you've finished recording it for free feedback. You will receive honest comments on the audio, video, and delivery of your video.
After that, you can finish filming the remainder of your video and begin editing.
Step 4: Course editing
When you edit your videos, you go through all of your video content, give them a final polish, and get them ready for public viewing on Udemy. The following advice can help you adjust your course:
Correct any errors
Eliminate filler words like "ums" from your speech.
Visuals can increase engagement.
B-roll and transitions can help your course flow.
Here are some examples of video editing software you can check out:
Step 5: Upload your videos to Udemy
One of the last stages before your course is released online is uploading your videos to Udemy.
Your course will be reviewed by Udemy for approval before being published.
The audio quality of teachers' video courses is one of the most frequent problems:
When filming, minimise background noise.
Prevent echos
Low pitch
Unheard sound
Read this page to learn how to resolve these issues.
Step 6: Build your landing page
Your landing page is what will entice your visitors to check out the rest of your course and ultimately persuade them to pay for enrollment. Be sure to keep your target demographic in mind while you are developing your landing page so that you can imagine the experience from their point of view when they arrive at your website.
What determines if students enroll in your course?
Typical elements that influence decision-making include:
A key consideration is price. A price that is too cheap might be interpreted as being of little value. A price that is excessively high is costly and may be unaffordable for students. There is a sweet spot, and you must identify it.
Content comes next. To decide if it's what they're searching for, your visitor will evaluate your course materials and the content from the landing page.
Make sure the content is strong and prominent on your landing page because it will be your main source of information as you create your course. Lastly, social proof plays a function in student enrolment. Have you ever browsed Amazon and seen the identical item being offered by two different sellers? What influences your decision to buy from one vendor over the competition? It's frequently social proof. You have a look at how many reviews each merchant has received. You'll be pointed toward a seller to make your purchase more frequently the more good ratings a product has.
That is social evidence, and it can be found on Udemy as well as other websites. When deciding whether or not to purchase your course, students will take this into account.
Step 7: Submit for approval
When you have finished developing your course, you will send it in to Udemy so that it may be evaluated and perhaps accepted. It will then be evaluated for its overall quality by Udemy's staff. It will be evaluated using the course quality checklist that is provided by Udemy. You will have the opportunity to make any necessary changes to your course and re-submit it for evaluation in the event that it is not accepted. This process will continue until your course is accepted. After that, you'll be able to post your course live on Udemy.
Step 8: Promote your course
The process's last phase is marketing and promotion. Your sales outcomes can be enhanced by using marketing techniques. There are several ways to advertise your course:
Send out a message to your email list and social media.
On your website, provide a "Buy Now" button.
Make a fantastic guest post.
Participate in podcasts to advertise your course.
The goal is to raise awareness of your course, direct traffic to your landing page, and then hopefully convert that traffic into paying customers. Find out more about marketing your course.
How to Create a Successful Udemy Course — Things I Wish I Knew Before!
What I discovered while teaching on Udemy. How to make a successful Udemy course: Guidelines and Tips.
Photo by Nick Morrison on Unsplash
A marketplace for online learning, Udemy offers courses on practically every subject you can imagine, including technology, hobbies, self-improvement, and more.
For instructors and content producers, Udemy is a free platform — a great platform — to offer their knowledge on their preferred topics as courses and earn money.
Making a course needs preparation, focus, and work!
A well-made and polished offering is necessary to stand out from the competition and to be successful when there are so many instructors and courses vying for students' attention.
The essay is based on my experience as an Udemy instructor and the numerous lessons I learned to become more successful and productive.
The remainder of the post will discuss some advice or rules that aspiring designers should be aware of when producing a course. It will assist you in ensuring that your work is fruitful.
Planning stage:
1. Course Topic
You must be an authority in your subject if you've chosen to design a course for others to take. However, doing some research on the topic's demand and already-offered courses pays off well before you act.
It is beneficial to discuss the following factors while choosing a topic and creating your course.
Be the only option, and attempt to fill any gaps in the market.
If there are other courses available, set your course apart by providing something unique.
Include practical exercises or fascinating side projects
If applicable, align your education with an industry qualification or position; courses based on certification are in high demand.
2. Create a written script/storyline
There are several benefits to spending the time to draught a screenplay.
Between 15 and 20 minutes must be spent editing and polishing each minute of video that is generated. The time invested in the writing saves time during editing.
A script is a certain approach to raise the calibre of the entire course.
Knowing what you're going to say in advance allows you to concentrate on your voice and delivery.
helps you 90% lessen the need of fillers.
Courses may be recorded considerably more quickly.
Editing time is drastically cut down.
It is simple to translate scripts into subtitles.
improves the course's structure in some way.
3. Sections and Lectures
A good course should have a clear structure and a smooth flow.
Each portion is simpler to follow and aids in continuance when it is organised rationally.
Courses are not finished all at once.
Divide the material into lectures and smaller pieces. It gives the impression that the course is more organised and enables it to be more easily understood and completed over several sessions.
Resist the temptation to overdo it!
Keep lectures brief, ideally 5-7 minutes, or 10 minutes maximum if there are lengthy demonstrations.
4. Course Length
We have often heard "quality is more essential than quantity". Don't worry—I am not attempting to refute this assertion in any way!
My own experience and research shows, users perceive longer course length as better value.
This does not, however, change the reality that quality matters.
When offered the option between two courses with comparable ratings, students are more likely to select the lengthier course.
5. Own their attention
For many people, learning is a challenging process since they don't always take the initiative or have the time.
It is nothing short of a crime to bore someone with pointless introductory material when they finally find the time and decide to enrol in a course.
Less than 20% of students finish the course, and most drop out completely. You have between 20 and 30 minutes to capture their interest and gain their trust.
In order to capture their attention and keep them engaged, the course should be structured to provide its most value in the first 30 minutes.
6. Practice makes perfect
The majority of us are inclined to immediately start filming videos. Does anyone object?
Avoid the urge to produce videos without first doing some preparation and practise. Spend some time writing a script, then practise delivering it!
Writing a screenplay and honing your speech will take 10 times as long as editing videos.
The videos will sound better and be better organised and produced.
7. Demos and Engagement
When there are demonstrations and hands-on learning opportunities, students learn better and are more engaged.
Nothing beats hands-on learning!
Include laboratories, hands-on, or demos wherever feasible, students dislike it when it's just Powerpoints or lectures.
Give students modest, doable assignments so they may feel confident and accomplished when they finish them!
Editing and Tools:
Photo by Jakob Owens on Unsplash
8. Use good audio-video equipment
If you have the money, spend it on high-quality audio and video gear.
Audio quality is a must-have!
You should speak and pronounce as clearly as you can. A decent audio equipment helps ensuring your message is recorded with all its crispiness.
It aids in background noise, pop noises, etc. filtering.
Keep in mind that since most students listen to courses using headphones, distracting sounds and choppy audio might cause headaches in them.
here are some suggestions from Udemy regarding audio gear.
Poor audio instantly puts off the students and they might never return.
Regardless of the course's worth, poor audio not only turns away students but also gets unfavourable evaluations.
Additionally crucial and contributing to a livelier environment are good video and lighting. You only need to compare a few YouTube videos to see the evidence!
To sum up:
If you can't afford to purchase more expensive ones, use a good condenser mic.
Apply a pop filter.
Record in a strangely silent space; the microphone will capture more than you might expect!
Utilize audio editing tools to remove any remaining sounds.
If you're planning to record oneself, choose strong lighting.
If you're recording the screen, choose 1080p resolution.
Verify that the text on the screen can be read by zooming in as necessary.
9. Audio recording and enhancing
I can't stress sufficient how necessary audio high quality is. Listed here are some tricks to get a better-sounding course.
Tempo — Attempt to preserve a uniform tempo
Quantity Ranges — Preserve the identical quantity degree in all of your movies. Various quantity ranges are annoying!
Audacity — Use software program like Audacity to take away noise, clicks, and enhancing the audio.
I intend to jot down an in depth article on this subject quickly.
10. Video Recording and Modifying
Use respectable video enhancing software program to document your movies or display seize.
Fashionable ones embody:
Corel VideoStudio
Camtasia
Cyberlink Energy Director
There's additionally a bunch of free software program with various levels of learning-curve.
I intend to jot down an in depth article on video enhancing software program quickly.
Polishing the offering:
Photo by Dan Burton on Unsplash
11. Landing page and course description – to contiine
Spend some effort in creating an informative and compelling landing page.
This is what most students read before deciding to take your course or not, so invest time and make it right.
Include a good course overview, description, etc.
Why is the course subject important, what value does it add?
Why should students go through 'your' course, benefits?
What are you planning to cover in the course?
Your credentials on the topic
Your teaching style and credentials if applicable.
Highlight labs, demos or value adds.
List of important topics, sections.
State requirements and pre-requisites if any.
12. Captions / Subtitles
Subtitles are a great feature to help students understand you better. It doesn't matter if your English is great — your students are spread throughout the world — your accent might be thought of as great in the USA, but can be difficult to comprehend for students from other countries.
It is recommended to have Captions enabled, but don't blindly rely on the auto-captioning feature.
If for some reason, you don't have the time to create captions, evaluate if the auto-captions are useful at all.
During my research, I have seen many cases of negative reviews just because of poor captioning!
Especially for technical content, the auto-captioning doesn't work very well.
Sometimes, it is better to disable captions altogether — if you are not a native speaker or if the auto-generated caps are not accurate.
I would recommend investing time in creating subtitles based on my experience and research. Having a written script helps speed up this process.
13. Course Image
When you publish a course, you have an option to create a course image.
A course image can help in establishing a brand and make the course more eye-catchy.
Based on Udemy's own research…
"A good course image is critical to a course's success. It should grab the attention of the viewer and help them understand the essence of what the course has to offer. Following these simple guidelines will ensure that your course image is effective and impactful." — Udemy
Read the standards for a course image here.
Learn how to upload a course image here.
Udemy used to provide a free course image design service, however, I can no longer find that link. If the option doesn't return any time soon, create your own course images or use one from free image sites like Unsplash.
Along with course-image, there is also scope for a course video/animation. Create a course introduction if possible using some slick animation. Such courses are usually perceived as high quality!
14. Getting your first audience
Just like a business requires seed capital to start, your course requires students to pick-up in the marketplace.
Existing student count and good ratings attract more students to enroll in your course.
Share on Social networking sites — Linkedin, Facebook, Twitter
Give away coupons for free — Share on coupon sites
Email coupons to your friends and family interested in the topic
Consider making your course free for a few weeks to attract students and gather good reviews. This pays-off later.
Creating courses for topics that are already crowded or has best-selling authors puts you at a disadvantage at least in the beginning.
Don't let best-selling authors or existing courses put you off, there are enough students out there looking for courses! As long as your course has quality content, it will find its way! Be patient, the course takes time to pick-up pace and sell.
Step-by-step Guide on How to Create a Udemy Course
Step 1: Choosing What your Udemy Course will be About
This may increasingly appear to be an apparent one to the common individual, however in line with Jack Pitman, a Udemy Course Creator, a variety of aspiring course creators need to create a course, however they haven't found out what they need to make a course on. Certainly, it goes past saying, "okay, I'll make a course on Python." In response to Louise Croft, it's a must to match your course thought with the extent of demand whereas listening to who you can be competing in opposition to within the Udemy market. You may decide this by utilizing Udemy's Marketplace Insights software.
Udemy Marketplace Insights
Listed here are some factors to be aware of:
You may proceed with a topic you're already a professional in. But when it's saturated, or doesn't have simply sufficient demand, you possibly can try different well-performing programs utilizing the Market Insights instrument. Decide one course that almost all pursuits you and get your analysis up and working. It's essential to at all times discover one factor you are able to do higher concerning the course you've chosen. That's basically what is going to set you aside.
When you've determined what to show, determine your target market, and map out targets you'd need them to attain via your course. This shall be essential if you begin creating your course touchdown web page.
Optimize your title utilizing key phrase analysis instruments. Key phrase analysis instruments mainly provide the most used search phrases and phrases in your class. For instance: Should you're educating Python, you will note search phrases like Python for Novices, Zero to Hero Python, Be taught Python, Python 101, and so forth. Key phrase analysis instruments assist all these phrases so you possibly can resolve how one can assemble your titles for higher visibility. Some free instruments you should use embrace Ubersuggest, Google Trends, Keywordtool.io, and so forth.
Step 2: Setting Up the Groundwork
This phase focuses on organising and charting your route. Making a very long course is not advised, to begin with. Generally speaking, four to six hours of information are ideal. For ease of consumption, you would also need to divide your course into portions, including an introduction and a conclusion. There should be several sub-topics in each section as well.
Each of your films should last between two and ten minutes. However, feel free to lengthen them for more useful videos. Just make an effort to keep it brief and nice. Make sure you briefly explain the goals of each part as well as the descriptions of each lesson. Your course will have a rich, detailed quality as a result.
It's a good idea to script your material, but if you're more seasoned and enjoy speaking spontaneously, you could only want to write bullet points for each topic to ensure that you don't forget any crucial information.
Determine the visual presentation of your content: talk show host? Slides? Screencast? Your choice. Additionally, you may combine these forms to add some diversity.
awesome things To keep your students interested and give your course a hands-on feel, you should provide a tonne of resource materials, PDFs, quizzes, exercises, projects, etc. Consider what will be the course's "giveaway" material—a few mementos that the students will retain when the course is done.
You shouldn't put too much pressure on yourself right now to create a complete course sales page. You don't have to finish the sales page; feel free to simply scribble down any things you might have forgotten to include. Put extra effort towards staying on course. You may use the information to create your sales page once you've decided how much value you include in your course. Later, we'll cover sales pages in greater detail.
Here's a template to help you create your Udemy course outline, courtesy of Udemy!
Step 3: Filming your Course
The dirty job starts right here. You'll see why it's necessary for you to spend a lot of time shooting your lecture by the time you start developing your Udemy course. Do not hurry! When the video and audio quality is subpar, Udemy frequently rejects courses. You must first decide whether you'll be filming yourself, your screen, or both. The course you're teaching will determine how this works. However, you will be expected to demonstrate more of what is happening on your screen in more practical courses.
Pay close attention to the sound quality. Purchase a quality microphone. Film in a peaceful area, but avoid recording in an echo-filled room. In actuality, David Power, an instructor on Udemy, tapes in his car!
You shouldn't take your illumination for granted either. You may either use good lighting equipment or shoot in the bright sunlight. Just make sure your face is visible and there aren't too many shadows.
If you have an iPhone, you can use its camera to record excellent films. But it would be nice if you could spend money on a good camera. Udemy generally likes videos with a resolution of at least 720p HD. Be sure you have a tripod or any other temporary equipment that will help with steadiness.
You may use screencasting applications like Camtasia, OBS Studio, etc. to record your screen.
Try your best to keep the recording 10/10, but if you become sidetracked, sneeze, curse, or your kitty runs into the scene, do not stop it. Simply keep moving. To cross the finish line is the goal. All the undesirable bits will be eliminated by the time you're finished editing.
You do not want to have a world-class studio and filming gear to begin off. Listed below are some jaw-dropping hacks from Udemy course creators. You'll be shocked by what they did. Right here's additionally a free checklist of items you might must movie your Udemy programs. When you're undecided concerning the high quality of your video, you may at all times ship a test video to Udemy, and a group provides you with suggestions in a few days.
Step 4: Polishing your Course
Post-production is what experts refer to as in this context. You now have the opportunity to edit your films, removing any instances in which you sneezed, cursed, or mispronounced phrases. Additionally, you may divide the lengthy movie into chapters and brief lectures, insert subtitles to emphasise important points, experiment with colour effects, obfuscate private information, add transitions, apply noise reduction, and many other things. In essence, you convert your video from its unprocessed state to one that is! Many video editing programmes are capable of achieving this.
Indeed, Windows Movie Maker was used by a number of Udemy course designers, but since Microsoft deleted it, new options have come to light. Our user-friendly, magical video editor, Animotica, comes highly recommended if you have a Windows 10 computer. You can edit your films like a pro using Animotica even if you lack all the intricate, in-depth expertise in video editing! Get a free trial here.
When you use a Linux system, Lightworks would possibly simply give you the results you want. When you use a Mac, iMovie is a well-liked software program for folks in your class. You may additionally discover some helpful stuff within the 107 Tools for Vlogging weblog.
Step 5: Uploading your videos to Udemy
You possibly can add your video as quickly as you edit every part, or you may simply use Udemy's highly effective bulk uploader to get all the things up at a go. Udemy's bulk uploader is comparatively simple to make use of. You simply should take some time to know the setting. To add your movies:
Go to Udemy and join a free account.
When you've signed up and logged in to your profile, click on on Train on Udemy.
On the following web page, choose Turn into an Teacher. Reply the questions that observe, clicking Proceed every time.
On the following web page, hit Create Your Course and fill out the following kinds accordingly, answering fundamental questions on your course.
Simply after you've added your title—which might be modified later—you'll be taken to a brand new web page the place you may add your movies. Be happy to leap proper to Create Your Content material.
Hit Curriculum to add part by part, or hit Udemy's Bulk Uploader to add your movies directly. You too can add useful resource supplies for every part right here.
Be happy to do this step now to see how the setting seems to be even with out having your course prepared. It can mean you can get familiarized with the system beforehand.
Step 6: Creating your Course Landing Page
Your touchdown web page is an important a part of your success on Udemy. It's because that is the place your potential college students get to resolve whether or not your course is value their money and time or not. Making your touchdown web page was designed to be simple. It principally contains:
Your Course Title: The title you've chosen in your course. Make it concise, particular, and life like. For instance, Full Python Coaching: Go from Beginner to Professional in Python. Right here's a guide from Udemy.
Your Subtitle: A quick overview of what your course is all about. Chances are you'll add a most of two associated key phrases, however don't drive it. Instance: Study Python like a Skilled! Begin from the fundamentals and go all the way in which to creating your individual functions and video games!
Course Description: Right here's the place you get extra detailed about your course. Inform your potential college students what your course is about, what stage of talent they have to be part of the course. Any bonuses? What kind of tasks did you embody? How lengthy is the course? What number of lectures are contained inside?It's also possible to record a few of the most fun subjects coated inside your lectures utilizing bullet factors. Additionally, make sure you record out the advantages every scholar will get from taking your course. Be at liberty to get inspiration out of your opponents' course touchdown web page, however don't plagiarize! You'll want to spotlight key factors you need your potential college students to note.
Course Picture: That is merely your course's thumbnail. It's the picture that can draw potential college students to clicking in your course. That mentioned, it must be actually engaging and 'clicky.' The great factor is, in case you don't know the best way to design a thumbnail, you may merely let Udemy try this for you by sending a request. If you're making your individual course picture, be sure to're not violating copyrights. Right here's a helpful guide from Udemy.
Preview Video: That is the place you give your potential college students an perception into what to anticipate out of your course. You may make a separate video for this goal, use your course intro video, or simply activate a free preview for any lecture you are feeling is attention-grabbing. Bear in mind to maintain your previews brief and candy—2 to four minutes.
Teacher Profile: Right here's your probability to promote your self. Inform your college students about your self and the way skilled you're. You may go just a little motivational by capturing recollections of you scuffling with the talent your educating and at last discovering what works! Embody some enjoyable information about your self, simply to point out you're not boring.
You may additionally hyperlink to your social media handles.
Step 7: Submit for Review
after doing all of these tasks. Check them thoroughly to make sure nothing is missing. Then click Submit for Review. When you submit your course, the Udemy staff will examine it and either approve it or suggest improvements.
Step 8: Promotion!
You will be exposed to the millions of interested students searching the Udemy marketplace after your course is approved. However, it would make sense to push your route as well if you wanted to gain an advantage.
Paid promotion
Some individuals even run expensive Facebook advertisements. You may use this for free traffic if you have an email list or a large YouTube audience.
Free promotion
Louise Croft suggests that another method for obtaining free traffic is to go to relevant Facebook groups and offer to provide the course without charge to a select set of individuals. Some people who are interested in you will offer you their email addresses. You can submit your course to a small group as soon as it is authorised.
It is crucial to make sure that just a select few individuals receive it for free and that this set of people agrees to truly complete the course, provide you with honest feedback, and post a review. Distribute your course to your friends and family and ask them for their honest feedback so you can make some modifications before going large. This is the most devoted network you already have. If you done a good job, you should acquire several five-star ratings. This will enhance your metrics and get you promoted by Udemy.
Pro Tips for Udemy Creators!
In the event you're a beginner to the world in fact creation, there are errors you're prone to make, this part helps you keep away from a few of them. Additionally, you'll get perception into a number of issues you are able to do to have a greater expertise. That stated, listed here are some suggestions from the professionals:
Udemy really acknowledges a number of file codecs—.mp4, .flv, .wmv, .mov, and many others.—however if you wish to have a hassle-free expertise on Udemy, use .mp4 movies.
In the event you're combining movies and slides, your slides must be in .pdf format.
Do NOT give out your programs at no cost. You are able to do so for a choose few within the opening levels of your programs, so long as you comply with them up to ensure they really full the course and depart you critiques. Aside from that, giving your programs at no cost will certainly end in huge sign-ups, however your engagement will likely be low as a result of lots of people similar to to pile up free programs. Worse, a few of them could depart unhealthy critiques after casually going by a few lectures and never understanding something. It will in the end sink your Analytics, turning your course right into a failure. You're higher off promoting it at a low value.
Don't abandon your course as soon as it will get launched. Maintain updating it to keep up relevance. That stated, hold your eyes on the large opponents.
If you wish to make as a lot cash as potential, don't depart all of the advertising and marketing to Udemy. Promote your course so you may get a greater income share. For instance, when you get college students to enroll in your course, you'll stand up to 97% of the income. Nevertheless, if a scholar indicators up in your course from Udemy market organically, you get 50% of the income. Right here's extra about Udemy's revenue-sharing model.
FAQ – How To Make a Udemy Course
1. How much does it cost to make a Udemy course?
A Udemy course may be created without cost. Udemy doesn't charge creators of courses any upfront fees. When your course sells, they get compensated on the backend. In such instance, a share of the sale will go to them. Your optional investment in the course development process might consist of:
Computer
Audio equipment
Software
2. How long does it take to make a Udemy course?
A Udemy course can be created in a variety of times. It depends on how much reading is required for the course and how much time you have to devote to the assignment. While some might be finished over the course of a weekend, some courses can take months to develop, shoot, edit, and publish.
Expect it to take longer if your course has a lot of material to cover.
3. Can you make a Udemy course?
You may create an Udemy course, of course. Anyone with the expertise to educate is welcome to create a course on Udemy. To become a teacher, you don't need a certain educational background, a certain level of expertise, or any other prerequisites.
Anyone is welcome to create a course. Additionally, there is a minimal entrance barrier for new teachers who want to teach on the Udemy platform because there are no upfront costs.
4. Who makes the most money on Udemy?
The Udemy instructors that earn the most money are…
offer a variety of courses
Think of their Udemy courses as a company
Promote their course company
Rob Percival, who has taught more than 120,000 students and has earned over $2.8 million on Udemy, is an example of a top Udemy instructor. Another illustration is Victor Bastos, who has taught over 50,000 pupils and earned over $900,000. here are some other top Udemy teacher salaries.
5. How Much Does it Cost to Create a Udemy Course?
It costs you NOTHING to create a course on Udemy. However, if you take into account the cost of equipment, the budget might vary. Here's a free checklist of items you may need to buy. Here's also a hack you can use to save costs.
The cost of creating a course on Udemy is NADA. The budget might change, though, if you factor for the price of the necessary equipment. Here is a free list of possible purchases you should make. You may also cut costs by using this technique.
Conclusions – How To Make a Udemy Course
You have an income possibility by creating an Udemy course, but it won't make you rich overnight. To create a top course that will draw students and bring in money, you'll need to invest a lot of time and effort. You are not the only person who is interested in learning how to make an Udemy course, after all! One of the most common methods of earning passive income online is through the sale of courses. Of the several online course platforms now accessible, Udemy is the largest e-learning marketplace, with more than 50 million students and 57,000 teachers.
This translates into a tonne of revenue-generating prospects and explains why the site keeps logging fresh interests from prospective online teachers all around the world. Most course developers sign up with Udemy—or any platform, for that matter—on the appealing promise of achieving financial independence while having a beneficial influence. So, you've come to the perfect site if you want to learn how to build an Udemy course. The required procedures are included in this tutorial, along with expert advice from well-paid Udemy course designers. We'll provide instructions and helpful hints, as well as the tools and materials you'll need, so you can quickly start developing courses, dispensing helpful advice, and making money! Nice, huh? Let's get started!
Although creating courses for Udemy does need some time and effort, if you follow the procedures we've covered, you'll be able to quickly launch a top-notch course. As you start your career as an Udemy instructor, we hope that our tutorial on how to design a course will be useful to you.