11

min read
More than two billion people use Facebook regularly. The user base of Instagram is 800 million. While LinkedIn already has 500 million professionals registered, Twitter is approaching 330 million followers. Nowadays, social media marketing for startups is more crucial than ever. These staggering figures demonstrate how social media has replaced conventional marketing strategies and has grown to be a whole industry in its own right.
Consider that there are currently 2.85 billion Facebook users, 2.29 billion YouTube users, and 1.38 billion Instagram users. This makes social media marketing one of the most effective methods for advertising a firm. This tutorial will discuss the advantages of social media marketing and the types of content you should prioritise.
Social media could be your best weapon for increasing awareness of your brand and lead generation for your business. The most appealing aspect of? It's a cost-effective marketing method, and it's not a method that should be used but has evolved into a channel you should utilize. It's the most widely-used and efficient way to reach out to your targeted people and get your brand's name in front of them.
Yes, it is now more crucial than ever before. The data demonstrate that social media has supplanted traditional marketing techniques and become a world unto itself.
Today, digital marketing is vital for companies, and numerous startups have failed to owe to a lack of an efficient social media strategy. If you would want to learn how to use social media marketing for startups, we would be happy to assist you. The usage of social media in digital marketing is crucial, so we've compiled a list of the top social media marketing strategies for startups to help you turn social media into a reliable marketing channel for your company.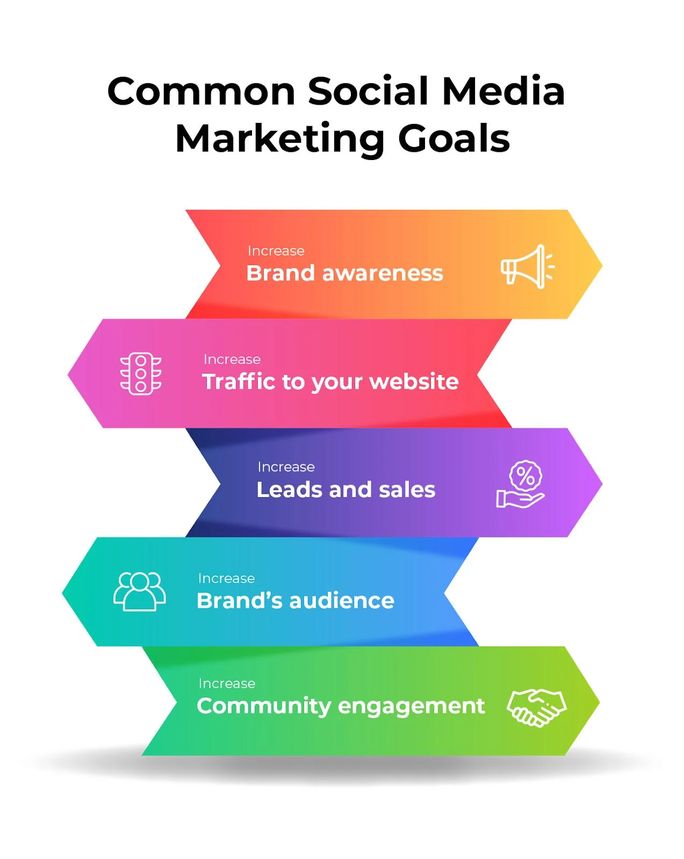 As I've mentioned, the social media platform has enormous potential to draw people in, generate leads, and generate more revenues. But only if you do it right; otherwise, you'll struggle to achieve the desired results. What should you do? Before you create your social media strategy, you must determine your mission, your objectives, and the goals you wish to reach. Check the social media platforms that meet your goals Create a solid social media profile for each platform you join. Create your social media pages with complete company information and appropriate image sizes. Here's a report on the size of images for social media.
2. Create a Content Strategy
It is essential to develop a strategy for content and a distribution plan before launching posts on the social media pages of your company. An accurate definition of your ideal state will enable you to utilize gap analysis to develop an action strategy to get you there.
3. Engage your audience
Social media is a platform for dialogue. Engaging with your followers through this platform can allow you to create a fan base for your brand. It will also aid in building positive relationships with your clients.
.We live in the fast-food industry. This could be a tweet, a poll, a fun video, a graphic, or even a photo of your product that encourages people to share it with their friends.
4. Go Live!
No matter what kind of company you run, entrepreneurs always seek an affordable social media marketing plan Facebook Live is an excellent platform for creating instantaneous content. It is essential to include live video in your content strategy
According to a 2018 visual content marketing statistics analysis, live videos on Facebook have a 4.3 per cent interaction rate compared to 2.2 per cent for non-live videos (source: telescope.tv). As a result, it is critical to incorporate live streaming videos into your list of social media marketing methods.
Live video streaming has grown in popularity in the last year, allowing entrepreneurs to communicate directly with their audience without any barriers. This allows you to collect real evaluations and comments from your customers, which increases people's faith in your offered service or product. With all of these positive gestures in mind, live streaming should be at the top of your priority list when it comes to being unique on social media for your firm.
Do you view social media and email are rival channels? It's a huge mistake. The intelligent businessman will use both channels in a team to fulfill their mission. Be a competent marketing professional and leverage the power of email to aid social media advertising.
The first step to increasing your followers on any social media platform is having strong pages and profiles for your social profiles. This involves including brand-name cover images and profile pictures. Also, you must fill in all your information. You can do it as quickly as a 160-character bio if you're on Twitter, and it also includes a URL and location. Facebook requires a brief description, a website link, and a contact number and address. In essence, fill in the fields of your Facebook pages and social profiles.
Then, post some updates (five to 10) before beginning your journey to create a following. This will incentivize those who check your social media accounts to follow your account. If you aren't sure what to share, try these things: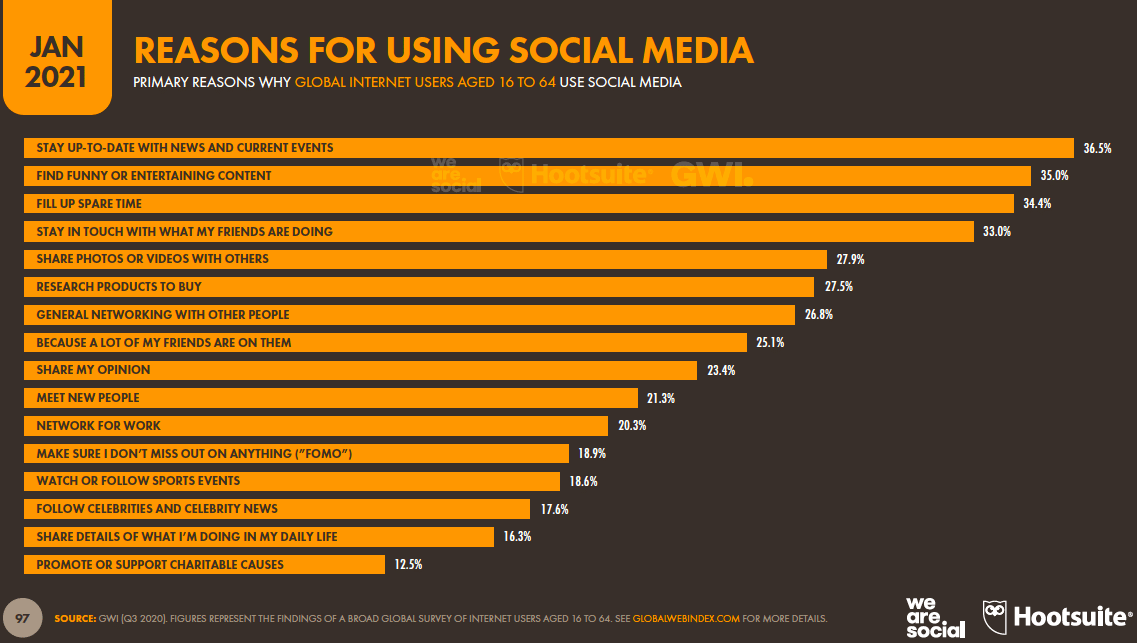 While your startup isn't up and running, you can begin building your network's audience by sharing content that your targeted viewers will appreciate. If, for instance, you're a startup using a Facebook advertising tool, begin sharing content related to Facebook. It could be blog posts or podcasts, videos, infographics, presentations, etc. that you have created, or others.
8. Utilize friend-finding tools.
Many networks offer a method to connect you to people you already know. Twitter lets you search for email contacts; Facebook allows you to search for email contacts and also uses advanced search capabilities for people. Instagram provides you with access to your Facebook contacts using Instagram within its application. LinkedIn lets you look up your contacts via email and recommends the most recent and previous friends and colleagues using your profile data.
It is possible to do this by adding tiny square icons for social networks to your website's footer, header, and sidebar. Adding official buttons for each social network on your site is also possible. It is also possible to look up images of social networks from stock websites such as DepositPhotos.
You should ensure that everyone you contact via email is aware of your company by including hyperlinks to your most popular social profiles within your signature on your email. Additionally, you can utilize services such as WiseStamp to create professional signatures using your social networks' links.
11. Concentrate on Mobile Marketing
People use social media more on mobile than on desktop in 2019, thus your social media posts must be mobile-focused. Brands have run highly intriguing and engaging mobile-focused social media campaigns, which have had a significant impact on brand mentions and engagements.
12. Make Use of Artificial Intelligence
Artificial intelligence (AI) has also been shown to be an effective component of a social media marketing strategy. You can save both people and time, which you may put to better use.
When employed on social media, AI may be extremely effective in tasks like as content production, content optimization, social media monitoring and posting, locating relevant influencers, and, most importantly, obtaining consumer/audience data.
13. Utilize Virtual Reality
Since June 2016, when Facebook began enabling 360-degree videos and photographs, Virtual Reality has taken the social media by storm. VR and Augmented Reality provide users with a completely unique and fascinating experience, and you may sell your firm by producing true impressions.
You may always generate interest on the internet by developing a Virtual Reality-based social media marketing strategy for a firm. Do you have a product? You may develop a true augmented experience for your product and present it to your target audience.
14. Begin Tracking Your Data.
Always keep an eye on your content's social metrics to see how much engagement, impressions, views, and reach it generates. Another factor to consider is when to post. There are moments when your audience isn't very engaged on social media, and you should avoid posting your material during those periods.
If you check at your startup's social media data on a regular basis, you will grasp the do's and don'ts of your startup's social media marketing plan. Simply put, you may select what, when, and for how long to post content by evaluating your data.
15. Campaign A/B Testing
A/B testing, often known as split testing, is simply experimenting with two distinct techniques to completing a task. You must determine which technique works best amongst the two alternatives. It can significantly boost your sales.
For example, in just two weeks following its release, Electronic Arts sold 1.1 million copies of SimCity5, one of their most successful games. They introduced a pre-order offer and posted it as a banner on their website to increase sales.
It became out that the promotion was not producing the desired effects. They decided to try a few different approaches. One variant eliminated the promotional offer entirely. Surprisingly, the variation without the promotion increased sales by 43.4 percent. People just wanted to buy the game without any further incentives.
There are numerous well-known brands with a history of poor customer service. You should contact those dissatisfied clients and persuade them to become your customers by addressing their problems. Customers purchase from brands they trust. Social listening and real-time interaction are excellent ways to get a competitive advantage.
If you are a startup, social media allows you to interact one-on-one with your customers. It may be counter-intuitive to discuss difficulties in public. However, if handled right, it might be beneficial to your startup.
By publicly replying to a customer's complaint, worry, or problem, you demonstrate that you take such concerns seriously. If they see that you reply fast to a complaint and try to remedy the issue to the customer's satisfaction, they will perceive you as a company that cares about them rather than just profits.
17. Create Relationships Not Followers
Developing relationships with your customers is critical for expanding your clientele. Traditional marketing methods are rapidly vanishing. Today, relationship marketing is the name of the game. It will assist you in reaching out to and engaging your audience, not just with your products and services, but also with your online content and community.
Listen to and monitor your social media platforms to build long-term relationships with your customers. You must respond to customer inquiries and issues appropriately. Keep track of what your customers are saying. What do they require of you? They would be flattered if you handle their complaints immediately online and will assist you in successfully promoting your company.
18. Follow Influencers in Your Niche
Being aware of your rivals is always a good idea. You can learn about your weaknesses and strategies to improve your competitiveness by following the best accounts in your industry. Understanding the intricacies of the market where you have a competitive edge will be possible. You may get a good sense of your rivals by following industry influencers.
19. Stay Active
Silence on social media platforms will get you nowhere. You risk losing important customers. It is better for you to stay active on social media. It will make you appear more trustworthy. It will keep your consumers entertained. Consistently posting your material on social media networks will inform your audience that you exist.
You are not required to be active on all social media channels. However, be certain that you are on networks where the majority of your target audience is present. Use your social media time carefully and engage with your consumers enthusiastically. You'll notice a difference in how your consumers react to you. In exchange, they will improve engagement with your content.
Final thoughts
Through an influencer marketing platform, video content, and other tools, social media offers entrepreneurs a fantastic opportunity to connect with their target audience. You can raise brand awareness, comprehend customer preferences and habits, and investigate competitors without investing a lot of money.
Your social media efforts can be expedited with the use of the appropriate tools, most recent trends, apps, and approaches. It's not simple to consistently practise social media marketing for startups, but it's also not difficult. If you play your cards wisely, it will undoubtedly assist you in achieving greater results.
This does not, however, imply that you should disregard older marketing strategies like A/B testing or offline advertising. The only way to get effects that last over time is to combine all of these techniques.