4

min read
PPC For Real Estate: Everything You Need to Know to Build an Effective Campaign
A person's real estate business can be influenced directly by the effort they put into developing their marketing strategy. However, gone are the days of traditional advertising strategies such as billboards and flyers on doors. In the modern digital age, designing an effective marketing campaign over the web can make or break a business, and it starts with optimizing your PPC rate.
What is PPC?
There are a number of different advertising strategies that a company can use to drive revenue, but a pay-for-click (PPC) is one of the most common. Primarily offered by search engine platforms, the PPC model is based on targeting certain keywords that are searched in large quantities. When a website visitor clicks the advertisement on a page, the publisher earns a certain fee.
How Does a PPC Model Work?
Understanding PPC for real estate agents, in particular, can be a challenge considering the advertising angle. That's why breaking down how the PPC model works can help. Advertisers compete in something known as an Ad Auction, hosted by search engine platforms. Evaluating factors such as relevance and popularity, the search engines choose the ads most relevant to your page to display on the sides, top, or bottom.
However, relevance is determined based on keywords from the webpage. For a real estate blog, as an example, the PPC advertisements could be related to home buying websites. There are two general models for a PPC campaign:
Flat Rate vs. Bid-Based
A flat rate PPC model involves the advertiser paying a fixed fee per click. The publisher can have great influence over this fee. If your real estate website gets a large amount of organic traffic, you can charge more for these ads. On the other side of things, be aware that if you want to put an ad for your site on someone else's page, the cost may be expensive depending on how popular that page is.
On the other hand, a bid-based PPC model can be more affordable for real estate companies just start out with this model. Rather than using a flat rate, bid-based models have advertisers list the maximum amount their willing to pay for their spot. The publisher of the site then runs all of the ads through an algorithm that determines the best fit for their page.
How Can PPC Help Real Estate Agents?
Naturally, an effective pay-per-click model can drive large amounts of traffic to a real estate website. Many people have little knowledge over the home buying process, which means they look up all of their questions online. Prominent real estate blogs will have these answers, but they may not be able to provide a selling service.
By displaying your advertisement on this popular page, the visitor to that website can then be redirected to your own website to look into the sale or purchase of their home.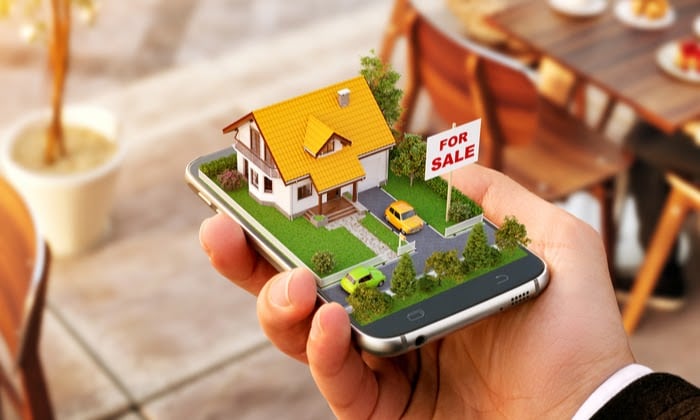 Benefits of Running PPC Ads in Real Estate
On top of the above, there are a number of key benefits to keep in mind when considering implementing a PPC advertisement model for your real estate business:
Increased insight into your own real estate marketing budget
Better generation of leads who are actually interested in your real estate service
The ability to target specific demographic or geographic groups based on your location
Effective method of tracking results to further optimize your real estate strategy in the future
Better familiarity with modern age technology will allow you to build a better reputation online
You are in complete control over the ad that is being displayed on the site
PPC strategies can integrate nicely with other digital marketing strategies
Marketing data can be used to better target new demographic in the future
When just getting started with a PPC model, you won't be required to set a massive marketing budget which is a nice caveat. Companies can also hire accredited graphic designers to create unique ads that have a strong aesthetic appeal which drives users to click on that ad. By doing this, you can focus the majority of your attention on growing your real estate business. You can also check  best furniture with natural materials.
Develop your real estate business today
Marketing is a challenging field, especially when it is not your specialty. When focusing all of your attention on the real estate aspect of your business, it can be a struggle to transition some of that focus to a marketing strategy. Consider hiring an effective marketing campaign strategist to bolster your PPC results and bring more revenue to your company.