37

min read
PureVPN Review – 

Review & Tutorial (2023)! – Is The Hype Worth It?
PureVPN has received mostly positive reviews as a fast VPN that provides strong data encryption and pa variety of secure protocols. It also includes features for seamless torrenting and streaming, making it an excellent choice for media consumption. However, some critics have noted that its speed results can be inconsistent and that its security reputation is mixed.
Despite this, PureVPN has made significant improvements in recent times. For instance, it is now the first VPN to have an Always-On Audit, which has significantly upgraded its security. Consequently, we decided to put this provider to the test and answer the most pressing questions: Is PureVPN safe? Does it keep any logs? Can it unblock Netflix? Our review provides detailed answers to these queries.
As a result of these improvements and its impressive features, PureVPN has earned a place on our list of the best VPNs available. Read on to learn more about PureVPN and why it stands out as one of the top VPNs in the market.
PureVPN Pros and Cons
Pros:
Fast VPN with strong data encryption and multiple secure protocols
Features for seamless torrenting and streaming, making it an excellent choice for media consumption
Always-On Audit, the first of its kind, greatly improving its security
Can unblock popular streaming services like Netflix and Hulu
Large number of servers in over 140 countries
Support for multiple devices and simultaneous connections
User-friendly interface with easy-to-use apps
Cons:
Inconsistent speed results reported by some users
Mixed security reputation and past incidents of logging user data
Advanced features can be overwhelming for some users
Customer support can be slow to respond at times
Some users may find the price point to be higher than other VPN providers.
Is PureVPN good for streaming?
Yes, PureVPN is a great choice for streaming. With its fast speeds and ability to unblock popular streaming services like Netflix, Hulu, and Amazon Prime Video, it's an excellent VPN for media consumption. PureVPN has dedicated streaming servers that are optimized for streaming, providing users with a seamless and uninterrupted streaming experience. Additionally, PureVPN supports split-tunneling, which allows users to route their streaming traffic through the VPN while allowing other traffic to bypass it, which can improve streaming speeds even further. Overall, PureVPN is a reliable and effective VPN for streaming purposes.
Unblocking Netflix with PureVPN
PureVPN is capable of unblocking Netflix. It has dedicated servers specifically optimized for streaming, and these servers can be used to access Netflix and other popular streaming services from anywhere in the world.
To unblock Netflix with PureVPN, follow these steps:
Download and install the PureVPN app on your device.
Open the PureVPN app and connect to a server that is optimized for streaming. PureVPN has a list of dedicated streaming servers that are optimized for streaming and can be easily located within the app.
Once connected, open the Netflix app or go to the Netflix website and log in to your account.
You should now be able to access the Netflix library of the region where your chosen server is located.
It's important to note that Netflix is continuously updating its VPN detection technology, so there may be times when some of PureVPN's servers are blocked by Netflix. In such cases, try connecting to a different server or contact PureVPN's customer support for assistance.
In case you have trouble accessing this streaming site, you can check out our list of the best VPNs for Netflix.
Does PureVPN unblock other platforms?
Yes, PureVPN can unblock other platforms besides Netflix. With its wide server network and optimized servers for streaming, PureVPN can also unblock other popular streaming services such as Hulu, Amazon Prime Video, Disney+, HBO Max, and more.
In addition to streaming services, PureVPN can also unblock websites and services that are geographically restricted, including social media sites like Facebook and Twitter, as well as other websites and services that may be blocked in certain countries or regions.
Overall, PureVPN is a versatile VPN that can help users access content and services that may be otherwise restricted based on their location.
Is PureVPN good for torrenting?
Yes, PureVPN is a great choice for torrenting. It has optimized servers for P2P file sharing, which can provide fast download speeds and a secure connection. With PureVPN, users can connect to servers that support P2P file sharing, and they can also take advantage of the split tunneling feature, which allows them to route their torrenting traffic through the VPN while allowing other traffic to bypass it. This can improve the overall download speed and provide an extra layer of security.
Furthermore, PureVPN does not impose any restrictions on bandwidth or file size, making it an ideal choice for heavy torrenting. It also has a kill switch feature, which can automatically terminate the internet connection if the VPN connection drops, ensuring that the user's IP address and location remain secure at all times.
Overall, PureVPN is a reliable and effective VPN for torrenting purposes, providing users with fast speeds, security, and privacy.
Plans and Pricing
PureVPN is an affordable VPN option, offering some of the lowest prices on the market, even when compared to other budget VPN providers like Surfshark and Windscribe. Regardless of which PureVPN subscription plan you choose, you'll receive the same features and be able to use the VPN on up to 10 devices simultaneously. It's important to note, however, that sharing your account with others is prohibited by the VPN's Terms of Service, even with family members.
The best value for PureVPN is found in their long-term subscription plans, with the 2-year plan providing the biggest savings and being the most affordable option. If you're unsure about committing to a longer subscription, PureVPN also offers a 31-day money-back guarantee, allowing you to change your mind if you're not satisfied with the service. For those who prefer a monthly subscription, PureVPN offers a single-month option for $10.95, which is reasonable compared to other VPN providers in the market.
Payment options for PureVPN include PayPal, credit cards, and various cryptocurrencies like Bitcoin. However, it's worth noting that some of PureVPN's landing pages don't display the crypto payment option, which can be confusing for some users.
PureVPN offers various subscription plans, with the monthly access costing $10.95. However, it is more economical to opt for a longer-term plan, such as the two-year plan priced at $49.95, which translates to $2.08 per month. This is a genuine price without factoring in any misleading "free months." Upon completion of the subscription, the service will renew automatically and charge $53.95 per year, which is equivalent to $4.50 per month, more than double the cost of the two-year plan. For users in the UK, the monthly fee is around £1.50.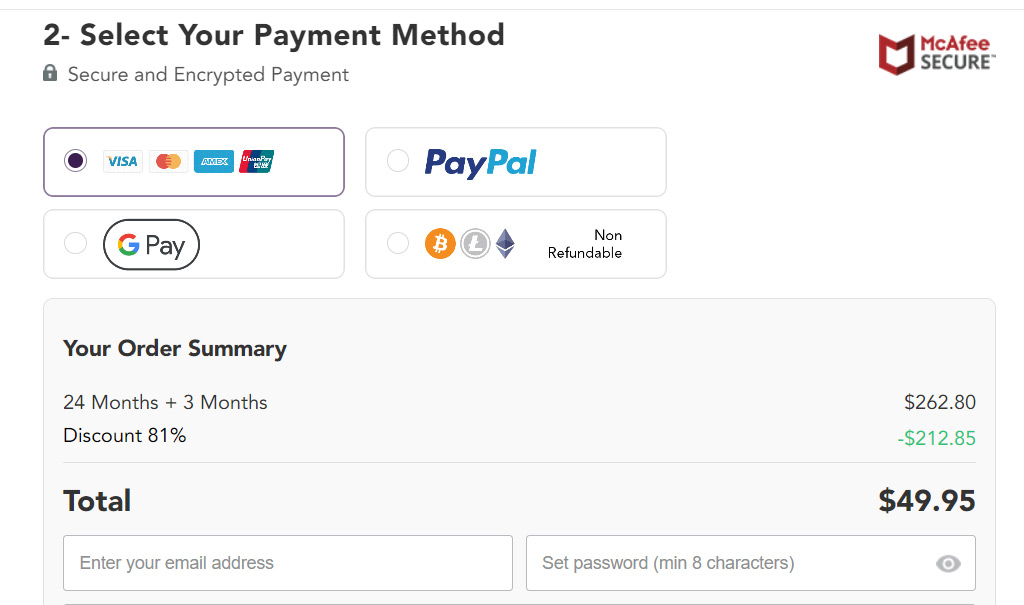 PureVPN offers various payment options, including credit/debit cards, PayPal, Google Pay, and crypto, for those who want to remain anonymous. However, if you choose to pay with crypto, there is no refund available. On the other hand, there is a 31-day money-back guarantee for other payment methods. A seven-day trial is also available for $0.99, but users should be aware that it turns into a $6.95 per month charge after the trial period ends. It's not as good a deal as PureVPN's best offer.
PureVPN also offers optional extras, including a password manager, encryption tool for files and photos, and a privacy tool that monitors personal information online, including on social media sites. This suite of additional tools is called Pure² or PureSquare, and we haven't tested them.
Visit PureVPN to learn more about the features
Security — Military-Grade Encryption
PureVPN has a strong focus on security and provides a variety of protocols and security features to ensure user safety. The VPN provider has removed outdated protocols and complex features to enhance security without compromising the user's safety.
PureVPN offers a range of protocols, including OpenVPN, IKEv2, L2TP/IPSec, and PPTP, giving users the option to choose the one that best suits their needs. The VPN provider also offers various security features like a kill switch, which automatically shuts down the internet connection if the VPN connection drops, preventing any potential data leaks. Additionally, PureVPN also offers DNS and IPv6 leak protection, ensuring that users' online activities and personal information remain secure.
Furthermore, PureVPN has implemented strong encryption standards to protect user data, including AES-256 bit encryption, which is considered to be one of the most secure encryption methods available. The VPN provider also has a strict no-logs policy, ensuring that user activity logs are not kept on their servers.
Overall, PureVPN provides solid security features that help ensure user privacy and safety.
Encryption
PureVPN uses AES 256-bit encryption, which is considered to be the highest level of encryption available, making user data virtually unhackable. The VPN also provides IPv6 leak protection to ensure complete online anonymity from hackers, trackers, and any other spying entity. If a browser connects to an address outside of the VPN connection, which uses the ISP directly and reveals personal data, it is considered an IPv6 leak, and PureVPN's protection prevents it. Both encryption and IPv6 leak protection are automatically enabled, providing security for less experienced users.
PureVPN also has Quantum-Resistant Encryption keys, a new feature that can protect users from hackers stealing their data using quantum technology. These encryption keys are available in select cities in Australia, Germany, the Netherlands, the US, the UK, Canada, and Singapore. While quantum computing is not currently a significant threat, the feature will be useful in the future when quantum computing becomes more prevalent. PureVPN's focus on the future shows that it is committed to staying ahead of cybercriminals who will continue to update their encryption-cracking technology.
However, PureVPN doesn't allow users to connect to another VPN while it's connected, which might be a downside for some advanced users who want more manual control. While this is a good security feature that prevents location leaks if users forget the VPN is on and connect to another VPN, it could be inconvenient for some users.
PureVPN offers an impressive array of features, including exceptional speeds on both nearby and faraway servers, effortless access to popular streaming platforms, and top-notch security that passed all leak tests. However, while its privacy policy is robust, it stores a few too many anonymized logs for some users' comfort. Additionally, torrenting can be sluggish, and port forwarding comes at an extra cost. Finally, some other VPNs might outperform it for online gaming on servers worldwide. Overall, PureVPN is close to being one of the best VPNs, and I recommend giving it a try to see if it fits your needs.
Visit PureVPN to learn more about the features
Port Forwarding
PureVPN offers the port forwarding feature, which can be useful for accessing internet-connected devices or services from another location. This can be particularly helpful for remote access to your computer or playing online games with friends. However, it should be noted that the port forwarding feature is not included in the standard subscription and must be purchased as an add-on for an additional cost, which is less than a dollar per month.
DDoS Protection
Yes, that's correct. PureVPN offers DDoS protection as an add-on feature. It provides DDoS-protected IPs to protect against complex DDoS attacks, which is useful for blocking unwarranted traffic, preventing cybercriminals and competitors from targeting serious gamers or e-commerce stores. The feature needs to be activated at an additional cost to the subscription, but once enabled, it remains active all the time. When an attack is detected, the DDoS protection feature neutralizes it immediately.
Kill Switch
The kill switch is a crucial security feature in VPNs that automatically stops your internet traffic if your VPN connection drops, preventing your IP address and other personal data from being exposed. PureVPN has an integrated kill switch, referred to as IKS, which is enabled by default for optimal protection. While it can be disabled if desired, it is not recommended to do so. I tested the IKS by switching servers while a browser window was open, and confirmed that it always disconnects my network when the VPN is not connected, ensuring that my data remains secure. With PureVPN's kill switch, you can browse the internet with peace of mind.
Split Tunneling
Split tunneling is a useful feature offered by PureVPN that allows you to choose whether you want all of your internet traffic to go through the VPN or only the traffic generated by certain applications. This means that if you need to access your bank account using your ISP's IP address, while at the same time accessing a streaming platform with a VPN IP address, you can do both. Split tunneling will separate the requests between the two and route only the streaming traffic through the VPN, while the banking traffic will use your ISP's IP address.
It's important to note that split tunneling is only currently available on the Windows and Android apps. To enable it on the Windows app, click on the settings icon in the bottom left. When the option is off, all traffic will be routed through the VPN and use the VPN IP address. When the option is on, only the traffic generated by the apps you add to the list will use the VPN IP.
IP, DNS, WebRTC, and IPv6 Leak Protection
I examined PureVPN for every type of leaks and I didn't discover any. When utilizing a VPN, your visitors is routed by means of an encrypted tunnel and all private identifiers, corresponding to your IP tackle, are eliminated. But generally, information might leak by means of, and your id and on-line exercise could also be revealed to a 3rd occasion. This isn't good should you're utilizing a VPN to remain nameless. There are a number of varieties of knowledge leaks that may occur:
IP leaks — If the VPN fails to cover your actual IP, it will likely be uncovered to the web sites you go to. When this occurs, your actual location might be found.
DNS leaks — The DNS interprets domains into IP addresses for the web sites you go to. If your DNS requests are leaked, then your ISP will be capable to see what you're doing on-line.
WebRTC leaks — The WebRTC expertise that permits calls without utilizing a plugin or app, for instance over Google Hangouts. The draw back is that it reveals your IP tackle to the web sites that use it. As a consequence, your id is revealed to the web site and the ISP.
Visit PureVPN to learn more about the features
Privacy — No-Logs Policy and Outside the 5 Eyes Alliance
PureVPN  Logs
PureVPN keeps some logs, including the day you connected, the VPN server location, city, connection length, and the total amount of bandwidth used. While the company claims that this information is only used to keep the VPN functioning correctly, it still stores more data than some other VPN services. However, it does not store your IP address or browsing history.
According to the company's privacy policy, it also does not collect your origin IP address, assigned VPN server IP address, VPN session timestamp, browsing activities, or DNS requests. Upon sign-up, PureVPN collects your name, email address, and payment method, but it claims that this information is only used to provide and maintain services. In the past, PureVPN assisted in the arrest of an alleged cybercriminal by providing logs to the FBI, which resulted in criticism from customers. The company has since revised its privacy policy and made efforts to regain users' trust.
Audits
It is important to note that while PureVPN has undergone audits by Altius IT and has an always-on contract with KPMG, these audits and contracts only certify that PureVPN's system configurations and service log files do not lead to identifying a specific person or their activity when using the VPN. These audits do not necessarily guarantee that PureVPN is completely privacy-friendly or secure. Additionally, while transparency reports are semi-annual, complete independent audits are not available to the public. Despite this, the audits and certification by KPMG and Altius IT do provide some reassurance of PureVPN's commitment to customer privacy.
Visit PureVPN to learn more about the features
Torrenting — Allowed on Certain Servers
According to PureVPN's website, P2P is only supported on 37 servers that are optimized for it. Additionally, their website states that P2P is blocked in the UK, the US, and Canada. However, I was able to successfully download files using the Atlanta, US server, even though it is not listed as one of the P2P-optimized servers.
When testing other approved servers, such as the Netherlands location, my download speeds dropped as low as 88 KB/s. I found that connecting to the Atlanta server provided the fastest speeds, with the file downloading in less than 10 minutes without the VPN connected.
Unfortunately, PureVPN only offers port forwarding as an added feature for an additional fee, while most other top VPNs include it as part of their subscription. This feature can help increase download and seeding rates for P2P users. Despite this limitation, PureVPN offers solid security and privacy features that would make it a good choice for P2P users, if port forwarding is not necessary.
It is important to note that while torrenting is legal in most countries, downloading copyrighted files is illegal. My team and I do not condone any illegal activities.
Visit PureVPN to learn more about the features
PureVPN Encryption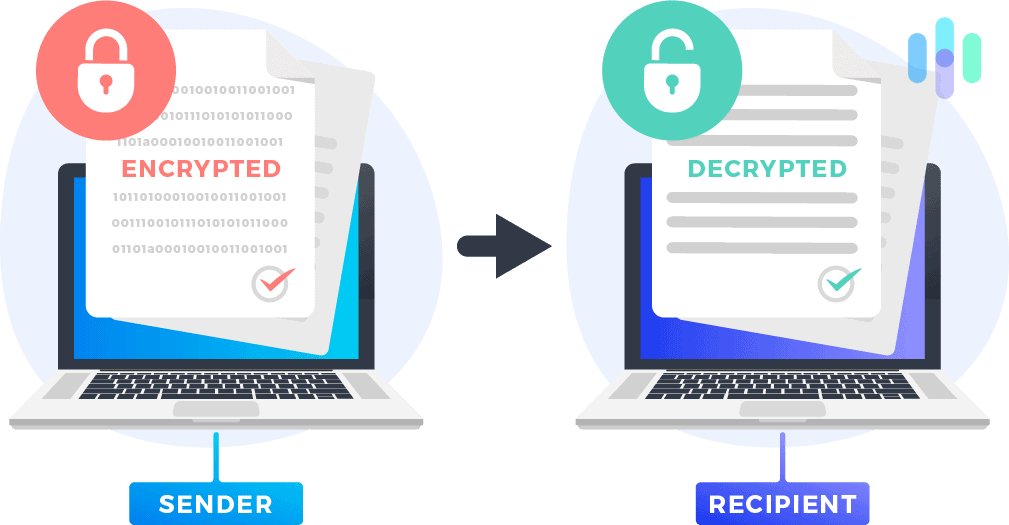 encryption standard, and it is one of the most commonly used encryption algorithms by VPNs. PureVPN's use of AES-256 encryption for data encryption is a good sign that the VPN takes security seriously and provides strong privacy protection for its users.
AES-256
Yes, that's correct. AES-256 is widely considered to be one of the most secure encryption algorithms currently available, and is commonly used by governments, militaries, and security-conscious organizations around the world to protect sensitive data. The fact that PureVPN uses AES-256 encryption for its VPN service is definitely a positive factor in terms of the security and privacy it provides to its users.
PureVPN Protocols
OpenVPN is a popular and widely-used open-source VPN protocol that provides strong security and encryption. It is considered to be one of the most secure VPN protocols available today. OpenVPN supports various encryption algorithms, including AES, and provides a secure and stable connection.
IKEv2 is another secure VPN protocol that is known for its speed and stability. It is widely used on mobile devices due to its ability to quickly reconnect when the connection is lost. IKEv2 also supports strong encryption algorithms like AES.
IPSec (Internet Protocol Security) is a suite of protocols used to secure communications over IP networks. It provides strong security and encryption and is commonly used in enterprise VPNs.
PPTP (Point-to-Point Tunneling Protocol) is an older and less secure VPN protocol. While it is fast, it is not recommended for use due to its known vulnerabilities and the fact that it has been compromised in the past.
"No-Encryption" is a protocol that does not use any encryption to secure your data. This protocol should not be used unless you are on a trusted network and do not need any security or privacy protections.
OpenVPN
That's correct! OpenVPN is a highly popular and widely-used VPN protocol known for its reliability, flexibility, and strong security features. Its open-source nature means that it is constantly being tested and improved upon by a community of developers, making it a trusted choice for many VPN users. The ability to configure security features using other protocols is also a major advantage, allowing users to customize their VPN connection based on their specific security needs.
IKEv2/IPSec
To add to that, IPSec is a widely used VPN protocol that provides strong encryption and authentication mechanisms. It's often used in conjunction with IKEv2 to provide a secure and reliable VPN connection. IKEv2/IPSec is a common combination of VPN protocols that provide good security and performance, making it a popular choice for many VPN providers, including PureVPN.
L2TP/IPSec
That's correct! L2TP/IPSec is a highly secure VPN protocol that provides strong encryption and data integrity checks. While it may not be as fast as IKEv2 or OpenVPN, it still offers a reliable option for users who prioritize security over speed. However, it's worth noting that L2TP/IPSec has been known to have some issues getting past certain firewalls, so it may not always be the most convenient choice for users in certain situations.
PPTP
That is correct. PPTP is an outdated VPN protocol that uses weak encryption and has been proven to be vulnerable to various security threats. It should not be used for privacy and security purposes, as there are more secure and reliable alternatives available, such as OpenVPN, IKEv2, and L2TP/IPSec.
Testing PureVPN
Speed Tests
When you first try out a VPN, you may notice a decrease in internet speed. This is because the VPN acts as a middleman between you and your ISP. However, the degree to which your speed is impacted can vary greatly depending on the VPN. Some VPNs slow down internet speed by only 3%, while others can slow it down by as much as 65%. PureVPN has undergone speed tests to determine where it falls within this range.
It is important to note that there are many factors that can affect VPN internet speed, such as time of day, location, internet service provider, VPN server distance, and the bandwidth capacity of VPN servers. Recently, PureVPN has upgraded its servers to 20 Gbps, but whether or not it outperforms other VPNs remains to be seen and requires further testing.
DNS Leak Test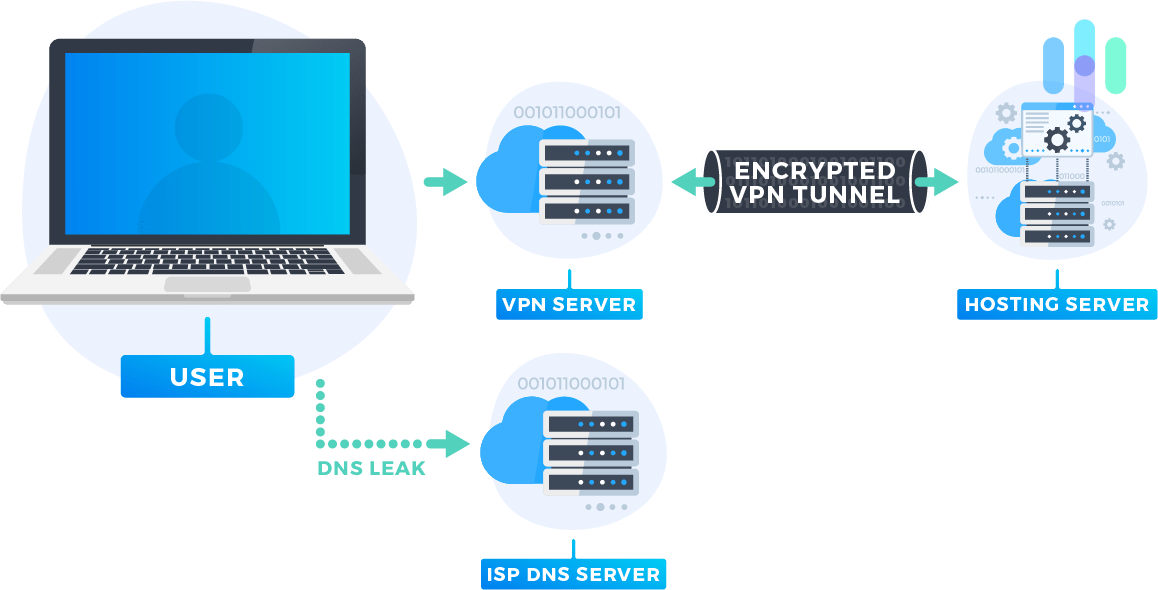 A DNS leak can occur when a VPN connection fails to properly route DNS requests through the encrypted tunnel and instead sends them to the user's ISP DNS servers. This can result in the user's true IP address being exposed to websites they visit, even though they are using a VPN.
To ensure user privacy and security, it's important for a VPN to prevent DNS leaks. PureVPN has been tested for DNS leaks on both Mac and Windows and has passed these tests, indicating that it properly routes DNS requests through its encrypted tunnel and does not leak users' true IP addresses.
WebRTC Leak Test
WebRTC leaks can indeed compromise your privacy even when you are connected to a VPN. WebRTC allows web browsers to communicate directly with each other without going through an intermediate server. When two devices are communicating via WebRTC, they need to know each other's public IP addresses. This means a website or third party can use WebRTC to detect your real, public IP address that others can use to locate you on the web. PureVPN has been tested on Mac and Windows across multiple browsers, and it was found to block WebRTC leaks.
PureVPN Subscription Information
PureVPN offers affordable subscription prices that range from $2.04 to $10.95 a month, with special online discounts. The company also provides a 31-day money-back guarantee and a seven-day trial for $0.99. If you want to test the waters first, you can opt for the one-week trial, which automatically converts to a regular one-year subscription of $69.95 at the end of the week.
Compared to other VPN providers, PureVPN's pricing is quite low. For example, when compared to ExpressVPN, PureVPN is around $5 cheaper than ExpressVPN's plans that cost $8.32 to $12.95 per month. PureVPN offers various payment options, including credit card, PayPal, cryptocurrency, and region-specific options.
For business users, PureVPN offers plans that range from $8.45 to $9.99 per month per user for up to ten users, with the price decreasing as you add more users. Dedicated IPs are also available from various countries, and users can connect up to five devices simultaneously from the same country. With any subscription, you can switch between an unlimited number of servers.
Manual Configurations
It's great to hear that PureVPN offers apps for various devices, including Linux, Google TV, Android TV, Amazon Fire TV Stick, and Kindle. For other devices, users can manually configure PureVPN, which means it can be used on routers, tablets, PS4, Xbox, Apple TV, Roku, Kodi, and Smart TVs as well. This is a great feature for users who want to protect their privacy and security on all of their internet-connected devices, not just their desktop or mobile devices.
Supported Browsers
Chrome
Firefox
Opera
Edge
UC
Yandex
Brave
IceCat
Iridium
Torch
Vivaldi
Waterfox
PureVPN Customer Support
If you're not an expert in technology or proficient at searching the web, you may appreciate having access to technical assistance when encountering issues. Therefore, it's worth investigating whether PureVPN offers quality customer support. To do so, let's submit a support ticket and see how they respond.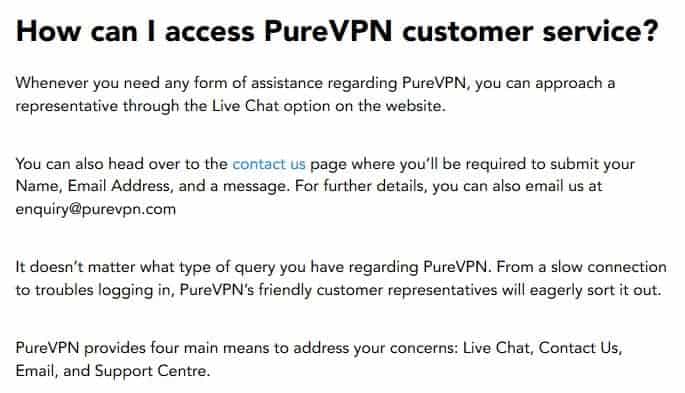 PureVPN Customer Support Options. Screenshot from the PureVPN website.
Performance
PureVPN's speeds have improved with the introduction of WireGuard. In January 2023, tests were conducted using the Windows app with WireGuard on a gigabit broadband connection in San Francisco. Speed Test reported download speeds of 826Mbps and upload speeds of 797Mbps. However, when connected to servers in the UAE, New York, London, and Tokyo, speeds dropped significantly, similar to those of OpenVPN. The New York server had a surprisingly poor upload speed of only 21Mbps, while the UAE server had a surprisingly high upload speed of almost 300Mbps.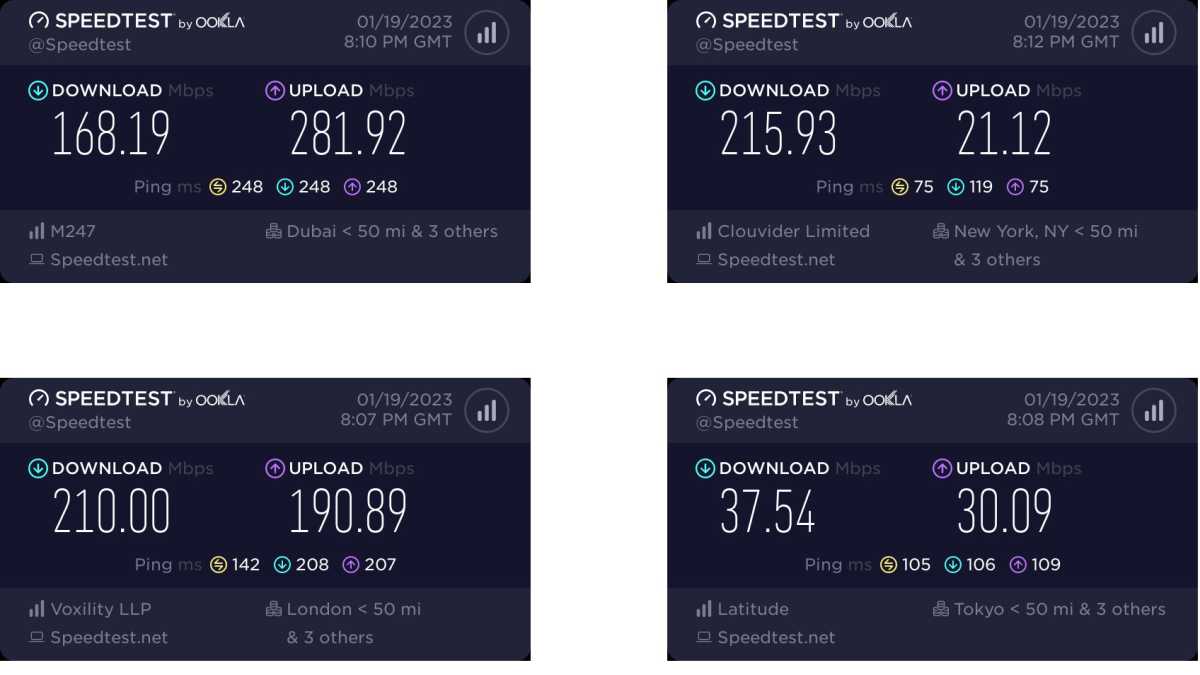 Following our previous tests, we conducted additional tests in January 2023 using PureVPN's WireGuard protocol on a gigabit broadband connection in San Francisco. While download speeds reached 826Mbps and upload speeds hit 797Mbps on Speed Test, connecting to PureVPN servers in the UAE, New York, London, and Tokyo resulted in significant speed drops similar to OpenVPN speeds. Surprisingly, the New York server had a low upload speed of only 21Mbps, while the UAE server had a high upload speed of almost 300Mbps. We also tested connecting to a general "USA" server from London and saw little dropoff on an 80Mbps down / 20Mbps up connection. Additionally, we connected to the London server from Sydney on a 110Mbps down connection and recorded a speed of 79Mbps, which was reasonable considering the distance. However, speeds of any VPN service can fluctuate, and various factors such as the time of day can affect speed.
We found that connections were established quickly, taking under 10 seconds, although connection times were longer when using WireGuard, sometimes taking over 20 seconds. Nonetheless, once established, connections were stable, and we didn't encounter any IP or DNS leaks while using the service. It's worth noting that PureVPN does not support IPv6 connections, and many websites detected "unusual traffic," prompting us to verify our human identity by clicking on photos containing certain objects, which became irritating.
PureVPN has recently introduced obfuscation to mask VPN usage from websites and services, but this only works if users choose OpenVPN in the protocol list, which is labelled as TCP and UDP. This technical requirement may be challenging for some users, and the app could benefit from improved usability in this area.
Unblocking
During our testing, we found that PureVPN allowed us to access BBC iPlayer from outside of the UK, but only when using the BBC shortcut. When using the London location, we encountered the typical error message stating that BBC iPlayer is only available in the UK. Although we initially experienced some buffering issues, this may have been due to stormy weather in Sydney as subsequent tests were successful with no buffering. We were also able to watch ITV X shows without any problems. However, PureVPN failed to unblock the UK-based My5 service, despite having a dedicated shortcut for it, which was frustrating.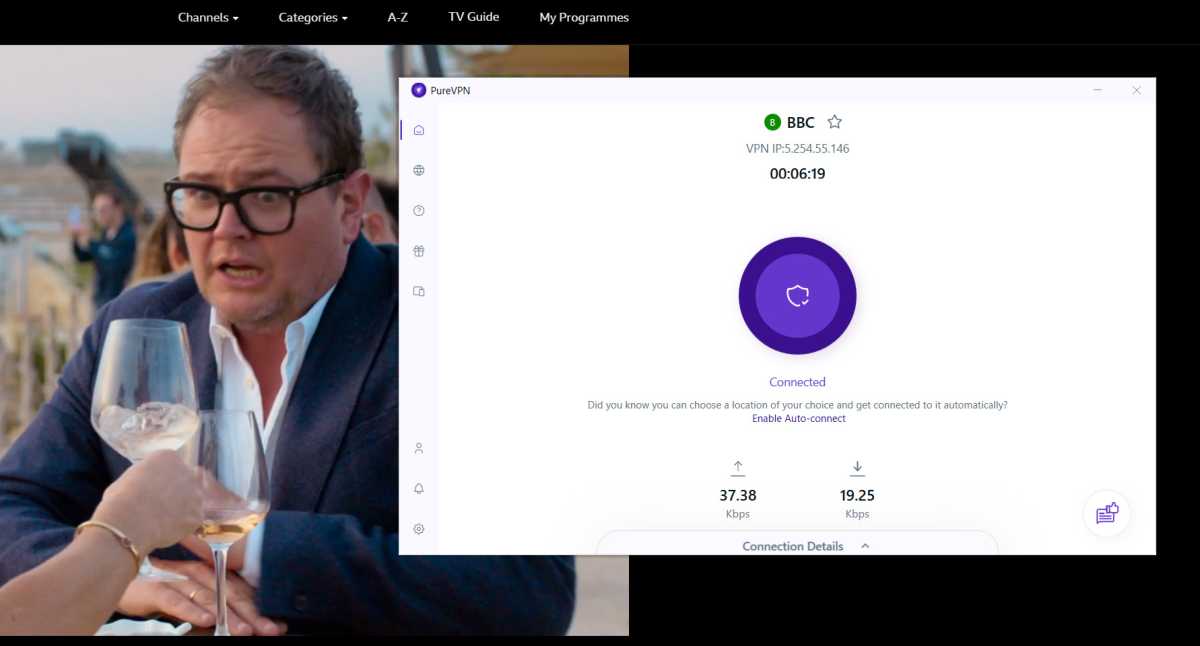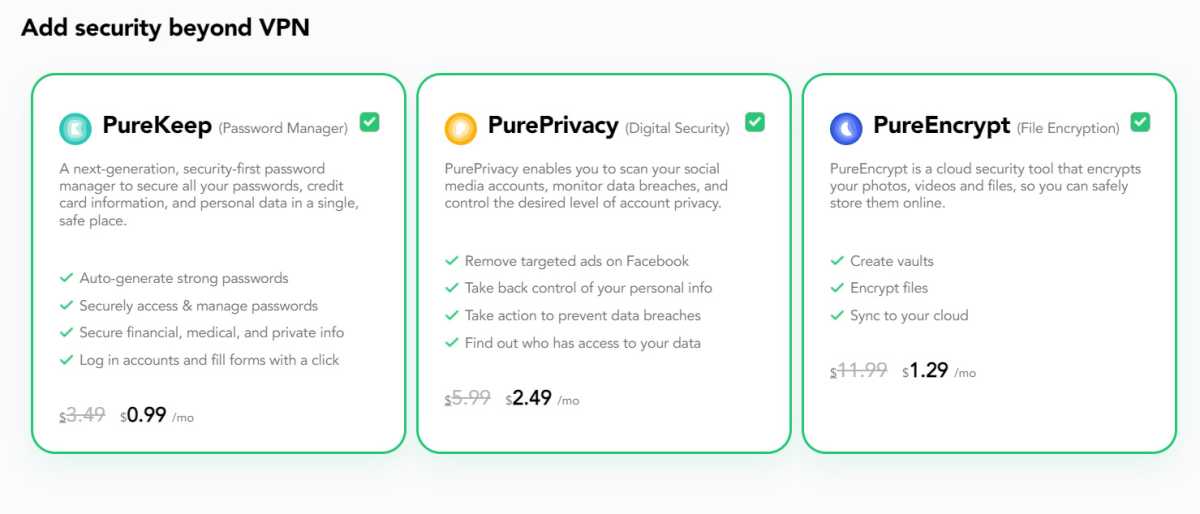 Installation & Apps
Set-Up & Installation — Easy Apps for Quick Installation
Browser Extensions
PureVPN's Chrome extension provides users with access to over 30 servers located in different countries and offers unlimited bandwidth. The extension also includes WebRTC leak protection, which can be easily enabled or disabled with a single click. Its interface is user-friendly and easy to navigate, and I was able to install it on my browser in just a few minutes.
However, it is important to note that browser extensions are only proxies and do not encrypt your entire device. They only protect your browsing activity within the browser. Therefore, I recommend using the full app whenever possible to ensure complete encryption and protection of your online activity.
Windows
PureVPN's Windows client is user-friendly and straightforward, with a simple design that may appear plain to some users. It offers support for various tunneling protocols, including WireGuard, OpenVPN (both TCP and UDP), and IKEv2. You can easily choose between these protocols and enable or disable the kill switch and auto-connection features as needed. If you prefer a simple and easy-to-use app, PureVPN's Windows client should suit your needs as it has a basic design.
Mac OS
According to the review, the Mac version of PureVPN is very similar to the Windows version, except for a missing ping display feature next to each server. The macOS version supports WireGuard, IKEv2, and L2TP/IPSec tunneling protocols.
After testing the Mac version of the PureVPN app, it became clear that it is almost identical to the Windows version. It supports the same tunneling protocols, including IKEv2, L2TP/IPSec, and PPTP. However, there is one notable difference: the Mac app does not automatically display ping rates like the Windows app does. This could be frustrating for users who plan on using the VPN for gaming or downloading files. Nonetheless, the app was quick and easy to install, and its simple design should appeal to users who prefer a straightforward VPN experience.
Linux
PureVPN's Linux version is different from the Windows and Mac versions as it operates through the Command Line Interface (CLI), which may be challenging for users without an IT background. The Linux version supports WireGuard and OpenVPN (TCP and UDP) protocols. Recently, PureVPN launched a new Graphical User Interface (GUI) app for Linux, which simplifies the use of the service for Linux users. The GUI is available on Ubuntu and features an auto-connection function, Internet kill switch, and two protocols (TCP and UDP). The Linux version also offers the "Connect to Fallback" option, which connects users to the next best available option if their preferred protocol is not working. The app is straightforward to use, minimal, and similar to the Windows version.
Android
That's correct! The PureVPN Android app is packed with features. In addition to the ones you mentioned, it also has a built-in ad and tracker blocker, a kill switch, and a dedicated IP add-on for an extra fee. The app also supports multi-port and multi-protocol options, allowing users to switch between UDP, TCP, and StealthVPN as needed. Overall, the Android app offers a comprehensive and user-friendly experience for VPN users on the go.
I was thoroughly impressed with the PureVPN Android app. In the latest upgrade, the app has streamlined the process of choosing servers by relying on its algorithm to automatically select the best server for your needs. This has resulted in an overall increase in speed, which is a great benefit for subscribers. Additionally, unlike the iOS app, the Android app offers split-tunneling capabilities and allows you to choose between NAT and non-NAT networks.
Furthermore, the Android app allows you to choose between dark and light themes, so you can customize it to your social network preferences. One minor confusion I experienced was that the app displays a red button when connected to a VPN server, which is opposite to what I'm used to seeing on other VPN apps. This led me to double-check my connection status, but I quickly got used to it. It is also worth noting that the Android app now supports all the same protocols as the Windows version.
iOS
The iOS app of PureVPN actually supports only IKEv2 and IPSec tunneling protocols, according to the information provided on the App Store. It does not support WireGuard or OpenVPN protocols on iOS devices.
Overall, PureVPN offers a solid VPN service with a range of features and strong security protocols. Its Windows and Mac apps are user-friendly, while the Android app offers split-tunneling capabilities and the option to choose NAT or non-NAT network. However, the lack of split-tunneling on the iOS app may disappoint some users. The Chrome extension is convenient but only provides proxy protection for the browser, not the entire device. PureVPN's pricing is competitive and it offers various payment options, including cryptocurrencies for those who value anonymity. Its 31-day money-back guarantee is more generous than many other providers, and its customer support is responsive.
PureVPN features
That's a fair assessment. PureVPN's feature set is geared towards providing essential VPN functionality rather than an exhaustive suite of advanced features. But for users who need the basics such as a kill switch and split tunneling, PureVPN should suffice.
Kill switch
It's important to note that using two VPNs at the same time can cause conflicts and unexpected issues, and it's generally not recommended. As for PureVPN's kill switch, it's concerning that it didn't work as expected in the situation you described. A reliable kill switch is crucial for ensuring that your online activities remain private and secure. It's worth noting that no VPN is perfect, and issues can arise with any service. However, it's important for users to be aware of any potential weaknesses or limitations of the VPN they are using.
Split tunneling
Split tunneling is a feature that allows you to choose which apps or websites use the VPN connection and which ones use your regular internet connection. This way, you can use the VPN for specific tasks (such as torrenting or accessing geo-restricted content), while still having a regular internet connection for other activities.
In PureVPN, you can use split tunneling to whitelist certain apps or websites that you want to use the VPN for. The feature is available in the Windows and Android apps, but not in the Mac or iOS apps.
Just a quick correction – while split tunneling is available on the Android app of PureVPN, it is not currently available on the iOS app.
Port forwarding
That's correct! Port forwarding is a useful feature that allows you to open a specific port on your local network, enabling external devices to connect to a particular device on your network. This can be useful for various purposes, such as accessing a remote desktop or hosting a gaming server. PureVPN offers port forwarding as an optional add-on for a small additional fee.
That's correct! Port forwarding can be useful for a variety of purposes, including those you mentioned. It essentially allows you to bypass certain network restrictions and establish connections with devices on your local network from external devices or networks. However, it's worth noting that port forwarding can also pose certain security risks, so it's important to ensure that you configure it properly and only use it when necessary.
Obfuscation  
It's important to note that while obfuscation and domain fronting can be useful in certain situations, they may not be necessary for most users. In fact, using these features can sometimes slow down your connection or even compromise your security. Therefore, it's important to weigh the benefits and potential drawbacks of using these features before enabling them. If you're not sure whether you need them, it's best to consult with PureVPN's customer support team or a cybersecurity expert.
PureKeep
It's important to note that while PureKeep is a convenient feature, users should still exercise caution when storing sensitive information online. No system is completely foolproof, and it's always recommended to use two-factor authentication and regularly change passwords. Additionally, while the add-on is available for only a dollar a month, users should consider whether they really need this feature or if they can achieve the same level of security with a standalone password manager.
Visit PureVPN to learn more about the features
 Logging
It is important to note that while PureVPN's switch to a privacy-friendly jurisdiction and independent audits are positive steps, the fact that they have previously assisted in providing personal information to the authorities is a concerning issue. Users should always exercise caution and do their own research when selecting a VPN provider, taking into account their own privacy needs and the risks associated with using a VPN.
Always-On Audit
That's correct. PureVPN's always-on audit agreement with KPMG is a unique approach to ensuring transparency and accountability in their privacy practices. This means that KPMG can conduct surprise audits at any time to check whether PureVPN is complying with their no-logs policy and other privacy commitments. The fact that KPMG will publish the results of these audits publicly also adds an extra layer of transparency and accountability. In their recent audit, KPMG found no evidence to suggest that PureVPN is not adhering to its no-logs policy, which is a positive sign for users concerned about their privacy.
Customer support
If you encounter any issues while using PureVPN, there are several ways to seek assistance. You can visit the support page, which includes setup instructions, troubleshooting advice, and a FAQ section. You can also submit a support ticket, although you must first log in to your PureVPN account to do so. Additionally, the in-app troubleshooting feature can quickly resolve many issues. PureVPN also offers 24/7 live chat support, which requires only your name and email address to initiate. During my test, the support agent was courteous and attempted to assist me in the best way possible. Alternatively, you can use the in-built chatbot within the application to contact support directly.
FAQs on PureVPN
Final Verdict
PureVPN offers an impressive array of features, including exceptional speeds on both nearby and faraway servers, effortless access to popular streaming platforms, and top-notch security that passed all leak tests. However, while its privacy policy is robust, it stores a few too many anonymized logs for some users' comfort. Additionally, torrenting can be sluggish, and port forwarding comes at an extra cost. Finally, some other VPNs might outperform it for online gaming on servers worldwide. Overall, PureVPN is close to being one of the best VPNs, and I recommend giving it a try to see if it fits your needs.