47

min read
Social media contests have a proven track record for increasing engagement on your business's social media platforms. That's great! However, the real challenge lies in choosing the right type of contest that will motivate your audience to participate. Should it be a sweepstake, a photo contest, or perhaps a straightforward "Repost to Win" giveaway? Moreover, you might be wondering what kind of contest would pique interest on Instagram, or if there's a contest type that performs better on Facebook.
To address these questions, we've compiled 25 contest promotion ideas tailored for online businesses. With the proper planning and execution, you'll be able to capture your audience's attention and attract more interested visitors to your online store. But before we dive into these ideas, let's review some fundamental principles for running a successful contest.
Are you in search of uncomplicated contest concepts that can captivate and excite your target audience? Organizing a contest is an effective means to enhance brand visibility and generate high-quality leads for your business. However, brainstorming contest ideas that truly engage your audience can be a challenge. That's why, in this article, we'll share some of our favorite straightforward contest ideas to help you get started promptly. Before we delve into the ideas, let's first explore how to create a simple contest.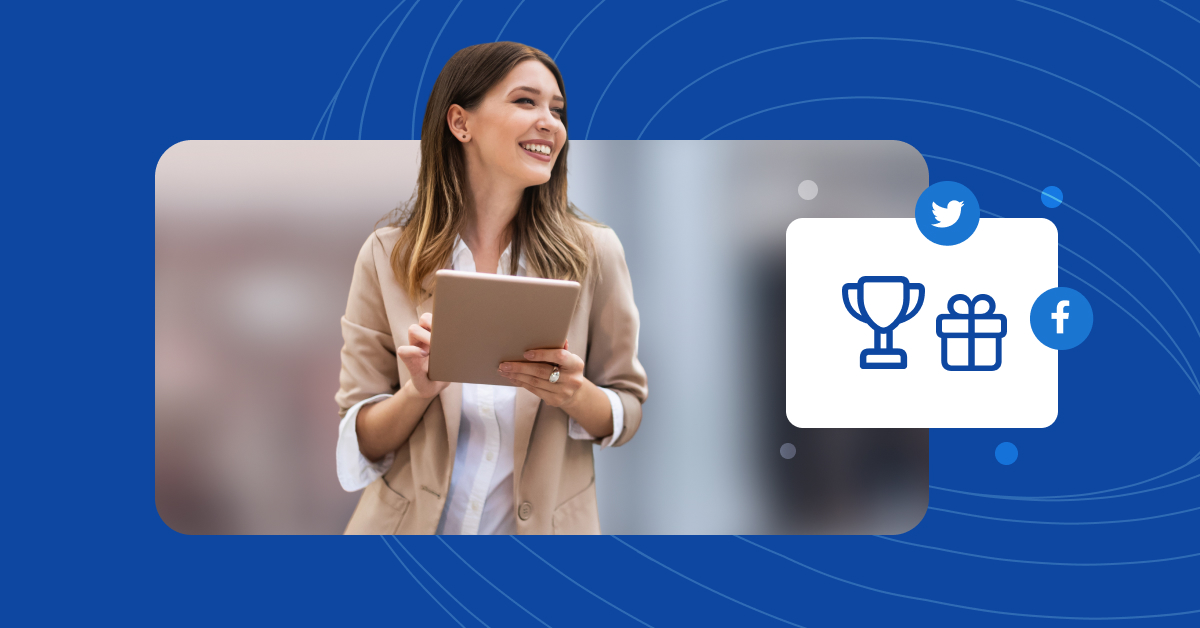 How to Run a Successful Online Contest
To run a successful online contest, there are a few crucial considerations to keep in mind before launching your contest. These three steps will assist you in creating a contest that not only yields profitable results but also offers valuable insights for future improvements.
Establish a Clear Contest Goal: Before commencing your online contest, it's essential to define a specific benchmark for success. This goal will serve as your yardstick to determine whether the contest was successful or not. Your goal might take the form of objectives like:
Achieving a 10% increase in Facebook likes
Gaining a set number of new followers on Instagram
Acquiring a specific count of new email subscribers
Setting this goal prior to launching the contest enables you to structure the contest accordingly, including entry formats and submission requirements.
Determine the Prize and Winner Selection Process: Outline the prize that will be offered to contest participants, ensuring that it's something enticing and valuable to them. Prize options could include limited edition items, gift cards, or a substantial collection of products. High-value prizes tend to attract more entrants.
Additionally, define the process by which the contest winner will be selected. If your contest is a sweepstakes, consider utilizing platforms like Rafflecopter or Random.org to ensure a completely random winner selection, maintaining fairness throughout the contest.
Create a Promotion Strategy: Consider how you'll effectively promote your contest once it's live. While social media and email are excellent tools for reaching your existing audience, ponder how you can extend your contest's reach beyond your regular followers. Some contests include sharing components, but you may want to explore additional promotional tactics such as:
Collaborating with influencers to expand your reach
Running Facebook ads to target a broader audience
Partnering with local businesses for cross-promotion
Once you've established these three fundamental steps, you can delve into the specifics of your contest. Here are some contest ideas you can consider implementing this year for your online store.
Photo contests represent another effective avenue for amplifying social media engagement. In an era where smartphones are constantly at our fingertips, there's a widespread passion for photography, and people relish the opportunity to share their captured moments.
Photos hold remarkable viral potential on social platforms, making photo contests a valuable tool for generating buzz within your fans' circles and expanding your brand's outreach to new audiences.
Similar to a pick-a-photo contest, you can establish a theme and invite participants to submit photos that align with the chosen theme. However, instead of your social media team or marketing department selecting the victor, empower your followers or fans to make the decision. Specify submission and voting criteria to ensure transparency in both processes.
To facilitate the contest, you can collect submissions through social media or email, and then display all entries on your website or within a designated platform for voting. This approach, as opposed to permitting submissions and voting solely on your social feed, allows you to curate the entries, ensuring they align with the theme and are suitable for your target audience.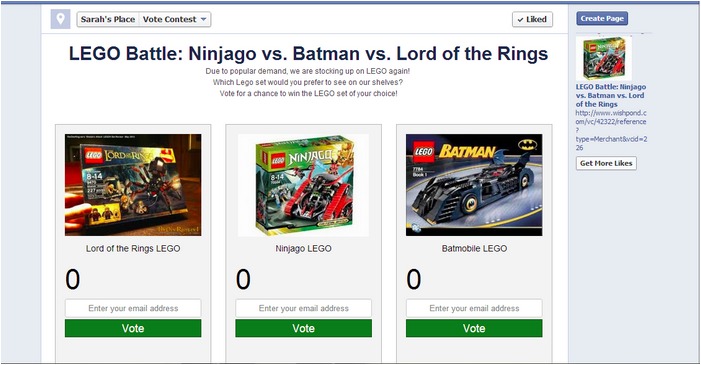 Hosting a Vote Contest is an excellent approach to engage with your supporters, as it invites them to express their opinions, while also demonstrating that you value their input. This type of social media contest is simple to set up on platforms like Facebook or your blog, and it offers a low barrier to entry for participants. To vote, all users need to do is click the "Vote" button and provide their email. Subsequently, they can convey their preferences by selecting their preferred voting option.
Hosting a Vote Contest not only allows you to gather entrants' email addresses for future engagement but also provides real-time tracking of campaign performance through our Social Marketing Suite.
Furthermore, when a supporter casts their vote, the action is automatically shared on their Facebook profile, inviting their friends to participate as well. This ripple effect generates excitement around your campaign and has the potential to transform it into a viral sensation for your business.
Engage your audience's creativity and sense of humor by hosting a Photo Caption Contest. In this entertaining contest format, you post a photo, ideally related to your store or products, and invite participants to craft creative or funny captions for it. You can even extend this concept to short videos for added variety.
Distinguishing itself from the pick-a-photo contest, this contest centers on your provided image, with your followers contributing their humorous captions. Share an image that resonates with your company, product, or industry, and encourage people to unleash their creativity in crafting captions. You can even consider running multiple contests based on the same photo, with categories such as funniest caption or best sales pitch.
Photo Caption Contests are an excellent social media contest idea to captivate your fans. They often ignite spirited competition among participants and inject an element of fun into your brand's interactions. While Photo Captions may not require extensive creativity, they do offer a low barrier to entry. Users can readily submit and vote on captions for the provided photos.
Once participants submit their entries, the contest generates additional excitement as entrants automatically share a post on their Facebook profiles, inviting their friends to join in. This dynamic amplifies the buzz surrounding your campaign and lays the groundwork for a potential viral marketing initiative for your business.
When embarking on the journey of a company logo redesign, it's a wise move to engage your audience in the creative process. This not only fosters a sense of involvement but also taps into a diverse range of ideas and perspectives. Here's a more detailed approach to involving your audience in this endeavor:
Specify Design Elements: Start by empowering your audience with clear guidelines. Provide specific details about the elements you want to incorporate into the new logo. For example, you might suggest particular colors that align with your brand identity or symbols that represent your company's values and mission. By setting these parameters, you ensure that the designs align with your vision.
Open the Creative Doors: Extend an open invitation to the public, inviting them to participate in the logo redesign process. Make it clear that you value their input and creativity. Emphasize that this is an opportunity for anyone, regardless of their design background, to contribute.
Diverse Submission Methods: Offer a range of submission methods to accommodate different creative approaches. Some individuals may prefer digital design programs, while others might excel at hand-drawing concepts. By allowing flexibility in how designs are created, you encourage a broader participation base.
Submission Guidelines: Establish clear submission guidelines to ensure consistency and fairness. Specify file formats and dimensions for digital submissions. For hand-drawn designs, provide instructions on how to scan or photograph them effectively. Make it easy for participants to share their work.
Judging and Evaluation: Create a structured judging process. As logo designs start pouring in, assemble a panel of experts or stakeholders to assess the submissions. Consider criteria like creativity, alignment with brand identity, and scalability for various applications.
Feedback and Recognition: Acknowledge and appreciate every submission. Even if a design doesn't make the final cut, providing feedback can be valuable to the participants. Recognize outstanding entries through awards, certificates, or other forms of acknowledgment.
Iterate and Refine: After evaluating the submissions, consider conducting rounds of refinement or fine-tuning with selected designers. This collaborative approach can help bring the chosen logo closer to perfection.
Transparency: Maintain transparency throughout the process. Share updates with your audience, so they feel involved at every stage. This builds anticipation and keeps the engagement level high.
Involving your audience in a company logo redesign can be a rewarding and innovative approach, resulting in a logo that not only represents your brand effectively but also fosters a sense of community and collaboration.

Sweepstakes are one of the easiest types of contests you can run with Wishpond. Setting up a sweepstakes takes just a few minutes, and all the sweepstakes we create are automatically made to work well on mobile devices, so lots of people can join in.
In a sweepstakes, people can take part by simply clicking a button that says "Enter Sweepstakes" and giving their email address. This enters them for a chance to win the prize we've chosen for that sweepstakes.
Once folks sign up for the sweepstakes, they can also choose to share a post on their Facebook page, inviting their friends to join too. This sharing part creates excitement and interest in your campaign and could make it really popular for your business.
Just like all the other contest types we offer, sweepstakes let you gather email addresses from the people who enter, which can be really helpful for future marketing. And you can also keep an eye on how your campaign is doing in real-time, and see how well it's working using our All-in-One marketing tools.
Let's explore the idea of hosting a Like-to-Win contest, a unique and highly effective concept where the winner is selected randomly from the pool of users who have either liked your Facebook page or engaged with your social media post.
This contest concept is particularly noteworthy because it actively encourages your audience to engage with your social media content. Unlike traditional contests that require participants to visit a separate landing page, this approach invites entrants to interact directly with your social media account. This heightened level of interaction not only extends the reach of your contest post but also boosts overall engagement levels.
To further enrich the engagement experience, you can take it up a notch by encouraging entrants to tag a friend in the comments or share the contest post. By doing so, you grant them an additional opportunity to increase their chances of winning. This multi-faceted approach is a powerful strategy for not only elevating overall engagement but also expanding the reach and impact of your contest.
In essence, a Like-to-Win contest brings your audience closer to your brand by fostering direct interaction, and by incorporating elements like tagging and sharing, you create a dynamic and engaging experience that resonates with your social media followers, ultimately leading to a more successful and impactful contest.
Gamification has emerged as a popular trend for engaging customers and injecting an element of enjoyment into their interactions with a brand.
One successful strategy in this realm involves distributing prizes within the framework of an entertaining game format. This strategy encourages customers to not only make purchases but also actively participate in the brand's activities.
A classic example of gamification is McDonald's Monopoly board game challenge. In this promotion, customers who purchase food items receive stickers that they can use to complete their Monopoly boards. These stickers often lead to instant rewards, such as free food or shopping vouchers, creating a sense of excitement and anticipation.
To cater to the preferences of today's digitally inclined audiences, game contests can also be seamlessly integrated into mobile apps or run through social media platforms. This approach aligns perfectly with the changing tastes of modern consumers in the digital age, ensuring that gamification remains an effective and captivating strategy for businesses to connect with their customers.
Essay contests demand more from your supporters, as they require participants to articulate their thoughts and opinions in written form. However, setting up these contests is just as straightforward as using any of our other applications.
Through an essay contest, you have the opportunity to ask your supporters what drives their passion for your cause. You can invite your followers to share their personal stories and provide them with a platform to make their voices heard.
This approach not only fosters a deeper level of engagement with your fans and followers by demonstrating that you genuinely value their input and stories, but it also allows you to showcase these written expressions of passion. Such heartfelt narratives have the potential to inspire others and ignite their own enthusiasm for your cause.
You can also offer incentives for the best essays, perhaps by selecting winners based on the number of votes they receive. This encourages participants to actively promote their essays on their social media platforms and among their friends, further extending the reach of your cause. Prize offerings don't need to be extravagant, especially if you're a smaller business; they could include opportunities like spending a day with those you assist, recognition by featuring their essays on your website, or offering gift certificates related to your cause or target audience.
In essence, essay contests provide a powerful platform for engagement, storytelling, and recognition, enabling your supporters to connect with your cause on a more profound level while amplifying your organization's impact and outreach.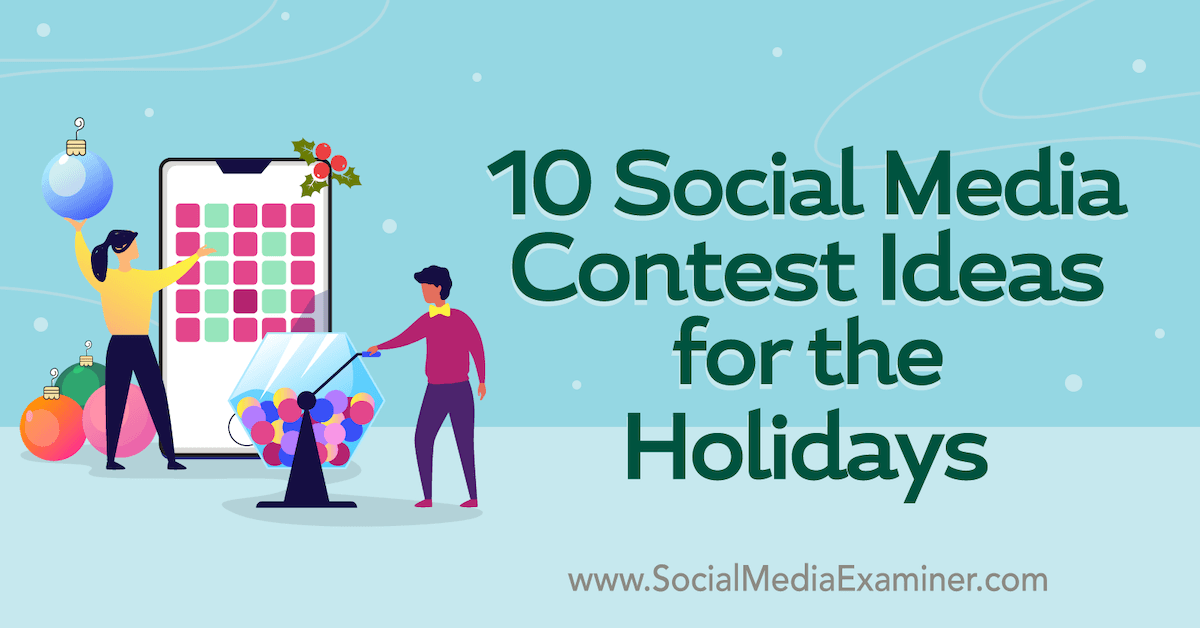 Thanksgiving: Run a Thanksgiving promotion as people get together for the holidays. Contest ideas can include "what are you thankful for" essay contests or share your Thanksgiving memories photo contests.
Easter: Embrace the joy of Easter by organizing a contest that allows your followers to participate and stand a chance to win an Easter gift pack. This type of sweepstakes is especially appealing to businesses in the hospitality industry and chocolate shops.
Valentine's Day: Valentine's day is an awesome chance for a ton of businesses to run a social media contest. Whether it be a photo contest, romantic dinner giveaway, or others. Check out Our Most Successful Valentine's Day Campaigns for inspiration.
Father's Day: Make Father's Day special by organizing a photo contest or sweepstakes that offers a father-son giveaway package as a prize. Celebrate the bond between fathers and their children while engaging your audience.
Christmas: Take advantage of the festive spirit during Christmas by hosting a contest. Let users enter to win enticing prizes such as a Christmas basket, gift cards, or bundles of related products. Christmas contests can generate significant engagement due to the holiday season's popularity.
New Year's: New Year's is an opportune time to launch a contest. Many people are eager to kickstart their fitness journeys and celebrate the beginning of a new year. Consider hosting a New Year's sweepstakes or a photo contest to tap into this holiday's energy.
St. Patrick's Day: Get into the spirit of St. Patrick's Day by running a contest that encourages participants to dress up, go out for drinks, and have a great time. Reward your customers and fans with prizes for showcasing their St. Patrick's Day enthusiasm by wearing green or engaging in themed activities.
Halloween: Halloween is a fantastic time of year to organize a photo contest. People love to showcase their costumes, and contests that allow for voting and sharing can reach a wide audience. Explore successful Halloween contest examples for inspiration on how to make the most of this spooky season.
Mother's Day: Show appreciation for moms by running a Mother's Day promotion. Include giveaways for the entire family and opportunities for people to share their cherished memories with their mothers. It's a heartfelt way to connect with your audience.
These holiday-themed contests not only add fun and excitement to your social media presence but also provide opportunities to connect with your audience on a more personal level. Tailoring your promotions to the holidays ensures that your brand remains relevant and engaging throughout the year.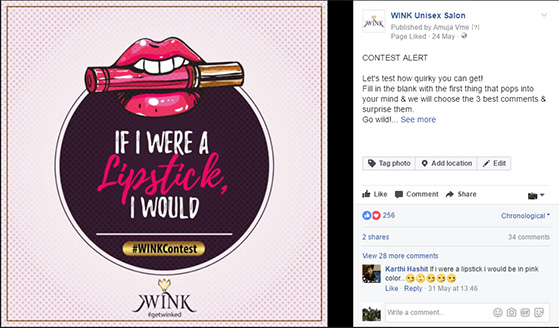 Fill-in-the-blank contests offer an engaging and entertaining way for both your marketing team and your audience to unleash their creativity with words. This type of contest involves presenting a sentence or phrase, either in text or through an image, and deliberately leaving out a word or phrase that participants need to fill in. The beauty of fill-in-the-blank contests lies in their versatility; they can be executed in a couple of distinct ways.
One approach is to provide a sentence with a clear, correct answer, prompting participants to guess and complete the missing word or phrase. This type of contest tests knowledge and encourages your audience to think critically.
Alternatively, you can run it as a caption contest, inviting participants to submit their own responses to the blank space. In this case, the goal is to find the wittiest or most clever user-generated response, adding a layer of humor and creativity to your engagement strategy.
In essence, fill-in-the-blank contests inject an element of interactive fun into your marketing efforts, fostering engagement, creativity, and community participation among your audience.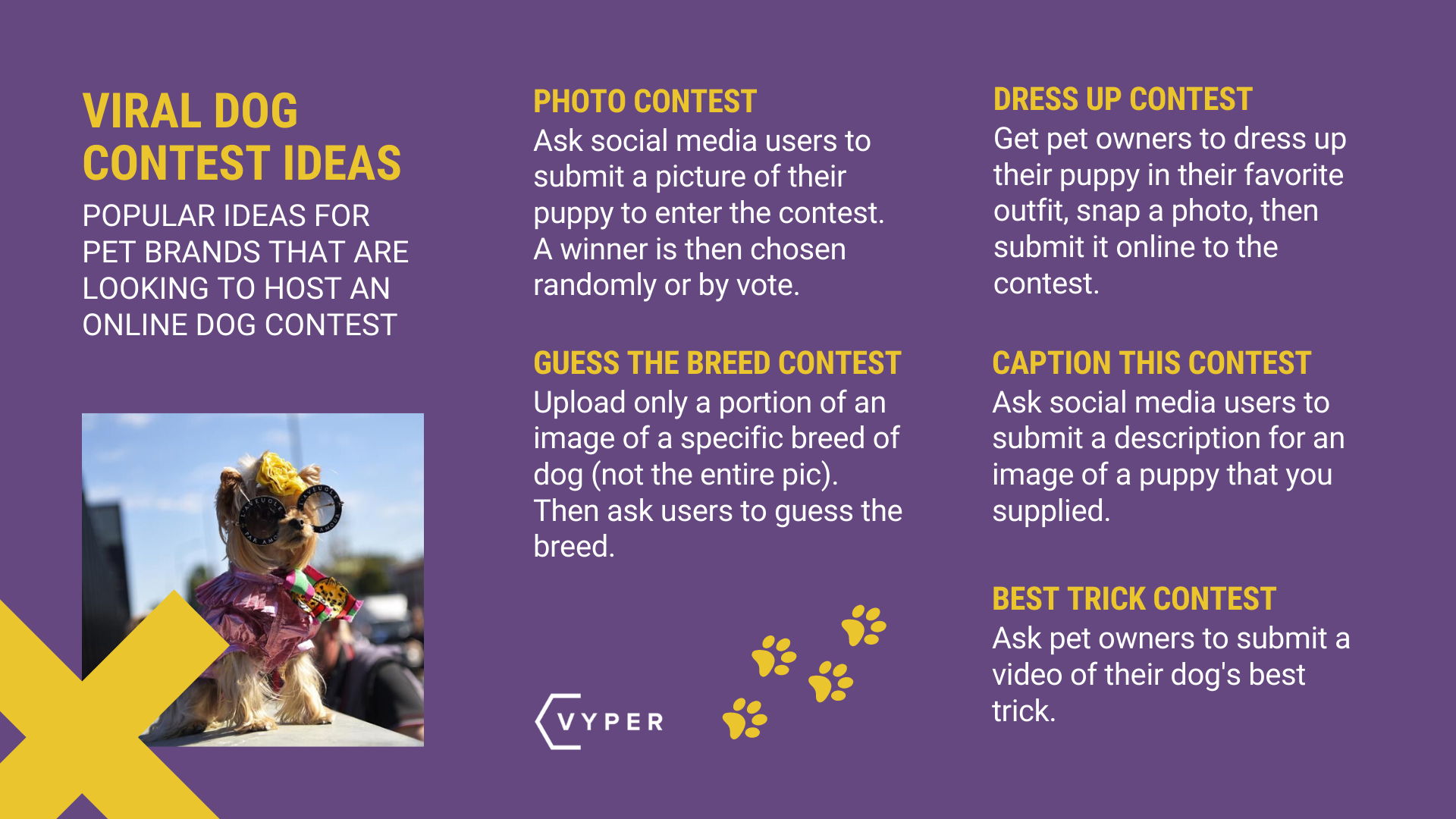 Cute Dogs: If you're a dog owner or know someone who is, you're probably aware of the countless adorable photos they have of their furry companions. You can leverage this abundance of cuteness by organizing a cute dog photo contest. Encourage dog lovers to share the most endearing snapshots of their canine pals.
Pet Halloween Costume: Sometimes, pets steal the show with their fantastic costumes on Halloween. Host a "Best Pet Halloween Costume" contest to determine which pet has the most impressive costume, either through the judgment of a panel of judges or by popular vote.
Funny Pet: Inject some laughter into your social media with a funny pet video contest. Invite participants to showcase their pets' hilarious outfits, antics, and behaviors. These contests work exceptionally well when combined with a voting element, allowing the audience to decide which pet is the funniest.
Favorite Pet Memory: Create an opportunity for pet owners to share heartwarming memories of their beloved animals. You can choose to run this contest in different formats, such as inviting participants to write a short essay or a comment about their cherished pet memories or encouraging them to share a photo along with a meaningful caption. This contest not only fosters emotional connections but also allows your audience to celebrate the special moments they've shared with their pets.
Graduation: Graduation day, whether it's from high school, college, trade school, or any educational institution, marks a significant milestone in many people's lives. Create an opportunity for them to celebrate and share their cherished graduation memories by participating in a contest. It's a chance to reflect on their achievements and connect with others who have experienced this momentous occasion.
Back to School: As the back-to-school season approaches, people all over the world embark on the hunt for school supplies, clothing, and everything needed for their studies. This time presents a prime opportunity to run back-to-school contests, including sweepstakes and other promotions that can assist individuals in getting prepared for the academic year ahead. Explore inspiring back-to-school contest ideas and examples for creative ways to engage your audience during this bustling season.
Wedding Day: Few days in a person's life hold as much significance as their wedding day. Consider running a social media contest centered around this momentous occasion. Invite people to share pictures capturing the magic of their special day, leave heartwarming comments on those photos, or even submit videos showcasing their unforgettable first dance. Such contests not only celebrate the beauty of love but also allow couples to relive and share their cherished wedding memories.
Engagement: Engagement stories are often filled with romance and creativity. Harness the power of these heartfelt narratives by hosting a "How Did You Get Engaged Contest." Participants can share their engagement stories through photos or essays, creating a wonderful opportunity for engagement and connection. This type of contest is especially fitting for businesses like jewelry stores, hotels, and resorts, as it resonates with the essence of love and commitment.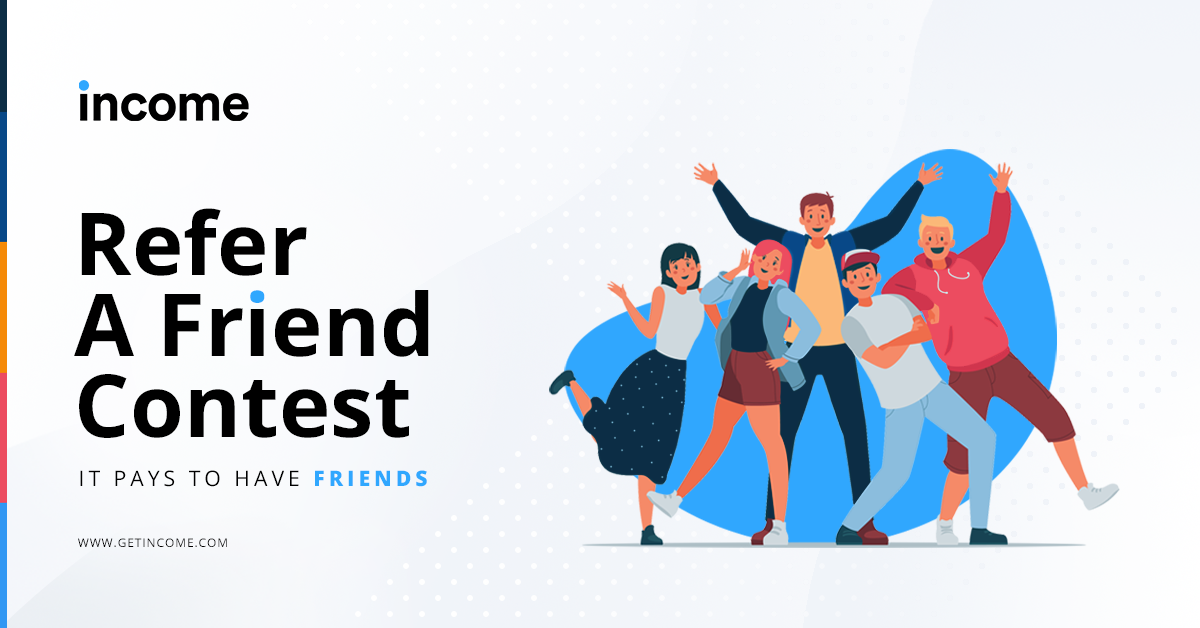 Encouraging your current customers to refer a friend in exchange for a chance to win a prize in your upcoming contest is a brilliant strategy.
Referral programs provide a powerful avenue to amplify word-of-mouth marketing and are remarkably straightforward to implement. You can easily provide your existing customers with a unique code or an email link to share with their friends and family. If these new prospects make a purchase as a result of the referral, they, too, can join the referral chain by inviting more people.
When executed effectively, referral campaigns exhibit a snowball effect on your business. They spread organically, attracting more participants and gaining momentum. Consequently, this results in increased revenue and substantial business growth. Referral programs not only reward your loyal customers but also leverage their networks to expand your customer base, making it a win-win strategy for both your business and your satisfied customers.
If your business has a presence on social media, you're sitting on a goldmine for hosting engaging contests. And if you're not already leveraging social media, it's high time you reconsider!
Social media contests are invaluable for boosting engagement and actively involving your audience. You can reward participants by encouraging them to interact with your profile and posts, whether it's through liking, commenting, or subscribing.
The world of social media offers a playground for creativity, allowing you to craft contests that are not only visually appealing but also enjoyable to join. You have a myriad of options to explore, from interactive posts to clickable videos.
One of the key advantages of social media, as the name suggests, is its inherently social nature. Your contests have the potential to capture the attention of friends and followers, especially when you harness the power of hashtags. Moreover, you can keep an eye on your competitors' activities and strive to outperform them. For instance, if you offer document automation software, you can demonstrate to your audience why your product surpasses what competitors like Proposify offer.
In essence, social media contests provide an ideal platform to foster engagement, expand your reach, and stay ahead of the competition. So, make the most of this dynamic and ever-evolving landscape to connect with your audience and propel your business forward.
You likely have a treasure trove of compelling stories among your existing and potential customers, just waiting to be shared. Transform this wealth of narratives into an engaging contest by inviting them to express themselves.
Here are some prompts that can be quite effective:
What would winning this contest do for you?
What would you do with the prize?
Tell us why we should choose you.
Share your funniest or most embarrassing moments.
To enhance engagement further, consider incorporating a voting mechanism where users can cast their votes for their favorite or most convincing story.
If your industry is more on the professional and specialized side, you might need to infuse creativity into your story contests. For instance, if your business provides document automation software, you could ask participants to explain how your Hubspot add-ons would benefit them. You'll likely be pleasantly surprised by the level of participation when there's an enticing prize on the line.
In essence, storytelling contests not only allow you to tap into the authentic experiences of your audience but also create a sense of community and interaction around your brand. They can be a powerful tool to connect with your customers and showcase the real-world impact of your products or services.
These five contest ideas can serve as a straightforward pathway to expand your business and boost revenue. If you're seeking a more seamless and efficient approach, consider utilizing contest management software such as Award Force to streamline your contest operations.
With Award Force, you can effortlessly handle various aspects of contest management, from accepting and organizing entries to evaluating submissions and announcing and showcasing the deserving winners. It simplifies the entire contest management process.
If you're concerned about the costs associated with running a contest, you can even offset them by implementing awards entry fees. This strategy allows you to generate additional revenue and offer more enticing prizes to participants.
Keep in mind that contests hold appeal across a wide range of industries. So, regardless of how specialized or seemingly "dull" your niche may be, a well-executed contest has the potential to ignite excitement and engagement among your audience.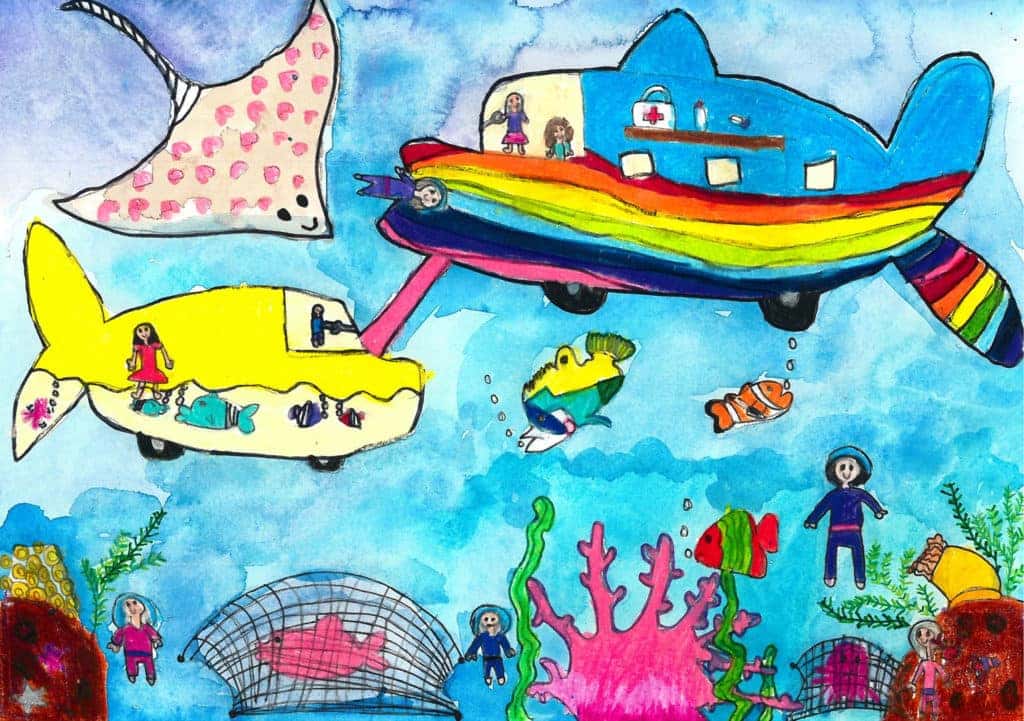 Best Song: If you're part of a band, own a recording studio, run a music store, or even operate a live concert venue, hosting a "Best Song" contest can be an excellent way to engage your audience. Allow participants to upload their original tracks, and let the audience vote for their favorites. It's a fantastic opportunity to celebrate musical talent and involve your community.
Best Poem: Poetry is often a matter of personal interpretation, making it challenging to run a poetry contest solely based on popular vote. However, you can overcome this by having a panel of judges determine the winners. This approach is particularly effective for raising awareness among publishers, schools, and various causes, while also fostering a love for poetry.
Best Dance: With the help of a video contest, you can easily organize a "Best Dance" competition. These contests are perfect for dance schools, event promotion, and building community engagement. Participants can showcase their dance moves, and the audience can enjoy the performances and show their support.
Drawing: People love to share their artistic creations, and you can provide them with a platform to do so by hosting a drawing contest. Participants can submit their artwork, and all entries can be displayed in a gallery for everyone to appreciate. The audience can participate by voting for their favorite pieces. It's a wonderful way to celebrate artistic talent and encourage creative expression within your community.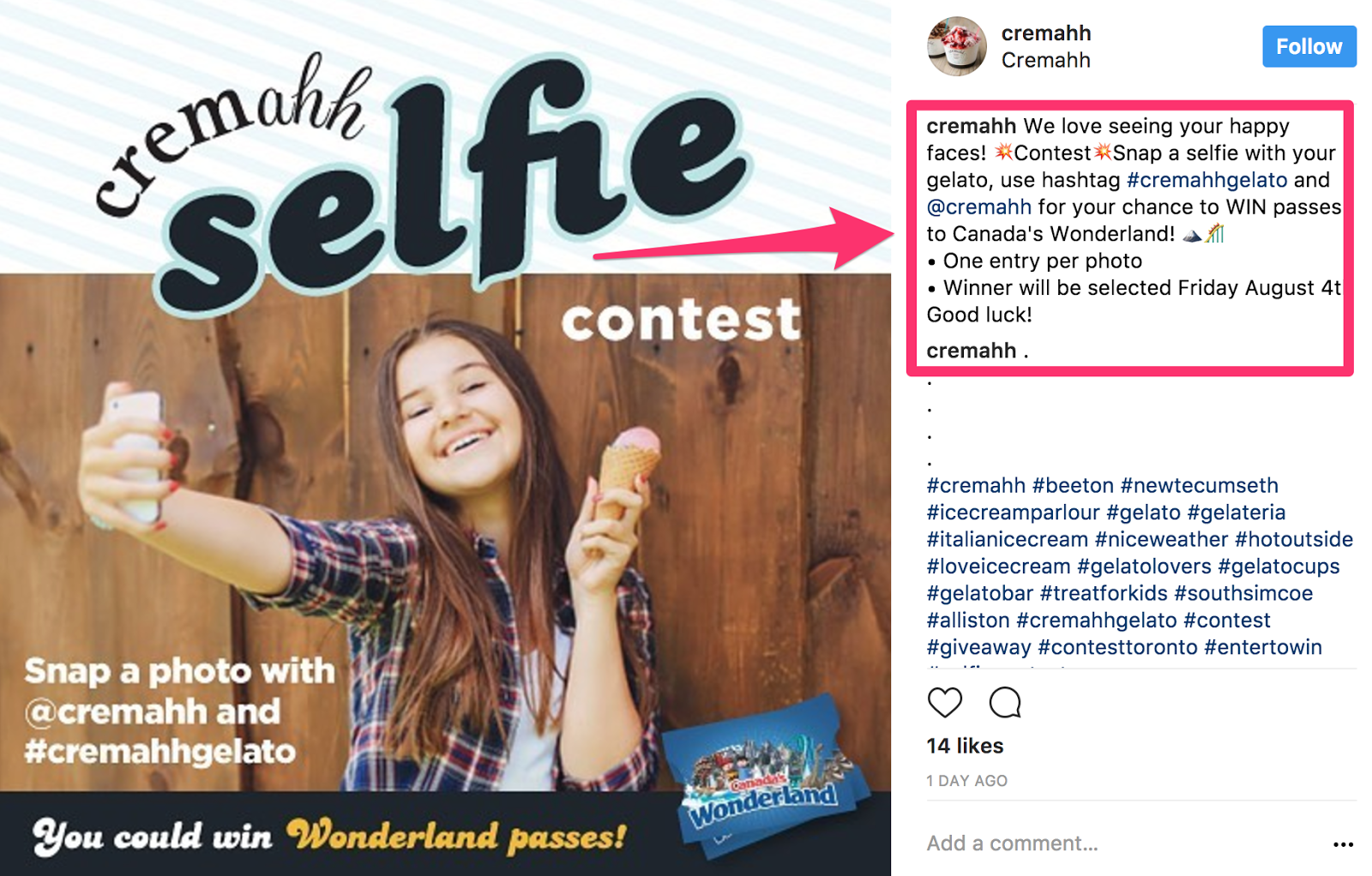 Invite users to participate in your contest by snapping a "selfie" with your product. This not only adds a real-life context to your offerings but also demonstrates the existing customer base that loves your products. You can then proceed by randomly selecting a winner or allowing your audience to vote for their favorite selfie. This approach not only engages your customers but also showcases the genuine enthusiasm and satisfaction of those who choose your products.
Encourage participants to express their admiration for your company and products through written essays. This not only provides a platform for them to share their genuine experiences but also yields valuable customer stories and insightful quotes that you can strategically utilize in the future. These essays serve as a treasure trove of authentic feedback and endorsements, enriching your brand's narrative and bolstering its reputation.
Sweepstakes serve as effective tools for attracting new individuals to join your email list, engage with your social media profiles through likes, follows, and shares, explore the products in your store, and provide comments on specific blog posts. Frequently, participants can earn additional entries by completing multiple actions of this kind. Subsequently, at the conclusion of the contest, either a random winner is chosen or the individual with the highest number of votes secures the victory. This approach not only expands your reach and engagement but also adds an element of excitement and anticipation for participants.
Engage your users in sharing their innovative product usage tips through a contest that encourages participants to showcase their best suggestions. This interactive approach not only offers an enjoyable way for your audience to discover valuable hacks and tips for using your products but also fosters a lively dialogue on social media. Simply request participants to share their most valuable product-use tip, and afterward, you can select the winning entry either based on the tip with the highest number of likes or through a random draw. This contest not only enhances product knowledge but also strengthens your online community and encourages knowledge sharing.
One consistently effective online competition idea is to create a contest that encourages individuals to share photos featuring your product or business on Instagram, using a custom hashtag. You can draw winners on a weekly or monthly basis. This approach not only fosters brand awareness but also showcases your product being cherished by satisfied customers.
When it comes to Instagram contest ideas, the content you want participants to post can vary. For instance, you can invite your followers to share an Instagram story with a product review, craft a post using your business's custom filter or mask, narrate their experiences in the comments, or repost a photo featuring your product. Here's a pro tip: Make sure to remind participants that if their profiles are set to private, their entries might not be visible to you.
Another engaging option for an Instagram contest is a scavenger hunt. You can create puzzles or tasks and post them on Stories and/or in your feed. For instance, you might say, "Answer a question on Stories" or "Find [insert #] differences between two similar pictures." Participants would need to complete each task to enter, and the first follower to successfully finish all the tasks is crowned the winner. This approach injects an element of excitement and interactivity into your Instagram presence.
Consider hosting a versatile photo-sharing contest that invites participants to submit a photo as their contest entry. The photo could capture their favorite outfit, featuring an item from your store, or showcase their pets delighting in their favorite treats. The essence of this contest is to spotlight your product, but with a personal touch from the user. Encourage participants to unleash their creativity and showcase their unique perspectives. The user-generated content generated from this contest can later be repurposed and shared on your social media channels, creating a sense of community and highlighting your products in real-life scenarios.
While nearly any type of contest can be adapted to suit various social media platforms, some contest ideas are particularly well-suited for Facebook. Here are some effective Facebook contest ideas:
Q&A Contest: Post a question on your Facebook page, and the first person to comment with the correct answer wins. This format works exceptionally well for fast, one-day contests, creating a sense of urgency and engagement.
Vote for a Product: Engage your followers by allowing them to vote for their favorite product or choose your next new product. Later, you can randomly select a winner from the followers who participated. This type of contest not only builds excitement but also provides valuable insights, helping you make informed decisions about your product offerings.
Take a Quiz and Share Your Result: Craft an engaging quiz, using online quiz makers if needed, and encourage participants to share their quiz results on their Facebook page. From those who share their results, you can select a winner. This contest combines fun and interaction while spreading the word about your brand.
Additionally, you can leverage Facebook features to boost engagement during your contest. For example, if you aim to increase your audience size for an upcoming Facebook Live session, you can use that live broadcast to announce the contest winner. Remember to consider this synergy when brainstorming Facebook contest ideas, as it can enhance the overall impact and engagement of your campaigns.
The majority of content marketing contests occur in digital realms, particularly on social media platforms. This digital landscape offers a seamless and accessible entry point for the audience, while also providing a convenient means for brands to announce the winners. Consider these ideas to inspire your creation of contests tailored to your digital platforms:
Boost user-generated content for your brand by organizing a blogging contest. Present your readers with a specific topic and word count criteria, and invite them to submit their entries. In this contest, the reward lies in the competition itself. You can publish the winning content on your website and share it across your social media platforms to provide the writer with well-deserved recognition. This approach not only enriches your content portfolio but also engages your audience and nurtures a sense of community and involvement.
If you have the capability to develop a brief computer or in-app game, you can transform it into an engaging contest. The game concept can span a wide range, from a matching game to a skills challenge. To reinforce your brand identity, consider theming the game around your product or service. For instance, a heating and cooling company might design a game where players must guide the repairman from the front door to the basement heating unit, all while navigating obstacles like pets or children's toys.
To incentivize participation, offer a prize to the individual who achieves the highest score within a specified timeframe. If the game doesn't incorporate a scoring system, you can randomly select one person who successfully completes the game or reaches a specific level as the winner. This approach not only adds an element of fun and interactivity to your brand but also fosters engagement and excitement among your audience.
Inspire your audience to unleash their creativity with a drawing or painting contest. Invite them to craft an artistic rendition of their favorite product from your store, and then initiate a voting phase to determine the audience's favorite.
You can take this a step further by collaborating with artists who can evaluate the entries and select a winner based on their artistic skills and execution. Additionally, you can introduce a dual-winner approach to encourage more participation: one winner based on artistic prowess and another winner determined by the number of likes and shares garnered. This multi-faceted contest not only celebrates artistic expression but also enhances engagement and interaction within your community.
A "Pick-a-Photo" contest serves as an effective means to gather user-generated content. Begin by conceiving a theme and inviting your followers to creatively interpret it through a photo. This theme can be closely linked to your products, such as encouraging people to capture the most enjoyable way to savor a meal from your restaurant and then submit a photo.
Alternatively, the theme can revolve around an upcoming event, holiday, or campaign, even if it doesn't directly correlate with your brand. It's essential to provide clear instructions regarding the theme and any judging criteria to ensure participants have the best chance to win. This contest format not only fosters engagement and creativity but also enriches your content pool with user-generated material.
If you're preparing to introduce a new product or product line, consider engaging your audience in a voting contest to determine which one they're most eager to see. For instance, Lays successfully employed this contest format multiple times to incorporate new potato chip flavors into its product range. Fans of the brand could not only suggest their flavor ideas but also vote for their favorites among a list of finalists.
In "Pick-a-Product" contests, your followers and online community can participate in the voting process. Additionally, you may select one or two voters from the winning category to be among the first to try the new product. This contest type offers the dual benefit of gathering valuable data about your audience's preferences, dislikes, and expectations, providing insights into their opinions and helping inform your company's product decisions.
If you're in search of a fresh tagline for your company or a specific product, consider hosting a slogan creation contest. This contest idea offers individuals the opportunity to propose a tagline that may become associated with your brand in the future. In this scenario, the contest itself serves as a prize. The winner has the privilege of seeing their tagline featured on your website, in a commercial, or on product packaging. Reviewing the submitted entries also serves as valuable market research, providing insights into what people are seeking and how they perceive your products and services.
If you're interested in gaining further insights to distinguish yourself from the competition, you can utilize the CopyPress free content analysis tool. This tool helps identify gaps in your content marketing and that of your competitors, allowing you to provide customers with more of the targeted content they desire. Here's a testimonial from a satisfied user:
"CopyPress gives us the ability to work with more dealership groups. We are able to provide unique and fresh content for an ever-growing customer base. We know that when we need an influx of content to keep our clients ahead of the game in the automotive landscape, CopyPress can handle these requests with ease."
Have you ever tried those engaging find-the-differences games, whether online or in a magazine? Well, you can implement a contest using the same concept. Creating a spot-the-difference game can be accomplished in two ways.
First, you can enlist the expertise of one of your graphic designers to craft an altered version of a logo or a photo that's relevant to your brand. However, if you're constrained by time or budget, you can take two photos within your store, warehouse, or office, introducing changes or moving objects in the second photo.
In this contest, participants can vie to be the first to spot all the differences, or the first to identify each individual change if you prefer to have multiple winners. Alternatively, you can opt to randomly select a winner from among those who successfully spot all the differences. To assist participants in their quest, provide them with the total number of differences to keep their searches focused. This type of contest adds an element of fun and challenge while engaging your audience in a visual and interactive way.
Promotional contests need not be confined solely to the online realm. Particularly if your business operates both in-person and on the internet, exploring hybrid contest ideas that bridge the digital and real-world domains can be a winning strategy. Here are some hybrid contest ideas that seamlessly blend both worlds:
Bingo games serve as delightful contests, and with the availability of online bingo card generators, you have the flexibility to incorporate nearly anything into the game spaces. The element of personalization transforms the game into a scavenger hunt that your audience can enjoy at their own pace.
Hosting a bingo game in person at an event adds an exciting dimension. You can award prizes to the first person who achieves a bingo or distribute prizes to multiple winners for each round.
Alternatively, you can take the bingo experience online, where participants can mark the spaces on their digital cards and provide proof of completion, such as photos or videos. Your followers can then submit their completed cards and materials to you. To elevate the excitement, consider offering additional prizes for achieving special bingos, like "four corners" or "full cards." This versatile contest format combines entertainment with engagement, catering to both in-person and online audiences.
Coloring contests have been a beloved tradition for brands that focus on families or kids. Typically, these contests occur in the physical realm. A child is handed a coloring page featuring the company's logo or product, and they eagerly set to work, adding their creative touches before submitting their masterpiece. A group of judges then has the delightful task of selecting their favorite entry. Alternatively, you can also organize digital coloring contests. This can be achieved by offering a downloadable version of the coloring sheet for participants to print at home, or by providing an online platform where they can digitally design their entries.
Organizing a Do-It-Yourself (DIY) contest presents an exhilarating opportunity for companies operating in artistic, construction, or STEM (science, technology, engineering, and math) domains. It's a chance to spark creativity by presenting participants with a creative challenge and witnessing the innovative solutions they concoct.
To host such a contest, begin by unveiling the creative prompt online and outlining the project's specific requirements. These requirements might include detailing the materials participants are permitted to use and any specific methods or techniques that are allowed or prohibited. With these guidelines in place, extend a warm invitation to your audience, urging them to share photos or videos showcasing their DIY creations, which will subsequently undergo judgment.
For an added twist, consider offering DIY kits containing the materials that contestants are exclusively allowed to use. It's intriguing to witness how participants rearrange these limited items to align with the contest's concept or topic. To add an educational dimension, encourage participants to create tutorial videos for their DIY projects, offering a
Escape rooms have gained significant popularity not only as team-building exercises for businesses but also as effective tools for brand contests. Whether you opt for an in-person or virtual format depends on your available resources and audience accessibility.
To create a captivating escape room experience, start by crafting a compelling storyline, premise, and a series of clever clues. These elements should be designed in a way that not only entertains but also educates participants about your company or products. The escape room becomes a means of immersive storytelling, allowing participants to unravel the narrative as they progress.
Once your escape room is ready, it's time to offer enticing rewards. Prizes can be awarded to individuals or groups based on different criteria. For instance, you can recognize the first team to successfully break out, the team with the fastest escape time, or even choose a winner at random from among all those who successfully complete the challenge.
By incorporating escape rooms into your brand contests, you engage participants in a dynamic and memorable experience that not only entertains but also fosters a deeper understanding of your company and its offerings.
The "How many gumballs are in the jar?" guessing contest is a familiar and enjoyable activity often encountered at events like street fairs or bridal showers. However, this classic contest can be a fantastic promotional tool for your company as well, especially if your business revolves around food, candy, or any other small products that can be neatly displayed in a jar.
To organize this contest online, begin by sharing a photo of the jar filled with items and invite people to participate by guessing the number of items contained within. Alternatively, you can host the contest in person, perhaps at a conference or similar event, where participants write down their guesses on a designated sheet.
When it comes to selecting the winner, consider awarding the person whose guess is closest to the actual number of items inside the jar. In the event of a tie, think about how you'll handle the situation if multiple participants happen to guess the exact number accurately.
This guessing contest not only adds an element of fun and engagement but also provides an opportunity for your company to give away the items in the jar as prizes, making it a delightful and interactive promotion.
If your company already has a mascot or is considering getting one, involving your followers in the decision-making process can be an engaging and interactive way to build brand loyalty. Here are a couple of mascot contest ideas:
Choose the Mascot: Allow your followers to participate in selecting your company's mascot. Share options or concepts for potential mascots and ask them to vote for their favorite. This not only lets your audience feel involved in the brand's identity but also provides valuable feedback.
Name the Mascot: If you already have a mascot, consider holding a contest to name it. Encourage your followers to submit creative name suggestions, and then select the most fitting or appealing name with the help of a voting process.
Mascot Outfit Redesign: Another fun contest idea is to let your creative audience members redesign your mascot's outfit. Provide a template or guidelines, and have participants submit their revamped costume ideas. Choose a winning design that aligns with your brand and implement it as the new look for your mascot.
Mascot Selfie Search or Scavenger Hunt: To bring the mascot contest into the physical world, organize a mascot selfie search or a scavenger hunt. Place your mascot in different locations around town or at events related to your business. Encourage people to find the mascot, take a selfie with it, and share it on social media with a specific hashtag. Offer prizes to those who successfully complete the hunt or gather the most selfies.
These mascot-related contests not only boost engagement but also create a deeper connection between your audience and your brand, as they become actively involved in shaping and promoting your company's mascot.
If you're planning to revamp your product packaging or embark on a fresh design journey, involving the public in this creative process can be a powerful and engaging approach. Consider hosting a product customization contest to harness the collective creativity of your audience. Here's how you can do it:
Design Sheets: Offer both physical and digital design sheets that participants can use as a canvas to create their unique packaging designs from scratch. These sheets can serve as the foundation for their artistic expressions.
Clear Guidelines: Ensure that your contest guidelines are crystal clear. Specify any constraints or expectations for customization, such as color schemes, branding elements, or product information that must be included in the design. This will help participants align their creativity with your brand's identity.
Submission Process: Establish a streamlined submission process, allowing participants to submit their custom packaging designs easily. Make sure to set a deadline for entries to create a sense of urgency and excitement.
Prizes: Offer enticing prizes to incentivize participation and reward the most outstanding designs. Consider prizes like product bundles, cash rewards, or the opportunity to have their design featured on your product packaging.
Public Voting: Engage your audience further by allowing them to vote for their favorite designs. This can be done through an online platform, where people can view and vote for the submissions. Public voting adds an element of interactivity and inclusivity to the contest.
Implementation: Once you've chosen the winning design, work with the designer to implement it into your product packaging. Make sure to credit the winning contributor for their creativity and involvement.
By opening up your product packaging design process to the public through a customization contest, you not only tap into a wealth of creative ideas but also foster a deeper connection between your brand and your audience. It's an engaging and collaborative approach that can generate excitement and brand loyalty.
Scavenger hunts are delightful contests that not only infuse fun into your promotional efforts but also serve as effective tools to boost conversions and enhance brand awareness. The beauty of these hunts lies in their versatility – you can choose to run them digitally, in the physical world, or even combine both to tailor them to your organization's specific needs.
In a digital scavenger hunt, participants are sent on a quest either across the web or within your online platforms to locate items or information related to your company. This encourages exploration of your digital landscape and keeps participants engaged with your brand. You can also incorporate clues to be deciphered, directing participants to specific sections of your website, blog, or even your physical retail stores. This strategic element ensures that your audience interacts with and learns about the aspects of your business that matter most to you.
When determining the winner, you can opt for various methods. One approach is to award the prize to the individual or team that accumulates the highest score, often by successfully completing the most tasks or finding the most items. Alternatively, you can choose a winner at random from among those who successfully finish the scavenger hunt, ensuring that everyone who participates has a chance to win.
By orchestrating scavenger hunts as part of your marketing strategy, you not only entertain and engage your audience but also guide them to discover the facets of your brand that you want them to explore. It's a dynamic and interactive way to promote your business while fostering a sense of excitement and adventure among your customers or followers.
The holiday season presents a golden opportunity to host contests and boost engagement. You have a plethora of choices for holiday contests, catering to both digital and in-person settings. Here's a list of holiday contest ideas to consider:
Christmas Tree Decorating Contest: Encourage participants to showcase their creativity by decorating Christmas trees in unique and festive ways. This can be done in-person or through digital photo submissions.
Easter Egg Decorating Contest: Host a competition for the most beautifully decorated Easter eggs. Participants can share their egg designs online or display them in a physical setting.
Gingerbread House Construction Contest: Challenge individuals or teams to construct impressive gingerbread houses, showcasing their culinary and artistic skills.
Halloween Costume Contest: Invite people to flaunt their spookiest or most creative Halloween costumes, either through photos shared online or at an in-person event.
Home or Space Decorating Competition: Encourage participants to deck their homes or spaces with holiday-themed decor and compete for the title of the best-decorated space.
Parade Float Design Contest: If your community hosts holiday parades, organize a contest for the most captivating parade float design.
Pie Baking Contest: For Thanksgiving or other holidays, hold a pie-baking competition where participants showcase their baking prowess.
Pumpkin Carving Contest: A Halloween classic! Participants can carve intricate designs into pumpkins and share their creations digitally or in-person.
Snowman Construction Contest: In regions with snow, a snowman-building contest can be a delightful way to celebrate the season.
Ugly Sweater Creation Contest: Host a competition for the ugliest, most creatively decorated holiday sweaters. This is a fun and lighthearted option for engaging your audience.
These holiday-themed contests not only foster a sense of community and festive spirit but also provide an opportunity for participants to showcase their talents and creativity. Whether executed digitally or in-person, they can be a fantastic way to enhance engagement and connect with your audience during the holiday season.
Organizing a trivia contest is an excellent way to challenge people's intelligence and knowledge while boosting engagement. When setting up the structure of your trivia contest, you have several options to choose from, depending on your goals:
Fastest Correct Answer: You can determine the winner as the first person to provide the correct answer. This format adds an element of competition and rewards quick thinking.
Random Winner from Correct Answers: Alternatively, you can randomly select a winner from among all participants who provide the correct answer. This approach ensures that everyone who answers correctly has a chance to win.
Online Trivia Contests: To reach a broader audience, consider running trivia contests online, using different sets of questions each time. This allows for regular engagement with your online community.
For the trivia questions themselves, select topics that are relevant to your business, products, or industry. This not only educates participants about your offerings but also reinforces your brand's expertise.
Moreover, you can take your trivia contests to the next level by hosting trivia nights sponsored by your brand. These events can be conducted at your retail or office location, during conferences, or even online via video conferencing platforms. Trivia nights don't have to revolve entirely around your brand or industry; they can also serve as a sponsorship strategy to boost brand visibility and create a fun and memorable experience for your audience.
Incorporating trivia contests into your marketing strategy not only entertains your audience but also positions your brand as a source of knowledge and fun. It's a versatile and engaging approach to fostering a deeper connection with your customers or followers.
How to Make Your Simple Contest More Successful
If you're looking to ensure the success of your contest, here are some valuable tips to consider:
Select an Appealing Prize: The choice of the prize is crucial. Make sure it's something that your target audience genuinely desires. Conduct research or use surveys to understand their preferences and interests. A prize that resonates with them will generate more interest and participation.
Simplify Entry: Keep the entry process straightforward and user-friendly. The more effortless it is to participate, the more people are likely to engage. Avoid requesting excessive personal information or imposing numerous entry steps.
Effective Promotion: After creating your contest, you must promote it effectively. Utilize various channels such as your website, social media platforms, and email lists to get the word out. Consider collaborating with other bloggers or websites within your industry to expand your reach.
Announce the Winner Fairly and Quickly: Once the contest concludes, ensure a fair and transparent selection process for the winner. Promptly announce the winner and share the results. This fosters trust among your audience and encourages them to participate in future contests.
By adhering to these guidelines, you can enhance the appeal of your contest and maximize participation. A well-executed contest can not only engage your audience but also strengthen your brand's connection with them.
1. Are social media contests effective for marketing?
Yes, social media contests can be highly effective for marketing. They boost engagement, increase brand visibility, and generate user-generated content, which can all contribute to brand awareness and growth.
2. What types of prizes work best for social media contests?
Prizes that align with your audience's interests and your brand are most effective. This can include your own products or services, exclusive discounts, gift cards, or even experiences related to your niche.
3. How can I ensure fairness in selecting contest winners?
To ensure fairness, establish clear contest rules and criteria for selecting winners. Consider using random draws or impartial judging panels for fairness and transparency.
4. What is the ideal duration for a social media contest?
The ideal duration can vary but generally ranges from one to four weeks. It should provide participants enough time to engage while maintaining excitement and urgency.
5. How should I promote my social media contest?
Promote your contest across various channels, including your social media platforms, website, email list, and collaborations with influencers or industry partners.
6. Is it necessary to use a contest-specific hashtag?
Using a contest-specific hashtag can help you track entries and user-generated content. It also encourages participants to share your contest with their followers.
7. How do I handle user-generated content rights?
Be clear about ownership rights and usage of user-generated content in your contest rules. Seek permission from winners to share their content on your brand's social media channels.
Running social media contests can be a fantastic way to engage your audience, increase brand awareness, and generate excitement around your brand or products. However, it's essential to plan and execute contests thoughtfully while adhering to platform guidelines and legal requirements.