4

min read
Social media is an effective tool for insurance agents to connect with past customers and engage with potential ones. It allows you to promote sales, provide information about different policy types, offer advice, and establish yourself as a reliable authority in the insurance sector. Additionally, social media provides a platform to share news about closures, community events, and sponsorships.
To optimize your use of social media, it's important to define your target audience. You need to have a clear understanding of who you're addressing and regularly reassess your strategy. Your overall market may differ from the audience you target on social media. For example, if you primarily focus on commercial insurance, but your social media performs better when you post about personal lines products, it may be more beneficial to use social media for building your personal lines. Social media platforms are constantly evolving, so revisiting your strategy periodically ensures that you're not wasting time on outdated approaches.
Determining your goal and creating an implementation strategy is crucial. You may want to use social media to generate leads and sales or to create a community and showcase your company's culture. Your goal will influence how you utilize social media and allocate resources. It's also essential to choose the platforms you'll work on. While "the big 4" (Facebook, LinkedIn, Instagram, and Twitter) used to be the main focus, the emergence of new platforms and evolving audience preferences have changed the landscape.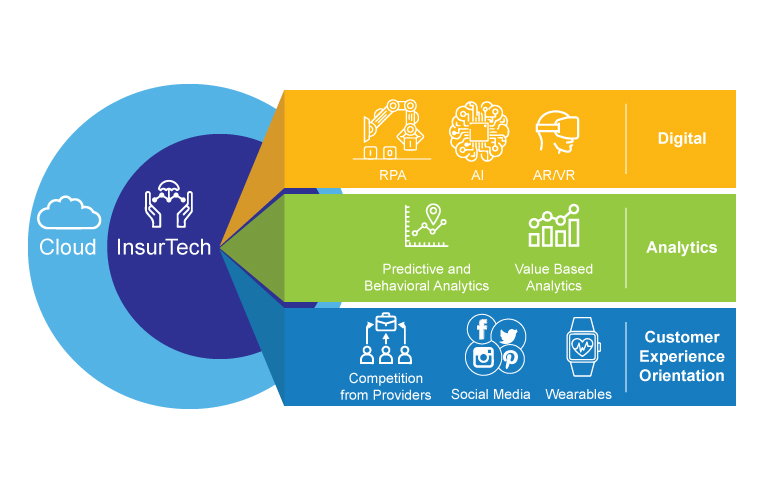 Let's take a closer look at the six most prevalent social media platforms:
Facebook: With 2.91 billion active users in 2022, Facebook remains the largest platform. The largest age group on Facebook is between 25 and 34, spending an average of 33 minutes per day on the app. Engaging Facebook content often combines text and images, and videos tend to drive more engagement than static images alone.
LinkedIn: LinkedIn boasts 810 million active users in 2022. While it has historically attracted older generations, it is now gaining popularity among millennials as they become a larger part of the job market. LinkedIn is particularly useful for B2B interactions and offers highly targeted audience options for paid ads.
Instagram: Instagram has a strong hold on Gen Z and Millennials. It has 2 billion active users in 2022, with the largest age group between 25 and 34. Instagram's focus on image and video-based content makes it a smart choice for insurance brokers looking to engage with clients.
Twitter: Although Twitter has experienced recent growth, studies suggest that it may face a decline in the coming years. Nonetheless, it remains a great platform for discussions and customer service. It has 211 million active users, with the largest age group between 18 and 29.
YouTube: YouTube trends younger and has over 2 billion active users in 2022. It is a video-based platform with an average session time of about 30 minutes. If you're looking to invest in video content, YouTube is a valuable platform that can be connected to other social media sites for enhanced performance.
TikTok: TikTok is a rapidly expanding social media network with 1 billion active users in 2022. While the largest age group is between 10 and 19, older age groups are increasingly joining. TikTok requires a different approach to social media strategy and provides an opportunity to regularly post brief video content for customers.
Social media can significantly increase brand awareness for insurance companies. To effectively engage with your target demographic, it's important to understand them and create highly targeted social media posts. Being creative and producing high-quality content that resonates with your audience is key to making a lasting impression.
Consistency and quality are crucial when using social media for your business. It's better to focus on a few platforms that you can consistently manage rather than spreading yourself too thin across multiple platforms. Different platforms have different dynamics and response times, so monitoring them is important.
Social media advertisements can be powerful tools for insurance firms to precisely target their audiences. By leveraging ad targeting options, you can avoid spending money on ads shown to the wrong audiences. Be strategic in creating your ads and consider offering something valuable to grab attention and drive conversions.
Summary
Overall, social media provides insurance agents with opportunities to connect with their target audience, showcase their expertise, and increase brand awareness. By understanding the platforms, defining goals, and creating engaging content, insurance agents can effectively utilize social media to achieve their objectives.