103

min read
50 Top Selling Best Gigs on Fiverr – Beginner's Guide to Profitable Gigs on Fiverr to make money in 2023
Working as a freelancer is difficult and intimidating, and the most difficult part is finding prospects or suitable assignments. So, here are the best-selling most profitable Fiverr gigs for you. Find the best one for you right now. Whether you're a freelancer or a corporation looking to use Fiverr, the platform provides numerous opportunities. However, certain jobs are more gratifying than others. Here are some of the top Fiverr gigs for businesses and freelancers alike.
Nobody could have predicted that Fiverr, a freelance gig marketplace, would grow by 600 per cent in just two to three years. What began as a modest website with $5 gigs has become one of the world's largest freelance platforms. Many people in today's world want to make extra money but are unsure how to do so.
Here is the solution for anyone who wishes to generate money quickly and easily while sitting at home. Fiverr is a platform that can let you earn more money than you could ever imagine.
Fiverr is one of the best marketplaces for generating extra cash and launching a side project while your big idea takes shape. This is a website where you may sell any service for as little as $5. In reality, this might be a terrific spot for novices who do not have enough money to put into their new venture.
On Fiverr, there are thousands of top gigs for beginners in every category. Due to the great level of competition, it is difficult for vendors to secure orders on their performances. Before you begin selling your services, it is a good idea to conduct some research on the top selling gigs on Fiverr in order to easily make sales.
Choosing a specialisation on Fiverr can appear to be a hard undertaking. There are hundreds, if not thousands, of possible outcomes. It can also be difficult to break into your field of expertise because there will definitely be many people offering the same job. What you need to do is distinguish yourself. Show customers why you are the greatest at what you do.
Check out the gigs listed below if you're absolutely stuck for ideas. All of these gigs have achieved significant success on Fiverr , with business owners earning a good living once their gigs get traction. Don't put off starting on Fiverr because you believe the industry is overcrowded and there is no room for you. Look at the Fiverr gig ideas below and put your own spin on them to really stand out!
How Do Fiverr Gig Ideas Work?
A gig is your own personal advertisement page on Fiverr where you may showcase the kinds of goods and services you can offer. The website would provide a list of categories from which you could select your gig. Keep in mind that you should be knowledgeable about the Gig you choose.
Any skill or service that you are good at can qualify. After creating an account, you may add a photo of yourself and describe briefly who you are and the services you provide. Additionally, you always have the choice to update the gig and add new ones.
What is Fiverr.?
Fiverr is the biggest market for digital services in the world. People from all around the world share their skills and services in this online community. This is the best venue for you if you have these skills and want to share them with others.
How to join Fiverr?
Getting started as a Fiverr vendor is easy and uncomplicated. Compared to a few months before, the process is now a little bit lengthier. Even so, creating your first gig and setting up your Fiverr account only takes a few minutes.
You can create a free account in one of two ways: using Facebook, or by just entering your email address, along with a memorable username and password. You should bear in mind that after creating a seller account, you will need to complete the profile description by listing the services you would provide to clients as well as your educational history and certifications.
To become a seller, you must have 65 percent of your profile filled out. As a result, you can share the information you want while keeping the rest private, such as your phone number. Before they accept your profile, a skills exam can be required depending on the services you offer.
Advantages of Fiverr
Once you have a basic idea of what Fiverr is and how to register for an account, it is critical that you comprehend its benefits as a vendor. Here are a few of its benefits for you:
Many opportunities to perform The range of gigs offered on this website will surprise you. They can provide anything you require. Any information you have will do, and Fiverr will provide you with a platform to share it.
offers services which you are most passionate about This website is wonderful for finding a place for original thought. Fiverr could be a good place for you if you have a service to provide and are interested in any industry.
Outstanding earnings potential Do not anticipate earning $5; nevertheless, by combining a number of packages and add-ons, you may be able to earn a reasonable monthly income.
Flexibility – You can work whenever it's convenient for you from home. Choose a time that works for you so that you don't have to miss any work or classes. The best feature is the ability to always pause your performance and take a break.
Payments: They have an excellent payment system that enables you to withdraw your money immediately without having to wait for a cheque to be mailed.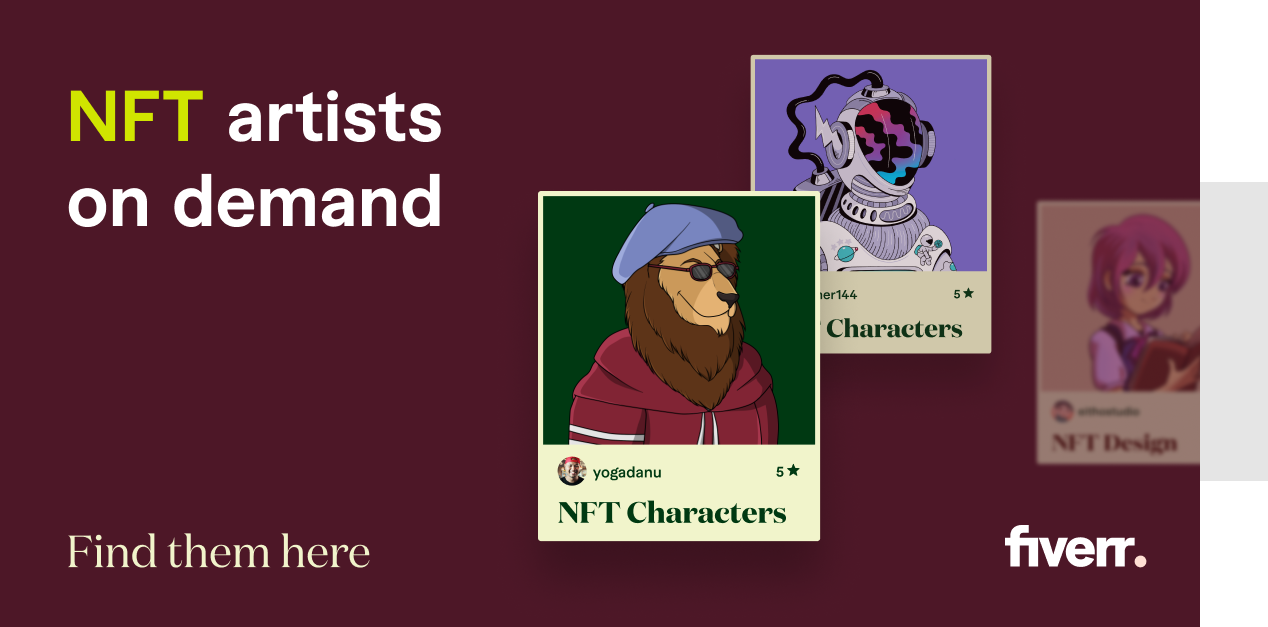 The 50 Best Fiverr Gigs to Start Earning More Jobs (& Money)
50 most popular Fiverr gigs to make money
Top Demand Gigs on Fiverr
As people from various backgrounds sell their services on this platform, almost everything is available. Companies, especially startups and small firms, view logos as a rescuer for their waning fortunes in a number of ways. Please take a look at the top five gigs on Fiverr that sold the most in 2022.
1. NFT Artists
Because you're buying an NFT design to mint and sell under your name, you must have legal ownership and (if necessary) commercial rights.
There are many people offering design services on Fiverr. But not all of them have professional backgrounds. Going through each service provider one by one if you're seeking for an NFT design might take a lot of time. We've decided to search Fiverr for the Best NFT Artists as a result. To benefit from NFTs, you can employ one of them to work for you.
A well-known online service marketplace called Fiverr allows you to buy and sell a variety of digital goods and services. It has many designers with different skill levels, and it is easy to use. By hiring an artist on Fiverr, you can get the project done fast and inexpensively.
Once you've paid for commissioned artwork under a work-for-hire arrangement, you own it. You can sell original artwork as an NFT, but you can't copy or distribute it. If you're selling one NFT, you may simply require ownership rights. Using the same artwork on many NFTs may be illegal. To manufacture and sell copies of that art, you'll require commercial usage permissions.
Intellectual property rights often cover ownership and commercial rights. When commissioning an NFT design, I recommend carefully reviewing the platform's work ownership agreements. Ask the NFT professional if you'll get full commercial usage rights after payment, preferably in writing.
2. Web Design
Today, a lot of things are done online, and every company wants its online presence to be worth it by having a website that is well-designed and built on a solid foundation. Those who know how to design and build a great website will do well on Fiverr. The number of people who want to make websites has grown over the years, and people who want to sell their products online need a website (as they last longer than social media pages).
People who can help make eCommerce sites and online stores can show off their website portfolios on Fiverr. This helps build credibility and trust. Web design is an important part of the marketing plan for any business, brand, or organisation. Because of this, the money spent should lead to a worthwhile result that is better than what a web design company can make.
Graphics Design and Photoshop Editing Gigs
The first thing that springs to mind when most people think of freelancing is graphic design. This is partially due to the fact that the majority of graphic designers only work digitally and that, in terms of entrepreneurship, design has very minimal start-up expenses. And it's largely because graphic designers frequently operate at the forefront of technology, embracing remote work and the gig economy before most other professions.
The field of graphic design has limitless potential. One of the most popular Fiverr gigs, actually. You wouldn't believe how much money some folks are generating each month from just one Fiverr designing gig. Some of the most sought-after design jobs are listed below:
Graphic design is a popular Fiverr specialisation yet a competitive industry. If you're good, you can build a devoted customer from your portfolio. People use Fiverr to buy business cards, flyers, and brochures. Creating designs that stand out is the best way to gain loyal customers. Customers want unique, sales-boosting items. You may use Canva to generate great Fiverr graphic designs. Illustrator, Publisher, and Photoshop skills will help you obtain clients.
Graphic design has many subfields. We'll discuss photo editing later. Anyone who uses it well may communicate visually. Imagination, originality, and outside-the-box thinking may make a design work. Talented graphic designers can make a lot of money on Fiverr. Photoshop photo editing is graphic design, although it's usually a two-person task. This is a high-paying graphic design job because so many people desire to edit their photos. Skilled personnel can quickly alter photographs for $5 to $100. Web design is a separate discipline, although can be included. Because web design is so wide, few Fiverr companies employ two employees. Website-creating firms help them.
In general, web design comes first before any other kind of implementation. A website should be distinctive but still provide a straightforward and uncomplicated user experience to all visitors. A website owner frequently has to choose between their ideal vision and what is practical or possible for their website. Even web developers may require assistance from others to learn how to design web pages or user interfaces. A good website, like a good structure, begins with a blueprint that includes detailed instructions and stages to make it function and seem exactly as intended.
If you're good at designing book covers, try Fiverr to find clients. This service would sell well locally. You just need the correct tools and skillset to make money. eBooks are so popular that you no longer need to print book covers. Learn Photoshop and send the customer your designs. Before developing a cover, make sure it justifies and relates to the book's content. Your book cover should explain what it is without the buyer reading the content. Earnings and opportunities are strong. If you've developed successful book covers, you can make $100 to $250 per cover.
Fiverr book cover gigs average $51.50. If you have the skills, you can create book covers using Canva and Photoshop. Consider creating a portfolio. This will unconsciously correlate your design work with successful novels, increasing your hireability.
Bigger logos. Many people compose novels but lack the steady hand to illustrate them. Authors want their books to be judged quickly and favourably. Designing a book cover takes artistic expertise, editing abilities, format and subject understanding, and artistic freedom. This gig kind can cover any form of book cover, from instructive or biographical to odd and surreal fiction, or exciting genre travels that wish to show off their best features.
Photoshop book covers might earn you considerable money. This niche has low competition, so selling this expertise on Fiverr will be profitable. If you have a portfolio of popular books, you may charge hundreds of dollars on Fiverr.
BROWSE FIVERR BOOK COVER DESIGN GIGS
A logo represents a company to the world and to current and potential customers. A logo may convey so much information about a product that it's impossible to ignore. Nike and McDonald's have world-famous logos. That's why logos are so popular on Fiverr. While I'm highlighting Fiverr's top-selling gigs for 2022, this is one of the best lower-design gigs ever. Logos are easier to learn and deliver because they don't take much time, but customers can request adjustments. You should generate two to three designs for each logo, just in case. You can use a logo designer to create a professional design using your brand's colours and visuals.
Fiverr features writing and art talent. Any startup or soon-to-be public company requires a distinctive brand. Logo design combines business and art. You must grasp existing logos in a competing sector, where parody becomes theft, and how to thoroughly investigate a person's idea in a glance. It's a 1,000-word sales and representation picture.
Many businesses have utilised Fiverr to design a great logo. Every day, a new or existing company requests a new logo or revisions to an existing one. Logo design requires little skills. If you can make imaginative logos, this is a great chance. People are willing to pay a lot for this Fiverr gig. This field only requires inventiveness. If you've got it, you can't quit. Logo design may be learned quickly and easily. This Gig can be lucrative, depending on your portfolio. If you've produced logos for huge companies, you can earn $75 to $100 each logo, making it one of the top Fiverr gigs to generate money.
As seen, it's a competitive Fiverr niche. If you're skilled, you can establish a superb freelance logo design portfolio. Every company requires a logo to develop their brand. You can learn logo-designing tools or use Canva to offer this service on Fiverr. If you offer "logo design," you'll have trouble ranking.
Employing in-house designers is becoming less common in businesses nowadays. Instead, the majority of them opt to use freelance websites to outsource their designing work. You may discover logo design services for your business on Fiverr for anywhere from $10 and $100. You can sell your illustrations on Fiverr if you know how to create them using programmes like Photoshop or Illustrator and want to make some quick money. In addition, you can add extra fees for extras for your customers. These include sending high-resolution images or AI or PSD files. Examining the packages made by other sellers before posting your own is a wise move. By doing so, you can determine how much to charge for your service and what benefits you can offer potential customers.
On Fiverr, graphic design is a very cutthroat market. You may want to consider focusing on logo design to increase your chances of landing more jobs. To create a brand identity, almost all businesses require a logo. You can become the go-to person for small business owners who outsource logo design on Fiverr if you have some original and creative ideas. Develop a strong portfolio if you're a professional logo designer. Like marketing organisations, who are frequently tasked with helping businesses brand themselves, this will help you attract repeat customers.
BROWSE FIVERR LOGO DESIGN GIGS
On Fiverr, a freelancer can make up to $450. Many clients that you find on Fiverr will expect you to create ideas, text, and images into a set of slides that convey a story as a presentation designer. Usually, the presentation's goal is to persuade its intended audience. For instance, a small business owner would pay you to build a presentation that would be appealing to young people. Whatever the task, you must assess the presentation's length and style. You might need to pick the right fonts, graphics, and supplementary visual components, among other things. On Fiverr, the typical presentation designer makes $231 for each gig.
This is another another popular Fiverr gig. The majority of new businesses cannot afford to hire a professional designer yet still need to develop a brand identity. Small business owners may get their business cards designed on Fiverr for as little as $5. Check the list of services the bundle includes whenever you make a purchase on Fiverr. Check whether the designer offers a two-sided or single-sided design, for instance, when ordering a business card. For a two-sided design, some designers demand an additional cost.
3. Infographic Designer

On Fiverr, there is a huge demand for infographic design services. One of the top gigs on Fiverr for novices is this one. However, there is fierce competition in this market. Therefore, while creating infographics for your clients, you must be very particular. Infographics are frequently needed by buyers for their blog posts, social media posts, or simply to highlight some research they have done. You can make expert infographics using a variety of free internet programmes, such as Canva, and then sell them on Fiverr.
On Fiverr, infographic design is one of the most popular gigs. Because of this, some graphic designers choose to focus on it as opposed to practising graphic design as a whole. Many Fiverr clients who hire you as an infographic designer will ask you to provide visual representations of data and information. Almost always, the client will be very clear about what they require from you. It could be anything from a market fad to a step-by-step manual for carrying out a certain task. Whatever the case, designing infographics can bring in anything from $5 to $50 each design.
The definition and explanation of how information interacts in a mathematically sound manner could fill many pages. Alternately, you could include labels in a graph and use a single image to accomplish the same task. Knowing how to conduct research and comprehend the fundamentals of how data interacts are prerequisites for designing infographics. After that, it's just a matter of organising the information into a digestible array. This works effectively with ebooks or articles that need some extra resources to improve their quality.
Since a few years ago, they have become widely used; in fact, many businesses now employ infographic designers to provide data in a more appealing visual format. This is a popular gig on Fiverr due to the volume of bloggers and website owners who utilise it in addition to businesses and other organisations. Infographics are regarded as effective throughout the world because they convey complicated info succinctly and effectively. The infographic aids in condensing and presenting the information in an aesthetically appealing way. It might be a terrific source of revenue for you if you know how to perform it or have the relevant certifications. A variety of tools are available for designing infographics.
BROWSE FIVERR INFOGRAPHIC DESIGN GIGS
4. Photoshop Editing
Before posting photographs online, a lot of companies and individuals edit the images. By selling Photoshop services on Fiverr, you could be able to earn money. You can charge $10 for each altered photo, depending on the task. Editing with Photoshop is a common Fiverr task. To stand out, use your knowledge, skills, and talent. This will draw in and keep clients.
It is a well-liked Fiverr gig. Photoshop can edit images, remove image backdrops, and add digital enhancements. Although it is extensive, you must adhere to all requirements before working on images. You can use a free version of Photoshop online to practise if you're a beginner, but if you want to use it professionally and have more editing possibilities, you should get the premium version. So that people can see and believe in your work, create a portfolio. They might pay you well if they want your job. $10–$15 is the price of editing.
Photoshop is a well-known photo editing programme, but not everyone should use it. Some people still use MSPaint to modify pictures. They require help. A vital skill is being familiar with all of the Photoshop features, shortcuts, and shorthand. Photographs are provided to Photoshop editors with instructions on what to crop, how to alter the appearance, and what to add to produce new content. For maximum appeal, you might need to combine marketing and digital scrapbooking products.
Photoshop requires skill, knowledge, and technique. Numerous Photoshop merchants can be found on Fiverr. To stand out and generate steady income, you must be proficient in this talent. On Fiverr, you can provide Photoshop services if you're looking for a side gig. There are several Photoshop classes and tutorials on YouTube. By joining, you can learn Photoshop in a few weeks. It's a fantastic gig for newbies on Fiverr.
BROWSE FIVERR PHOTOSHOP EDITING GIGS
Designing Flyers, Leaflets, Business cards and Postcards
Businesses need this constantly. You can earn $25 to $50 for a single brochure design if you create a catchy design and creatively include the brand's information. I bought a $25 lead magnet on Fiverr. I've got… Infographic-making Nothing is more valuable for a firm than a recognisable brand. Infographics aid by presenting information visually and creatively. If you can design infographics, you can get money on Fiverr.
Fiverr's best-selling gigs. Both flyers and brochures aim to drive sales, yet they're very different. Flyers are single-sided pages with text. A brochure has numerous folded pages. Flyers, flyers, business cards, and brochures are made with Photoshop, Illustrator, or Microsoft Publisher. Canva's flyer templates can be used. If you're competent at any of these tools, you can make good money making flyers and brochures for buyers.
If you're strong at photoshop and like designing, this can be helpful. Flyers can be profitable. Many people need brochures for their companies or institutes and pay a lot for them. You may design flyers, cards, and postcards in Illustrator or Microsoft Publisher. Many people still use business cards when meeting clients or partners in person. Interested parties can choose this Fiverr gig. If you're creative and know photoshop, you can attract fantastic clients and make a lot of money. One flyer, leaflet, or postcard can yield $5 to $10.
Also Read: Best and Easy ways to Make Money from Home
5. Video Animation
Video Editing Gigs on Fiverr
Static images are a unique form of art. It takes technical skill to get them to move in a set order at a frame rate. Videos are a key type of material, and now that smartphone cameras are getting better and better, it's simpler than ever to create them. But simply creating a video file does not constitute quality content. In order to create a proper piece of content, it needs to be condensed, retimed, and edited together. Beginning business owners and influencers place a premium on high-quality videos, so until they master using a timeline and layering audio, they will need dependable video editors to produce high-quality videos quickly. You  can also  check how to create professional animation films here.
BROWSE FIVERR VIDEO EDITING GIGS
 Video Tutorial Gigs on Fiverr
Making video tutorials can be of interest to you if you have the necessary tools and a passion to teach. These tutorials might be on anything, but you don't need to keep a props warehouse stocked at all times to accommodate every request. On demand, presenters instead of direct instructors can create video lectures that are intercut with already-existing material. Or you could create whiteboard animations. These continue to be a common way to convey information since they combine narrative with pictures that are sequentially "painted" on the screen. Even a narrated series of still images taken from credible online sources that walk the viewer through the steps required to finish a certain task can be used as a movie. You can demonstrate anything you can teach.
One of the most sought-after tasks on Fiverr is video animation. A few orders in a month might provide a substantial income for 2d and 3d video animators. You may make a good living on the site if you know how to use basic video creation software like Adobe After Effects. Although there are many sub-specialties in the field of video animation, some of them fit the site quite well. Here are some possibilities you can get on Fiverr if you need some videos for your small business or brand:
BROWSE FIVERR VIDEO TUTORIAL GIGS
Whiteboard animation is a popular and interesting video format. Utilizing basic animation tools, you may make whiteboard animations to sell on Fiverr. It's simple to learn, and for a 30-second animation, you may make $5 to $10. Additionally, you can add on fees for extra services like HD quality, voiceover synchronisation, and watermarking with the client's logo.
Whiteboard Animation Video Creator
Marketers and small business owners now find animated videos to be quite popular. Animation is a fantastic technique to draw viewers in, keep their attention, and convey a message, according to numerous studies. Regardless of their technical or creative abilities, anyone can make great whiteboard animation films using the many alternatives to video animation tools that are available. For inspiration, have a look at these Whiteboard Animation Video gig suggestions on Fiverr.
One of the most popular Fiverr gigs for video animation is this one. Businesses and companies routinely broadcast brief images, and they are eager to pay a premium for video advertisements. They may maintain their social media followers' interest in this way, which benefits their company. You can use video animators to sell your brand on social media if you're a brand and need to increase traffic to your social media profile.
On YouTube, Instagram, or Facebook in particular, you can readily discover designers that animate videos intended to drive traffic. On Fiverr, the search frequency for this topic has climbed by 124% since 2018. A startling 177 and 239 percent spike in Facebook and Instagram video searches occurred at the same time..
As a result of the meteoric rise in popularity of videos over the past several years, companies of all sizes, including those with only a few employees, are in continual need of more branded videos. On Fiverr, video producers will find themselves in exceptionally high demand due to the fact that the creation of video content requires a significant amount of time.
Whiteboard Animation Videos
The whiteboard videos category is now the most popular one on Fiverr in terms of sales volume. Affiliates of Fiverr are eligible to receive a generous commission for spreading the word about our platform. You may create great whiteboard movies by installing software such as Videoscribe on your computer. The actual skill is not difficult to pick up at all. To become proficient with the tools, all that is required of you is a little bit of practise. As soon as you have mastered this ability, you will have no trouble earning $10 to $15 for a video that is only 5 seconds long, even in the early days of your Fiverr career.
 Product Demonstration Videos
Many businesses realise that developing their own product demonstration videos is difficult, which is why they turn to Fiverr to hire freelancers to help them with the work. If you are skilled in the production of these kinds of instructional videos, you have the potential to earn a significant amount of money through Fiverr. It is simple to create videos that demonstrate a product. To organise your material, all you need are the appropriate tools and a little bit of planning. Camtasia is a wonderful programme that you can use to edit your product demonstration video and make it look presentable enough to be sold to customers.
If you use social media, you may have noticed that videos make up close to 80% of the content there today. There are many chances for talented video editors and videographers as a result of the enormous demand for videos. Selling your video editing services on Fiverr might bring in a sizable income if you have the necessary equipment and expertise. Make sure to select a genre, such as video advertising, music videos, or documentaries, before you begin your Fiverr video editing business. Because of the fierce rivalry in this market area, your prospects of attracting more customers increase the more effectively you focus your efforts.
Video Intros & Outros for Business
Customized intro & outro videos are crucial for branding a company, creating its identity, and differentiating it from rivals. Outros are displayed at the end of a video, while intros are displayed at the beginning. Many customers on Fiverr are searching for individualised and expertly written intros and outros to add impact to their business's presentations, podcasts, live shows, or webcasts. To create personalised intro and outro videos, you can research online tools or learn how to use video editing software. As soon as you master this talent, simply create a gig on Fiverr and begin offering your skills. One of the top gigs on Fiverr for beginners in 2022 is this one.
Slideshow production is among the simplest services you can provide on Fiverr. You don't actually need to be proficient in high-end video editing programmes like Premiere, After Effects, or Final Cut to use this service. Using Picasa or PowerPoint, you can create fantastic slideshow films (free & easy to use the software). In addition, there are countless free web programmes that enable you to quickly create your own slideshow videos. Slideshow videos are a good option if you don't want to put a lot of effort into learning a new skill. Selling this straightforward expertise on Fiverr allows many sellers to earn excellent money.
Making Video Welcomes or Intros
Another area where Fiverr excels is in this one. Since people prefer watching videos to reading text, making them has long been one of the finest methods to earn money. This job may be the perfect fit for you if you have the talent to make original, creative videos. You would be expected to produce outstanding animated videos with a brand, cards with distinctive voices, or other videos using graphics, among other things. All of these suggestions can draw customers and increase sales. One of the most lucrative gigs on Fiverr is usually making videos because there aren't many of these gigs available, giving you the chance to make more money. You can make between $5 and $15 for making one film if you have experience and excellent talents.
You must have watched a lot of tutorials on Facebook, WhatsApp, or YouTube. It has enormous potential for financial gain and popularity. Many people create tutorials in their areas of expertise, such as cooking, beauty, putting together products, and other things. These movies can be used to provide people advice on acting suggestions, stress management techniques, weight loss strategies, and other topics. This is a fantastic way to make money on Fiverr, but you must first have a large network. Many businesses pay people to create instructional videos for using or building their products. Therefore, if you enjoy making these kind of films, this is the ideal job for you as it can pay $20 to $25 for a single video tutorial.
Videos of product demonstrations
Not every business produces its own product demonstration films. Many of them use freelance marketplaces like Fiverr to outsource these jobs. This is the kind of job to take into consideration if you are proficient in video production and editing. It might be useful to have programmes like Premier Pro, Final Cut, and Camtasia. In essence, you'll need to make videos that demonstrate how a client's products operate. Such product demonstration movies convey the benefits of the products to the client's target market, which may eventually increase sales. Without a doubt, having a creative mind and a strong portfolio can help you produce excellent videos and attract more clients. Sound Editor
If you're interested in learning how to work as a freelance sound editor, you'll need to gain a solid understanding of audio and music. Like many other industries, getting the tools to execute the work properly requires a combination of classroom instruction and practical experience. Some people complete a college degree with a focus in audio. Others rely on their years of hands-on experience in live sound management. But the combination of the two equips sound editors with the particular expertise they require for success. For some inspiration, look at these Fiverr gigs for audio editing.
Creating welcomes and intros for video
Brands and people, especially vloggers, employ video intros and inventive greetings to draw in viewers. If you have this ability, you can succeed on Fiverr. Your job would be to produce animated movies or combine music and visuals to create an introduction or greeting that your client could use to draw customers. In the end, this type of marketing might assist people and small enterprises in increasing sales.
On Fiverr, video editors make an average salary of $58.40, however the pay might vary greatly depending on the job. In order to produce a completed movie or film, you'll typically need to manage footage, audio, sound effects, and graphics. In other words, post-production will be the focus of your job. Fiverr will let you select the type of video editing in which you want to specialise. You could make whiteboard videos as an example. You could choose to focus on making music videos, documentaries, or video commercials. Fiverr gives you options in either case.
7. Web Development
Businesses are taking their online presence more seriously as the market transitions to digitalization. They are leaning toward building a company website where they may advertise their services and communicate with clients more effectively. Web development is thus quickly becoming the most popular Fiverr niche because of the growing need for websites among businesses. Java and Python will be the two most used programming languages on Fiverr in 2022. This topic is ideal to choose if you're seeking for a Fiverr gig that pays well. Learn several effective programming languages, enrol in quality online web development classes, and begin working as a web developer on Fiverr..
Coding and Website Building
Website building must be mentioned in any list of Fiverr gigs. It's undoubtedly among the platform's highest-paying gigs. For a single project, website builders charge anything from $100 and $5,000. Diversity is the best thing about hiring website developers from a marketplace like Fiverr. For any platform—WordPress, CMS, SquareSpace, Wix—you can find developers. This will allow you to use more Fiverr sellers than an in-house developer and increase productivity. If you're a developer, Fiverr allows you to offer the full bundle. Typically, this entails building, personalising, putting in plug-ins, testing, and correcting the website. On a two-page website, you can charge up to $3000 for full services.
You can publish bug-fixing and customising gigs on the platform if all you want to do is sell part-time work on the platform. Because the majority of blog owners do not have a significant amount of technical knowledge, it is necessary for them to hire a professional developer to fix issues that occur on their websites. You should be able to charge $20 for every ten minutes of work performed on the websites of your customers. You can also establish your trustworthiness by providing examples.
Programming and technology is one of the most popular categories on Fiverr, and one of the most popular services is WordPress. Not only are there a wide variety of opportunities available for WordPress developers, but also professional freelancers can make a significant amount of money depending on their skills, the budget of the client, and the size of the company they are collaborating with. Not only is there a wide variety of opportunities available for WordPress developers, but also professional freelancers can make a significant amount of money. It is an excellent area of specialisation for generating a stable income online. Investing a few months to even a year in developing this talent can set you up for success in the years to come.
On Fiverr, you'll find a great number of software developers offering their skills in the development of mobile applications. Because of the level of knowledge and amount of time required, it is one of the gigs on Fiverr that offers one of the highest payouts. App development services for iPads, iPhones, and Android devices are typically offered by vendors. There are also vendors who offer services such as the creation of professional app designs, app icons, banners, and logos. These vendors sell their services.
Fiverr is devoting a significant amount of attention to this sector, and as a result, it is enabling a large number of business owners to launch successful e-commerce operations by contracting the services of independent contractors. On Fiverr, you have the potential to make a significant amount of money if you are able to manage e-growth marketing and development services and know how to build up an online store similar to Shopify.
Game Development (2D / 3D)
Game development is the area of Fiverr's top-rated services where you'll find the least amount of competition, in contrast to other top-rated services. As is well knowledge, the production of a game calls for a substantial amount of prowess, time, and commitment. If you are a game developer who works in the software field, you can start your own side company by offering your skills on Fiverr and making money from them. This market segment on Fiverr is still expanding, which means that now is an excellent moment to enter it and start acquiring long-term customers. It is one of the gigs on Fiverr that pays the most money and has the least amount of competitors.
Many people launch their website or blog, but they are unsure if everything is running smoothly. In order to evaluate their website's navigation, on-page SEO, etc., they are looking for testers. In addition, a lot of individuals want to upgrade their apps, but they can't always keep up with the latest trends, so they need someone to do it for them. So they pay someone to perform these tasks for their website. You can utilise this on Fiverr if you have experience building websites.
The good news is that expertise in this area is not necessary; all that is required is for you to offer your knowledge and experience after utilising and testing their website. Due to the lack of extensive technical knowledge, it is a fairly straightforward and basic work. You may make a nice living from it, and each time you take a test, you learn something new, which improves your skills.
Many website and app owners need consumers to evaluate their products for bugs and usability. They know that one of the primary reasons people hit the return button and search for a more accommodating site is because they are confused when they are presented with their website, therefore they don't want that to happen to their visitors.
Check out these Website Testing Fiverr gig ideas for your inspiration.
Read : How To Earn Money on Fiverr Easy Way
Although WordPress is a fairly user-friendly programme, there are times when it can be challenging. Even though WordPress is widely used and relatively user-friendly, there are still situations when users get stuck and are unable to figure out a solution. Grab this gig on Fiverr if you are tech savvy and knowledgeable about WordPress as there is a high demand for WordPress Troubleshooters.
This is a fantastic chance to help clients who are having problems while making money. For you, it might only take a few minutes to fix what might be a major problem for them. Due to the difficulty of troubleshooting and the lack of knowledge among most people, this is in great demand. Grab this chance you have on Fiverr to earn $50 to $70, depending on the difficulty of the task and your level of competence.
To earn a living on the internet, one requires a space on the internet in which to engage in that endeavour. Their own privately owned and run website, which they also maintain. Website creation has come a long way, and it now requires a great deal more expertise and work than many people who are just starting out in the business world have. They are unable to learn everything and perform everything, therefore you will need to step in and conduct some preliminary groundwork. People will pay you to do this for them if you have the knowledge and skills necessary to code web sites. Fixing, maintaining, and renovating current web work, as well as creating new web work for others or yourself.
BROWSE FIVERR WEB DEVELOPMENT GIGS
WordPress is a simple and affordable platform for launching a web-based enterprise. It supports a variety of content types and offers a number of templates that can assist users become used to managing their own web page. Even at this simple level, though, some people will still look for advice from others who are already competent. WordPress is simple to learn, challenging to master, yet valuable as a skill for individuals seeking a website at a reasonable cost.
As a developer, now is a fantastic time to begin studying WordPress. The platform continues to rule in every area, and more businesses than ever are devoting resources to creating content for WordPress. Additionally, 2020 appears to be a year unlike any other in WordPress's history. For some inspiration, look over these WordPress Development Fiverr gig suggestions.
There are web designers who frequently use website builders and code themselves. That guarantees adaptability, yet there is a compelling argument for specialisation. For instance, you can only accept Fiverr jobs that call for WordPress website development. Customers will recognise you as the expert to contact for WordPress sites. You may also find out how to successfully optimise WordPress blogs with some training and expertise. For instance, you might be asked to help a client develop an online store by integrating WordPress with programmes like WooCommerce. Some of these customers frequently have substantial expenditures that can guarantee a respectable payoff.
BROWSE FIVERR WORDPRESS DEVELOPMENT GIGS
Everyone can buy anything from Amazon, but only if they understand how to navigate their website. The same is true for Shopify and other e-commerce companies. They have unique procedures for opening and operating a business. This may be a barrier that prevents unskilled yet financially supported and motivated vendors from starting their business in earnest. If you are proficient in setting up shop pages, you may market yourself as a platform expert and assist others in developing E-Commerce websites or product pages for the goods they offer. They will handle the remaining business.
BROWSE FIVERR E-COMMERCE SETUP GIGS
A website specifically created for them is necessary in the present world, where practically everything has gone online and every business wants to have an online presence. If you are skilled at website design, this can be a fantastic choice for you. People who want to sell their items online must have a website, and demand for website creation has increased over time. These companies require experts that can create a stunning website tailored to their line of work. Today, web design is an essential component of any company's marketing plan, and they are willing to spend a lot of money doing it. Therefore, depending on the services you offer, you might make $20 to $100 if you have the expertise to create it for any organisation.
On Fiverr, a freelancer can make up to $700. There is almost always a significant demand for websites because both large and small businesses are constantly expanding their internet presence. If you are a freelancer with web design expertise, you can offer the service on Fiverr for money. Additionally, personal websites and blogs are used and needed by many individuals in addition to businesses. If you provide top-notch services, you'll undoubtedly attract customers. Making sure that the websites you create have decent typography, graphics, consistency, colours, functionality, and simplicity is the trick to developing a solid reputation. On Fiverr, web designers typically make $105.70.
Do you know how to set up a Shopify or Etsy-style online store? You may connect with clients more easily by using Fiverr. There is a rising need for e-commerce services as more companies start selling their goods online. Business owners require independent contractors that can set up and improve their online storefronts in particular. Others might ask you to oversee the expansion of their online store. You can make more money by developing a marketing strategy that can go along with the e-commerce setup if you have experience with digital marketing.
Many customers on Fiverr are looking for a skilled artist to produce images for their social media profiles. Typically, they request quotes-filled images, enticing language to highlight their offerings, or even animations to describe their services. By watching few tutorials on YouTube, you may quickly develop this talent. Canva is a fantastic tool for creating free social media photos. It offers a variety of templates that you can easily change to get customised photos that meet your needs. So, for novices, this is one of the best gigs on Fiverr.
E-mail Marketing
Due to its high return on investment, this is one of the marketing techniques that firms utilise the most. In comparison to other marketing strategies, there are also significant odds of obtaining leads and conversions. In order to boost your chances of receiving orders, you can divide the complete service into distinct gigs if you are an expert in email marketing. It is one of the finest gigs since you can charge individually for services like developing email marketing strategies, developing email lists, automating email marketing campaigns, generating email text that converts leads into sales, monitoring analytics, and much more. Your gigs will have a better chance of ranking on page one if you do this.
Organic & Paid Web Traffic
One of the problems that companies come into when operating their websites online is getting web traffic. Therefore, they choose to contract out this work to sellers on Fiverr and then request that they send them weekly or monthly reports that highlight the outcomes. This is a terrific topic to establish your authority as a seller on Fiverr if you can drive organic traffic to websites or run paid advertisements on search engines. I personally know a lot of independent contractors who work full-time for reputable businesses and make excellent salaries doing so. Such tasks are typically lengthy, so only if you are skilled at your job can you develop a reliable source of revenue.
As a digital marketer, you can manage and conduct social media advertisements for your clients. Even if you don't know anything about this field, you can still learn it because it isn't that difficult. You may take a lot of courses on Udemy that will educate you how to run effective social media ads. They give you thorough instruction on how to design incredibly engaging ad tiles, craft potent messaging, and properly track metrics. Although I have not personally purchased this course, I have read many favourable reviews of it. You can enrol on your own in this course, and after you've gotten the hang of it, you can pursue it professionally.
Businesses must use social media in the modern environment to reach as many customers as possible. They frequently accomplish this by disseminating graphics with eye-catching images, captivating animations, and text that describes their items. You're likely to find a lot of clients on Fiverr if you can produce such social media material. You may make social media graphics using platforms offered by programmes like Photoshop and Canva. If you're not totally confident in your abilities, think considering enrolling in a few lessons that will teach you how to make original social media visuals that will make you stand out from the Fiverr crowd.
Do you have a sizable social media following? Think about using that to get money. Many small businesses want to expand their markets, thus they frequently turn to engage viral marketers who can introduce their brands and products to new clientele. You can charge up to $1,000 for a single gig, depending on how many followers you have. The customer will demand in return that you promote their company or possibly publish a video or image of their brand or product on your social network. The more people who follow you, the more influence you have.
9. Search Engine Optimization (SEO) Gigs
On Fiverr, SEO services are in high demand, and the greatest thing is that these tasks cater to a wide range of websites, businesses, and other entities looking to make an impression online. In actuality, the freelancing SEO Gig on Fiverr offers the following services:
Keyword Research.
Competitor Analysis.
Technical SEO.
On-Page SEO.
Off-page SEO.
Do-Follow backlink creation of high authority.
SEO gigs include website assessment gigs. In order to create a tactical action plan to achieve the SEO aim, the professional must audit websites to check for technical, on-page, off-page, and other difficulties. In order to compete for an online presence and to be found when a particular phrase is searched, organisations conduct keyword research, which is both a part of the process and a crucial one.
One of the top-selling skills on Fiverr is SEO. It is a very big field with lots of different divisions and subcategories. The goal of on-page SEO is to optimise your website so that it appears higher in search engine results. On the other hand, Off-Page SEO entails all of the tasks performed away from a website in order to increase its authority. Creating links is another component of off-page SEO. On Fiverr, I offer SEO services and make a lot of money doing it. You can work in SEO as a profession and succeed there as well. You can read SEO blogs or enrol in an online SEO school to develop this skill. Keep in mind that SEO is a practical discipline, not a theoretical one. Always strive to put the advice you are learning into practise. You become more confident in your ability to produce consistent results the more you practise.
Search engine optimization
Because there is such a demand for SEO, it is one of the most popular gigs on Fiverr. Both big and small organisations want to raise the website's search engine visibility and ranking. They are prepared to pay top dollar for both on-page and off-page SEO as a result. A website's pages must be optimised for on-page SEO in order for the site to rank better and receive more organic traffic. The activities you carry out away from the website you are optimising make up off-page SEO. These include increasing social media shares and creating backlinks. If you have such knowledge, Fiverr might offer some jobs for you.
You may use Fiverr services such as SEO support to help you generate traffic whether you're developing a personal blog, a website for your business, or an eCommerce website. The more traffic a website receives, the better its revenue potential. In a similar vein, search engine optimization (SEO) is a marketing tactic that has only been around for a relatively short amount of time; hence, if you know how to incorporate SEO into web content, you may earn quite a lot of money through Fiverr engagements.
Many startups and established companies aim to increase organic website traffic. You must undertake appropriate keyword research in order to produce content that draws traffic and keeps readers interested. You might make between $500 and $1,000 a month from this job if you are familiar with the fundamentals of keyword research and can produce useful keyword reports for your clients. To make a consistent living online, you can also market SEO services, which include content writing and domain name suggestions.
Although SEO tools like Jungle Scout and Ahrefs incur a steep monthly cost, they also offer useful keyword reports. Paying the monthly fee is useless for someone who seldom ever uses the platform. To solve this issue, some people have begun offering their SEO tools for hire as gigs on Fiverr. By doing this, those who already pay monthly subscription fees can make extra money to cover their expenses, while those who just sometimes use these tools can get their work done for less money. Renting out these instruments will be beneficial for you as a consumer, though, if you know how to understand the information in the reports. Vendors can think about adding on a fee for data interpretation.
Nowadays, the goal of any company is to appear first in the search results. Creating high-quality backlinks is one of the most crucial elements in accomplishing this. For this reason, a lot of companies engage qualified independent contractors to create quality authority links for their websites. On Fiverr, many people already provide this service, but not all of them have a solid track record. Many merchants create links on spammy websites, ruining the client's website's entire presence. Therefore, even if you know how to create excellent backlinks, it could take some time for you to establish a solid Fiverr profile. However, you have a decent earning potential for this skill once you get to the point where customers start to trust your services.
Businesses typically require web traffic for a variety of purposes, with lead generation being the primary one. Due to this, many business owners frequently hire online traffic services from websites like Fiverr. Your job as the service provider would be to drive both free and paid online traffic to the client's website. Usually, the business owner will want you to give them weekly or monthly updates on how traffic, leads, and conversions are doing. The fact that this Fiverr job is typically long-term is one advantage. For several months or even years, a client might hire you to promote their website. In exchange, you will receive steady salary for the duration of your contract with them.
Improving Website Speed
Having a website that loads quickly is another crucial component for search engine optimization. If you have mastered SEO, you may create individual gigs for each service that you like to give if you use the platform Fiverr.com. You may, for instance, start a second gig in which you improve the speed of websites in order to achieve better search engine optimization results. It is one of the best gigs for novices that are able to handle technical SEO that can be found on Fiverr.
Setting Up Google Search Console
Google Search Console provides website owners with reports and tools that assist them in locating potential problems with their websites and resolving such problems in an efficient manner. You can get the knowledge necessary to configure Google Search Console for websites and then offer this ability as a service on Fiverr. It is also an SEO ability, but you can sell it separately to attract the attention of customers who are particularly interested in setting up the Google Search Console for their websites. Again, this is a skill that can be sold independently.
Installing Google Analytics & SEO Plugins
SEO experts pay close attention to a variety of metrics when managing a website in order to evaluate the results of their efforts and assess how well the site is doing in terms of attracting new visitors and users. As a result, Google Analytics is a tool that is installed on websites to monitor the amount of users accessing such websites and their interactions with them. On Fiverr, you may advertise this service and assist customers with managing their website statistics using Google Analytics or any comparable plugin.
10. Virtual Assistant Gigs on Fiverr
Everyone needs a little help to recall their plans or schedules or to stay updated about daily happenings they neglect when working. A virtual assistant can help someone stay on schedule by providing updates or check-ins. Virtual assistants can handle calls, emails, messages, and social media updates. Fiverr has announced a "subscription" concept that allows automatic gig repayments. It's perfect for a stable job like this one.
Today's virtual assistants are more than schedule- and email-managers. With freelancers specialising in industries like marketing, accountancy, and e-commerce, your options have grown. Hire a freelance virtual assistant instead of a corporation. Fiverr is great for project-based work because you may specify prerequisites. Virtual assistant Fiverr gigs can inspire you.
Globally, administrative tasks moved online. Businesses are outsourcing little chores so they may focus on growing. Email takes 11 hours a week, while research takes 7.5. Virtual assistant is a top Fiverr job if you're detail-oriented, organised, and can meet deadlines.
This is one of the easiest Fiverr gig ideas because it requires no experience or skills. Simple client activities require time and ability. A virtual assistant takes calls, schedules appointments, manages emails, and books customer trips. Clients usually tell you what they expect. If you have good communication and time management skills, you can work from home on Fiverr.
This is a great approach to work for global clients. These careers are growing in popularity and demand. This includes research, data entry, email generation, lesson planning, virtual computer maintenance, etc. A virtual assistant role is also popular on Fiverr because it's simple and doesn't require special training. As a virtual assistant, you'd conduct microtasks online for pay. Microjobs and freelancing are similar. Pricing varies by job and time spent. Five to six hours a day might earn $5 to $15 per hour. It relies on your background, time commitment, work nature, and other factors.
Business entrepreneurs sometimes struggle to manage their time and responsibilities. On Fiverr, businesses search for virtual assistants to meet deadlines and goals. Virtual assistant jobs vary from firm to business, but you'll manage operations. If you have good time management and communication skills, you can work on Fiverr. Part-time is possible. If you want to be a good virtual assistant on Fiverr, I recommend receiving training so you know the terminology, how things are done, and what to do.
BROWSE FIVERR VIRTUAL ASSISTANT GIGS
11. Content Writing Gigs on Fiverr
Anyone who maintains a website for a business, a service, or simply for information relies in part on the volume of visitors that site receives. And creating content is one method to drive that traffic. In order to increase a website's exposure, content writers specialise in writing articles or blog posts for websites that use SEO (Search Engine Optimization) material. In order to produce high-caliber articles, writers follow user instructions and intentions. You can probably do this if you can write an essay for college.
Typically, search engine optimization goes beyond code optimization, website speed optimization, and backlink building. It might also involve authoring articles. Writing articles that can rank on search engines and draw organic traffic would be necessary in such a situation. It goes without saying that you must be an accomplished writer who can match content with user intent. Additionally, researching and utilising keywords, optimising headers, choosing pertinent images for articles, and other tasks may be necessary when generating SEO content. You may expect to make anywhere from $5 and $140 for each Fiverr gig for this.
One of the top gigs on Fiverr is writing content. It pays well on the website and has a nice learning curve. If you're a consumer, you can find inexpensive writing services on Fiverr, but in this case, you get what you pay for. When purchasing writing services, you should search for reputable authors with an impressive body of work; otherwise, you'll have to spend time and energy correcting the paper you ordered. There are numerous top-selling writing gigs available on Fiverr for professionals.
Since it is not an easy task and hardly everyone can do it, if you have excellent writing abilities, this might be one of your greatest Fiverr gigs. It has a lot of money, and due to the rise in demand, it has also recently gained a lot of popularity. Many businesses use article writers to get more and more traffic to their websites. People favour article writing since a well-written article can advance a business. Writing naturally is the only way to make money at it; else, you won't be able to make an impression. There are no prerequisites in terms of degree or experience, however reading works by other authors and engaging in writing exercises will help you develop as a writer. Consequently, a competent article writer is someone who can convey ideas in only a few words. You can make about $5 per hour or for a blog if you have it in you.
Content writers will always be needed as long as there are websites. Writing is one of the best gigs on Fiverr because there are so many various types of authors, making it easy to pick your specialty and begin establishing a solid clientele. There is probably a sizable market for your talents whether you write articles, social media postings, product descriptions, video scripts, greeting cards, poetry, blog posts, stories, grant applications, or anything else you can think of.
Ever ponder where the ideas for a podcast come from? Well, you could sell them to them. Many podcasts are viewed as casual hangouts when two individuals just talk about whatever they want. Although they are generally chaotic, even the most contemporary self-produced chat shows have some structure. To sound like they know what they're talking about, they require a structure for their topics, some facts and research, and some podcasts are completely written from beginning to end, almost like a modernised version of radio dramas. If you enjoy listening to podcasts, you might know what the public prefers to hear.
BROWSE FIVERR PODCAST WRITING GIGS
As you are all aware, I work as a content writer for SEO on Fiverr. The majority of people claim that due of the fierce competition, selling article writing services on Fiverr is incredibly difficult to do. But like you, I am a regular guy who joined Fiverr a year ago, and I now make a steady living by providing SEO content writing services. Yes, there is fierce competition and a crowded market, but if you know how to use the correct keywords to promote your services on Fiverr, you may come out on top. The most important thing is to choose the appropriate search terms for the market that interests you. You can earn a sizable sum of money on Fiverr if you have good writing skills and know how to strategically place keywords in the text. Your ability to fully comprehend the needs of your customers and create engaging material for them is the key to your success as a content writer.
A guest post is when you write an article for a high-quality website and include a link to your website in the article to increase traffic and your website's authority. To produce guest posts for websites on Fiverr, many customers employ writers. If you write content, you can also write a fantastic guest post with ease.
Basically, content writing encompasses a wide range of areas. It's not necessary for you to be an expert in all forms of content writing in order to make money on Fiverr as a writer. For instance, crafting product descriptions calls for a sophisticated vocabulary, imaginative writing, and a particular tone depending on the type of business you are writing for. On Fiverr, there is a significant market for writers of product or service descriptions. If you think you have what it takes to write product descriptions, sign up for Fiverr and start making money with your talent.
Numerous writing services on Fiverr are categorised by niche. Writing product descriptions is one of them. This is simply where a writer gives a very quick explanation of a specific product, including what it is, what it does, how it may be used, and whether or not it is worthwhile for a consumer to pay attention to and purchase. Small firms frequently ask for product descriptions. You will frequently be asked to provide descriptions for items you have never used before. You must therefore cultivate innovative thinking, a wide vocabulary, and the capacity to change your writing style to suit each product that is provided to you if you want to succeed in this job.
You can proofread the already-written material if you have a firm command of English grammar, sentence structure, spelling, and vocabulary. However, you must first have years of experience in order to proofread and improve the texts. There are a lot of skilled vendors with prestigious proofreading qualifications on Fiverr. Only get involved in this field if you are completely confident in your understanding.
A excellent method to make money on Fiverr as someone who speaks multiple languages is by translating information from one language to another. Nearly every country in the world has users on Fiverr. To translate their information into another language, they are constantly in need of expert translation services. Translation services are also a skill you may provide on Fiverr. You can translate documents, articles, scripts, or product descriptions.
Translating information from one language to another is a great method to earn money online on Fiverr. If you speak more than one language well, this is a very feasible side business. Many individuals from different countries use the network, including some authors, writers, and publishers. Many users frequently require their content to be translated from one language to another. These include novels, scripts, articles, paperwork, and product descriptions, among others. If you are fluent in several languages, you could earn a respectable income by providing these writing services. translator of languages
You may hire a freelancer on Fiverr to complete almost any task. However, one of the more well-liked services offered on the website is translation. You need to be a very skilled writer with perfect grammar and an understanding of various writing styles in your original language in order to be successful as a freelance translation. For inspiration, look at these Fiverr language translation gig suggestions.
Writer of Cover Letters and Resumes
The need for freelance resume writers is at an all-time high because of the unemployment rate. A freelance resume writer assists job seekers in transforming their dull, uninteresting resumes into polished marketing materials that highlight their abilities and experience. Writing resumes for others gives you the chance to use your writing abilities to assist them find employment in addition to making money. Not sure where to begin? starting with you. Check out these Fiverr resume writing gig suggestions for some possibilities. Writing Jobs for Cover Letters and Resumes on Fiverr
The first step to being hired is having a strong résumé. The requirements for resumes are always rising. The young and inexperienced need a résumé that stands out without drawing attention to their lack of experience. Those who are reentering the workforce require a strategy for emphasising their career high points. Designing and writing standout resumes and cover letters for businesses you won't even need to work for is possible if you know what makes a resume stand out and rise to the top of a stack of candidates.
Spell checking doesn't always catch errors. Sometimes, the speed of human typing exceeds the speed of human reading. Typos happen in almost every profession that requires word processing, and they even appear in finished publications and products. A proofreader is the greatest way to stop that from happening. A comprehensive command of the language and an awareness of what is and isn't correct based on more than just appearances are prerequisites for proofreading. Simply taking the time and effort to double-check each word for accuracy and appropriateness will result in better writing.
Fiverr can be a terrific platform to get money from if you are really good at recognising grammar, syntax, punctuation, and spelling issues. The best thing you can do if you want to draw in more customers is to offer a sample of your completed work so that the customer can learn more about your abilities. For their books, blogs, service pages, articles, and other similar stuff, many people need proofreaders. The necessity for proofreaders to edit and make content error-free is growing daily as a result of digitalization, as many people upload content online.
Regarding pricing, it largely depends on your efforts and experience; the more seasoned you become, the more you may demand. Your clientele would be able to see everything about your professional background and skill set on your portfolio. Being affiliated with large organisations would be really advantageous to you because you can earn significant money. Proofreading on Fiverr typically pays between $0.33 and $1 for every 100 words, or $33 to $100 if you proof 10,000 words.
You can find a large number of expert scriptwriters on Fiverr, which is useful if you are developing an educational video, movie, or documentary and want to have the narration written by an experienced person. Be sure to carefully read through the work description to ensure that the order you place satisfies your requirements and falls within your price range.
You may have an eye for product descriptions if you've ever read a product description on a website and felt that it could have been a little more detailed or wordy. A product description outlines the precise features and benefits of a product for sale through a combination of copywriting and informational review. Product description gigs depend on originality as well as research-driven comprehension of an offered product so that it may be defined to individuals who want to buy it clearly and efficiently. And also to prevent them from being misled and unintentionally purchasing a rival brand.
BROWSE PRODUCT DESCRIPTION GIGS ON FIVERR
On Fiverr, authors and screenwriters who have already written a draught of their work can find professional editors. Depending on your demands, you can seek out both copy editors and developmental editors to offer comments on your manuscript. In contrast to many other top gigs on Fiverr, the job of an editor on the platform pays well but is time-sensitive. Your ability to charge your clients more depends on how quickly you perform the editing task. The best editors and proofreaders on Fiverr are those who finish jobs in a 24-hour period.
Creativity is not always the most important factor in writing. On Fiverr, legal specialists can be seen charging extremely high prices for producing legal documents and contracts for their customers. Using Fiverr to outsource the creation of your legal paperwork is an option if you are developing an eCommerce website. This can include the policies about privacy as well as the terms and conditions.
See Related: What is freelance writing
This gig is reportedly one of the most intriguing and straightforward. As the name implies, all you have to do to earn money for giving your opinion on a subject is give it. You can offer your opinion on any book, item, or app at Fiverr. Additionally, if you'd like, you can create a video offering your thoughts on the matter at hand. It is a fairly easy and uncomplicated task that doesn't need for special knowledge or training. All that is asked of you is to submit your evaluation, which just takes a few minutes. Regarding potential earnings, it depends on your network and portfolio. There is a potential you could even get paid $100 to $150 for one review if you are connected to popular books.
BROWSE FIVERR PROOFREADING GIGS
Product Description Writing
It's an intriguing work, but it demands a lot of creativity and in-depth product knowledge. You might choose this Fiverr gig if you have expertise and experience writing product descriptions. Online product displays almost universally require product descriptions. For instance, whatever thing you look for on Google has a few lines written about it. The products that are featured on Amazon also have descriptions.
By doing this, you can make a respectable sum of money. In fact, if you are unfamiliar with it, you can read some of the descriptions to get a sense of how it is written. You might make between $5 and $50 each description if you have a creative mind and are a decent writer. Therefore, you can do this with certainty since it doesn't require any prior expertise or education. You can also check amazon seller tool.
One of the top Fiverr gig ideas is a data entry job because almost everyone can complete one. All you need is a computer, an internet connection, and some free time. The drawback is that data entry is a very cutthroat industry. Before you start receiving a steady stream of work, you might need some time to establish a solid reputation. Typically, this gig pays $5 for each work finished. The majority of the labour will include entering text data for both businesses and people. However, you might once in a while need to transcribe information from a tape or a phone call.
One of the most fundamental first tasks that a freelancer can perform is data entry. You are responsible with putting order in a set of data that is typically disorganised or raw. It appears simple, and it is, but it takes a lot of time and requires some understanding to do everything correctly. The good news is that data entry job is one of the most popular types of freelancing. Open one of these gigs if you're new to Fiverr and give it a try. When you find something else you really enjoy doing, pause or close the gig.
Audio transcription is a challenging task. It can be challenging to listen intently and type what you hear as you hear it. To create a thorough screenplay of what was said, you must also be able to decipher accents, deal with inconsistent grammar, stutters, sidetracks, and filler words. And to do it, you need good hearing. Customers on Fiverr will have a wide variety of audio setups and ranges, some of which might not be the finest. The talent of transcription pays well but requires patience and steady hand-ear coordination.
BROWSE FIVERR TRANSCRIPTION GIGS
Writing a resume, cover letter, and a CV
On Fiverr, a freelancer can make up to $600. Many people frequently want all the assistance they can get while creating and organising their job application materials due to the intense rivalry in the employment market. This is particularly true with cover letters, resumes, and CVs. Fiverr gives experienced writers who specialise in these materials a venue to connect with potential customers. As a freelancer on Fiverr, your duty would be to give the client an editable CV, resume, and cover letter so they can use it to apply for employment. To make their current documents more attractive and presentable, you might also rearrange them. In any event, this employment pays an average of $49.60 for each completed work.
Some people have the same drive and commitment it takes them to create 10,000 words of fanciful fiction as they have to produce 500 words of an essay. A person who writes stories and books for others based on their ideas and feedback might make use of their creative writing skills as a ghostwriter. Writing fiction is a skill distinct from writing nonfiction; it use vivid, leading language to conjure up images and concepts in the reader's mind and delight and engross them in a fresh, intriguing setting. Consider putting yourself out there and seeing how many novels you can produce if you enjoy writing for the sake of writing.
You can edit and proofread writing for authors and writers if you're fluent in a certain language. Fiverr includes authors who speak several languages, so this is not only restricted to English. However, you must be quite proficient in the chosen language. Generally speaking, editing and proofreading involve checking written works for grammar, spelling, vocabulary, sentence structure, etc. Therefore, the focus of your work would be to raise the calibre of previously written materials. Books, blogs, articles, service pages, business documents, and more fall under this category.
Nowadays, one of the best ways to grow a business is through social networking. This platform is a useful technique to stand out in the industry and appeal to a broad audience. Businesses should maintain a consistent social media presence since doing so will help them dominate their industry. Freelancers who want to handle social media accounts for clients should follow the same procedure. Operators and handlers of social media are in high demand. Anyone can use them effectively to generate the necessary buzz for their company or sector. By acting as the company's spokesperson on multiple social media channels, they can in fact reach wider audiences.
Social media is one of the best ways for your company to stand out in its industry and to attract a larger audience in today's society. Every major social network, including Facebook, LinkedIn, and others, needs to have an active presence for a company to become a market leader. A social media manager is the position for you if you have the ability to engage an audience, generate goodwill for a business, and are interested in fully establishing and controlling the voice of a brand. For some inspiration, look at these Socia Media Manager Fiverr gig suggestions.
On Fiverr, a freelancer can make up to $675. A whopping 58.7% of the world's population, or more than half, uses social media5. As a result, companies frequently try to sell their goods and services through the platforms. As a result, they open doors for social media managers. You can advertise your services on Fiverr if you are familiar with social media sites like Facebook, Twitter, Instagram, and TikTok. In essence, your job would be to assist businesses with their product advertising and website traffic. The average pay for this kind of work is $93.70 per job4.
To remain relevant, any company needs to engage in social media marketing, yet any digital marketer is aware that this is a challenging and constantly evolving field. Digital marketing is one of the finest Fiverr gigs because so many organisations require outside consultants to advise them on their next course of action, from managing Google Ads and Facebook campaigns to managing a content strategy.
As a free-lance digital marketer, you assist businesses with online product and service promotion. It is your responsibility to engage the target audience of your client, direct them to the client's website, and turn them into paying clients. Digital marketers are active in online forums, participate in LinkedIn discussions, offer valuable content on Facebook, and generally go above and beyond to ensure that their clients achieve their objectives. For some inspiration, look into these Fiverr gig suggestions for digital marketing.
Everyone uses Facebook, Instagram, and others now. Businesses use it as a marketing tool to attract more customers. As a social media marketer, you'd help the buyer sell his product globally. You'd boost their website traffic and lead creation. This includes referring blogs in blog articles, creating fan sites for customers, and performing market research. Many Fiverr freelancers help consumers market their businesses on social media. If you have experience, this may be a good option. Social media marketing has become a significant part of marketing, thus demand appears insatiable.
Fiverr freelancers can earn $500. Digital marketers can create and manage social media ads for clients. This is a popular Fiverr project because it requires no skill. YouTube and Udemy offer social media marketing courses. If you're skilled, you can build business social media accounts and put ads on them. Small businesses use these techniques to increase consumer base and brand exposure. If you have a significant social media following, you can become a viral promoter and make money per view.
Email is the preferred method of business communication, although social media is gaining popularity. Gaining attention in the "Internet's Town Square" of social media takes talent. Writing for other businesses on their social media sites allows them more time to connect with other business-related activities and makes them appear more "personal" If you've created internet buzz, help someone else.
BROWSE FIVERR SOCIAL MEDIA MARKETING GIGS
This phrase has been in use for a number of years, as has the desire for it. As a result, many people are looking to purchase digital marketing services for their business and are willing to make substantial financial investments in doing so. Digital marketing today refers to advertising that is distributed through digital channels including email, web applications, social media, mobile applications, etc. If you use social media, you've probably seen this a lot. It might be quite beneficial if you also have expertise in digital marketing, such as email marketing, SEO, ad campaigns, content marketing, and social media marketing. You can work as a freelancer for different businesses if you just provide these services on Fiverr. The good thing about it is that you may make a respectable income because there is a growing demand for it every year and employers are looking for employees who can perform it as efficiently as possible in order to boost their bottom line.
Since everything is now done online, people use social media to advertise their products in addition to communicating with friends. As a firm benefits from expansion and growth in sales and revenue, it is also possible to say that this is the new reach of a business. This is the reason that many businesses want to set up sites on these social media networks in order to promote their brands, their products, and generate leads. You can select this gig on Fiverr if you are familiar with putting up pages on social media sites like Facebook, LinkedIn, Pinterest, etc. You only need to be well aware of the needs and client profile for this straightforward assignment. If you are skilled at what you're doing, working can be enjoyable. You can make a respectable income from this, and the greatest part is that there is a huge need for it that is growing with time.
There are countless companies on the internet that you may never have the opportunity to see for more seasoned marketing specialists. You can assist them in finding a solution to that issue. Many self-employed and independent business entrepreneurs go to Fiverr for various fixes to their continuing issues. Someone who is adept at managing an internet store may not be familiar with marketing techniques. If you are, you may present them with concepts and break downs of tactics that will help them increase their online presence and sales on the platform of their choice.
BROWSE FIVERR MARKETING CONSULTING GIGS
Unbelievably, the spam and commercial emails you receive are sent because they occasionally are effective. A well-written email can encourage readers to respond or, at the absolute least, explore and interact with the information. Email marketing has a closer connection to sales than just creating informative content. To an unidentified group of customers or subscribers of that product who are interested in more information, you must present the good or service as if it were your own.
Due of its high return on investment, email marketing is frequently used by businesses. The likelihood of obtaining leads and conversions is also increased by email marketing. Because of this, it's a well-liked marketing tactic, not just for new firms but also for existing ones. Therefore, this can be a Fiverr gig worth your attention if you are skilled at developing email lists, producing newsletters, coming up with promos, and thinking of exclusive bargains for devoted clients. Depending on how well you do, some clients can even request that you participate in their digital marketing plan. Your scope and remuneration will undoubtedly expand as a result.
BROWSE FIVERR EMAIL MARKETING GIGS
If you are skilled in creating advertising campaigns for businesses that drive sales. If the answer is yes, this is one of Fiverr's most lucrative gigs. Businesses that assist in generating more leads for their clients include those using Facebook ads and Google Adwords. The good news is that many businesses prefer hiring individuals over agencies since it saves them money and makes it simpler for them to implement changes right away.
When it comes to advertising, there may be several needs. It may be as simple as wearing a watch and taking a picture of yourself doing so. Or, you might need to come up with original ideas because you need to prepare a proper campaign or model. One of the most important aspects of a business is its advertising, which attracts marketers from different industries. Instagram and Facebook are currently the most popular social media platforms since they are the greatest for advertising and promotion.
13. Business Planning
Starting your ideal business is not simple. To ensure the success of your venture, you must thoroughly prepare every element of your business strategy.
Starting and maintaining a business is a difficult task. Due to the high number of startups and small business owners, many services related to business setup and management are typically outsourced. Customers on Fiverr frequently search for freelancers that can assist them in obtaining funding, developing company strategies, coming up with business concepts, constructing business structures, and organising a successful launch. If you are knowledgeable about company law, you can come across clients that require your assistance when registering their enterprises in the United States or other nations. Such customers will spend more than $1,000 per gig for the greatest service.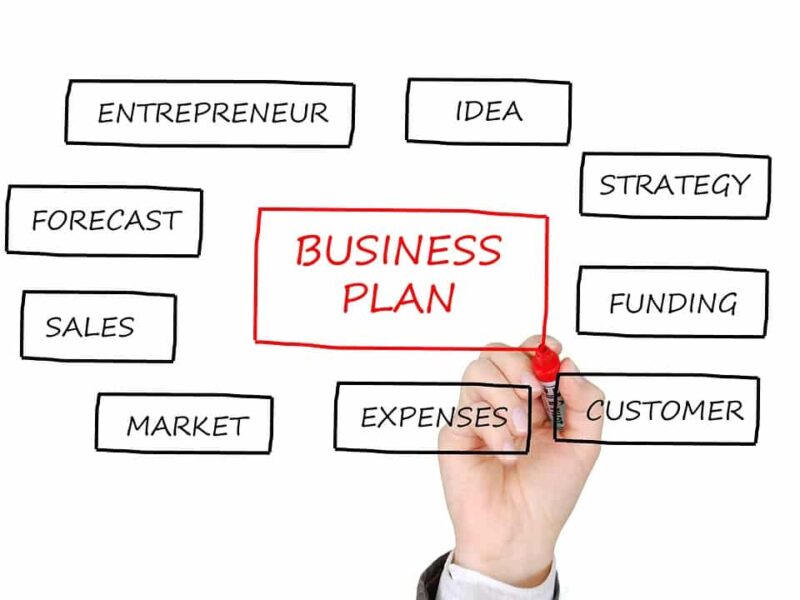 On Fiverr, it's simple to locate company planning experts who can assist you in developing a plan from your concept.
You must determine whether your niche market is profitable before investing in your own business. On Fiverr, there are a tonne of market research gigs available. These experts may research your rivals, market trends, and target demographics to develop an efficient marketing plan. High-paying analysis like this typically requires more money if you want the task done well.
A professional business plan is what you need if you have a concept but need to present it to your investors as a complete, foolproof plan. Numerous gigs with a combination of planning services are available from marketing specialists. A basic strategy, how it will be implemented, an executive summary, and a market plan should all be included in the comprehensive business plan. You can bill your client up to $1000 for a single order of a full business plan as a market analyst or business researcher.
People who are contemplating starting a business typically have a lot on their plates, and as a result, they are forced to delegate the creative components of the venture to another party. Believe it or not, you can find gigs on Fiverr posted by people who are willing to name your company in accordance with your specifications for a price ranging from $5 to $10. You can post a gig of business planning even if you are not an analyst but can think creatively if you have such skills. When you come up with a name, tagline, or motto for a client's business, you can charge them for your services.
Relationship Advice
A relationship coach is someone who teaches people the fundamental abilities that they need to acquire in order to manage their relationships in the most effective way possible. I would never recommend that any random person start selling relationship counselling on Fiverr because of the potential for scamming. You should never try to sell a skill at which you are not an expert. If you are a certified coach who is seeking for other ways to create cash, you may find that Fiverr is the site that best suits your needs.
Health, Nutrition, & Fitness Expert
People are now able to consult with dietitians and fitness professionals online and hire them to create individualised meal programmes and exercise routines. They don't have to go through the trouble of scheduling an appointment and then going to see the individual in person because of this. If you are someone who works in the field of health and fitness, you may create many gigs on Fiverr based on your knowledge and help people while working from the convenience of your own home by offering your services. Because there is some competition in the health and fitness niche on Fiverr, you will need to hone in on a more specific area of expertise for your business. Customers will have an easier time finding you and placing orders on your gig as a result of this.
 Tarot Reading
Yes, you can even get your tarot cards read on Fiverr. You can obtain a reading on your spiritual health and future through the cards, presented in a video, or held during a live Zoom-call seance. All three of these options are available to you. The mysteries of life fascinate people, and they want answers to them. There is a spot on Fiverr for you to offer Tarot readings if you are experienced in the field or even just knowledgeable about it. It's a service, and there is definitely a market for it. That adequately illustrates how vast and unruly the Freelancer space actually is.
BROWSE FIVERR TAROT READING GIGS
Healing & Spiritual Therapies
The quantity of people providing this service on Fiverr will astound you. I was astonished to see that this specialty is extremely popular on Fiverr while searching for the finest gigs there. You can offer therapies to individuals online as a qualified spiritual and healing coach, helping them to feel better. Again, do not deceive individuals by giving useless services if you are not certified in this field. You will never be able to create a strong seller profile on Fiverr by doing this.
Diet Plan
Nowadays, everyone is concerned about their health and diet, thus a lot of individuals search for dietitians who can help them choose healthy foods. Therefore, if you are knowledgeable about nutrition and health, you can use it. There are many people who use the gym, some have health problems, some desire to put on weight, etc. There are many reasons why people look for a dietitian's advice. Be the one to offer services in light of the high demand and profit each month. This is one of the most popular gigs on Fiverr since people are looking for somebody who can give them the proper advice on eating in accordance with their body requirements. Dietitians educate people about healthy living in addition to providing them with an eating plan. If you have experience and solid contacts, you can make a tonne of money doing this. You must also be fully informed on nutritional and health facts.
Advice for new parents
You could wonder if it counts as a profession. It is, indeed. Many new parents are in need of help and direction on a variety of issues relating to their child and themselves as new parents. If you are a family counsellor by trade, it can be advantageous for you. It is essential that you have experience or at least the necessary information to serve as a new parent's advisor. You would have to advise clients about the safety of toddlers in daycare, as well as respond to their inquiries about general habits, breastfeeding, behaviour, and other such topics. You can make money from it if you know how to handle it all and have the necessary understanding. You can make roughly $100 over the course of six months from each customer if you have a lot of experience in it and are able to provide parents helpful advice that boosts their confidence and gets them excited about becoming parents.
Greeting Cards & Videos
Okay, whether they are adults or teenagers, this is one of the finest Fiverr gigs for beginners. On significant occasions, people typically want to make cards or memorable movies. You can register with Fiverr, sell your creative services online, and profit from doing so. Add the images from past greeting cards or movies you've produced when creating the gig. Buyers will be able to view your creative abilities before making an order with you thanks to this serving as your portfolio.
Online Courses
Similar to tutoring, this. If you now work part-time and provide tutoring, you may do the same on Fiverr. In addition, if you are an authority on a topic, you can develop a course on it and provide lessons on Fiverr. Utilize the concept of online tutoring on Fiverr. A excellent teacher is necessary for many college or school pupils to successfully complete a certain course. Therefore, you can use Fiverr to share your knowledge with many people while also earning money from it.
15. Most Selling Gigs Miscellaneous
Before TikTok got popular, veteran Vine stars made their way to Fiverr to continue their hilarious video schtick. These seasoned and emerging meme creators are still active on the platform and will (nearly) create whatever video you request in their unique fashion. You only need a camera, your voice, and possibly a gimmick. You could speak for anything, including advertisements, product evaluations, and interviews. Gaming
To get paid to play games, you don't have to be a professional player. Not even Markiplier is required. You simply have to be there for some folks in this world. Recently, Fiverr added the option for a category called "Gaming," and many people have different approaches. Some provide players coaching advice, while others may team up with high-level players to aid new accounts or struggling survivors get through a game of their choice. However, other people are content with little more than a friend—someone to play with, rely on, and spend some time in a game with. Social skills and gaming expertise both have markets.
Building buildings and interiors
These days, e-designing is growing in popularity. Due to the time and money savings, people choose to have their buildings' architectural and interior design completed online. Fiverr is a terrific site for you if you're an architect or interior designer seeking for ways to make money online. For those just starting out in their careers as architects or interior designers, it is one of the top gigs on Fiverr. You can create floor plans, interior decor, maps, and even offer advisory services in your area of expertise. It's a fantastic niche with the potential to bring in loyal customers for your company.
You've probably heard about this a lot, but you can also use it as a means of income. You can use this to advertise other people's goods, services, e-books, etc. if you have a large following on social media platforms like Twitter, Instagram, or Facebook, where thousands of people regularly view your profile, videos, or blogs. So all you have to do to earn money is spread the word about their links, company, or product. Isn't this a simple way to make money? All you need to do is gain more followers by engaging in activities that appeal to your audience. YouTube, Instagram, and Facebook are the most popular social media networks and the finest platforms for accomplishing this. One of the most lucrative tasks on Fiverr involves making things go viral, which is an intriguing concept. For instance, you can earn $5000 to $7000 from Instagram if you have more than 2,00,000 followers. On the other hand, you can make $10,000, which is a considerable sum, on YouTube if you obtain 100,000 views while promoting other things on your channel.
Why not capitalise on your bilingualism and make money off of it? You can get a gig on Fiverr where you can instruct in any language online. Additionally, you can market quick language classes that are advantageous to many people. Many students and individuals want to learn a new language, either for personal or professional reasons. You can train others in the languages in which you are proficient. In fact, you may make money from this on an hourly basis, so the more time you invest, the more money you can make. Depending on your expertise and ability level, you can make at least $5 for an hour of work.
Putting Audio Files in Text
Additionally, some customers need audio recordings in written form, thus this job is still in high demand on Fiverr. People need files translated so they can understand them. Although no prior experience is necessary for this position, you must be fluent in the language being said in the audio. You will not receive a fixed rate for this because it will vary depending on the length of the file, the language you are translating it into, the material's clarity, and many other things. You receive, on average, $5 for transcribing a 10-minute audio track. That's a simple $5, yet you can earn $100 every day just transcribing 10 audio files, making this one of the most lucrative gigs on Fiverr. There is a lot of competition for you because there are many individuals doing this on Fiverr, but if you are confidence in yourself, it might be worth a go.
Gifts made from recycled materials
There are many persons who are experts in this field and can make the most exquisite gifts out of recycled materials or rubbish. There are many people who can make magnificent seating out of egg trays, ornaments from cork, pen holders from old magazines, and other things. If you possess this special gift as well, use it to build and market your own products instead of wasting it. Your old items have a lot of potential; all you need to do is utilise your imagination to come up with new uses for them. You may impress your customers and gain money from it if you turn it into beautiful gifts. Although it might not be one of the more lucrative gigs on Fiverr, if your work is good, many customers will get in touch with you. Many people require such various presents for birthday celebrations for their children, return gifts, etc. Depending on the materials and inventiveness employed, the profit potential might range from $10 to $15 per sale.
Many individuals need financial consultants, therefore if you have studied finance and have some experience in the field, you should select this gig on Fiverr. You must provide qualified accounting advise to your clients in this profile. You might have to assist your customer in creating a budget, provide them guidance on other company finance choices, examine investment risk, etc. as part of your task. Due to the large number of people who require financial experts, this is one of the gigs on Fiverr that is most in demand. If you are good with money, you may use it on Fiverr. Your knowledge will not only help others make money, but it will also enable you to make a good amount of money each month while staying at home.
Creation of Pinterest Pins
Today, many bloggers and company owners are focusing on driving traffic through Pinterest. You'd be shocked to learn that it has overtaken search engines as the second platform for turning leads into sales. This must be major news to you. Many people are prepared to pay designers a sizable sum of money to create Pinterest graphics for their site or profile. Many people are unaware of this task, but even if you have a foundational understanding of making Pinterest pins, you could benefit much from the opportunity. You may make these pins for customers and make a good living doing it. The good news is that because few people are aware of it, there aren't as many persons offering these services. Therefore, select this gig on Fiverr and make a sizable profit.
It sounds like this job might be intriguing. There are numerous clients that require assistance in selecting the most suitable travel options. Companies need individuals who can advise them on where to go and help them get the greatest bargains on travel packages. This may be one of the best careers for you if you enjoy travelling or have understanding of it. Some people enjoy learning about new destinations and discovering the attractions they have to offer. If you have the same interest, you should choose this Fiverr gig without a second thought. Your role in this profile would be to recommend destinations, modes of transportation, hotels, auto rentals, tourist attractions, and tours. The documentation to bring, the passes needed, the weather, regional customs, and other similar things would also need to be advised. This can be a terrific alternative for you on Fiverr if you are prepared for this profile.
If you're one of the many people who adore designing and creating jewellery, Fiverr also has a gig for you. You can also try your luck on Fiverr if you enjoy creating or designing jewellery. Customers from all over the world can view your work and place orders for you here. Handmade pearl or gemstone bracelets, necklaces, earrings, and rings are all possible. Handmade jewellery is in high demand not just in India but all over the world. All you need are exceptional designing talents to make a significant income from it. Not everyone enjoys designing or manufacturing jewellery, but those with creative sensibilities can do so. If you have this talent, you can use it to start a business and generate good earnings, so you should pursue it and do so. Recommended: 20 Best Websites for Freelance Work from Home
This is a hot gig on Fiverr that is extremely awesome. It will continue to be at the top for a long time. If you are a voice actor who works locally, you may set up a gig on Fiverr and charge the same price for the same service. If you are not on Fiverr, you are seriously missing out on a tremendous opportunity to earn money and develop a career as a voice-over artist. There is a demand for practically every language.
It is one of the best-paying gigs on Fiverr with little competition. Simply sign up on Fiverr if you run a law company or offer legal services offline. You have a 90% probability of being well-known and making money while offering your services as a legal expert.
Tax issues are, as you may know, rather complicated. They don't appeal to everyone. On Fiverr, there is hardly any competition in this industry. Therefore, Fiverr is a perfect platform to develop your online reputation and authority while also earning decent money if you are an accountant with experience in tax and business administration concerns.
For usage in commercials, books, magazines, packaging, greeting cards, and newspapers, illustrators are hired to create still images. Working as an illustrator is a rewarding method to express yourself through visual means of communication. To find work as an illustrator, freelance marketplace websites like Fiverr might be a great resource. Anyone can succeed on Fiverr if they have a lot of talent, the ability to market their services, and the interpersonal skills to connect with customers.
Mobile app developer is the only evergreen position for software engineers that continues getting greener. There is a huge need for developers of mobile apps for Android and iOS. Quality developers are even more in demand. You'll have to start off small and accept any jobs you can get, but once you've completed a few projects, you'll have no trouble finding employment as a mobile developer. For some inspiration, look at these freelance mobile app development job ideas.
The video game industry is expanding rapidly. Beginning your career as a freelance game developer won't be simple. Building your portfolio with all the games you've created is the first thing to do. It's time to start creating one if you don't already have one. And keep in mind to publish your game, even if you don't believe it looks great. Check out these Fiverr gig suggestions for game development for some ideas.
Game creation is not one of the highly sought-after gigs on Fiverr. Because there is little competition, this may be fantastic. However, if you have the required knowledge, expertise, and time, you can succeed in this market. The majority of your work will involve designing and making 2D and 3D video games for computers, consoles, and mobile devices. Coding is obviously one of the necessary abilities for this position. Customers might anticipate that you will design the characters, levels, and animations in addition to writing the code for the underlying engine.
Amazing voiceovers are necessary for great ideas. For a variety of tasks, such as phone recordings, virtual answering services, or video production, voice talent may be required. Anybody who has access to a computer and a decent microphone can work as a voice actor or narrator. For some inspiration, look at these Voice Over Fiverr gig suggestions. Provider of Podcast-Related Services
Podcasting has had a breakthrough year in 2019. More than half of Americans have already listened to a podcast, and an estimated 32 percent do so on a monthly basis, according to Edison Research's Infinite Dial research (up from 26 percent in 2018). Since tracking of this data began in 2008, this was the biggest yearly gain. As a result, creating podcasts these days can be highly lucrative. For some inspiration, look over these Fiverr podcast gig suggestions.
To turn visitors to his website into paying clients, every online business owner needs to build a sales funnel. One of the most crucial business topics to understand is how to construct a sales funnel. View these Fiverr sales funnel gig ideas for some creative inspiration. Designer Canva
The demand for designers with exceptional design skills is growing daily because the appeal of products and services to consumers depends mainly on good design. Anyone can design for free with Canva. To create appealing designs and photos, you don't need to be a Photoshop whiz. Real digital art may be produced in about five minutes. For inspiration, look up these Canva gig ideas on Fiverr.
It's fairly simple to find employment as a freelance consultant these days. You only need a little knowledge and excellent writing abilities. An MBA is not required to work in marketing. If you value learning and are a strong communicator, this is the career for you. Influencers
There is a sizable market for smaller-scale influencers, but celebrity influencers have their own agencies to handle requests for marketing campaigns and collaborations. It's likely that you may find companies eager to pay you to promote their products if you have more than 5,000 followers on any social media network, and Fiverr is a terrific place to start. Finance
Companies will pay you for any financial activity you can accomplish, from bookkeeping to investing in cryptocurrencies. Because banking requires such a specialised skill set and is too vital to leave to chance, it is one of the greatest Fiverr gigs. Fiverr can help you launch your freelance financial career if you have the necessary education, training, and certifications.
On Fiverr, a freelancer can earn up to $580. The primary distinction between web design and web development is that the former frequently makes use of pre-made templates. The code doesn't have to be written by you. Use web builders like WordPress and Wix. The code must also be created from scratch while using wed design, on the other hand. Planning and creating a website's components, from its design and organisation to its colours and images, are all part of the process. Website development typically pays less than web design on Fiverr because it requires fewer tasks. A web developer's average hourly pay is $128.90, which is still better than the pay for many other job types.
On Fiverr, a freelancer can make up to $550. The creation of two- and three-dimensional representations of objects uses both 3D and 2D modelling. Drawings, blueprints, plans, and models are frequently sought after by Fiverr customers in need of them. People might, for instance, be interested in 2D and 3D models for interior design, flooring, design maps, and other aspects of architecture and design. These modelling jobs pay an average of $65.20 regardless of the application, so if you are proficient in 2D and 3D modelling and have the necessary tools, they are viable alternatives for you.
A freelancer on Fiverr can make up to $500. Fiverr is a marketplace that caters to both businesses and individual customers. Because the platform6 has a large number of freelancers, including business experts, small businesses like it. If that's your area of expertise, you might earn money by giving advice to a business on how to improve operations. Either focus on a certain aspect of the business in question, such as finance, production, marketing, or IT, or optimise operations across the entire organisation. Regardless, you may make up to $98.10 each gig, which is what a Fiverr business consultant typically charges.
Many people are eager to spend a large sum of money to have their jewellery personalised. Customized jewellery adds a personal touch, whether the wearer is giving it as a present or wearing it themselves. Many people will search for artisans on Fiverr. If you provide high-quality services, you might even attract returning customers.
Like many parents, parents on Fiverr occasionally need assistance raising their young ones. This creates opportunity for those who are trained in parental therapy. If you are one of these people, you can provide advise on kid management to other parents. If you pair this with family counselling, you might earn up to $100 for each job. It goes without saying that if you are a certified counsellor, it will be of great assistance. In fact, to perform parental and marital counselling, one must pass the Examination in Marital and Family Therapy (MFT), which is a requirement in many states7. For the same, you might additionally need a licence. Therefore, before promoting your services on Fiverr, be sure that all of your paperwork and credentials are in order.
Would you like to share your healthy eating habits with others? This is possible Fiverr. More people are making an effort to maintain a healthy lifestyle, and quite a few of them frequently turn to the site for assistance with various nutrition-related problems. It's one of those Fiverr gig ideas where you can charge $75 for each client's dietary plan. But before you start, be aware that there are some things you can't do without being a certified nutritionist. If you're not licenced by the state, you can't call yourself a "Certified Nutritionist," "Certified Dietitian," or "Certified Dietitian-Nutritionist" in New York, for instance.
You can make a respectable living by offering architectural designs on Fiverr if you have experience planning and designing homes, offices, retail spaces, factories, and other buildings. Clients might even consult you when dealing with engineers, depending on the calibre of your ideas and services. However, the store for architecture and building design on Fiverr is mostly suited for rendering artists. Additionally, remember that you need a licence from your state's regulatory body in order to lawfully practise architecture in the United States9. As a result, even while it is legal for unlicensed freelancers to perform architectural design work, they cannot use the title "architect" without a licence.
Cartooning is one of the less-competitive Fiverr work options. If you know how, you can get paid up to $45 for each task you finish. Typically, you would be expected to create political, sports, advertising, and comedic cartoons for blogs, websites, and even news organisations. Longer-term tasks like creating cartoon graphics for books may be offered by some clients. In this scenario, your task would be to design cartoons for the story that the client would develop. Due of their durability, these are some of the top Fiverr gigs. Over a longer length of time, you can make money from the same customer.
Do you have good listening abilities? One of the best Fiverr work ideas for you can be trancribing audio files. It entails attentively hearing audio files and turning their content into text. This type of job has the benefit of not requiring any prior experience. You are also not required to possess any credentials or permits. You may typically earn $5 for transcribing 10 minutes of audio on Fiverr, though the pay will vary depending on the sort of work. That equals $30 for each hour worked.
Develop mobile applications
If you work as a software developer, you could come across Fiverr users advertising gigs related to creating mobile apps. These are frequently well-paying jobs since they take a lot of effort and knowledge to execute. While some companies may need fully functional programmes, others could merely require app designs, logos, banners, icons, and the like. In any event, being able to develop apps for prominent mobile operating systems like iOS, Android, and others will provide you a competitive advantage over other developers.
You can post a gig as a voice over artist on Fiverr if you have any voice acting experience or if you'd want to give it a shot. There won't be much competition because it's a new niche. And there is a great deal of room for expansion. Additionally, you can discover individuals advertising gigs in practically every language. As a result, even if there is fierce competition for jobs using English, you might still be able to find a handful in a second language that you are fluent in.
You don't need a licence or certification to work as a dating and relationship coach on Fiverr, which is a fantastic perk10. You only need to have the necessary information and skill set to assist others in acquiring the fundamental abilities needed to establish and maintain connections. Relationship advisers can, therefore, have a long-lasting effect on their clients. As a result, if you are not an expert, it would not be advisable to enter this field. Before providing Fiverr users with life-changing advice, make sure you are an expert in your field.
Do you follow a fitness regimen that is effective for you? You can charge a fee to distribute it to Fiverr users. As a fitness instructor, you would need to guide, coach, and inspire individuals who are attempting to get fit or lose weight. If you possess the abilities to work with people of diverse ages and demands, you will find it simpler to get Fiverr clientele. The good news is that you can conduct fitness coaching without having to obtain a licence or certification. Usually, clients receive a $15 starting payment.
On occasion, people and companies must wow their audiences using PowerPoint presentations. You might find someone on Fiverr seeking for assistance with how to construct the ideal PowerPoint presentation for the occasion, whether they are a startup looking for funding, a job seeker looking for work, or a professional giving a speech. This can be among the greatest Fiverr projects for you if you are capable of producing excellent presentations that are completely based on someone else's ideas. You can make up to $100 for a single presentation by providing high-quality services.
Many people would adore to know their origins and the structure of their family tree. Many of them frequently consult genealogists to find the solutions they're looking for. That is why this beautiful is gaining popularity on Fiverr so quickly. To offer genealogy on Fiverr, you don't need to be a trained professional with a licence. But if you're good at family and lineage research, it will undoubtedly be simpler for you. The pay per gig ranges from $15 to $40.
The coronavirus pandemic had the impact of raising information consumption, especially for online courses12. Fiverr is catching up to sites like Udemy and Coursera in terms of offering online instruction. ‍
In fact, several students in high school and college maintain accounts on Fiverr just for getting online tutorials. Niche lessons appeal to a lot of other people. For instance, aspiring filmmakers would be interested in learning how to get started and advance in the industry. Tutoring can be advantageous for you if you are knowledgeable in a particular area. Depending on the topic and urgency of the teaching, pay ranges from $50 to above $100.
Numerous customers on Fiverr are interested in paying for astrology and horoscope readings. If you are an expert in this area, you may sign up on Fiverr and earn $5 to $75, depending on your degree of accuracy, competence, and experience.
You must be completely knowledgeable about astrology to select this Fiverr gig. You cannot choose this without doing the necessary research and learning. You must be completely knowledgeable about horoscopes, as well as the stars, planets, and how they affect people's lives. Although it is not an easy task, if you know how to do it and have a strong understanding of it, you may make a nice living from it. If you have the skills, you can choose this Fiverr gig for yourself because many people believe in it and act on their predictions or recommendations.
How to find & land the best Fiverr gigs
How can you follow through and truly secure the finest Fiverr engagements now that you are aware of the skills that are in demand? You should be able to find a method that works for you as long as you approach the experience with an open mind. To get the greatest Fiverr gigs, use these strategies. Utilize what is effective and discard the rest. You'll eventually find your rhythm and begin to make the kind of money you're hoping for.
 Optimize your gig title and description
Not just Google uses SEO. When describing your gig, use as many of the search terms that someone would use to find your services as you can.
 Find a niche
The finest Fiverr jobs go beyond simply touting "writing." Instead, build a gig for something particular, such as "Ghostwriting and placing a thought leadership piece with a mid to top level newspaper," based on your special skills and areas of expertise. The small things will make you stand out and direct you to the customers who will really value your business.
 Grammar matters
Although it may seem like such a tiny thing, customers frequently won't choose jobs that contain typos or grammatical errors. It doesn't convey a sense of professionalism and casts doubt on your attention to detail. To make sure your objective is obvious and the listing makes sense, it's also a good idea to receive feedback from others, such as friends, family, or especially peers.
 Add an image
You definitely need an attractive cover for your gig. If you're not a designer, you might seek out someone from Fiverr to create something beautiful for you! The best Fiverr gigs might even have a video to explain the work being offered in an eye-catching way.
 Respond quickly
Considering that Fiverr keeps track of your response rate and ranks your gigs appropriately, always respond to interested customers within 24 hours.
 Ask for reviews
To advance on the Fiverr platform, you must receive reviews. Ensure that your work is excellent and receiving good evaluations. small at first
 Start small
While it goes without saying that as a freelancer, you should charge what you are worth, Fiverr actually operates on a competitive price model. You need to have pricing that are on the low end in order to get gigs at first. You can gradually raise your prices as you receive these reviews and improve your pitch. Develop more gigs
 Make More Fiverr Gigs
The odds of finding some of the greatest Fiverr gigs increase with the variety of ads. When you first start out, try a number of different things. When something works, learn from it and modify your other listings accordingly.
Conclusion – Fiverr Most Selling Gigs
At the end of the day, the best Fiverr gigs for you are the ones that are about things you know a lot about. There are good reasons to focus on just one field, but there's nothing wrong with trying to cover more ground. If, for example, you know a lot about search engine optimization (SEO), you could combine SEO with writing services (e.g., content and resume writing). The more high-quality services you provide, the higher you'll rank on the platform and get paid.
There is no surefire way to get the best Fiverr gigs right away, but if you have the right skills and a well-thought-out profile, Fiverr could be a good place to start your freelance career.
I've compiled a list of the best Fiverr gigs. Now you must research the market and choose a specialty. It's difficult. This first step may take time, but it's worth it. I hope everyone who reads this is compensated for their skills. Guys, try it. Twenty22 Fiverr gigs were profitable. Try your other talent on Fiverr to make extra money. You need to discover your other talents. Choose a Fiverr gig based on your skills. You'd be richer and happier.
Be prepared to answer questions before choosing a Gig. So, show off your skills. Buyers and merchants have finished their finest Fiverr gigs. Fiverr is a burgeoning marketplace for selling abilities. Fiverr thrives on customer value. On the platform, a pleased consumer goes far. Unhappy people can spoil your work. This email course teaches internet moneymaking. Before hiring, customers must pay online. A too-good-to-be-true quote probably is. Don't buy inexpensive stuff. Paid for. These are Fiverr's most popular gigs for making money or hiring cheap services.