30

min read
Ways to Make Money on Twitter [That Are Both Innovative And Proven To Be Successful]
There are a plethora of opportunities to earn money online; however, not all of these opportunities are made equal. Twitter, on the other hand, presents users with more opportunities than ever before to create some additional revenue. In point of fact, some people have even established careers out of the money that they make via the use of Twitter; however, you do not need to be a social media wunderkind in order to attempt to imitate their level of success. All that is required is a little ingenuity and the determination to see it through.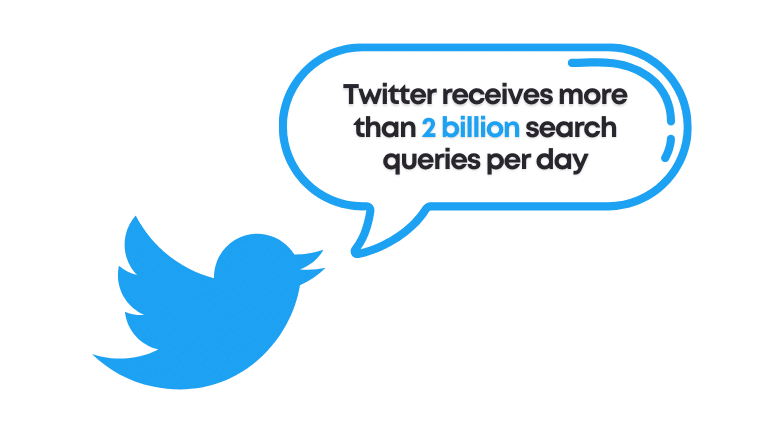 Make Money on Twitter With Ease – A Beginner's Guide [2022]
What could possibly be better than earning money for doing something that you would typically do for free? Not very much. That is precisely what you will be able to accomplish when you transform your devoted following on Twitter into something that brings in income for you. You may have heard about or even witnessed people making money off of their Twitter accounts. In this piece, you will learn exactly about social media monetization and how it may be done through a relatively underutilised perspective, which is the promotion of your own digital items, and you will examine it in detail.
Make Money On Twitter with… Twitter Ads
Paid advertisements on Twitter are an excellent way to improve your business results. Twitter Ads are frequent Tweets purchased by advertisers that want to reach a larger audience and drive engagement among their current viewers. Twitter Ads look exactly like non-promoted tweets; they're merely tagged 'Promoted' when a promoter pays for placement on Twitter. Otherwise, they appear to be and behave exactly like regular Tweets. They can be retweeted, preferred, and replied to in the same way as another tweet. To access Twitter adverts, click on your profile's avatar on the upper right side of your screen.
You can then use the advert builder to create them. It enables you to specify the popular goals of your marketing campaign as well as other important details. You'll be able to construct your message and choose a format once you've established the daily budget, total budget, start time, and end time. Where can Twitter Ads appear?
You can place your Twitter adverts in a variety of places, including:
On Twitter, near the top of related search results pages.
In the Promoted Trends search results. People who click on a Promoted Trend may also see a Twitter advertisement in the search results.
Timeline of the user When Tweets are relevant to a person, Twitter advertising may appear on their timeline.
Profiles of users Promoted Tweets will appear on certain person profiles that fit the targeting credentials set up for a marketing campaign.
Customers on Twitter can still see adverts that do not appear on the advertiser's profile page. Although promoters can send highly targeted and relevant adverts to specific users, promoted Tweets are still part of Twitter and can be found by searching the platform.
Can you earn money on Twitter in 2022?
You will be able to do so. In 2022, Twitter will not be a bad location to make money online. There are several ways to accomplish this. I'll give you a quick rundown of what they are.
Examples of Twitter Ads
If you promote selling solutions, you're probably familiar with HubSpot. HubSpot advertises a complete certification platform with intermediate marketer training below. A Twitter Ads tweet. It's beautiful, but basic, with bright colours and a simple call-to-action. When the message is clear, no embellishment is needed. Here's Spotify's free trial offer. This small amount per account guarantees leads. Most new subscribers won't cancel once the free trial ends, which is great. Discount sales like this keep Twitter clients interested in your offers. Especially a bargain. Amazon advertises Kindle extras on Twitter. This offer rewards faithful Kindle buyers. In the first part of this tutorial, I introduced you to Twitter and how to obtain new followers. Let's move on to the advanced actionable part and explain some quick Twitter monetization tactics.
How can Twitter users make money?
This past summer, Twitter launched a brand new creative studio that includes a slew of new features, one of which is the ability to sell tweets and videos. All you have to do is go to the media studio and fill out an application to check if you're eligible. From there, you simply tweak a few options, such as the types of adverts you want to appear with your content, and you'll be paid when they play before your video or tweets. This makes it extremely simple for any type of Twitter account to start making money. In actuality, you don't have to have a private or business Twitter account to make money from adverts. Several Twitter parody accounts have done extremely successful by spreading jokes and memes and earning money only from adverts.
If working commercials isn't your cup of tea, you can always start selling sponsored tweets. Make contact with brands you like and use, and explain to them the benefits of paying for a tweet to your audience. You get paid for each tweet when you use sponsored tweets. Sponsored tweets can add up quickly if you have a large enough audience.
Affiliate advertising and marketing
You can also enter into affiliate marketing by joining affiliate programmes that feature brands you know your audience would enjoy. Use your personal affiliate link to tweet about items and services, explaining why people should buy them. You will get compensated for directing your followers to that product or service when they click on the link and make a purchase.
Selling your individual products
While all of those options for monetizing your Twitter account are appealing, nothing beats marketing your own items. In fact, this is the finest way to make money on Twitter because you'll be able to keep all of your earnings and have complete control! Why not profit from the fact that your followers are already following you because of what they enjoy and what you do? Continue your studies to understand how to make money on Twitter by generating and advertising your own products.
The practice of collecting ideas and contributions from a large group or neighbourhood is known as crowdsourcing. For years, it's been a hot topic in advertising and marketing, especially when it comes to social media. Crowdsourcing on Twitter is an effective way to solicit contributions from your followers (both new and old) in order to fund your business or idea. In conjunction with something like Kickstarter, this is quite beneficial. Crowdsourcing has the potential to make you a lot of money, or at the very least capital, but only if it is done correctly. Before you attempt to begin your first challenge, read up on a lot of successful case studies.
This appears to be a no-brainer, yet some businesses completely overlook the fact that people will not buy something if they don't see a call-to-action. When it comes to *how* you market items on Twitter, the conversation becomes a little more traditional. To encourage spending, one of the simplest approaches is to use promotions and discounts. Some businesses have found a lot of success with "daily offers" and other traditional advertising and marketing strategies that work well with Twitter. Just make sure you're not spamming your Twitter account with promotional messages.
Because your target audience is on Twitter, you already know how they spend their leisure time. Take advantage of this by developing a Twitter product that they will require. Many Twitter users, for example, desire to utilise an app that allows them to generate hashtags automatically based on reputation. Something similar will already exist, but you'll be able to create a better offering that your following will adore. Alternatively, you might charge people to grow their Twitter profile using services like Fiverr. This is something I've done for myself by assisting others in generating (real) Twitter followers at a reasonable cost of $5 for 100 followers.
Make use of sponsored tweets.
Did you know you'll be able to charge businesses for your Tweets? You can locate advertisers on SponsoredTweets who will pay you to Tweet about their products for a fee you set. Just keep an eye on what you Tweet on the side. There have been plenty of people fired for what they Tweet, and the same can be said for losing a sponsor connection.
You'll be able to find potential prospects based on their profiles and what they're Tweeting thanks to Twitter's excellent search engine capability. Assume you're promoting skateboards. Try searching for phrases like "need a new skateboard" or "wish I had a skateboard like this" to get new leads. From there, you may send a Tweet to the individual in question, informing them of a skateboard promotion you're running. If they're interested, you may even give them a coupon code.
Organize a Twitter competition.
A prize is the most efficient way to get people's attention. Consider partnering with a local business in need of publicity. Offer to run a contest using Twitter in exchange for a percentage of the available gross sales. There are a lot of fun and creative ways to make a contest interesting for viewers. You can invite them to serve as judges, crowdsource ideas, or simply ask them to favourite or retweet something.
If you're good with movies, consider creating Twitter-related tutorials that people are looking for on Twitter. With AdSense, you'll be able to monetize your YouTube content and earn a lot of money merely by using your Twitter account. Are you interested in learning how to make money on Twitter? You presumably have a Twitter account to promote your brand or business, whether you're a blogger or a business owner. With 126 million daily active users, Twitter is without a doubt one of the most popular social media sites. There are a lot of people you may introduce to your company.
So you keep tweeting in the hopes that a handful of these 126 million people will notice your tweets and check you out. But where does the money go? We'll let you in on some of the best ways to make money on Twitter in this article. However, before we show you how to make money on Twitter, you'll need to first create your Twitter profile and following. So, let's see what you can do to make a fantastic Twitter profile that will appeal to your target demographic.
Step 1 to Making Money on Twitter: Create A Killer Twitter Profile
Naturally, if you want to make money on Twitter, you'll need a Twitter account. However, this isn't just any Twitter account. Your Twitter profile must be set up for success if you want to make money tweeting.
For instance, try the Twitter profile below: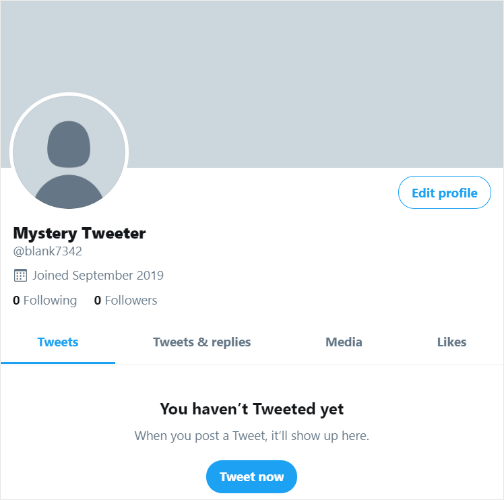 What do you think you see? Isn't it a terrible waste of time? Now, take a look at OptinMonster's Twitter account: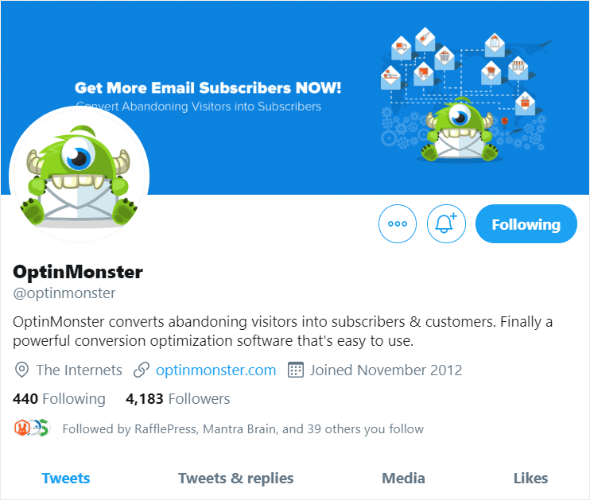 It looks like a brand because it has a profile picture and a Twitter Cover picture, the same username and address, a short description of what OptinMonster is and does, and a link to the website. Which of these two Twitter profiles is about the same as making money? In the end, it was the OptinMonster profile! So, keep in mind that when you set up your Twitter profile, you should:
A self-portrait or a snapshot of your company's logo
A Twitter handle and a linked username (your title or company title)
A fascinating biography
Including a link to your website or blog (if relevant)
A well-crafted Twitter profile will aid your followers in getting to know you and developing a trustworthy relationship with you or your model. Let's talk about followers and how to gain them.
Step 2 to Making Money on Twitter: Grow Your Following
Your tweets will receive little engagement if you have no followers on Twitter, which will hinder your chances of making money on the platform. So, how do you obtain Twitter followers? Well, the simplest way to gain more followers organically is to simply be active on the network. Being active on Twitter simply means that you'll want to share shared content and collaborate with other Twitter users by retweeting, liking, and commenting.
Make sure the content you share on Twitter is relevant to your field of interest or business, and utilise hashtags to expand your reach. Tough Mudder, for example, shares content that Tough Mudder contributors, or wannabe contributors, may be interested in seeing.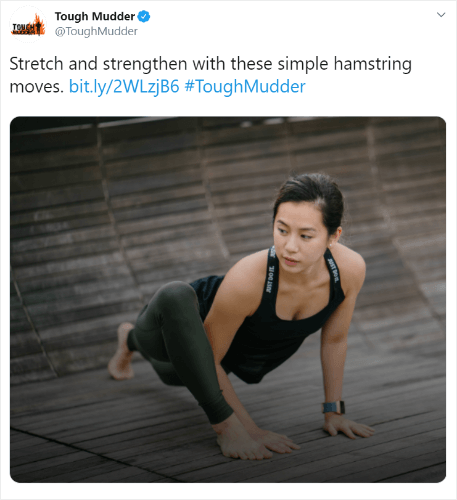 They also include the hashtag #ToughMudder in order for their post to appear in search results for clients looking for that specific type of content. Being active on Twitter will attract more followers to your profile, as well as help you keep the ones you already have. The following are some simple ways to grow your Twitter following:
Follow people who are relevant to your business or audience.
Include your Twitter handle in your email signature.
Promote your Twitter account across other social media networks.
Add a Twitter widget to your website.
You can easily integrate a Twitter feed anywhere in your WordPress website with Smash Balloon's Custom Twitter Feeds Pro. This makes it simple for visitors to your website to see the high-quality content you're publishing on social media.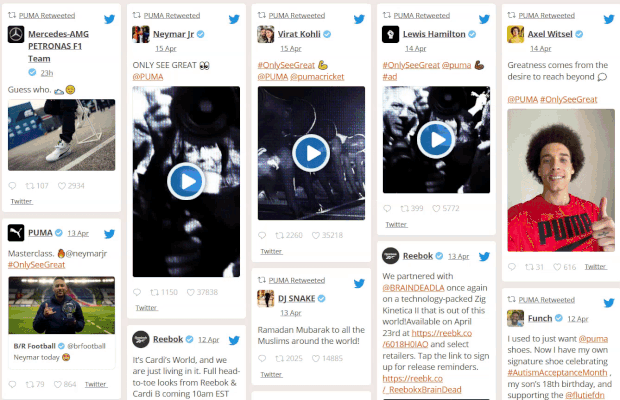 Customers can collaborate with your postings without having to leave your website if you include a subscribe button in your feed.
Do you want to make money just by putting out a tweet? This is possible with sponsored tweets. Different corporations will genuinely pay you to tweet about their products, companies, or models if you have a great presence on Twitter with a large following of interested fans. If you're a regular on Twitter, you can simply reach out to companies you're interested in and convey the benefits of selling their product to your followers via a paid tweet. Alternatively, there are a number of online services that can help you connect with companies interested in paying for tweets.
Here are a few examples: SponsoredTweets SponsoredTweets is a platform that allows businesses to find and collaborate with Twitter influencers.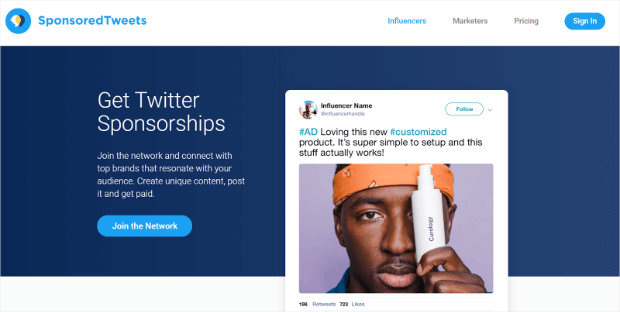 PaidPerTweet PaidPerTweet gives businesses access to hundreds of thousands of top Twitter users, including regular and celebrity users. Depending on the influencer, prices range from $1 to $10,000.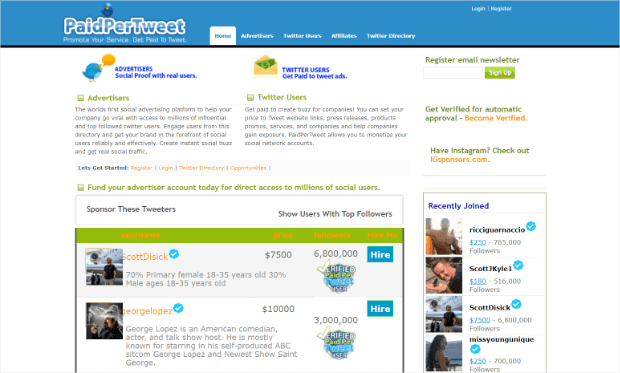 As you can see, if you have a popular Twitter account, you can earn money by tweeting. However, businesses should buy sponsored tweets from influencers to promote their brand to a whole new audience of individuals who want to buy from you. It's a win-win situation for everyone!
Promote Affiliate Products on Twitter
Selling affiliate products is another way to monetize your Twitter account. When most people think of affiliate marketing and advertising, they think of bloggers who sell affiliate products on their websites. However, you will be able to make money by promoting affiliate products on Twitter.
Affiliate marketing is just a means of selling other people's items. You are paid if someone buys that product after clicking on the link you shared. One of the great things about affiliate marketing is that you can get started as a beginner—you don't need a large Twitter following to be accepted into affiliate marketing organisations. Create an account on an affiliate advertising and marketing site like: to find affiliate products you can promote on Twitter.
However, don't advertise any affiliate goods you come across. If you promote a variety of products with no rhyme or reason, your Twitter profile will become disorganised, and your followers will have no idea what they're getting from one day to the next. Just have a look at the wide range of affiliate items available on ClickBank.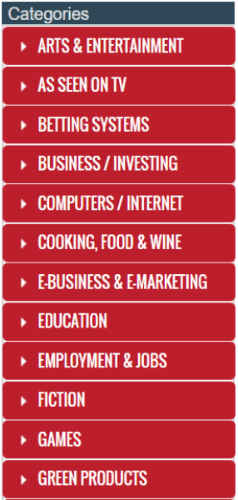 It's a good idea to focus on a specific area when it comes to affiliate marketing and advertising. Choose a specific area in which you are both knowledgeable and enthusiastic. For instance, a food blogger should stick to cooking, food, and wine goods because they know their audience is interested in these topics. Furthermore, their audience will trust their advice in class and be more likely to buy. Both avoid spamming your followers with affiliate links. To avoid annoying your followers, mix them along with your regular articles. Your account may be suspended if you click on too many questionable hyperlinks.
 Promote Your Own Products
Selling your particular products to your followers is an efficient way to make money on Twitter if you market them. Because your fans already follow you, they're more likely to be interested in the things you offer. If you're wondering how to market a product on Twitter, it's as simple as sharing a post. Take, for example, this tweet from Lush.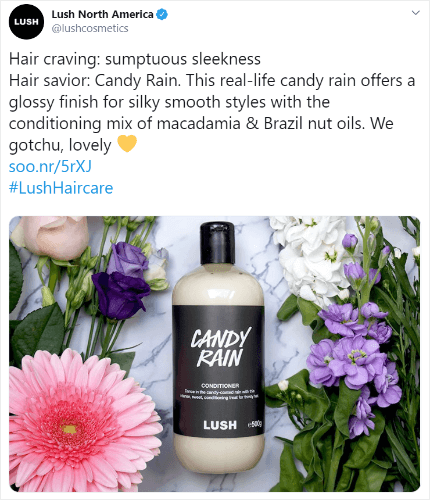 This post includes an eye-catching image of the product, a compelling description of the product, a relevant hashtag, and a link to the product on their website. Do you want to increase your product's gross sales? Use Twitter to promote a deal or a cheap price, as French Bulldog Love did in the tweet below.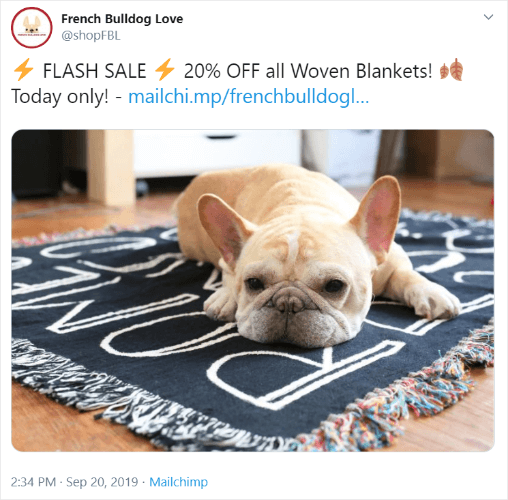 A limited-time sale can have your Twitter followers rushing to your website to get the best bargain before it's too late. Instead of reaching simply your current website visitors, you may offer your products to hundreds of thousands of internet buyers by promoting products on Twitter. In fact, according to studies, Twitter users shop online 6.9 times each month, while non-users shop online only 4.3 times per month. In addition, Twitter users planned to spend 21.7 percent more in a six-month period than non-users.
 Generate Traffic for Your Website
Even if your business does not sell things, you can still use Twitter to drive traffic to your website or generate more leads for a service-based business. For example, Ali Marten, the owner of the popular food blog Gimme Some Oven, tweeted this article on Twitter to inform her followers about the most recent recipe on her website.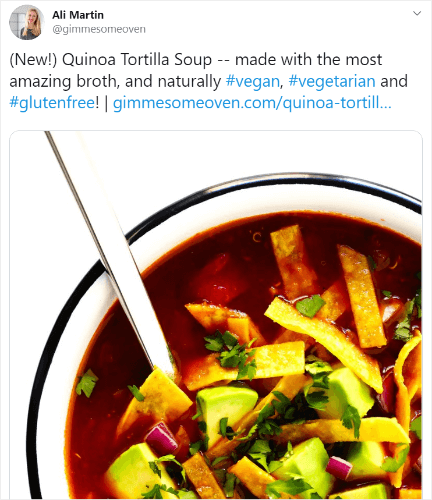 Sharing your most recent blog entries on Twitter will help more people find your website, increase your traffic, and advance your blogging career. You might even be proactive in generating visits and leads by searching Twitter for relevant threads and debates. You may search Twitter for key phrases like "searching for dentists" or "dentists in [your city]" if you're looking for a service-based business like a dentist's office.
If you come across tweets from people looking for dentists, strike up a conversation with them. Reply to their tweet with something along the lines of "Hey Sarah, I notice you're looking for dentists in the region…" and include a link to your company's website.
Building an email list is one of the most effective ways to increase your company's revenue. You can use email marketing to communicate with your subscribers to provide corporate information or your most recent blog entries, announce new items, advertise flash specials, and more. Automated emails, according to WPForms, can increase revenue by up to 320 per cent.
Create an exit-intent popup with OptinMonster to capture the attention of your website visitors before they leave your website to build an email list. Offering a lead magnet, which is a freebie such as information, guidelines, a book, or a template in exchange for your visitors' email addresses, is a quick approach to growing your email list.
Here's an instance from The Saddle Geek: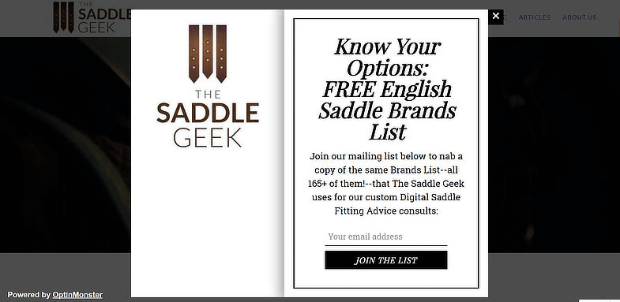 But, how can you grow your Twitter email list? It's simple! All you have to do is tweet your lead magnet along with a link to your opt-in landing page for your email list. Talia Wolf demonstrates how to accomplish it. Notice how she's also pinned this tweet so that it's the first thing buyers see when they visit her profile.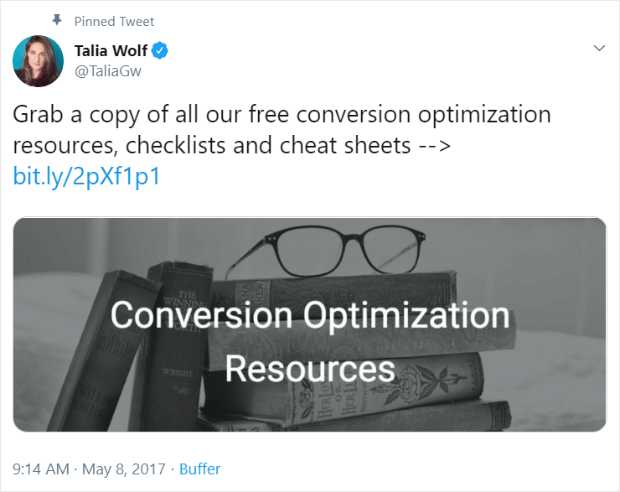 With this Twitter success strategy, you'll be able to convert your Twitter followers into subscribers and then into customers, using targeted e-mail marketing campaigns. Try our Beginner's Guide to Email Marketing for more information on how to establish a profitable email marketing strategy.
Providing excellent customer service is critical to any successful business. While providing customer service will not help you make money right away, it will help you generate more leads and keep your current customers. According to HelpScout, 7 out of 10 U.S. customers believe they've paid more to do business with a company that provides excellent support. And now, more than ever before, clients need speedier and more convenient customer service. As a result, you should use Twitter to provide customer service. Some large organisations, such as UPS, devote dedicated Twitter accounts to customer service.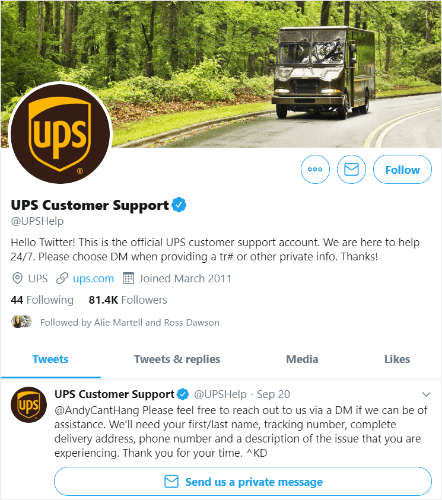 To provide excellent customer service on Twitter, you don't need to own a large corporation. All you have to do is be available to your prospects and assist them resolve their issues in a timely manner, which will assist your company produce more gross sales. However, being available to your prospects at all times is doable if you use a Twitter chatbot. A Twitter chatbot will be available to your customers 24 hours a day, 7 days a week, and will employ artificial intelligence (AI) to respond to their questions. Take a look at how Patron Tequila is using a Twitter bot to make money.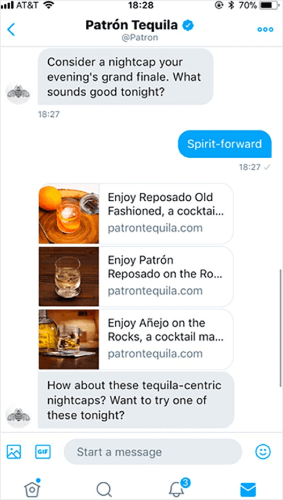 In this situation, the chatbot suggests completely different items that the customer should buy for his or her specific occasion. It's almost as if the buyer had their own personal shopper. Building a Twitter chatbot appears difficult, but don't be discouraged. You can easily construct a Twitter bot for your business using a platform like ManyChat.
Running a giveaway seems like a good way to promote your business and raise brand awareness, but can it help you make money? This is good news, it works! You want proof? Over $10,000 in sales were created through a giveaway by an online company selling high-end knives, KnivesShipFree.com. A Twitter giveaway may be an effective means of generating revenue. A giveaway may be easily created and managed with a tool like RafflePress, which is one of the best giveaway plugins on the market.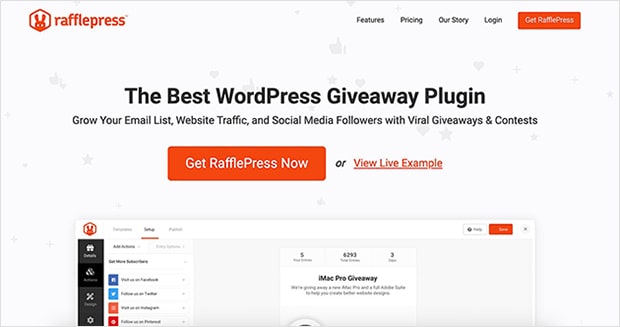 You may quickly design a giveaway landing web page with RafflePress's drag-and-drop giveaway builder (which comes with a free edition). Then, as BomiBox did below, use Twitter to advertise your contest. They added a fun snapshot of the giveaway gift, contest information, and the hashtag #Giveaway in their post. Remember to add a link to your RafflePress giveaway landing page in your post so that your followers may enter your prize simply.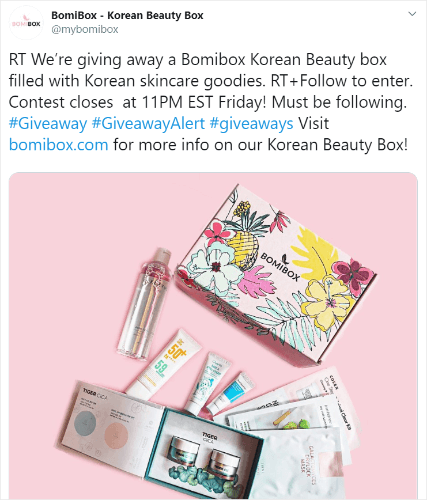 Creating Twitter Ads is another way to boost your company's sales. Twitter Ads will help your company reach out to more people online—not only your current followers, but also other Twitter users. The more people who are aware of your organisation, the more sales you can expect to make. Twitter Ads appear to be identical to other tweets in the feed, but they are explicitly labelled "sponsored," as shown in the example below.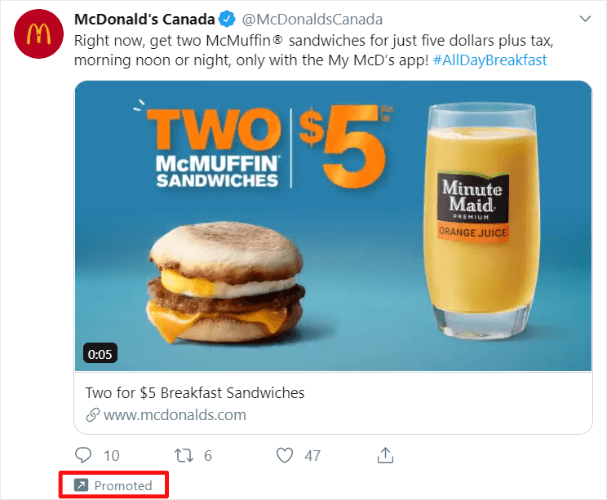 Because you can target your advertisement to only the right people, Twitter Ads are extremely effective. Customers can see your Twitter Ad depending on their exact interests, demographics, and even how active they are on Twitter. You may promote your business to a large number of clients who are interested in exactly what you're offering by using targeted Twitter Ads. As a result, if someone sees your Twitter Ad in their feed and thinks, "Wow, that's just what I needed!" they'll be more likely to click on it and make a purchase.
Monetize Your Twitter Presence
Creators may monetise their channels on YouTube by placing adverts for their films and live streams. Advertisers pay the creator of an advertisement when it is seen or clicked. And… You can do the same thing on Twitter! Twitter launched the Twitter Media Studio a few years ago, allowing content providers to monetise their presence on the platform. In-stream video advertising and in-stream video sponsorships can be placed directly into your brand-safe Twitter video content material, allowing you to earn money on the network right now.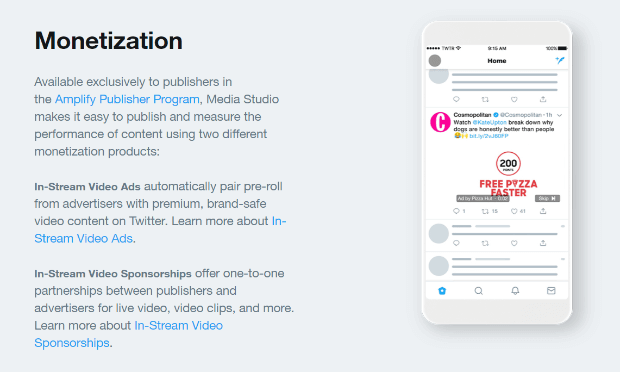 Other Twitter Media Studio features include:
Producer — With LiveLower, you can broadcast professional live streams, promote and schedule live streams, and produce quick highlights of your show.
Library – Keep track of all of your movies, images, and GIFs in one spot. You may also provide roles and permissions to individuals in your group.
Analytics – View stats for your tweets and earnings from monetized videos to see how efficient you are on Twitter.
Now you know how to monetize Twitter to drive more sales for your business. Instead of tweeting in hopes of attracting customers, you now have a plan that will bring in cash. Twitter is a news and social networking website where people send Tweets. Tweeting is sending short, public notes to Twitter users. Others use Twitter to locate discussions to join. Twitter's message size limit is purposeful. 280 characters each tweet keeps everything readable.
This dimension cap makes tweets brief and to the point. Sometimes it's hard to fit everything into a tweet. If you want to transmit all your information, be efficient. This size limit was Twitter's smartest move because it makes the platform unique. Thousands use Twitter for business (advertising and marketing campaigns). The site offers an alternate income for practically everybody. You should use Twitter for marketing to differentiate your campaigns and determine if it makes you money. First, learn how to make money on Twitter.
Want to Make Money on Twitter? Create a Profile First
To make money on Twitter, create an active account. This activity must be well-targeted and correspond with your goals. After meeting these requirements, you'll acquire followers. Affiliate marketers should create social media presence, including Twitter. Create profiles that match your website's look and feel. Twitter will become an extension of your online presence. You'll seek to boost your social media profile on the platform. A plus. Since Twitter lets you share your affiliate work with followers (possible customers or existent/future distributors), you'll gain more interaction and money opportunities. Organic Twitter growth?
Simple rules:
Make sure your profile's nickname and address match your website's name. You can do it like LiveChat.
Link your profile to your website. This links the account to your site. This will help customers find your website. Also, link your website to your Twitter profile. Footer social networking links are common. Linking to your website is a strong call to action.
Consider this:
Include your avatar or profile photo. Your profile will be impersonal without it. Don't be an egghead if you need to manage Twitter. Face your online photo.
Promoting Products
Sell products in your social media profiles to monetize your Twitter presence. The best way to achieve it is to become an affiliate marketer. This strategy allows you to advertise vendor products that are relevant to your business and earn a commission for each customer you recommend. Doesn't it sound like a sweet deal? If you're an experienced online (efficiency or inbound) marketer who knows how to develop effective campaigns, this is a fantastic way to earn passive income and make extra money.
You can also do it as a beginner, but it will take some time to learn the skill and optimise your efficiency so that you can make a decent living out of it. Fortunately, I've put together an all-in-one affiliate marketing tutorial to get you up to speed on affiliate marketing requirements and ensure you understand how to get started. To get started, you'll need to construct a website, then choose affiliate marketing programmes that interest you or simply join affiliate marketing networks like ShareASale. And affiliate marketing networks make it easier to get started because they provide you with:
The affiliate marketing platform to manage your campaigns know-how to train you in your method affiliate marketing and marketing information, so you're up to date on the business access to a database of distributors and affiliate products they offer, so you don't have to look for them yourself to find a good match
 Use Twitter as a Traffic Generation Tool
The goal of this strategy is to direct Twitter users to completely other websites. What makes you think you'll be able to do it? To begin, make sure your Twitter profile is well-optimized and includes relevant hyperlinks. Then you become more active and strategically send traffic to your website.
Apart from the items that you share on a regular basis, you may also research threads and discussions on Twitter for the given topic and participate in discussions, including contextual backlinks, to recommend your options to people who might find them useful. Of course, if you want to play it properly, this will turn into a full-time job for you, and it will not always be worthwhile, but you can try it out to see how it works in your instance.
The creative income programmes on Twitter are evolving. Now, content creators have the ability to monetize their work in a variety of ways and earn money on a large scale. In 2016, they launched Media Studio, a tool designed specifically for content creators that allows them to monetize their Twitter presence and earn money quickly and effectively. Twitter Media Studio gives you access to:
A totally new unified media library has been created (movies, GIFs, and pictures)
New Twitter scheduling and planning tools have been added.
Help with team administration and many accounts
Stability enhancements and increased efficiency
There's even an "Earning" section that lets you easily track your Twitter and Niche programme revenue. The following are some of the program's benefits:
Collaboration with major business manufacturers on a campaign-by-campaign basis
Attend one-of-a-kind meets and events with creators from all around the world.
Access analytics across all of your major social media platforms.
How to earn money off Twitter?
Step 1: Decide on an area of interest
It is critical to have a separate sector. Without one, you won't be able to succeed. Because everyone has various goals and viewpoints, one message does not apply to everyone. The greatest way to ensure that your message is effective is to use a distinct segment. A distinct segment allows you to target a specific set of people rather than attempting to reach everyone. Your field of interest will be anything you want it to be! Make ensure it's something you're interested in or passionate about, such as RPG video games, music production, or motion movies.
From this point forward, you'll be able to establish yourself as an expert in this field. Use Twitter to show how simple it is to beat levels in your favourite video games, astound your followers with magnificent scenery photographs, or produce mixes or share samples that make people want to get up and dance. Your followers will believe the products you're promoting once they see the quality of your work and your high ability level.
Step 2: Create the proper product on your area of interest
The next step is to create the product you'll be promoting. Your area of interest determines the type of product you create. It must be something you understand your target audience requires and/or desires. For example, a photographer might offer Lightroom presets to various aspiring photographers, or a producer might sell samples and drumkits to various DJs. If you're not sure what kind of goods will sell, the best thing to do is simply inquire. Don't be hesitant to tweet your followers to inquire about potential items and whether or not they would buy one. (I'll go into more detail about this later in the essay.)
Step 3: Pick an internet retailer to promote your products
Choosing the right online store is just as important as choosing the right goods. As a seller, you must choose a platform that meets your needs. Because there is so much on the market, be sure to educate yourself on all of the benefits of each. If you've never set up an internet retailer before, a platform like Sellfy is a good place to start. A Sellfy store takes only a few minutes to set up, offers fast payouts, and integrates with PayPal. It includes everything you'll need to market products on Twitter without all of the difficult details that come with starting from scratch. Sellfy also allows you to sell subscriptions.
Step 4: Promote your products on Twitter
That's where Twitter may be found right now. You can start selling on Twitter once you've set up your store and posted your products! You may use Twitter to promote your items in a variety of ways. Posting about them is the most straightforward. Simply post when you debut a new product, remind your fans what you're selling, and even respond to posts where your product might be a related subject. Remember to include the hyperlink in your tweets at all times. In addition, including a URL to your store in your bio is always a nice idea.
Another way to utilise Twitter to promote your items is to offer deals and discounts. Promoting a coupon code or a specific discount that you link to can significantly increase the number of visitors and sales your product receives. After all, who isn't trying to save money? Offering upsells as soon as they arrive at your online store could also help. These also feature that Sellfy makes simple.
How many followers do you'll want to receive a commission on Twitter?
The nicest part about being successful on Twitter is that you may earn a commission even if you only have 1000 followers. While having a large number of followers is a goal for many aspiring influencers, the key to making money on Twitter is not the number of followers you have, but how engaged they are.
If you can acquire high-quality followers in your audience, you'll be able to market more products to 1000 of them than you will to 10,000 random followers who aren't interested in your niche.
A person who consistently receives a large number of likes, comments, and retweets is more likely to make a sale than someone who has more followers but only receives a couple of dozen. Likes, feedback, and retweets that are consistent are evidence of engaged and high-quality followers who enjoy and recognise what you're doing. Begin by asking for it from your followers to increase engagement.
Do you want more likes? If your customers like your goods, tell them to love a tweet. Do you want more retweets? Tell your followers that if they can relate to your tweet, they should retweet it. Do you require further messages? Pose a question to your audience and invite them to respond. Followers are more likely to interact with you if they know you're on the lookout for it and have something specific to talk about. It's also a good idea to reach out to your followers and communicate with them directly. Show that you appreciate their assistance by liking and retweeting their content material.
Summary
Twitter is rising over the previous eight years. In the primary quarter of 2010, there have been roughly 30 million month-to-month energetic customers. Now, the platform has 335 million energetic customers, and it is nonetheless growing. What does it imply for your enterprise? Opportunity. Of course, being profitable from Twitter takes numerous exhausting work, creativity and numerous endurance. Building up your Twitter presence requires a constant and long-term advertising and marketing technique earlier than you may make income from it and show your ROI. But nonetheless, it's well worth the effort!