46

min read
WPX Hosting Review: My Honest Experience and Results (2023)
When it comes to managed WordPress hosting, WPX Hosting stands out with its promises of speed, support, and simplicity. As a blogger seeking a hassle-free and profitable WordPress blog, I decided to put these claims to the test and share my firsthand experience and data with WPX Hosting.
Founded in 2013, WPX Hosting may not be the biggest name in the industry, but it has gained attention with its unique selling points of a love for dogs and the title of "allegedly the world's fastest WordPress hosting company." Let's dive into the key aspects of WPX Hosting:
Speed: WPX Hosting boldly claims that your page load speed will be seriously fast. In my experience, I found their performance to be impressive, with my website loading quickly and efficiently. This speed is vital for retaining visitors and ranking well on search engines.
Support: WPX Hosting boasts an average customer support response time of no longer than 30 seconds. I can confirm that their support team is highly responsive and knowledgeable. Quick and efficient support is crucial for resolving issues promptly.
Simplicity: WPX Hosting prioritizes simplicity in hosting and website management. Their user-friendly interface and intuitive tools make it easy for even beginners to navigate and manage their WordPress sites seamlessly.
Pricing: WPX Hosting's pricing may be higher than some other providers, but the value they offer in terms of speed, support, and ease of use justifies the cost. The investment in a reliable and efficient hosting service pays off in the long run.
Security: In my experience, WPX Hosting provided robust security measures to protect my website from potential threats and attacks. Their proactive approach to security gave me peace of mind.
Ease of Use: Setting up my website and managing it on WPX Hosting was a breeze. Their user-friendly dashboard and one-click installation made the process smooth and hassle-free.
WPX Review Summary
WPX Hosting is a fantastic option for those seeking beginner-friendly hosting without the burden of technical complications and additional expenses for backups, security, and optimizations. With a price of $20.83 per month in USD, it falls under the category of Managed WordPress Hosting and has received an impressive editor's rating of 4.3 out of 5.
Pros:
Helpful & Quick Support: WPX Hosting boasts exceptionally fast and helpful support with a response time of less than one minute. Having reliable support is crucial for resolving any issues promptly.
Fastest Shared Hosting: The platform's speed is unparalleled, making it an excellent choice for bloggers seeking optimal loading times for their websites.
XDN Cache: WPX Hosting's XDN cache works flawlessly for blogs, ensuring smoother and faster website performance.
Host Multiple Websites: With WPX Hosting, you can host up to five websites under a single plan, providing flexibility and convenience for bloggers managing multiple projects.
Automatic Daily Backups: The platform offers automatic daily backups, ensuring your data remains safe and recoverable in case of any unforeseen incidents.
Free Staging Area: WPX Hosting includes a free staging area, allowing you to test changes and updates to your website without affecting the live version.
Free Business Emails: Enjoy the convenience of free business emails, simplifying communication with your audience and stakeholders.
Free Malware Removal: WPX Hosting offers free malware removal, providing an added layer of security for your website.
DDoS Protection: The platform ensures protection against Distributed Denial of Service (DDoS) attacks, safeguarding your website from potential threats.
Free Site Fixes: If any issues arise, WPX Hosting provides free site fixes, minimizing downtime and disruptions to your website.
Free Professional Speed Optimization: Benefit from one free professional speed optimization to further enhance your website's performance.
Cons:
Not Ideal for Heavy WooCommerce Sites: WPX Hosting may not be the best fit for large-scale WooCommerce stores due to its focus on shared hosting services.
Limited Free Business Email: The free business email service is limited to 50 emails per 30 minutes, which may be a constraint for some users.
WPX Hosting is an excellent choice for new bloggers with a small budget who desire a fast, user-friendly, and hassle-free experience. For WooCommerce stores and more demanding requirements, alternatives like Rocket.net, Kinsta, or WP Engine may be more suitable, albeit at a higher price point. However, WPX Hosting stands out as the ultimate choice for those seeking ease of use, top-notch performance, and exceptional support. With WPX Hosting, you can confidently build and grow your blog without technical headaches, making it a reliable and valuable investment for any aspiring blogger.
WPX Hosting Features
WPX is providing me with fast, reliable hosting, and customer support that is actually there when I need it. Here's why I like WPX hosting: 1. Beginner-friendly WPX Dashboard is very simple to use. All options are easy to find and most tasks take 1 or 2 clicks at max. Main Client Area Manage 5 Websites With Minimal Steps Manage Websites Section One click and WordPress is installed. One more click and a staging area would be set up for you. Want to install an SSL certificate? Again 1-click. Installed for free. If you want to configure www redirects or if you mess up and want to reinstall WordPress, you can do everything with one or two clicks max. WPX have simplified the most common WordPress operations for you. Or, you can message WPX support and they will do it all for you.
WPX Hosting Review: The Delightful Experience of Fast and Reliable Hosting
As a satisfied user of WPX Hosting, I can attest to the seamless and enjoyable experience this platform offers. Here's why I love WPX hosting:
Beginner-Friendly: The WPX Dashboard is designed with simplicity in mind, making it incredibly easy for beginners to navigate and manage their websites. Finding options is a breeze, and most tasks require just one or two clicks. Whether it's installing WordPress, setting up a staging area, or configuring SSL certificates, WPX Hosting streamlines the process for effortless website management.
Manage Multiple Websites with Ease: With WPX Hosting, managing multiple websites becomes a hassle-free task. The Manage Websites section allows you to handle up to five websites effortlessly. Installing WordPress takes just one click, and setting up a staging area is equally straightforward. WPX Hosting takes care of the technicalities, such as installing SSL certificates, with a simple one-click process.
Simplified WordPress Operations: WPX Hosting goes above and beyond to simplify common WordPress operations. You can easily configure www redirects or reinstall WordPress with just one or two clicks. The platform ensures that even if you make a mistake, fixing it is a stress-free process. Alternatively, you can rely on WPX support, who are always ready to assist you with any task you need help with.
Customer Support You Can Count On: One of the standout features of WPX Hosting is their reliable and responsive customer support. When you need assistance, WPX support is there for you. No more waiting endlessly for answers; the team is prompt in addressing your queries and resolving any issues you may encounter.
Conclusion: My experience with WPX Hosting has been nothing short of delightful. The user-friendly dashboard, quick installation processes, and expert customer support make WPX Hosting the perfect choice for beginners and experienced users alike. Whether you're managing one website or multiple, WPX Hosting ensures a smooth and hassle-free hosting experience. With their efficient services and support, WPX Hosting stands out as a reliable and trustworthy hosting solution for any website owner.
FTP Operations
WPX Hosting goes the extra mile to provide users with a seamless hosting experience, and one of the standout features is their custom panel and integrated FTP access. Here's what you need to know:
Custom File Panel for FTP Access: With WPX Hosting, you don't need to install a separate FTP client to access your files. They offer their own custom file panel, eliminating the need for additional software. This convenience streamlines the process of managing your website files, making it more accessible and user-friendly.
Custom Panel vs. cPanel: Unlike many hosting providers that utilize cPanel as their control panel, WPX Hosting offers its own custom panel. While cPanel is renowned for its extensive functionality, WPX's custom panel is tailored for user-friendliness and simplicity. The intuitive design of the WPX panel appeals particularly to beginners, making website management a breeze for users of all experience levels.
Intuitive User Experience: WPX Hosting prioritizes ease of use, and their custom panel reflects this commitment. The panel's intuitive layout and streamlined features allow users to perform tasks with ease, even without prior technical expertise. This makes it an ideal choice for beginners who seek a hassle-free hosting experience.
Functionality Comparison: While cPanel offers more extensive functionality due to its widespread use and various add-ons, WPX's custom panel covers all the essential aspects of website management. For beginners and those who prefer simplicity over a multitude of features, the WPX panel provides everything needed to effectively manage their websites.
2. Attentive Customer Support
WPX Hosting prides itself on delivering swift and personalized support, ensuring that you receive individual attention. Their support team comprises knowledgeable professionals who are always willing to go the extra mile to assist you. For first-time bloggers, WPX offers the convenience of having support agents handle the more challenging aspects of the setup process, making website creation a breeze. Moreover, WPX provides comprehensive documentation, complete with helpful pictures, catering to users who prefer to handle tasks independently. According to their claims, WPX offers the best support, with live chat responses anticipated in under 30 seconds. I personally verified this information, and the statistics indeed confirm their impressive live chat response time. With such efficient and attentive support, WPX Hosting has garnered a reputation as a hosting provider that truly values and caters to its customers' needs.
Bluehost Vs WPX Customer Support
Having experienced both Bluehost and WPX Hosting, I can attest to the significant difference in their customer support. While Bluehost may be considered a decent choice among cheaper hosting options, the support experience can be frustrating. Waiting for several minutes on end for a response and dealing with slow replies from support agents handling multiple conversations can be quite discouraging. In some cases, you might even end up talking to a chatbot unless you specifically request to be connected to a real person, which is not always evident.
On the other hand, WPX Hosting shines with its superior customer support. Their team is quick to respond, often replying within seconds of reaching out for assistance. Unlike the multitasking experience with Bluehost, WPX support agents are dedicated to providing 1-1 support, ensuring that you receive personalized attention. When I sought help with enforcing HTTPS and setting up redirects, the support person at WPX offered to handle everything for me. This level of dedication and efficiency allowed me to focus on other tasks with peace of mind.
While Bluehost may be suitable for those on a budget, upgrading to WPX Hosting is undoubtedly worth it, especially for the exceptional customer support they offer. The peace of mind and assistance provided by WPX's support team make it a valuable investment for those seeking a seamless and stress-free hosting experience.
4. WPX XDN Cache
WPX Hosting has strategically positioned itself with three data centers in Australia, the UK, and the USA, ensuring excellent coverage and performance for users across the globe. In addition to their data centers, WPX Hosting has developed its own Content Delivery System (CDN) known as XDN, boasting an impressive 26 locations worldwide. This advanced CDN serves to optimize website loading speeds and offers superior caching capabilities for visitors, regardless of their location.
The XDN CDN is a game-changer for website performance, as it ensures minimal speed differences for visitors accessing the website from various regions, be it the USA or India. This means that users from distant locations can experience the same fast-loading times, providing a seamless and satisfying browsing experience.
Furthermore, WPX Hosting recommends the use of the W3 Total Cache plugin in conjunction with their hosting services. This plugin is renowned for enhancing website speed and performance through various caching techniques, thus complementing WPX Hosting's own optimization efforts.
WPX Hosting's strategic placement of data centers and their cutting-edge XDN CDN contribute to superior website performance on a global scale. Users can expect fast-loading websites regardless of their geographical location, and the recommendation of the W3 Total Cache plugin further enhances the overall speed and efficiency of websites hosted by WPX. For businesses or bloggers seeking a hosting solution with a global reach and top-notch performance, WPX Hosting stands out as a reliable and efficient choice.
6. Free Malware Detection And Removal
One of the standout features of WPX Hosting is their commitment to customer security and satisfaction. If your website gets infected with malware, WPX goes above and beyond by providing free malware removal services. This valuable benefit sets them apart from other hosting providers.
In the unfortunate event of malware infecting your site, WPX Hosting will take care of the malware code cleanup without charging any additional fees. This level of service is unparalleled in the industry. Other comparable hosting services may charge exorbitant amounts, with some charging as high as $200 for malware removal.
For instance, popular WordPress security plugin Sucuri offers a basic plan that costs $199.99 per year, charging users for malware removal and other security features. In contrast, WPX Hosting includes free malware removal as part of their hosting package, saving users from the burden of additional costs and providing peace of mind.
7. Free Site Migration
WPX Hosting goes the extra mile to ensure a seamless transition for new customers. One of their standout offerings is the free site migration service. If you're looking to switch to WPX Hosting from another hosting provider, they make the process effortless and efficient.
To initiate the migration process, WPX Hosting provides a simple form that you can fill out with your specific migration requirements. You have the option to specify whether you want everything to be migrated or only specific folders. Additionally, you'll need to mention your current hosting provider from which you wish to migrate.
8. Free Business E-mails
As part of their hosting package, WPX Hosting offers a valuable perk to their customers: free business email. This feature allows you to create custom email addresses that align with your domain, such as yourname@yourdomain.com. Having a professional and branded email address lends credibility to your brand, making it ideal for small bloggers and businesses.
With WPX Hosting's free business email service, you don't need to purchase any separate email plan, as it's included with your hosting subscription. This convenience saves you time and money, streamlining your website management.
However, it's important to note that there is a limitation to the email service. WPX Hosting allows users to send a maximum of 50 emails per 30 minutes. While this is sufficient for most small bloggers and businesses, it may become a constraint for larger-scale mass marketing campaigns or growing enterprises.
As your business expands and your email needs become more extensive, it's advisable to consider upgrading to a more robust email service like Google Workspace (formerly G Suite), which offers higher email sending limits and additional features for seamless email management.
WPX Hosting Pricing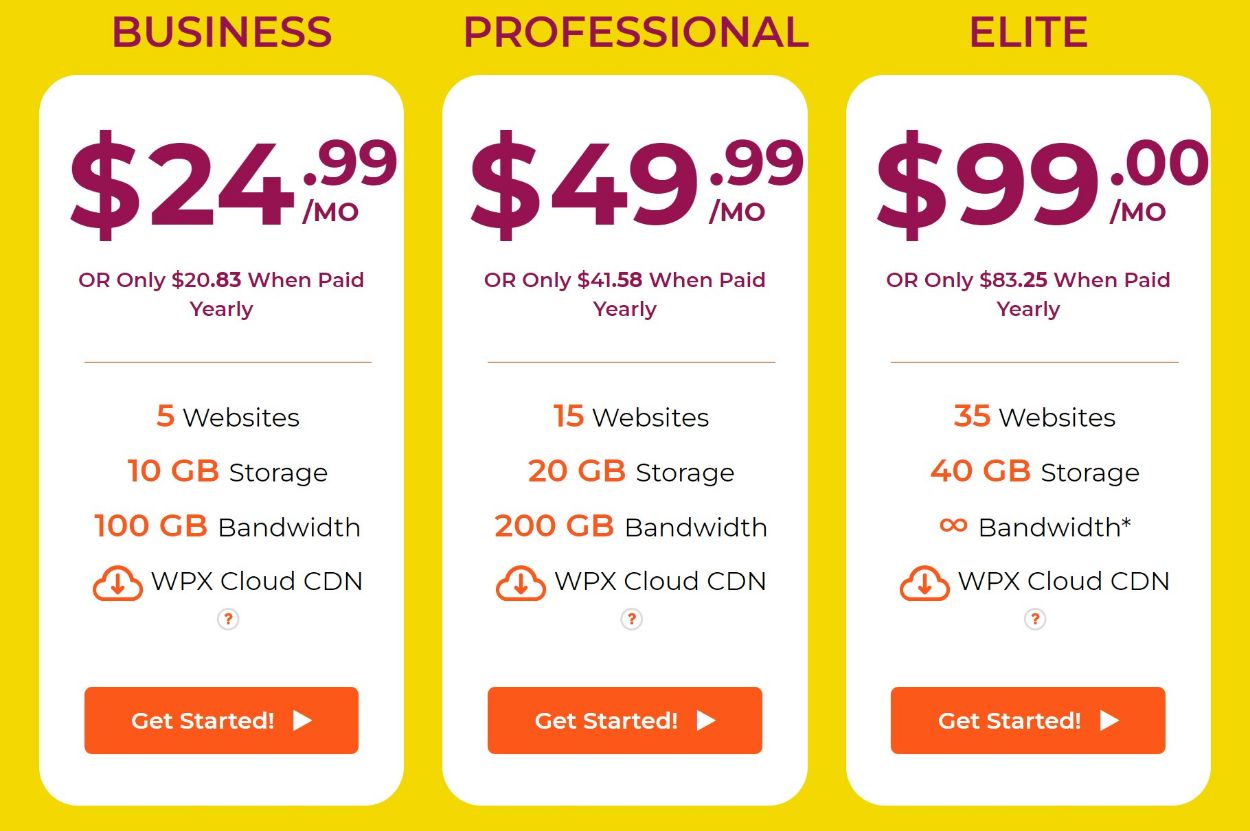 WPX Hosting offers competitive pricing plans, starting at $20.83 per month when you opt for the yearly purchase. With this plan, you gain the advantage of hosting up to 5 websites, which includes staging sites at no extra cost.
Moreover, WPX Hosting runs special promotions during significant occasions like Black Friday and New Year's. These promotions often include attractive deals such as getting the first 3 months at the price of 1 month or enjoying a substantial discount of up to 75%. These limited-time offers present excellent opportunities for customers to avail themselves of cost-effective hosting solutions.
One notable aspect that sets WPX Hosting apart from some other hosting services is its commitment to transparency. While some hosting providers may offer lower initial prices to attract customers but increase the renewal prices significantly, WPX Hosting takes a different approach. They ensure that their prices remain consistent even upon renewal, eliminating any surprises or hidden costs for customers. This straightforward pricing model demonstrates their dedication to providing honest and reliable hosting services.
In conclusion, WPX Hosting offers affordable and transparent pricing plans, starting at $20.83 per month with the yearly purchase. Special offers during events like Black Friday and New Year's provide additional opportunities for customers to benefit from discounted prices. Unlike some other providers with fluctuating renewal costs, WPX Hosting keeps its prices consistent, ensuring a reliable and cost-effective hosting experience for all users. Whether you're a blogger or a business owner, WPX Hosting's pricing and commitment to transparent billing make it a reliable and trustworthy hosting option for your website needs.
Which WPX Pricing Plan Is Right For You?
WPX Hosting offers segmented plans based on bandwidth, ensuring that customers can find the most suitable option for their website's needs. The Business plan is generally sufficient for most users, but to make an informed decision, you can utilize the WPX bandwidth calculator.
Here's how you can determine the right plan for your website:
Visit the WPX bandwidth calculator on their website.
Input the following details:
Approximate number of monthly visitors (e.g., 200,000 visitors)
Average number of pages visited by each visitor (keep it simple with 1 or 2 if unsure)
Average page size (2 MB is typically sufficient, but you can use a size checker tool for exact measurements)
Based on your inputs, the bandwidth calculator will provide you with an estimate of the required bandwidth per month.
For example, with 200,000 monthly visitors, an average of 3-page views per visitor, and an average page size of 2 MB, the bandwidth calculator estimates approximately 1 GB of bandwidth per month.
Once you have this information, you can choose the most appropriate WPX Hosting plan that aligns with your website's specific requirements. The Business plan is a popular choice for its balanced features and capacity, but for larger or more resource-intensive websites, higher-tier plans may be a better fit.
By using the WPX bandwidth calculator, you can make an informed decision and ensure that your website enjoys optimal performance and reliability with the appropriate bandwidth allocation. WPX Hosting's segmentation of plans ensures that you can find the perfect match for your website's needs, providing a seamless and efficient hosting experience for your online endeavors.
Does WPX offer Value for Money?
Unbeatable Advantages and Value
During the Black Friday discount, you secured a fantastic deal on WPX hosting, paying as low as $24.99 for 3 months, which translates to approximately $8 per month for the initial period. This offer is a testament to the outstanding value WPX Hosting provides. Let's explore the advantages of choosing WPX Hosting:
Blazing Fast Speeds: WPX Hosting is renowned for its exceptional speed, ensuring that your website loads quickly and delivers an excellent user experience. The fast loading times contribute to higher rankings on search engines and increased visitor engagement.
Hosting for 5 Websites: With the WPX Hosting plan, you can host up to 5 websites, making it a cost-effective option for managing multiple online ventures. This feature allows you to test different niche blogs or have various projects under the same plan without additional costs.
DDoS Protection: WPX Hosting provides DDoS protection, safeguarding your website against malicious DDoS attacks, which can disrupt website operations and lead to downtime. This added security ensures uninterrupted performance for your online presence.
Free Malware Removal and Site Fixes: WPX Hosting goes the extra mile by offering free malware removal and site fixes. In the event of malware infection or any technical issues, their expert team is ready to assist you, ensuring that your website remains secure and operational.
24/7 Customer Support: WPX Hosting provides round-the-clock customer support, ensuring that help is available whenever you need it. Their knowledgeable and responsive support team is there to assist you with any questions or concerns, enhancing your hosting experience.
While WPX Hosting may not be as budget-friendly as some other options like Bluehost, the speed and value you receive make it a worthwhile investment. The ability to host multiple websites under the same plan adds to its appeal, allowing you to explore different niches or projects without incurring additional expenses.
Furthermore, WPX Hosting partners with other reputable services, offering special discounts to its customers during special occasions like Black Friday. These partnerships provide additional benefits and cost savings, enhancing the overall value of WPX Hosting.
WPX Hosting offers unbeatable advantages, including blazing fast speeds, hosting for 5 websites, DDoS protection, free malware removal, site fixes, and reliable 24/7 customer support. The Black Friday discount and partner discounts further elevate its value proposition. With WPX Hosting, you gain a high-performance hosting solution that delivers on its promises, making it an excellent choice for those seeking speed, reliability, and exceptional value for their websites.
Hosting management – is WPX easy to use?
WPX Hosting utilizes its own custom control panel, which serves as the hosting dashboard for managing your websites. Although the interface may initially appear cluttered with its bright colors, it quickly proves to be intuitive and highly functional.
At the top of the control panel, you'll find a convenient menu that grants quick access to essential sections, such as the dashboard, services, account settings, and support.
The control panel provides a range of key features to efficiently manage your WordPress website:
WordPress Installation: WPX offers a one-click installer for WordPress, although it may require a few clicks in reality. Nevertheless, the process is straightforward and hassle-free, requiring you to input essential website and account details.
Staging: Staging is a valuable feature that allows you to create a testing environment to experiment with themes, plugins, and layouts without affecting your live site. Once you are satisfied with the changes, you can effortlessly merge the staging site with your live website. Keep in mind that there are limitations on the database (1GB) and files (5GB) sizes for staging sites.
Email: Setting up email boxes and configuring settings is a quick process for newcomers. The built-in email feature shares resources with your website, so it's best suited for basic mailing needs. However, for larger marketing campaigns, WPX allows a maximum of 50 emails to be sent within a 30-minute timeframe.
Domains: Domain configurations and settings can be managed under the "Edit DNS" tab, which includes adding new domains, managing domains and subdomains, and handling third-party domain services. WPX does not offer free domains, so you will need to add a domain yourself.
Backups: The control panel allows you to create manual backups, manage, restore, and download both manual and automatic backups. System backups are also managed here and stored on a separate server, retained for up to 28 days.
Database and Advanced Tasks: The control panel offers various other web hosting management tasks, including SSL management, database management, and activation of the WPX Cloud Content Delivery Network (CDN).
while the WPX control panel may seem overwhelming initially due to its bright colors, it is well-structured and contains all the necessary tools and features to help you efficiently run your website. From WordPress installation to managing backups, staging, domains, and more, WPX Hosting's control panel provides a comprehensive and user-friendly environment to streamline your hosting management tasks and ensure smooth website operation.
WPX hosting website speed
For a blank WordPress site, the ideal LCP should be below 600ms, while for a fully built site, it should be below 2.5 seconds. These results are considered extremely fast, leading to an enhanced user experience and favorable search engine rankings. Additionally, the Fully Loaded Time should not exceed 3 seconds for a fully built site to avoid compromising user experience and increasing bounce rates.
During the speed tests on my empty WP website, I assessed performance from three different locations: the US, London, and Mumbai. As expected, the fastest performance was observed in the US due to the website being hosted in WPX's Chicago data center. Naturally, locations farther away, like London and Mumbai, experienced slightly longer loading times due to latency. Specifically, the LCP in the US took just 572ms, while in London and Mumbai, it required 716ms and 1.4s, respectively.
WPX Hosting has data centers in three strategic locations: Chicago (US), London (Europe), and Sydney (Australia). Choosing the data center closest to your target audience ensures the best results and fastest loading times for improved user experience.
Next, I tested a built WordPress site, where the LCP required 1.1 seconds—still well below the 2.5s threshold considered "good" by Google. Keeping a close eye on load times for a fully built site is essential, aiming to maintain it under 3 seconds to provide a superior user experience. WPX Hosting continued to impress with a fully loaded time of just 1.5 seconds.
In summary, WPX Hosting demonstrated exceptional loading speed performance for both an empty and fully built site. Its fast loading times enhance user experience and contribute to a positive website ranking. With reliable performance in both LCP and Fully Loaded Time measures, WPX Hosting proves to be a reliable choice for users seeking top-tier speed and efficiency for their WordPress websites.
WPX hosting stress testing
The final performance test in this WPX hosting review is a stress test that examines how the host handles traffic spikes. In an ideal scenario, the blue line (representing speed) should remain flat even as the gray line (representing the number of visitors) increases. On the other hand, the red line (indicating failed requests) is not desirable. This test aims to evaluate WPX's ability to handle high levels of traffic without compromising website performance.
To initiate the stress test, I sent 50 virtual users (VUs) to the site, which is equivalent to approximately 50,000 monthly visitors. This simulates a substantial volume of visitors and puts significant pressure on the hosting infrastructure. WPX Hosting demonstrated exceptional performance during this test, effortlessly handling the increased number of visitors. As the gray line representing the number of visitors went up, the blue line representing response time remained consistently speedy and stable. There were no noticeable slowdowns or failures, indicating that the host could handle even more intense traffic loads without issues.
WPX Hosting's performance receives a gold star. The host demonstrated reliable uptime, maintained a good average response time, and achieved very rapid load time results. Additionally, it exhibited remarkable capability in handling intense traffic spikes without compromising website speed and stability. Overall, WPX Hosting showcases top-notch performance that is truly commendable. For users seeking hosting excellence, WPX Hosting proves to be a reliable and high-performing choice.
Security – is WPX secure?
When it comes to security, WPX Hosting takes the matter seriously, providing all the necessary basic features along with some advanced ones to ensure a secure website environment. The host offers a comprehensive set of security features, allowing users to run their sites with confidence.
Key security features included with WPX Hosting are as follows:
SSL Certificates: SSL certificates are essential for encrypting data to and from your hosting server, creating a secure connection between your visitors and your website. WPX provides unlimited Let's Encrypt SSL certificates with all plans. These certificates are enabled by default and can be easily installed with just a few clicks.
Daily Backups: WPX performs automated daily backups, retaining them for 28 days. These backups are stored on a separate server from your website, enhancing security. Users can opt to restore specific elements, such as files or the database, as needed.
Distributed Denial of Service (DDoS) Protection: WPX includes enterprise-level DDoS protection via Incapsula in all plans. Incapsula's protection blocks both network and application layer DDoS attacks, offering auto-detection and triggering features, supporting custom SSL certificates, and more.
Web Application Firewall (WAF): WPX includes a Web Application Firewall with all plans, safeguarding WordPress sites from various application-layer attacks, such as cross-site scripting (XSS) and SQL injection.
Other Security Measures: WPX implements additional security measures, such as system-wide malware scanning and removal, two-factor authentication, and access limitations on the hardware level, to further bolster website security.
WPX Hosting ensures comprehensive security measures, providing a heavily protected website environment by default. With the inclusion of essential security features and advanced protection, users do not need to rely on additional paid security add-ons. WPX Hosting's commitment to security ensures a safe and secure hosting experience for its customers, enabling them to focus on their websites with peace of mind.
Will WPX support help me?
WPX Hosting's customer support is truly exceptional, available 24/7 through live chat and email channels. The provider also boasts an extensive knowledge base that covers a wide range of categories, making it a valuable resource for users seeking assistance.
To put WPX Hosting's customer service to the test, I reached out to their support team multiple times via live chat with various questions. Each interaction was a pleasant experience, with prompt responses and no wait times exceeding the promised 30 seconds. The support agents proved to be highly knowledgeable in WordPress and web hosting, efficiently addressing all of my inquiries.
The provider's knowledge base is equally impressive, offering a vast repository of valuable information on crucial topics such as WordPress performance, hosting panel usage, security measures, and more. The articles within the knowledge base are well-crafted, featuring helpful images and clear instructions that even beginners can easily follow.
WPX Hosting's customer support stands out as fast, knowledgeable, and efficient. The skilled support agents are adept at handling user queries, providing a seamless and satisfying customer experience. Additionally, the extensive knowledge base serves as a valuable self-help resource for users, covering a wide array of essential topics. WPX Hosting can take pride in its exemplary customer support and comprehensive knowledge base, ensuring users have the necessary resources and assistance to succeed with their hosting needs.
WPX hosting review: the final verdict
From this WPX hosting review, one crucial lesson to take away is that there are numerous top-notch hosts available beyond the usual bigwigs, and WPX is undoubtedly one of them. While it may come at a premium price, this host delivers high-quality services that are well worth the investment.
Here's a breakdown of the key features:
Feature: 4.0★★★★☆ Premium WordPress-focused hosting
Pricing: ★★★☆☆ The provider offers premium pricing, with plans starting from $20.83/mo. However, the host's generous features and exceptional performance more than justify the cost.
Ease of use: ★★★★☆ Although the custom dashboard cum control panel may require some initial acclimatization, it is easy to navigate and highly functional, equipped with a wide range of WordPress management tools.
Performance: ★★★★★ WPX's performance shines with a remarkable 99.99% uptime, surpassing the guaranteed 99.95%, and an impressively speedy response time of 463ms. Even a fully built site loads in just 1.5 seconds.
Security: ★★★★☆ The host includes comprehensive security measures in all plans, such as SSL, WAF, DDoS protection, automatic backups, and more.
Support: ★★★★☆ WPX boasts swift, friendly, and knowledgeable customer support available 24/7 via live chat and email. The extensive knowledge base is packed with helpful articles to aid users.
I highly recommend WPX hosting for experienced WordPress users, freelancers, businesses, and agencies. With its abundance of features, excellent performance, and robust security, WPX is undoubtedly a top-notch WordPress hosting provider. To explore these remarkable services, visit WPX Hosting.
WPX Hosting Review
The control panel of WPX hosting is unique and distinct from traditional cPanel interfaces commonly found in other hosting providers. While it may appear slightly cluttered and overwhelming at first glance due to its vibrant colors, it offers a plethora of functionalities and tools specifically tailored for WordPress management.
For novices, there might be a short acclimatization period to get used to the custom control panel. However, once familiarized, navigating the interface becomes easy and intuitive. Most tasks require just a few clicks, allowing beginners to perform essential WordPress operations effortlessly. For instance, installing WordPress, setting up SSL certificates, and managing staging sites can be accomplished with simplicity.
Advanced WordPress users will appreciate the range of features available in the control panel. WPX offers a comprehensive set of tools to handle more advanced tasks like database management, SSL configuration, and CDN activation (WPX Cloud). These features are neatly organized, enabling seasoned users to access and utilize them efficiently.
Despite its initial appearance, the WPX control panel is well-structured, providing all the necessary actions for smooth website management. It caters to both novice and advanced users, offering an ideal blend of simplicity and functionality.
WPX Hosting User Interface
WPX Hosting provides a custom control panel that offers a straightforward and user-friendly experience. All of its services are conveniently listed on a single page, making it easy to perform various tasks with efficiency.
From this intuitive interface, users can accomplish multiple tasks effortlessly, including:
Installing or deleting WordPress on any of their websites.
Creating a staging area for testing and development purposes.
Accessing their WordPress database for management.
Creating, deleting, and accessing email accounts associated with their domains.
Adding an FTP account for file transfer purposes.
Editing DNS settings to manage domain configurations.
Accessing their WordPress files using the File Manager for quick updates.
Managing backups, including creating personal backups for added security.
Checking and controlling the status of the WPX cloud and enabling/disabling the CDN cache.
The unified interface of WPX Hosting's control panel streamlines routine tasks, enabling users to complete them quickly and without hassle. Comparatively, when compared to the interface offered by cPanel, which is commonly used by budget web hosting companies, WPX's custom control panel proves to be more efficient. With cPanel, users often need to navigate through multiple menus and sub-menus to perform even simple tasks like installing WordPress or setting up webmail. In contrast, WPX Hosting simplifies all these actions within a single interface, presenting a consistent and user-friendly experience, whether users are new to WordPress or seasoned professionals.
Creating a website and installing WordPress
Creating a website with WPX Hosting is remarkably simple and user-friendly. To begin, all you need to do is access the "Your Websites" sub-menu within the control panel. From there, you can effortlessly perform various tasks with just a single click.
The process is straightforward and can be broken down into three easy steps:
Add a New Website: You can easily add a new website to your hosting account with a single click.
Install WordPress: Once you've added the new website, installing WordPress on the site is equally straightforward and requires just a single click.
Install SSL Certificate: To ensure the security of your website, you can easily install either a free or commercial SSL certificate on your newly created domain with just a few clicks.
The best part is that each of these tasks can be initiated with just one click and can be completed in no more than three clicks. It's a remarkably efficient and hassle-free process that even WordPress beginners can handle with ease. For experienced WordPress users, the process is so intuitive that they can perform these tasks effortlessly, as if it were second nature to them. WPX Hosting's user-friendly approach ensures that both beginners and pros can navigate through website creation with utmost ease and efficiency.
WPXhosting Staging area
For those who enjoy experimenting with changes or adding new features to their websites before making them live, having a staging area is essential. WPX Hosting provides a robust Staging feature that is available on all plans. With this feature, you can create a complete replica or clone of your existing WordPress website, allowing you to freely play around and test various modifications or new elements.
It's important to note that to utilize the staging area, you must have at least one empty WordPress slot available since the staging site acts as a duplicate of your live website. Once you have finished testing and no longer need the staged site, you can easily delete it with a simple click, ensuring a seamless and efficient management of your website development and deployment process. WPX Hosting's comprehensive Staging feature empowers website owners to explore and experiment without any fear of disrupting their live site, giving them the freedom to perfect their changes before making them visible to their audience.
Migrating Your Website to WPX hosting
If you already have a WordPress website and want to migrate it to WPX Hosting, you're in luck. WPX Hosting offers free and unlimited migrations for all your websites, based on the limits of your hosting plan. Whether you choose the Business plan with up to 5 WordPress installs or another plan, WPX will handle the migration process without any additional charges.
To initiate the migration, you can simply send a migration request from the Your Websites dashboard. You'll be directed to a migration request form where you'll need to provide details such as your website URL and login credentials (username and password). Additionally, you'll have the option to select the migration process you prefer, whether through cPanel, FTP, SSH, or your database backup.
If you're currently managing your WordPress websites with cPanel, you can choose cPanel from the drop-down menu. For those migrating from a managed WordPress host, you can provide FTP or SSH access to your existing website. Alternatively, if you don't have access to either, you can submit your recent website backup with the database, and WPX Hosting's tech support team will handle the rest.
Notably, WPX doesn't only migrate your website but also offers to migrate your email. They provide a free webmail feature, saving you at least $11.88 per year. Furthermore, if your existing website uses custom modules like IonCube, SOAP, INT, or others, WPX will install these modules for you. They even offer to set up custom cron jobs upon request.
Once you've completed the website migration request form and submitted it, you can relax and let the efficient WPX migration team take care of the process for you. With their expertise and comprehensive support, your website and email migration to WPX Hosting will be smooth and hassle-free.
WPX Hosting Performance Review: Speed
In this performance review, we will focus on the speed and uptime offered by WPX Hosting, starting with their Content Delivery Network (CDN) known as the WPX Cloud. The WPX Cloud is a key feature that can significantly enhance website speed and performance.
A Content Delivery Network is a system of servers distributed across various locations globally. When a visitor accesses your website, the CDN ensures that the content is delivered from the server closest to their geographic location. This reduces latency and improves loading times, making the website faster for users from different parts of the world.
With WPX Hosting's WPX Cloud, your website's static content, such as images, CSS, and JavaScript files, is stored on their distributed servers. When a user visits your site, these static resources are served from the nearest server, resulting in quicker load times and improved overall performance.
The use of WPX Cloud can lead to a substantial reduction in page load times, benefiting both user experience and search engine rankings. Additionally, with faster loading speeds, visitors are more likely to stay on your site and engage with its content.
In the next stages of this performance review, we will delve deeper into the speed and uptime measurements of WPX Hosting to evaluate its overall reliability and effectiveness in delivering fast and stable hosting services.
High-Speed WPX Cloud (CDN)
WPX Hosting provides a complimentary Content Delivery Network (CDN) called the WPX Cloud. Upon signing up with WPX Hosting, your WordPress site is automatically set up to use their CDN. Back in 2017, when we first joined WPX Hosting, they did not offer a CDN as part of their hosting plans. During that time, our niche website loaded swiftly in the US, where the server was located, but it used to load relatively slower in India, where the majority of our traffic originated. To address this, we opted to use Amazon's CloudFront CDN to improve our website's loading speed.
However, in 2018, WPX Hosting introduced its free cloud service, known as WPX Cloud. Despite having launched our website, PassionWP, in May 2019, we didn't immediately switch over to WPX Cloud. It was only two months later that we decided to make the switch. And we couldn't be happier with the results. The difference in PassionWP's loading speed before and after switching to WPX Cloud is striking. Just take a look at the comparison in loading times, as measured by GTmetrix.
Before optimizing and switching to WPX Cloud, our page load times were over 8 seconds. However, after implementing WPX Cloud and utilizing some of the best WordPress speed plugins to reduce server requests, our page load times dramatically improved to less than 2 seconds.
The combination of WPX Cloud and optimized speed plugins has significantly enhanced our website's loading speed, providing a much better user experience for our visitors, regardless of their location. The addition of WPX Cloud has proven to be a game-changer, making WPX Hosting an even more valuable choice for hosting our WordPress site.
 How does WPX hosting deliver such blazingly fast speed?
WPX Hosting utilizes its own custom cloud distribution platform, boasting 25 end-points spread across various regions worldwide. These end-points are located in countries such as the USA, Canada, Netherlands, UK, Germany, France, Bulgaria, Russia, Australia, New Zealand, Japan, Singapore, China, India, Brazil, and South Africa. This wide network ensures that your website loads with lightning speed from any location across the globe.
To further enhance website performance, WPX Hosting recommends using the free W3 Total Cache plugin. They even provide a configuration file with optimal cache settings to optimize your site's loading speed. However, in our evaluation, we found that WP Rocket is a better option for boosting site speeds. You can refer to our WP Rocket settings tutorial for more details on optimizing your website.
WPX Hosting takes pride in using "brand new" high-spec SSD servers that are intentionally kept underloaded with accounts and sites. This deliberate strategy allows the servers to perform exceptionally well, even under heavy traffic loads.
Under the hood, WPX Hosting's servers operate on the standard LAMP configuration, which stands for Linux + Apache + MySQL + PHP. In simpler terms, they utilize Apache servers running on Linux along with the latest versions of MySQL and PHP (compatible with versions 5.6 to 7.3).
Update: WPX Hosting has now started deploying LiteSpeed servers, which offer higher speeds and better overall performance. Additionally, users have the flexibility to choose between two server locations, namely the USA and the UK, to cater to their specific needs and audience preferences.
SEO benefits of hosting with WPX
There are several SEO benefits associated with choosing a fast web host. Unless you have been living under a rock, you are probably aware that Google places high importance on page load times when determining search rankings. With the help of WPX Cloud, you can optimize your page load times, which can lead to significant SEO benefits for your website.
Another advantage of having a fast web host is improved user engagement. Research has shown that pages that load in under 2 seconds tend to have lower bounce rates. Lower bounce rates indicate that visitors are staying on your website for longer periods, showing genuine interest in your content. This increased dwell time signals Google that your page is relevant and valuable to users. Consequently, Google is more likely to rank your pages higher compared to your competitors' pages that have higher bounce rates due to slower loading times.
opting for a fast web host like WPX Hosting not only positively impacts your website's SEO by improving page load times but also enhances user engagement, leading to better rankings and a more satisfying user experience.
WPX Hosting Uptime Review
WPX Hosting offers fast servers backed by its cloud distribution. Now, let's examine its uptime to determine whether WPX Hosting is a reliable managed WordPress host or not. WPX Hosting guarantees 99.95% uptime on all its plans. This means that over a one-year period, your website should be up for at least 525,337 minutes out of the total 525,600 minutes in the year. In simpler terms, the downtime should not exceed 263 minutes or 4 hours and 23 minutes in a year.
We have been diligently monitoring the uptime of our website PassionWP using UptimeRobot since we launched it about 6 months ago. Additionally, we have been monitoring the uptime of our niche site since we migrated it to WPX Hosting in 2017. Over the past 6 months, PassionWP has experienced only 3 minutes of downtime. This brief downtime occurred after a continuous uptime run of 3087 hours, which is almost 129 days. Based on this 6-month record, if we consider a 1-year period, our projected downtime would fall within the range of 6-10 minutes, which is well within the maximum limit set by WPX Hosting.
In fact, our monthly uptime consistently exceeds the 99.95% guarantee, staying at an impressive 99.99%. This level of uptime surpasses the uptime guarantee offered by WPX Hosting. Throughout our experience, we cannot recall a single instance when we had to contact WPX support for an uptime-related issue.
As anyone running an online business knows, every minute counts. Extended website downtime can result in losing potential customers. This is a concern often associated with budget shared hosting companies. However, with WPX Hosting, you can have peace of mind knowing that your website operates with an uptime of 99.99%, ensuring it is up and running nearly all the time.
WPX Hosting Security Review
Did you know that over 70% of the most popular WordPress blogs are vulnerable from a security standpoint, and 41% of WordPress sites are hacked due to vulnerabilities in their hosting platforms? Given these concerning statistics, it's crucial to take WordPress security seriously. Your hosting provider serves as your first line of defense since many DDoS and malware attacks occur at the server level. So, does WPX Hosting offer comprehensive security features? Let's find out.
WPX Hosting provides the following security features 24/7 for all its hosted websites:
1. Custom and constantly updated WAF (Web Application Firewall)
2. Enterprise-level DDoS protection by Incapsula
3. Full daily system-wide malware scans
4. Full daily system-wide malware/malicious file removal
5. Cleanup of malicious redirects, backdoors, and script injections
6. Daily updates to server security rules
7. Individual site audits in specific cases by WPX Malware Team
If we were to choose the three best features from this list, we would pick the Firewall, DDoS protection, and daily malware scans. While other WordPress hosting companies may offer free malware scans, they often do not remove the detected malware. However, with WPX Hosting, any malware found on your site is promptly removed at no additional cost. This feature alone can save you significant expenses. For instance, GoDaddy-owned Sucuri's basic protection plan costs $200 per year and includes twice-daily malware scans, malware removal, DDoS mitigation, and a firewall. With WPX Hosting, you get all these security features without any extra charges, allowing you to save $200 annually.
Of course, keeping your plugins, themes, and WordPress installation up to date is still essential for good security practices. The good news is that updating these elements does not require any expertise and can be easily done by WordPress novices in less than 60 seconds. With WPX Hosting's robust security measures and your proactive approach to updates, your WordPress website can stay well-protected from potential threats.
 WPX Hosting Bandwidth and Webmail
One of the drawbacks we find in managed WordPress hosting plans is the restrictions on the number of monthly visits. For example, Kinsta's Starter plan allows only 20,000 monthly visits and 1 WordPress install, while WP Engine's Startup plan permits 25,000 visits and 1 WordPress install. Now, let's compare these limitations to WPX hosting plans. WPX's basic plan, known as the Business plan, offers 100 GB monthly bandwidth with no limits on the number of visitors and allows up to 5 WordPress installs. In fact, their plans have only bandwidth limits and do not impose any restrictions on the number of monthly visitors. Moreover, they provide a 30-days no-questions money-back guarantee on each plan.
The unlimited visitors feature liberates you from constantly worrying about the number of hits on your website. Additionally, a bandwidth-based plan encourages you to focus on growing your blog or business instead of trying to constrain your blog traffic within a small limit.
So, how does this translate into real-world experience? We currently run two websites with a combined monthly visitor count exceeding 50,000 on the Business plan, which costs $25 monthly. Despite the significant traffic, we have not faced any bandwidth issues in almost 3 years of hosting with WPX. Now, let's imagine for a moment that we were to switch over to Kinsta. With our current monthly traffic and the number of sites, we would have to opt for their Business 1 plan, which costs $100 per month. The same scenario would cost $115 on WP Engine. By choosing WPX hosting over Kinsta and WP Engine, we managed to save $2550 over 34 months with WPX, and $3060 over the same period with WP Engine.
These significant cost savings coupled with the freedom to grow our websites without being constrained by visitor limits make WPX hosting a compelling choice for our hosting needs.
Unlimited CDN bandwidth
WPX Hosting offers a generous 100 GB bandwidth on its base plan, which proves more than sufficient for most website traffic needs. Let's take a look at our own example. Despite receiving over 50,000 visits to our niche website, our monthly bandwidth consumption averages less than 10 GB! How is this possible?
The key lies in WPX Hosting's approach to CDN bandwidth. Unlike other hosting providers, WPX Hosting does not impose a CDN bandwidth limit. Instead, your bandwidth usage is calculated from the server to the CDN, not from the CDN to the end-user. WPX Hosting leverages its WPX Cloud CDN, which stores or caches your static files and efficiently distributes them to your website visitors worldwide. This means that static files are not directly served from the server for every visitor, significantly reducing your bandwidth consumption.
With the WPX Cloud CDN in place, the starter Business plan can easily handle traffic needs for up to 5 websites without the necessity to upgrade to higher plans. This offering becomes even more remarkable when compared to Kinsta, which limits CDN bandwidth to 50 GB per month on its starter plan and charges overage fees at $0.10/GB. Due to WPX Hosting's innovative approach, your bandwidth usage remains consistently low, making it an excellent choice for efficient and cost-effective hosting.
Does WPX Hosting have a list of banned plugins?
WPX Hosting takes a different approach compared to some other managed WordPress hosts like Kinsta and WP Engine when it comes to plugin restrictions. While Kinsta and WP Engine have long lists of banned or disallowed plugins that you cannot use on your WordPress website, WPX Hosting does not impose such restrictions. These lists often include popular plugins like Updraft Plus, Backup Buddy, WP Fastest Cache, W3 Total Cache, WP-Optimize, Broken Link Checker, Yet Another Related Posts Plugin, and more.
It's interesting that some managed WordPress hosts not only limit the number of monthly visitors on their plans but also restrict the use of many useful plugins, which can be a frustrating experience for users. WPX Hosting, on the other hand, allows you the freedom to install any plugin, with the exception of "nulled" or pirated ones. These reasonable restrictions are in place to ensure that users do not encounter issues caused by the use of illegal plugins, and it is standard practice across the industry.
With WPX Hosting, you have the flexibility to choose from a wide range of plugins that suit your specific needs, providing you with more control over your WordPress website. This freedom of choice, along with their excellent performance, generous features, and reliable support, makes WPX Hosting a preferred option for many WordPress users.
WPX Hosting Support Review
One of the key factors that sets an excellent WordPress web hosting company apart from an outstanding one is the level of support and dedication it offers to its users. WPX Hosting stands out in this regard with its exceptional support services. They not only claim to provide a rapid response time of just 37 seconds to live chat support requests but also consistently deliver on this promise.
Moreover, WPXhosting goes above and beyond by offering a unique "Fixed for You" guarantee. This means that no matter how badly you may have messed up your website, their support team guarantees to bring an offline version of your site back up and running for you. This level of commitment and assurance is rare in the hosting industry and showcases WPX Hosting's dedication to ensuring their customers' satisfaction.
In our personal experience with WPX Hosting, we have never encountered a situation where their support team was unable to resolve our queries. On the contrary, they have always surpassed our expectations. Whether it's a migration request, assistance with setting up DNS records or email, or any other technical issue, WPX Hosting's support agents are always eager to provide prompt and effective solutions.
The outstanding support offered by WPX Hosting is a significant reason why many users have a positive and hassle-free experience with their hosting services. It solidifies their position as a top choice for WordPress hosting, and their dedication to customer satisfaction is evident in every interaction with their support team.
Frequently Asked Questions
Is WPX hosting a good option?
Yes, WPX hosting is an excellent choice if you're looking for affordable managed WordPress hosting with fast speed and impressive performance. It offers great value, especially if you need to host multiple websites, as even their entry-level plan allows you to host up to five sites.
Who owns WPX hosting?
WPX hosting is owned by Terry Kyle, who is the co-founder and CEO of the company.
Is WPX hosting worth it?
Absolutely, WPX hosting is worth it. The provider offers generous features, delivers speedy performance, ensures strong security measures, and provides helpful customer support, among other benefits.
Is WPX hosting a web hosting company?
Yes, WPX hosting is a web hosting company that specializes in offering managed WordPress hosting services exclusively.
Final Thoughts
As previously mentioned, WPX Hosting stands out for its impressive speed, user-friendliness, and exceptional customer support. It has been proven to be the fastest option among various independent tests and reviews conducted by experts like Mathew Woodward and Kevin. This web host is highly recommended, especially for non-technical users or those seeking a hassle-free experience at a reasonable price.
WPX Hosting offers excellent performance, making it an ideal choice for upgrading your website's hosting or starting a new project. With their straightforward pricing plans, they provide access to a wide range of features, ensuring affordability without compromising on quality. Personally, I have 9 sites hosted with WPX Hosting, including my SEO Agency Site, and I am thoroughly satisfied with their services. This review is based on my own experiences, and I highly advise against wasting time and money on subpar WordPress hosts. For reliability and dependability, WPX Hosting is the way to go.
In my speed, performance, and support tests, WPX Hosting has consistently outperformed its competitors. Alongside being one of the most cost-effective managed WordPress hosts, it offers an exceptional feature set, including automated backups and a free CDN, along with top-notch customer support that effectively resolves any issues that may arise.