10

min read
How to write an effective memo: Format with examples
In the realm of workplace communication, the avenues are numerous. When reaching out to colleagues, superiors, or a group, choices abound. A call, a letter, an email, or a text; the options are diverse. From Skype to Slack, WhatsApp to sticky notes, the channels vary. Yet, all these methods align with either formal or informal communication.
Let's delve into the formal realm, where precision is paramount. Emails, letters, official invites—all part of the formal toolkit. But, have you considered a communication relic from the 1800s? Enter the memo!
Memos, short for memorandums, have silently persisted through ages. Heard of them? Likely. But what exactly are they? When do you unfurl the memo magic, and what elements compose its essence? Here, we unravel the mysteries of memos, exploring their effectiveness as a potent instrument for formal communication. Let the journey begin.
What is a memo?
The term "memo" originates from the Latin word "memorandum," translating to "that to be remembered." In the realm of business, the need to convey crucial information internally is a common occurrence. Whether addressing your team, stakeholders, or specific customer groups, the imperative lies in delivering messages that leave a lasting impact. Similarly, crucial updates from HR, the finance team, executives, or the board of directors also fall under this category. These vital messages, regardless of urgency, collectively fall under the umbrella of memos.
Defining a Memo: A memo, in essence, is a concise and formal document designed for internal circulation. It serves the purpose of promptly bringing crucial information to the immediate attention of a specific group within the organization. Memos act as instruments to convey information that necessitates prompt acknowledgment and action.
Diverse Memo Content: A memo can encapsulate a spectrum of information vital for the internal audience to absorb and act upon. This could range from updates to operational processes, amendments to financial reimbursement policies, delays in project timelines, or the identification of unforeseen risks. The key objective is to ensure that the shared information is not only remembered but also prompts appropriate actions.
Distinct from External Documents: While legal contexts often involve Memorandums of Understanding (MOUs) or Memorandums of Agreement (MOAs), these are primarily external documents. In the business domain, memos predominantly serve the internal audience, acting as a vehicle for seamless communication within organizational groups.
Different types of memos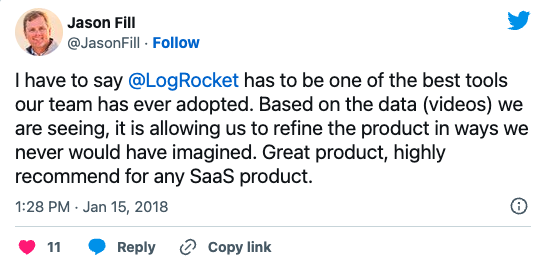 When to write a memo
In the intricate dance of workplace communication, the memo takes the spotlight when:
1. Urgent Attention is Essential:
When information demands immediate attention.
When urgency signals the need for swift action.
2. Action is a Necessity:
When available information requires a proactive response.
When inertia must transform into decisive steps.
You may wonder, don't we have the contemporary equivalents like "for your information" or "for immediate action" emails? Indeed, a nod to the digital era. However, the memo, with its formal touch, goes beyond mere information sharing. It steps into a space where urgency and action converge. Whether it's meeting minutes or warning memos, each type finds its place in these scenarios.
So, the next time you contemplate crafting a memo, recall its core: a signal for urgent attention and a catalyst for decisive action.
Best Regards,
[Your Name] [Your Position]
What does a good memo have?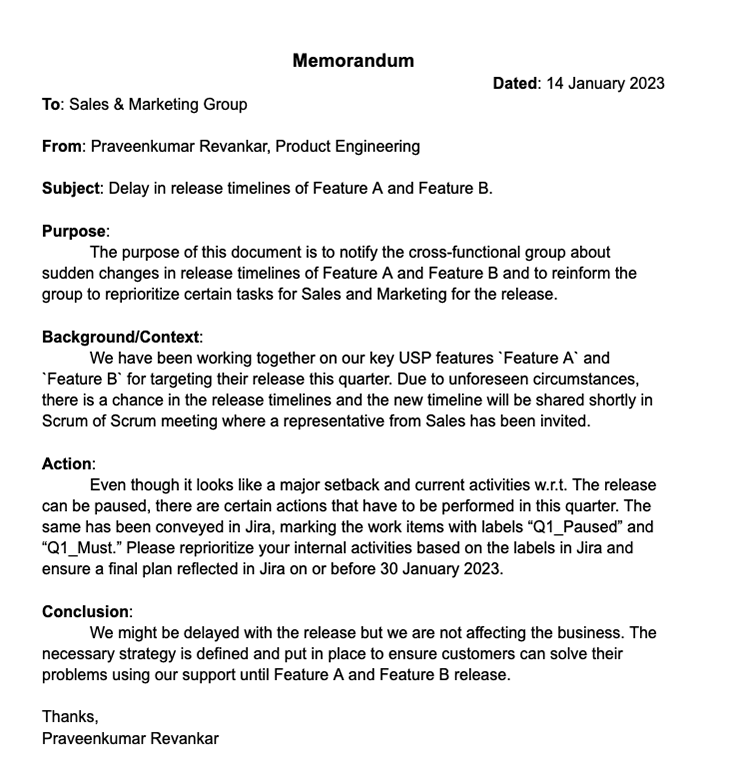 Let's look at them one by one:
Tips for writing a good memo
Can you write just anything in a memo?
When do product managers need memos?
For product managers pondering the significance of memos in their toolkit, the truth is evident—they are a vital communication asset. Across the spectrum of product management responsibilities, from updating stakeholders on project status to addressing risks, memos offer a structured and effective means of reaching diverse audiences, including administrative groups, executives, and customers.
Precision in Intent and Action
A memo's strength lies not only in its content but also in its ability to convey intent with precision. This is especially critical for product managers, where clear communication is paramount. Well-crafted memos not only articulate the purpose of the communication but also provide a roadmap for the specific actions stakeholders need to take.
Adaptability Across Audiences
Navigating the varied landscape of product management involves communicating with audiences having distinct needs. Memos, with their adaptable format, prove to be a versatile tool. Whether addressing internal teams, executives, or customers, a meticulously structured memo ensures that the message aligns effectively with the intended audience.
Choosing the Memo Wisely
Effectively using memos in product management hinges on understanding when to deploy them. Memos shine brightest when dealing with complex scenarios that require both attention and action. They serve as a conduit for conveying information while prompting the necessary responses.
In essence, mastering the art of memo writing empowers product managers with a robust instrument to navigate the intricate challenges of communication in the dynamic realm of product development and management.
Conclusion
In conclusion, memo, elements such as a compelling title, a defined purpose, a contextual background, practical information, actionable steps, and a conclusive note converge to create a harmonious symphony of communication. It's a reminder that memo writing transcends the mundane and ventures into the realm of artistry.
Let your memo be a testament to the art of conveying a message. Forge your narrative, not in the shadows of a template but in the radiant light of your unique situation. Memo writing, in its essence, is an art, waiting for your distinctive touch to bring it to life.