7

min read
7 Ways to Block Harmful Content on Your Kid's Teens Devices
Nowadays, every kid and teen has a digital device. They can access everything from digital devices. There's a high possibility of encountering explicit or mature content. In a recent survey, 55% of the kids between 11 to 16 years old are exposed to inappropriate online. When children get more interested online at an earlier age, the risk and potential of anything inappropriate depend on what they do on the internet.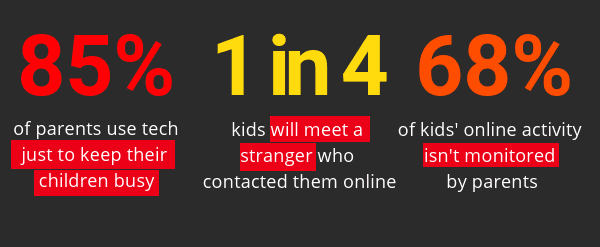 If this is an explicit exposure in a free game, a video displaying children's portrayal in adult contexts, or a website that encourages self-distress, an accidental quest can introduce children to information that can confuse them.
Today it becomes more difficult for parents to filter the harmful content that their children are exposed to. But, it's important for parents to check how often their children are exposed to violent content. Harmful Content may include.
Pornography Content
Cyberbullying or Harassment
Violent Videos and Photos
Explicit content
Drug, alcohol, smoking content
Gambling games and sites
Crime, vandalism, terrorism content
Suicidal content
Inappropriate games, apps, and cartoon videos
These are the harmful content that your kids and teens shouldn't be exposed to. This harmful content will create a negative influence and it may cause bad effects on their developing brain. So here we will provide you the best 7 ways to block harmful content on your kid's/Teens Devices.
1.  Parental Control Software
It can be hard for you to monitor what your kids/teens' devices see since they can access this content from other digital devices such as your smartphone, computers, laptops, or tablet via the internet. Most of the kids and teens are tech-savvy. Sometimes your kids/teens may stumble on the harmful content or site mistakenly. So to monitor their digital devices there is much parental control software.
The parental control apps will monitor all your device activities. You can monitor their web browser history and know about what type of content they are viewing. You can also monitor their social media. One of the best parental control software is fenced.ai. The best features of this app are social media monitoring, browser history, the alert system. You can block all harmful content on your kid's/teen's devices remotely.
If he/she tries to access any harmful content on the web or uses any inappropriate apps the software will send you a real-time alert notification. You just have to purchase the premium features from fenced.ai and content your and your kid's devices. Now you can monitor your kids/teen's device remotely. You can restrict your kids from exposing to the explicit content
2.  Google Safe Search
This is a famous google setting that is available on the Google platform or search engine. Google SafeSearch helps you to configure or filter your browser to block harmful content. First, you should know which search engine your kids use mostly and ensure that your children use Google chrome as the main search engine. You can enable the Google safe search on both mobile phones and PCs.
On an iPhone open the "safari" app and go to google search. On the left side, you will see the three stripe line button, click on that button and go to the settings options. Now, choose the option to "Hide explicit result." It will try to block harmful content as much as possible because not all the settings are 100% safe and secure.
On an android also the steps are the same, only the "safari" app is changed as android has to google as a default search app. In Pcs open google chrome and on the right side you will see the dotted button. Click on that button, choose the settings options and go to the search settings and enable the safe search settings.
This free feature app is only available on iPhone and iPad devices. This built-in app where you don't have to download the app separately. You can see how much of your time your children waste on smartphones, blogs, and more by Screen Time. You can know the detailed information of screen time. You can also link your device and your kids/teen's device together.
In the settings > Screen Times > Content & Privacy Restriction you need to enable the toggle button which will turn green. Now in this setting, you can block all the harmful content and make sure you turn on the settings.
If your kid/teens try to view any harmful content the system settings will not grant them to use or view those explicit content. You can also set the passcode to protect your settings and disallow your kids to use harmful apps.
You can find many ad blockers or blocking extensions for your web browser which are effective for PCs. BlockSite is one of them that assists you in blocking particular websites and applications that you might find to be inappropriate, irritating, detrimental to, or time-consuming for your kids/teens browser (Chrome, Firefox, Google Play). You just have to download the plugins and activate the settings.
Create a list of pages, websites, and applications you want to block. You can also sync your children's devices and computer to increase protection, when using a smartphone or tablet, to shield your kids/teens from harmful content. Open the menu > go to settings, and then "Connect BlockSite" to link your phone with the extension. You will have to scan the QR code of BlockSite and your device will be linked.
5.  DNS server
All internet-based websites and computers have IP addresses. DNS(Domain Name servers) switch IPs into website names, which makes connecting to websites smoother and more human-friendly. Like a telephone book that helps you to look up and locate a person's name, DNS enables you to enter a site address and find out immediately the IP address.
The original DNS can be replaced with another DNS which helps filter all mature content on your children's devices. You change the mobile DNS server by going to WiFi settings > Configure DNS and add new DNS 185.228.168.9, or 185.228.169.9. This DNS server will block all those harmful content on your kids/teen's devices.
6.  Internet Service Provider
The Majorities of the Internet Service Provider(ISP) provide its users with their special software like parental control apps. This app allows its user to block any websites and apps. You just need to enable certain settings which will help to block those explicit content and your Kid/teens won't be able to access those websites. You can contact your ISP if you haven't got this parental control software.
7.  Block Harmful Content on Windows
This is an integrated OS feature of windows. If you have a Windows system, you can build a child's account that allows you to access Microsoft Family Settings parent control options, allowing web filtering to shield your kids and teens from viewing harmful content. This setting is only applicable on new windows, as in the old version this setting is not available.
To link your kids and teen account on Family settings. Firstly, go to the family sharing settings > Accounts > Family & other users > Add your children's account. In this setting, you can add your children's accounts. If you don't have an account you can create one from the windows official sites.
To block harmful websites on Family Settings. Click on the settings > Accounts > Family & other users > Manager Family Settings online. In this setting, you have to click on the "Content restriction" option and then enable the toggle setting. Now, you can also allow any sites that you think an appropriate site for your children and you can also block any harmful website that you think will be detrimental for your kids/teens.
Conclusion
Hence, there are also other ways to block inappropriate content but these are the best 7 methods to block harmful content on your kids/teen devices. By blocking all those content may not be effective for your kids and teens. So it's better to have a clear discussion with your children.
As a parent, it's also important to have a conversation with your children about the harmful content and its negative effects. Encourage your kids and teens to avoid such mature content. Make sure your kids/teens know about digital and internet safety. You should make a rule for their devices to limit their uses and make sure your kids and teens follow the rule set by you.