25

min read
20 Best Chrome Extensions to Download Videos from Any Website – Top 2023 Rankings
This tutorial provides a comprehensive list and comparison of the top free Video Downloaders available for Chrome. Choose the most suitable Chrome Video Downloader based on your specific needs.
Chrome stands out as one of the most popular and extensively utilized web browsers worldwide. Its impressive speed and overall convenience have contributed to its immense user base over the years. Google Chrome, being an open-source program, grants access to various web-based applications like Facebook, Twitter, YouTube, Dailymotion, Vimeo, and more. There are instances when you encounter a sluggish internet connection while streaming videos in Chrome. Regrettably, this impedes continuous viewing.
Fortunately, one of the best solutions is to download videos using a Chrome video downloader. This allows you to enjoy offline viewing on any device. Below, we have compiled some of the finest video downloaders for Chrome, as well as an online video downloader specifically designed for Chrome. Read on to discover the optimal tools available. Today, many users feel somewhat displaced when using alternative browsers for video playback or browsing through search engine results. Such is the impact that Chrome has made.
Things to Consider before using Top Chrome Video Downloader Extensions
When selecting a video downloader, there are several crucial factors to consider:
Supported Platforms: Video downloaders can be designed to work with specific platforms like YouTube or Facebook, while others offer broader compatibility across multiple content platforms. Users should ensure that the downloader they choose supports the platforms they frequently use to access videos.
Range of Features: Different video downloaders offer varying sets of features. Some tools focus solely on video downloading, allowing users to select video quality and output formats. In contrast, others provide additional functionalities such as batch downloading, video conversion, video editing, and access to a library of royalty-free content. Users should prioritize features that align with their specific needs.
User Experience: User-friendliness matters. Some downloaders offer a seamless and intuitive experience with straightforward interfaces and easy downloading processes. Others may have more complex interfaces or require additional steps for downloading. Users should select a downloader that matches their technical proficiency level and provides a smooth and hassle-free experience.
Download Speed: Download speed can significantly impact the user experience. A downloader with fast download speeds can save time and frustration, especially when dealing with large video files.
Ad Presence: Advertisements within the downloader can be intrusive and disrupt the downloading process. Users may prefer tools that offer an ad-free experience to ensure a more streamlined workflow.
Frequent Updates: Regular updates indicate that the downloader is actively maintained. This can be a positive sign, as it suggests ongoing improvements and the addition of new features over time.
In conclusion, the choice of a video downloader should align with your specific needs and preferences. By considering factors such as supported platforms, available features, user experience, download speed, ad presence, and updates, you can select a downloader that best suits your requirements for downloading and managing online videos.
Best 20+ Chrome Video Downloader Extension – Updated
1. Video DownloadHelper
Video DownloadHelper is a free Chrome extension that enables you to download videos from websites you visit. This user-friendly extension is perfect for downloading videos from various websites. It effortlessly detects videos playing on external sites and allows you to download them. Additionally, it provides the option to download videos in their default format or convert them to a different file format, such as 3GP, before downloading. The tool supports resolutions of up to 1080p, ensuring high-quality downloads.
As long as the extension supports the website, you can save any paid online videos from video-sharing platforms directly to your hard drive. It also supports HLS and DASH streamed videos. Furthermore, this extension offers a convenient feature of fetching online image galleries. Moreover, you have control over the maximum number of concurrent downloads, enhancing your downloading experience.
2. Video Downloader Pro
Video Downloader Pro is a versatile and user-friendly Chrome extension designed to download videos from various online content platforms. It excels at automatically identifying videos on different websites and offers the option to download them in their original format without requiring manual input from the user. This streamlined process ensures convenience and ease of use.
While Video Downloader Pro supports downloading videos from numerous platforms, it does have a notable limitation: it does not work with YouTube, a popular and widely-used video-sharing platform. This can be disappointing for users who primarily wish to download videos from YouTube. However, the extension remains effective for downloading videos from other platforms, providing a hassle-free experience.
Video Downloader Pro is free to use and does not display ads, enhancing the overall user experience. As a Chrome extension, it seamlessly integrates into the browser, allowing for quick and efficient video downloading. Despite its inability to download from YouTube, it remains a valuable tool for downloading content from various other online platforms.
If you're in search of a simple yet powerful Chrome video downloader extension, look no further than Video Downloader Professional. This extension is the ideal solution for downloading videos from various online websites. It supports video downloads in up to 4K quality, ensuring a high-definition viewing experience. Additionally, you have the option to export downloaded videos to your preferred format, such as MP4.
What sets this extension apart is its efficiency in managing disk space, allowing you to download multiple videos without burdening your computer's storage. Moreover, it offers the convenience of creating a video playlist directly from the tool, eliminating the need to visit each website individually. The best part is that Video Downloader Professional is free and incredibly user-friendly, enabling you to download videos instantly with ease.
Video Downloader Professional is a smart tool that seamlessly integrates with the Chrome browser, offering a user-friendly and intuitive video downloading experience. This ingenious software automatically detects videos playing on any website, making the process effortless. By clicking the green arrow located next to the address bar, a professional video downloading menu opens, allowing you to select the desired video and choose the preferred resolution for downloading. The tool is compatible with various online content platforms, such as Vimeo, and even supports video playback via Google Chromecast. However, it is important to note that Video Downloader Professional has limitations, as it cannot capture site-protected content.
The key advantages of Video Downloader Professional include its free and easy-to-use nature, providing a seamless and hassle-free video downloading experience. The tool's integration with the Chrome browser ensures smooth functionality and enhances convenience for users. While it may lack some advanced features, Video Downloader Professional excels in simplicity, making it an appealing option. Although it may not meet everyone's needs, it is certainly worth a try, especially considering its free availability.
4.Video Downloader Plus
Video Downloader Plus is a Chrome extension that allows you to effortlessly download videos from Chrome. It offers various video resolutions, including 480p, 720p, 1080p, and more, ensuring you have the desired quality. What sets this extension apart is its automatic video detection feature, making the process seamless and efficient. You can easily download videos in batches directly from your favorite websites without any hassle. All downloaded videos are automatically saved on your computer for convenient access.
This tool supports multiple video formats, including MP4, WMV, FLV, SWF, and others, enabling compatibility with a wide range of media players. However, it's important to note that Video Downloader Plus doesn't support downloading from YouTube due to copyright policies. Nevertheless, you can still use it effectively on other video-sharing platforms like TikTok, Dailymotion, Facebook, Vimeo, and more.
Video Downloader Plus is an excellent Chrome extension that provides a seamless video downloading experience across various online content platforms. It supports downloading videos from platforms like Facebook, YouTube, Vimeo, and more. The extension is designed to automatically detect videos playing in the browser, allowing users to download them with just a single click. It also offers the flexibility to choose from multiple compatible output formats for downloaded videos.
One of the standout features of Video Downloader Plus is its ability to download videos in batches, enabling users to save time when downloading multiple videos. The tool is free to use and is ad-free, ensuring a pleasant user experience without any interruptions. Additionally, it includes the functionality to record live video streams, which can be particularly useful for Twitch streamers and other content creators.
Video Downloader Plus is a highly recommended Chrome extension due to its user-friendly interface, versatile downloading capabilities, and the added benefit of live stream recording. Whether you need to download videos from popular platforms or capture live streams, this extension provides a convenient solution.
5. YT Downloader
YT Downloader is a valuable Chrome add-on that provides instant video downloading from YouTube. This tool simplifies the process of downloading multiple YouTube videos in just a few easy steps. To initiate a download, simply copy and paste the video link into the tool. Additionally, it offers a range of high-quality options for video downloads, including 1440p, 2160p, 720p, and more.
Moreover, this add-on allows you to directly download embedded Chrome videos from YouTube. It also supports the download of dash videos and audio streams from other websites. Furthermore, it includes a feature that enables you to capture screenshots of YouTube videos in high-quality resolution. YT Downloader is a convenient solution for efficiently saving YouTube videos to your device for offline viewing.
 6. AceThinker Free Online Video Downloader
AceThinker Free Online Video Downloader stands out as an exceptionally effective Chrome video downloader, enabling you to easily download various types of videos such as video blogs, gameplay footage, tutorials, and more. The process of downloading videos using this online tool is straightforward. Simply copy the video URL you wish to download and paste it into the URL tab of the tool. Moreover, this versatile tool is compatible with multiple browsers, including Mozilla, Safari, and Google Chrome. It offers high-quality video downloads, reaching up to 720p, 1080p, and beyond.
In addition to downloading videos, this tool also allows you to convert videos to different audio and video formats, such as MP4. Furthermore, you can utilize this online platform to download HD movies, taking advantage of its wide range of video quality options. AceThinker Free Online Video Downloader provides a comprehensive and user-friendly solution for capturing and converting online videos directly from Chrome.
7. SaveFrom.net.
There are instances when you prefer not to install video downloading applications on your PC to avoid potential viruses. In such cases, SaveFrom.net can be a suitable option. All you need to do is copy the link of the video you want to download and paste it into the URL bar of SaveFrom.net. As an online tool, it eliminates the need to install any third-party applications for video downloads.
Additionally, it offers a range of file formats to choose from, including MP4 and WEBM, and allows you to select video quality options from 360p up to 1080p. The platform features a simple and user-friendly interface, enabling you to download videos without encountering any complicated steps. SaveFrom.net provides a convenient and safe method for downloading videos online without the need for additional software installations.
SaveFrom.net is a fascinating video downloader that offers convenient options for downloading videos. Users have the choice to either copy and paste the URL on the website's dashboard for quick downloading or install the tool directly, which enables capturing videos from the source website itself. The tool works exceptionally well for downloading videos from YouTube, providing a seamless experience.
Once SaveFrom.net is added to Chrome, a download button will appear below every YouTube video. By clicking this button, users can select the desired resolution and output format from a mini scroll bar, and initiate the download process. Alternatively, users who prefer not to install the software can simply copy and paste the YouTube video URL on the website.
SaveFrom.net is free to use and offers a clean interface, enhancing the user experience. It supports downloading videos in both MP3 and MP4 formats, providing flexibility for users who wish to extract audio or download videos directly. However, it should be noted that SaveFrom.net primarily focuses on YouTube and may not integrate as effectively with other similar content platforms online.
Overall, SaveFrom.net is an appealing option for capturing videos from YouTube, especially due to its free use and user-friendly interface. While it may not be as versatile with other platforms, it can still serve as a useful tool for occasional video downloads.
8. SaveTheVideo
SaveTheVideo, despite its divisive appearance and advertisements, offers a range of impressive features that make it a noteworthy video downloader among the options available for Chrome. While its interface may not be visually appealing, it compensates with its performance and functionality.
One of the standout features of SaveTheVideo is its ability to not only download videos but also edit and convert them. This versatility adds value to the tool, allowing users to perform additional tasks beyond simple downloading.
SaveTheVideo excels in video downloading, particularly when it comes to high-quality videos. Users can copy the URL of the desired video, paste it into the tool's text box, and select the preferred resolution. If the video supports 4K quality, users have the option to download it in that format. This capability sets SaveTheVideo apart, as it allows users to obtain videos in 1080p and 4K resolution effortlessly.
Furthermore, SaveTheVideo offers multiple output formats for downloading videos, providing flexibility to users based on their preferences or requirements. The tool is free to use, which is an added advantage for users seeking cost-effective solutions.
Despite the tool's drawbacks, such as its appearance and advertisements, the benefits it offers outweigh the negatives. SaveTheVideo is particularly suitable for users who prioritize downloading high-definition videos with ease and are open to utilizing additional features like video editing and conversion.
SaveTheVideo stands out as one of the most efficient online video downloaders, allowing you to easily download videos from Chrome, including vlogs, tutorials, documentaries, and more. The process of downloading videos using this online tool is straightforward. Simply copy the URL of the video you wish to download and paste it into the built-in URL box of SaveTheVideo.
This platform is compatible with various browsers, including Firefox, Mozilla, Safari, and Google Chrome. Moreover, it offers high-definition video quality options, reaching up to 720p, 1080p, and beyond. In addition to downloading videos from this tool, you can also convert videos to different audio and video formats like MP4. SaveTheVideo provides a reliable and user-friendly solution for downloading and converting videos online without the need for additional software installations.
9. BitDownloader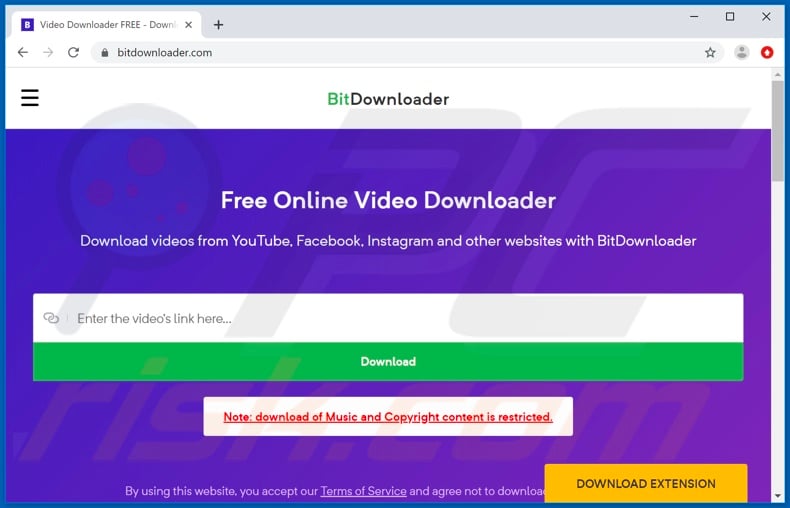 BitDownloader is another exceptional online video downloader for Chrome on our list. It supports downloading videos from over 1,000 video-sharing sites, including TikTok, Twitter, Vimeo, YouTube, Facebook, and more. This versatile tool allows you to download videos in popular formats like MP4 and WebM. Furthermore, you have the flexibility to choose the video quality from options ranging from 144p to 1080p, ensuring a tailored viewing experience. If you wish to save a music video in audio format,
BitDownloader also supports video-to-MP3 conversion. Its popularity among users stems from its safety, ease of use, and 100% secure environment, with no intrusive ads. Moreover, BitDownloader is not limited to Google Chrome alone. It is compatible with other popular browsers such as Firefox, Safari, Edge, Opera, Dolphin, and UC Browser. This wide range of browser compatibility provides you with the freedom to use and download online videos using the tool on various platforms. Additionally, BitDownloader is accessible on both Android and iOS devices, making it convenient for mobile video downloading.
10. YouTubNow
YouTubNow is another Chrome video downloader on our list. As the name suggests, this online application allows you to obtain HD quality videos, such as 720p and 1080p, specifically from YouTube. Currently, it only supports downloading videos from YouTube, but the developers have announced that soon it will also support downloading from Dailymotion, Facebook, and other platforms. YouTubNow enables you to download videos for free without any limitations on the number of downloads.
The best part is that you don't need to register an account to use this tool. Simply visit the website and start saving videos, including music videos, tutorials, webinars, how-to videos, and more. In fact, there is a useful trick to quickly access YouTube videos on YouTubNow. Just replace "www.youtube.com" with "www.youtubepaw.com," followed by the video's domain name. This simple alteration will take you directly to the download tab of YouTubNow, along with the video you wish to download.
11. 4K Video Downloader
4K Video Downloader is an exceptional tool that seamlessly integrates with Chrome and various other popular browsers. True to its name, this software allows you to download videos in resolutions that go beyond traditional high-definition quality. To download videos using this tool, simply copy the video link from your browser and paste it into the application. The software will initiate the download process while preserving the original video quality. Additionally, 4K Video Downloader enables you to download entire playlists and channels in one go, streamlining the process of saving multiple videos.
It also supports the download of subtitles and annotations directly from online videos, offering the option to choose from 50 different languages and saving them in SRT format. With its ability to download videos in both 4K and 8K resolutions, 4K Video Downloader proves to be a forward-looking software. In its current state, it outperforms many of its competitors in the market. This top-tier video downloader allows you to save audio and videos from various platforms such as YouTube, Vimeo, TikTok, Instagram, and more.
12. Leawo Video Downloader
Leawo Video Downloader is a powerful tool designed for downloading 720p/1080p videos, music videos, and more. It offers the capability to download live streaming videos as well. With support for over 1000 sites, it covers a wide range of platforms for video downloading. One of its key features is the impressive 6X higher download speed it provides, ensuring efficient and quick downloads. Leawo Video Downloader is compatible with both Windows and Mac OS, catering to a broad user base.
This tool excels in its ability to download a vast majority of videos available on the internet. It provides precise video information, ensuring that you download videos with the correct parameters. Additionally, it includes a built-in video player, allowing you to conveniently play the downloaded videos directly within the tool.
Leawo Video Downloader prioritizes user experience by offering smarter downloading settings. It employs advanced video loading technology and hardware acceleration technology to achieve the remarkable 6X higher download speed. This enhances the overall efficiency and convenience of the downloading process.
WinX Video Converter is an exceptional web-based and Windows video downloader that enables you to download videos from over 1000 online websites. To download a video, simply copy and paste the URL into the tool. It supports downloading videos in both Full HD (FHD) and 4K resolutions, providing high-quality video downloads.
In addition to its video downloading capabilities, WinX Video Converter offers a range of useful features. It includes lossless video compression, allowing you to reduce the file size without compromising the video quality. You can also extract MP3 audio from videos using this tool. Furthermore, it provides basic editing capabilities, enabling you to trim, crop, merge, and add subtitles to your videos. Additionally, WinX Video Converter serves as a video converter, allowing you to convert videos to different formats.
With WinX Video Converter, you have access to an excellent all-in-one video processing tool that goes beyond mere video downloading. The free version offers limited capabilities, while the Full version is available at a cost of $19.95 per year. Alternatively, there is a lifetime plan available for $29.95. Choose the option that best suits your needs and enjoy the comprehensive features provided by WinX Video Converter.
14. MiniTool uTube Downloader
MiniTool is primarily recognized as a powerful video processing tool, renowned for its robust editing and video conversion features. However, it also serves as an excellent Chrome video downloader, specifically designed for YouTube. Utilizing a tried and tested online downloading procedure, MiniTool ensures that you can effortlessly download any desired video from YouTube. The process is straightforward: simply copy the URL of the video, paste it into MiniTool's dashboard, select the desired resolution and output format, and click 'download'. Moreover, MiniTool offers the convenience of batch downloading, audio extraction from YouTube videos, and the ability to download subtitles, enhancing the overall user experience.
Key features of MiniTool include batch conversion, providing the capability to convert multiple videos simultaneously, and ensuring a seamless and efficient workflow. Additionally, MiniTool offers a free and ad-free user experience, prioritizing user satisfaction and convenience. With the ability to extract audio from YouTube videos, users can easily obtain the audio tracks of their favorite videos. Furthermore, the option to download subtitles enables users to enjoy videos with captions in their preferred language.
MiniTool stands out as a simple, free, and fast video downloader, specifically tailored for downloading YouTube videos. Its user-friendly interface and essential features make it an ideal choice for anyone seeking to download YouTube videos effortlessly.
15. FBDOWN.net
FBDOWN.net is a solution specifically designed to address the challenge of downloading videos from Facebook. This tool enables users to download videos from the Facebook timeline, overcoming the limitations imposed by the platform itself. It offers a straightforward and user-friendly approach. To download a Facebook video, you only need to copy the video's URL, paste it into the provided text box on FBDOWN, and click the download button.
The video will then start downloading and will be saved to your chosen destination folder on your device. Additionally, FBDOWN offers a Chrome browser extension that simplifies the download process by automatically detecting videos on Facebook, eliminating the need for manual copying and pasting.
The main advantages of FBDOWN.net include its free usage, dedicated functionality for downloading Facebook videos, and the convenience provided by the Chrome browser extension. Users can choose between normal and high-definition (HD) quality options for their downloaded videos. It is important to note that FBDOWN.net is primarily focused on Facebook video downloads and does not offer compatibility with other online content platforms.
If your primary objective is to download videos exclusively from Facebook, FBDOWN.net can be a valuable tool. However, if you require a more versatile downloading solution that supports multiple platforms, you may need to explore alternative options.
16. FlexClip
FlexClip is an aesthetically pleasing and comprehensive video editor that offers a wide range of features for creating videos for various purposes. While it may not be classified as a conventional video downloader, it provides a large gallery of royalty-free videos that can be downloaded and incorporated into your own video projects. This extensive collection of video footage, combined with thousands of royalty-free audio clips, stickers, images, and video transition effects, allows for a personalized and engaging editing experience that sets FlexClip apart from other tools on this list.
In addition to its extensive media library, FlexClip offers a user-friendly interface and a host of powerful video editing features. With these tools, users can easily edit and create videos to suit their needs. The software also provides ready-made templates that can be customized for quick editing, saving users time and effort.
While FlexClip may not fulfill the role of a traditional video downloader for Chrome, it offers a unique and remarkable experience. The availability of a vast library of videos that can be freely used without concerns about copyright issues adds value to the platform. It allows users to access a wide range of content for their video projects without the worry of copyright infringements or legal consequences.
Please note that this response is based on the information provided and does not endorse or promote any specific video downloader.
17. Catchvideo.net
Catchvideo.net is a highly useful online tool that lives up to its name by allowing users to capture videos from various content platforms on the web. Platforms like YouTube, Dailymotion, TikTok, and Facebook are all supported. The process of downloading videos is straightforward and familiar. Simply copy the URL of the video and paste it into the text box provided on the platform. The tool takes care of the rest. One notable feature of Catchvideo.net is its ability to download videos in 4K and 1080p quality, which is a significant advantage.
Additionally, Catchvideo.net offers a Chrome browser extension that enhances the downloading process by providing a more intuitive and faster experience.
One of the highlights of Catchvideo.net is its free and ad-free nature. Users can download videos without being bombarded with unnecessary advertisements. While the tool may lack advanced features found in other video downloading tools, its simplicity and user-friendly experience make up for it.
Overall, Catchvideo.net is a satisfying downloading tool for Chrome users. It delivers a straightforward and efficient video downloading experience, making it a convenient choice for users seeking simplicity and ease of use.
18. Video Downloader for Web

Video Downloader for Web, powered by webdownloader.net, has garnered a significant user base of over 30 million users. It holds a respectable rating of 3.9 out of 5.0. This Chrome add-on offers two methods for downloading videos. The first method involves directly clicking the "DOWNLOAD" button, while the second method requires clicking "POPUP" to activate the built-in video player and then clicking the download button located in the lower right corner of the player.
However, it is important to note that Video Downloader for Web is not compatible with many online streaming websites. Users may frequently encounter the message "Video not detected on this website" when attempting to download videos from unsupported platforms.
While Video Downloader for Web has attracted a large user base and offers multiple downloading methods, its limited compatibility with online streaming websites may pose a drawback for users who wish to download videos from a wide range of platforms.
19. Easy Video Downloader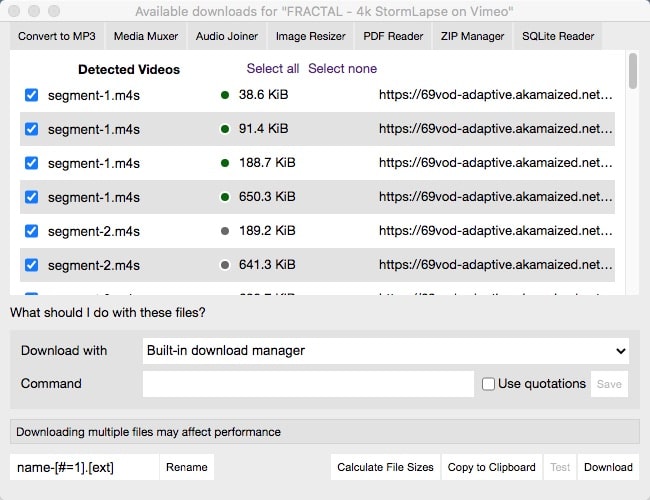 Easy Video Downloader, a Chrome video downloader plugin powered by Yubi, has garnered a substantial user base of over 16 million users. It holds an average rating of 3.6 out of 5.0. While its name suggests simplicity, Easy Video Downloader is distinct from other Chrome video downloaders in its approach.
To facilitate the downloading process, Easy Video Downloader requires the use of both internal and external download managers. When you click on the download button, a built-in download manager will appear, allowing you to select the detected videos that you wish to download.
While Easy Video Downloader offers a unique approach to video downloading, it is worth noting that its ease of use may not live up to its name. Users may need to familiarize themselves with the workflow involving the internal and external download managers.
20. Video Download Center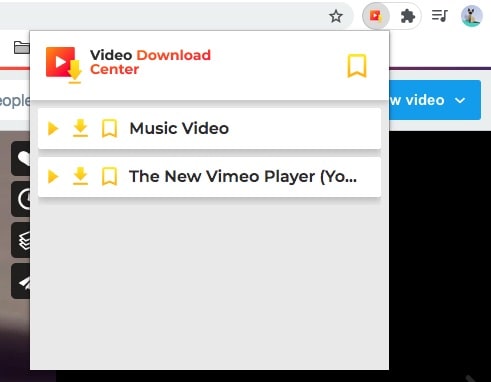 Video Download Center, powered by Silvestrs Kronvalds, is a popular Chrome extension with an impressive user base of over 80 million users. It has received a rating of 4.4 out of 5.0. However, it is important to note that the authenticity of some of the 5-star reviews may be questionable, as they could potentially be fake comments.
While some users claim that Video Download Center can effortlessly download video files from almost any internet resource, it appears that the extension has limitations in detecting videos on certain platforms. Specifically, when tested on popular websites such as Dailymotion and Facebook, Video Download Center failed to detect the video content.
It is worth considering these limitations when deciding to use Video Download Center for video downloading purposes. It may not provide the expected functionality on all internet resources, despite its large user base and generally positive rating.
FAQs about Chrome Extension as Downloader
Q. What is the best video downloader extension for Chrome?
A. There are plenty on the Chrome store, but Video Downloader is the best one for formats availability, such as MOV, AVI, MP4, MPG, ASF, and more. Also, it can perform batch downloads all at once without compromising the speed of each download. Interestingly, it's ad-free.
Q. What are the features of good Chrome video downloaders?
A. In selecting the best Chrome video downloaders, you must look for a tool that can offer you various media formats, is easy to navigate, ad-free, and something that won't risk your security. You should also check the quality it provides and its download speed. These are the most notable feature that you should look for in the best video downloader.
Q. What are the common formats supported by Chrome video downloaders?
A. Chrome extensions' standard formats for downloading videos are FLV, MOV, WEBM, MP4, MPG, AVI, ASF, etc. The mentioned configurations are compatible with most media players. If your media player is not compatible with the video format you have, you can convert them using video converters to match your media player.
Q. Are video downloaders for Chrome legal?
A. Video downloaders are perfectly legal to use if you are downloading videos for your personal use or if you want to create transformative content from them. However, downloading videos that are protected by stringent copyright law without permission from the original owner is considered a serious offense.
Q. Are Chrome video downloaders free? Answer: 
A. Most video downloaders are in-fact free. Some offer premium plans with added features while some offer a tool that is free for use only for a limited period of time.
Q. Which is better–Free Video Downloaders or Paid Downloaders?
A.  Free downloaders are recommended for users who can't afford to pay out of their pocket, or simply need a downloader for one-time use. However, you would be better off paying for a tool to enjoy an ad-free experience, with added useful features.
Summary
When choosing a video downloader, it's important to understand that each tool has its own set of strengths and weaknesses. What works well for one user may not necessarily work well for another. Therefore, it's crucial for users to consider their specific requirements and the compatibility of the downloader with the platforms they want to download videos from.
Ultimately, the choice of a video downloader should be based on individual preferences and requirements. Users should take into account the specific platforms they want to download videos from, the desired features, user experience, and other relevant factors. By considering these aspects, users can select a video downloader that best suits their needs and enhances their video downloading experience.