18

min read
How To Create and Verify Kucoin Account-  KYC Guide [2022]
The cryptocurrency exchange KuCoin was founded in 2017 by Eric Don and Michael Gan. It quickly became the most popular platform for trading cryptocurrencies. KuCoin is a special exchange that enables users to trade even the most unusual digital assets. It has over 300 coins and 450 cryptocurrency pairs. The Singapore-based exchange, which has more than 8 million members as of right now, has completed more than 795 million trades, generating 360 billion in trading volume (USD). Its exponential growth could also be attributed to the firm's guiding principles, which assert that technological advancement will alter how we as individuals create and distribute value. KuCoin wants to develop and introduce technologically advanced products that will make it simpler for people to own cryptocurrencies. KuCoin's community values, which encourage participation by offering novel ideas, are another factor contributing to the company's growth and success.
The trading platform, an iOS and Android app, KuCoin futures, KuCoin indexes, non-custodial trading through Arwen, and KuCoin's lending programme are just a few of the features and products that KuCoin offers.
To stop money laundering, fraud, terrorism financing, and other illicit acts, the exchange has implemented a KYC procedure. Additionally, customers receive a host of advantages after completing ID verification, including higher daily withdrawal caps and access to the Fiat-Crypto function.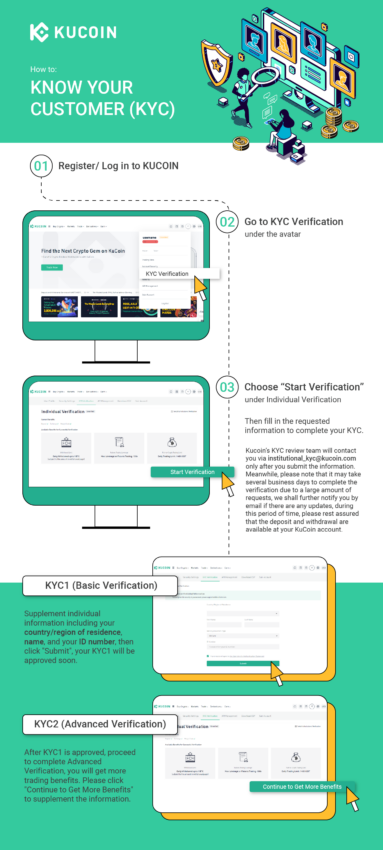 KuCoin account types
KuCoin has five different kinds of accounts, such as:
Primary Account: For the custody, withdrawal, and remittance of money
Account for trading: For spot trading
Margin accounts are used for trading.
Futures trading through a futures account
Account for staking and soft staking on KuCoin
In order to allow users to execute big orders without influencing the overall market, the exchange also enables over-the-counter (OTC) trading.
Key KuCoin features
Margin trading
Margin traders frequently go to KuCoin's leveraged trading desk for their trading needs. Be aware that experienced traders who have a propensity for high-risk, high-gain methods are best equipped to execute margin trades.
KuCoin Token (KCS)
Users can save a lot of money on trading costs by holding KCS, the native token of KuCoin. Additionally, a portion of the exchange's daily trading fee income is distributed to KCS holders.
KuCoin trading bot
You can use the free trading bot on KuCoin to carry out your trading strategy automatically. Five trading techniques are supported by the KuCoin trading bot as of March 2022: Spot Grid, Futures Grid, DCA, Infinity Grid, and Smart Rebalance. More than 6 million active bots, according to the exchange, can be found on the platform, which makes it easier for newcomers to get going and pick up tips from more seasoned users.
Crypto lending
You can lend your cryptocurrency holdings to margin traders with KuCoin lending and receive interest in return. All loans are secured by collateral, and the borrowers are always required to keep a minimum balance. The exchange offers an insurance plan particularly for that scenario in case a borrower doesn't pay you back, ensuring that your losses are kept to a minimum. Overall, it is a very cool method to use your otherwise unused cryptocurrency stash to generate passive money.
Demo trading account
Many of KuCoin's primary features are also designed to make life simpler for individuals new to trading and/or cryptocurrency, as you may have already seen. However, given the company's ongoing efforts to position itself as "the people's exchange," this is hardly surprising. Another feature that assists KuCoin in onboarding new users who have little to no experience with cryptocurrency trading is the Demo trading account. Beginners can learn more about various trading methods in-depth and practise them safely on a demo trading account without having to spend real money.
Benefits that will still favour KuCoin in 2023
Low fees: KuCoin has a maker/taker cost of 0.1%, which decreases as levels rise. If you pay with $KCS, there is an additional 20% discount. The best in the industry, if not quite competitive, are the withdrawal fees.
Advanced charting: KuCoin has made significant improvements to its charting over the years, and they have paid off because the platform now includes in-depth analytical charts that make it simple and effective for you to execute and monitor your transactions.
Numerous payment methods: KuCoin lets you purchase cryptocurrency using debit and credit cards (Visa and MasterCard). ApplePay and SEPA are some additional accepted payment options. Twenty different payment options are supported by the KuCoin peer-to-peer exchange in addition to bank transfers.
Good customer service: KuCoin offers live chat services around-the-clock. The support crew typically responds quickly. By emailing the support staff, you can also create a support ticket. According to our study, there aren't many complaints about KuCoin's customer care team's performance – relative speaking, of course. (In a platform with more than 10 million members, there are sure to be a few disappointed people with real complaints, and we in no way minimise their poor experiences.)
The benefits of completing full ID verification on KuCoin
The entire KYC process has a number of benefits for KuCoin customers. These are listed below:
Compliance with global financial regulations. The company urges its consumers to properly verify their accounts because it wants to stay current with legislative changes in the blockchain industry and improve the platform's transparency and dependability. KuCoin aims to reduce the risks connected to fraud, terrorism financing, and money laundering. As stated in the User Identity Authentication Statement, completing ID verification assures KuCoin's compliance with anti-money laundering (AML) and counter-terrorist financing (CFT) laws.
Increased withdrawal limits with advanced level of verification. If users of KuCoin choose to finish KYC1 and KYC2 verification, they will receive greater daily withdrawal limits. Customers with the highest level of verification can withdraw up to 3000 BTC every day, as shown in the table below.
| | |
| --- | --- |
| Verification Level | Daily Withdrawal Limit |
| Unverified | 5 BTC |
| KYC1 | 200 BTC |
| KYC2 | up to 3000 BTC |
Easier account retrieval. Completely completing the KYC process can assist the user regain access to their account more quickly in the event of illegal access by third parties as a consequence of the disclosure of personal information or the loss of login credentials by a customer.
Enabled access to Fiat-Crypto service. After completing the KYC process, clients can use fiat money to buy digital assets through the Fiat-Crypto Deposit service. The "unverified" status prevents users from using this service.
2-Factor Authentication (2FA)
It is crucial to safeguard your account prior to ID authentication. KuCoin suggests using a 2-factor authenticator to achieve this. The platform uses Google Authenticator to protect your account, stop asset theft, safeguard your KuCoin account, and provide an extra layer of security.
KuCoin's Google Verification. Source: KuCoin.com.
Please select Google Verification + Email Binding + Trading Password or Phone Number Binding + Trading Password combinations as the strategic security technique to safeguard the integrity of your account.
Whether or not a trader establishes a password, passwords are insufficiently secure on their own. Even if your password is stolen after you download Google Authenticator and tie Google two-step authentication to your device, you will still need your phone or secret key to log in to your account once it has been bound.
Every 30 seconds, Google produces and updates the Google two-step verification code in the authenticator app on the phone. The fact that each verification code can only be used once needs to be emphasised.
To learn how to bind Google 2FA and to get help with any other problems like erroneous or missing codes or changed phones, please visit this page.
How to verify your identity on KuCoin (step-by-step)
You must sign into your KuCoin account before beginning the tID verification process.
Step 1
Hover your cursor over the account symbol in the top right corner and select "KYC verification" from the drop-down menu to start the ID verification process.
Starting the KYC verification process on the KuCoin website. Website: KuCoin.com
You receive "unverified" status after registration, which allows you to deposit, exchange, engage in margin trading, and withdraw up to 5 BTC every day. However, two further verification stages (KYC1 and KYC2) must be finished in order to improve your advantages.
Step 2
The benefits of going through the KYC1 procedure will be shown to you together with your current verification status, which is by default "unverified," on the screen that follows. You must select "Start Verification" to continue. Please be aware that you must finish the intermediate verification before moving on to KYC2.
The features of 'unverified' status on KuCoin's website. Source: KuCoin.com.
Step 3
After selecting the "Start Verification" button, you will be taken to the verification screen. You'll be asked to select your residence's nation or region from a drop-down option there. Additionally, your full legal name and last name must be entered. The last step is to select the appropriate identity document type (passport, licence, or ID card) and enter the reference number that corresponds with it. Click "Submit" after reading the User Identity Authentication Statement and checking the green box.
KuCoin's information requirements for the KYC1 stage of authentication. Source: KuCoin.com.
Step 4
You will be directed to the following screen, which verifies that the KYC1 process has been successfully completed, once you have verified your basic information. You are shown your current advantages here, as seen in the image below, which you can use after completing the initial verification process.
For instance, KYC1 authentication broadens the range of transactions that a user is permitted to carry out, allowing the user to withdraw up to 200 BTC daily and exchange up to 70,000 USDT worth of fiat currency for cryptocurrency each day.
KuCoin's benefits of KYC1 verification. Source: KuCoin.com.
However, those who want to get more trading benefits might select to move on to the following screen and finish the sophisticated KYC2 process.
Advanced KYC2 verification
In order to establish your identity, you must upload to the system your identification documents and other credentials. It's important to keep in mind that in order to successfully complete the authentication procedure, the documents must be real, legible, and unaltered.
Step 5
The user is given the option to upload both the front and back of the document via the website or to submit ID images using the KuCoin app in the following stage.
KuCoin's option to upload ID via the app. Source: KuCoin.com.
If you prefer to utilise your phone, download the app, scan the QR code on the screen, and then upload your photos as directed.
KuCoin's ID upload app version. Source: KuCoin app.
Users can also upload the necessary papers using the web version [see below] as an alternative.
KuCoin's ID document upload page. Source: KuCoin.com.
It is essential to remember that the images must be in JPG or PNG format and have a maximum file size of 4 MB for documents uploaded using the desktop version and 3 MB for photos submitted through the app.
Step 6
You must upload the front and back of your selected ID document, as well as a portrait photo of yourself, together with the original ID document. You must also include a handwritten letter with the information shown below.
Your signed handwriting, which is actually your entire legal name;
Dynamic code made up of numbers and characters that displays on the KuCoin website or app;
The date for today is as follows: YEAR-MONTH-DAY.
KuCoin Handheld Identity verification step on desktop. Source: KuCoin.com.
KuCoin Handheld Identity verification step via app. Source: KuCoin app.
It is essential to make sure that your face is clearly visible and that your identity information is unobscured and simple to recognise. Please double-check the dynamic code you must include on your handwritten message before sending the files, as it changes every day. It is definitely forbidden to use Photoshop or a typed signature because doing so could cause your verification to fail.
Check out this video tutorial for a detailed explanation of how to move forward with this level.
Step 7
Click "Submit" to finish the process if you are pleased with the details on the written note and the ID images you have submitted. You should be directed to the screen below, which validates the files' submission and the anticipated review time, if your photos were the correct format and size. Please be aware that the length of time it takes to complete the process can change depending on how many verifications are still waiting.
How to Complete Institutional KYC Verification KuCoin's KYC2 pending verification screen. Source: KuCoin.com.
Why Get KYC Verified on KuCoin?
On November 1, 2018, KuCoin formally implemented KYC, ensuring that KuCoin complies with the development standards of the virtual currency sector. KuCoin wants to keep being one of the most reliable and open exchanges. Additionally, among other harmful behaviours, KYC can successfully prevent fraud, money laundering, and terrorist financing.
You can withdraw more money each day thanks to the increased level of verification. The highest degree of authentication allows for monthly withdrawals of up to 100 BTC.  Furthermore, the verification procedure might spare you time in the event of a mistake.
Continue reading if you want to learn how to KYC-verify your KuCoin account and why it's crucial. Additionally, KYC approved accounts now have access to a larger daily withdrawal limit thanks to KuCoin.
The specific rules are as follows:
We do urge our customers to finish the KYC verification. The confirmed KYC information will enable the client swiftly regain his or her account in circumstances where he or she forgets their login information for the platform or when their account is hijacked by someone else as a result of the client-side disclosure of personal information. Users who successfully pass KYC certification will also be allowed to use the KuCoin's Fiat-Crypto service.
In November 2018, KuCoin adopted KYC formally. In order to comply with the evolving regulations in the cryptocurrency sector and combat cybercrimes including scams, fraud, and money laundering, KYC is a crucial step. Users can now complete Individual KYC or Institutional KYC on the site. You can follow the instructions in this article to complete institutional KYC verification on KuCoin.
Step 1. Go to KuCoin.com, log in to your KuCoin account, then click KYC Verification under your avatar.
Step 2. Click Switch to Institutional Verification, then click the Start Verification button.
Step 3. On the Company Information page, fill in all the information required, then click Next.
Tips:
The supplied information must perfectly match the document of company registration.
The firm registration number can be found on the certificate of company registration as the Corporation Code.
It is necessary to use the government website for corporation registration verification.
JPG and PNG are acceptable picture formats.
The image file should not be larger than 4MB.
Images that attempt to upload can fail due to network difficulties. Change your network or browser if this happens, or try again later.
Upload a picture of you holding the company registration certificate and a handwritten note on paper under the "Upload a Photo with
Handheld Company Registration Certificate" option.
Step 4. On the Contact Information page, fill in the information required, then click Submit.
Tips:
The best forms of identification are an ID card, a passport, or a driver's licence.
Please attach pictures of the front and back of your identity card, making that the expiration date is accurate and legible.
The identity document's expiration date must be correct.
Step 5. On the Supporting Documents page, follow the instructions to upload the required documents, then click Submit.
Step 6. After submission, our KYC team will review your application and keep you updated via the KYC page.
If your application is turned down, please review the website's instructions before resubmitting, clicking the Supplement Information button, or sending institutional kyc@kucoin.com a reply to add the missing supporting documentation.
We trust you found this information to be useful. If you have any additional questions, please contact our 24/7 customer service through online chat or by  submit a ticket. KuCoin trading is fun!
Common Issues About KYC Verification.
Please check the following items if you experience issues uploading your identity documents and photos:
1. One ID may only be used for a maximum of three KuCoin accounts;
2. JPG and PNG should be used for the image format. The image file should not be larger than 4MB;
3. A passport, a driver's licence, or an ID card must be presented as the certificates;
4. The upload issue could potentially be related to your network.
Refresh the page or switch to a different browser, then try again. Why did the KYC verification process fail?
If you receive an email or SMS informing you that your KYC verification was unsuccessful, don't worry. Just log into your KuCoin account and choose "KYC Verification" to see the wrong information highlighted. To learn more, kindly click "Supplement Information."
F.A.Q
How to Verify KuCoin (Step-By-Step)
You must first register for an account. A photo ID, email address, and password are needed for the KYC verification process. In order to stop fraud and account takeover, you must confirm this information. Follow the steps below to start the KYC verification process.
Enter your Kucoin account credentials, then select the "Account" option.
Click the "KYC Verification" tab on the account page.
The KYC verification page will be redirected to you, where you must provide your personal data, including your complete name, date of birth, home country, and ID type.
Click the "Submit" button after providing your personal information.
The next step is to upload a copy of your official ID document. Once the necessary papers have been uploaded, click "Submit" once more.
After the Kucoin team has examined your request for KYC verification, you will receive an email with the results.
What are the Benefits of KYC Verification Using KuCoin?
KYC verification on KuCoin has a wide range of advantages. The ability to verify that only authorised individuals can access the exchange and trade cryptocurrency is perhaps the most obvious advantage. By extension, this aids in preventing fraud and scams that can attempt to use the platform for illegal activities.
Additionally, KYC verification might aid consumers in hastening the opening and withdrawal of their accounts. This is due to the fact that the exchange will already have the relevant data on hand, negating the need for time-consuming and arduous verification procedures.
Last but not least, KYC verification can be an effective marketing technique. By confirming the users' identities, KuCoin can establish itself as a more dependable and trustworthy platform, which can draw in more users and expand the user base.
How Long Does KuCoin Verification Take?
If you used KuCoin to submit your KYC verification, you might be wondering how long it takes to complete. The KYC verification process with KuCoin typically takes 1-2 weeks. However, depending on the nation you call home and the volume of verification requests KuCoin is currently evaluating, this can vary substantially and could take longer.
Can You Deposit on KuCoin Without Verification?
Yes, you can fund your KuCoin account without being verified. However, you will have to go through the verification process if you wish to withdraw more money than a specific amount. On the other hand, there is no cap on the amount of deposits you can make on KuCoin without verification.
Can You Withdraw on KuCoin Without Verification?
The withdrawal cap for a KuCoin account that hasn't been confirmed is typically 2 BTC. You will need to authenticate your account if you need to withdraw more money than this. You will have to provide some personal information and supporting documentation to do this. The monthly withdrawal cap will be raised to 100 BTC once your account has been validated. The purpose of KuCoin withdrawal limitations is to safeguard user accounts and stop fraud. The maximum amount that can be withdrawn depends on the account level and can be raised by successfully completing specific verification requirements. Daily limits are reset at 0:00 UTC.
What If I Have Problems Verifying KuCoin?
There are several ways to get in touch with KuCoin's customer service if you are experiencing trouble getting your account KYC certified.
You can contact a customer service agent on Twitter, send an email to support@kucoin.com, or make a request through the KuCoin website. Regardless of the method you use, make sure to provide as much information as you can so that the customer support team can help you quickly and effectively.
You must complete a form with your personal information and a thorough description of your problem if you make a request via the KuCoin website. A customer service representative will review your information after you submit the form.
Include your name, email address, and a thorough explanation of your problem if you decide to email KuCoin customer care. A customer service agent will examine your email and respond to you as soon as possible with a solution.
Last but not least, you can send a direct message to the KuCoin Twitter account if you need to get in touch with customer service there. Include your name, Twitter account, and a succinct summary of your problem. A customer service agent will examine your message and respond to you as soon as possible with a solution.
Please provide as much information as you can when contacting KuCoin customer service, regardless of the method you select.
Final Thoughts
When utilising KuCoin, KYC verification is crucial since it helps to confirm that users are who they claim to be and prevents fraud. Due to the relatively high limitations, many people opt not to verify their KuCoin accounts, although it is still a good idea and extremely simple to do so. Please don't hesitate to get in touch with KuCoin's customer care if you run into any issues when trying to verify your account.
In addition to avoiding money laundering, fraud, terrorist funding, and other negative activities, KYC-certified accounts are eligible for a higher daily withdrawal cap and enhance the KuCoin ecosystem as a whole. In order to fully benefit from the exchange, users should be urged to finish the authentication process.
However, KuCoin respects this choice for the user, enabling minor trades to still be made even if one chooses not to have a verified account.
References